My Instant Pot Pulled Pork recipe is seasoned with a great BBQ rub and creates a fork tender result that takes about an hour to cook. It's so quick and easy and you can turn it into BBQ Pork by adding my Homemade BBQ Sauce.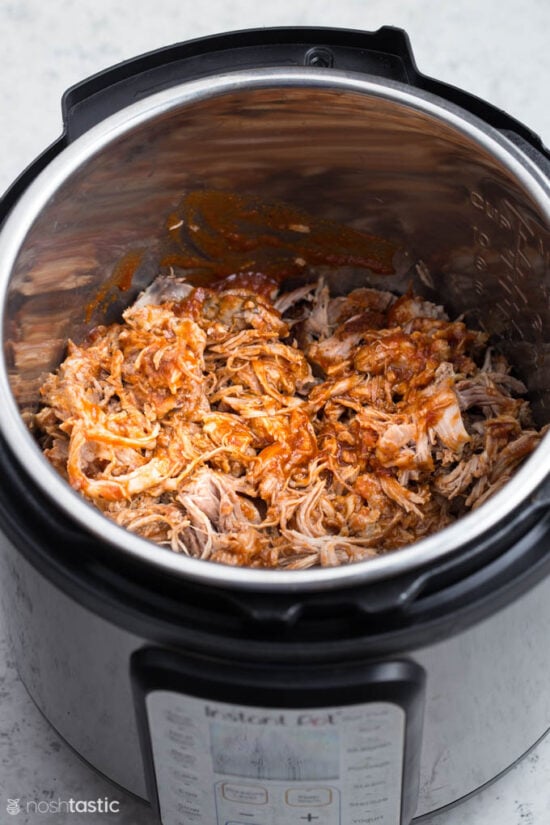 This post contains affiliate links
How to make Instant Pot Pulled Pork
My recipe for Instant Pot Pulled Pork really couldn't be easier and is perfect for beginners and experienced pressure cooker users alike.
For best results choose a boneless pork shoulder. In the grocery store it's often called a 'pork butt' or a 'Boston Butt'. This cut of pork has plenty of fat which helps to create the tender pulled pork that you love as it cooks, it's ideal for pressure cooking and makes the best shredded pork.
I prefer to cut off the excess fat first, there's plenty of fat throughout the meat that we don't need the excess.
Once you've done that cut the pork roast into two even sized pieces and rub it with the BBQ rub listed in the recipe card on all sides of the meat.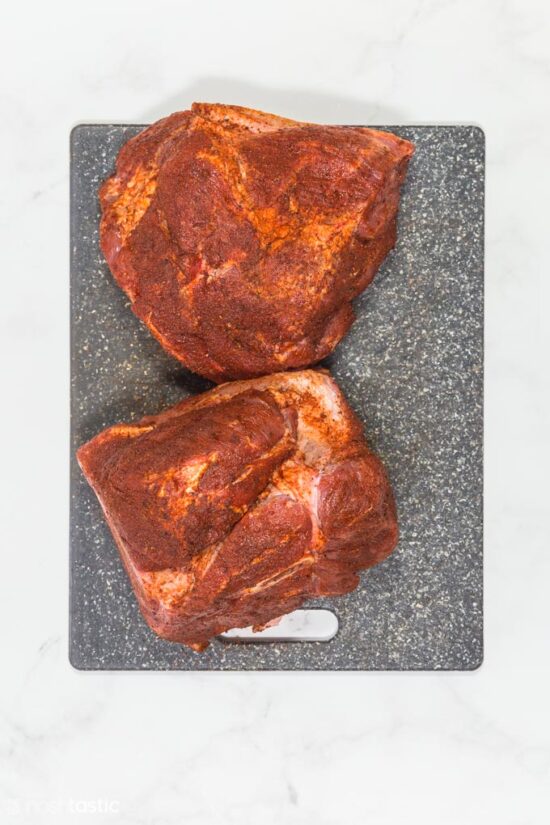 I like to brown the meat on all sides using the saute setting on my Instant Pot before I pressure cook it, but if you are short on time you can skip this step.
Once you've done that add the trivet that came with your pressure cooker to the pot and then the water and put the meat on top. Then all you need to do is add the lid and set the cook time.
More Instant Pot Pulled Pork FAQ's
My Pulled Pork wasn't cooked, where did I go wrong? you didn't go wrong, you simply need to cook it a little longer. Just like cooking this on the grill or in the oven you need to check it after the initial cook time (about 65 minutes) and if it's not fully cooked then simply put the lid on and cook for about 10-15 minutes longer, or until you can pull it apart.
How long do you cook pulled pork in an instant pot? It depends on what cut of meat you use and how large it is that determines the cook time rather than the weight. For a large 2-3 lb piece of pork shoulder it usually takes about 60-75 minutes at pressure.
Can I double the recipe? It depends on how large your pressure cooker is. I was able to cook one half of a large pork butt in my 6qt model. You need to ensure that you don't pack the pressure cooker full or go past the maximum fill line.
Can I use Pork Loin instead? Yes you can, but it will not take as long to cook. It will probably take 35 – 40 minutes and it's a much leaner cut of pork so do not overcook it or it may dry out.
Can I use frozen Pork? It's better if you can defrost it first for best results. But you can use frozen pork just know that it will take longer to come to pressure and if the meat is a large piece it may not fully defrost in the middle. Cook time remains the same.
Can I Slow Cook it instead? Sure, you can add it to a slow cooker or Crockpot and cook for 6-8 hours on low.
Can I cook it in BBQ Sauce? I would not do that as it's likely to burn unless you dilute it with water. I find it best to cook the pork first then shred it and add yourBBQ sauce of choice afterwards.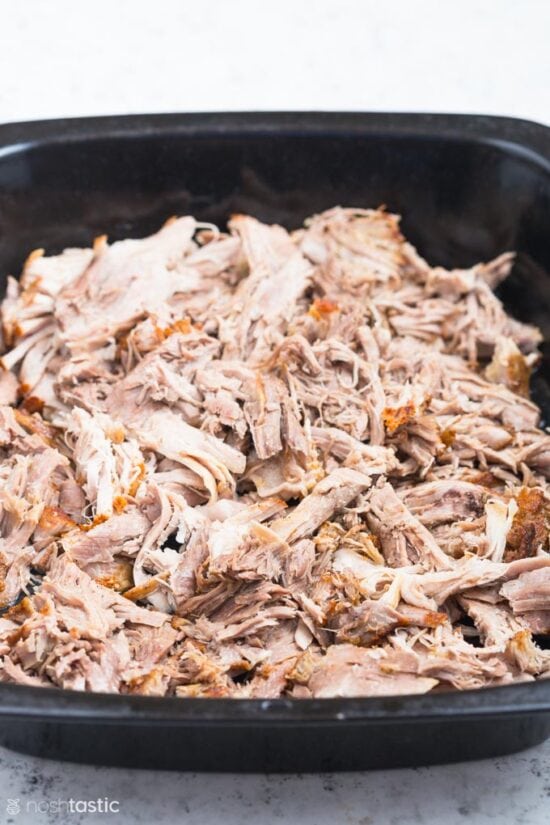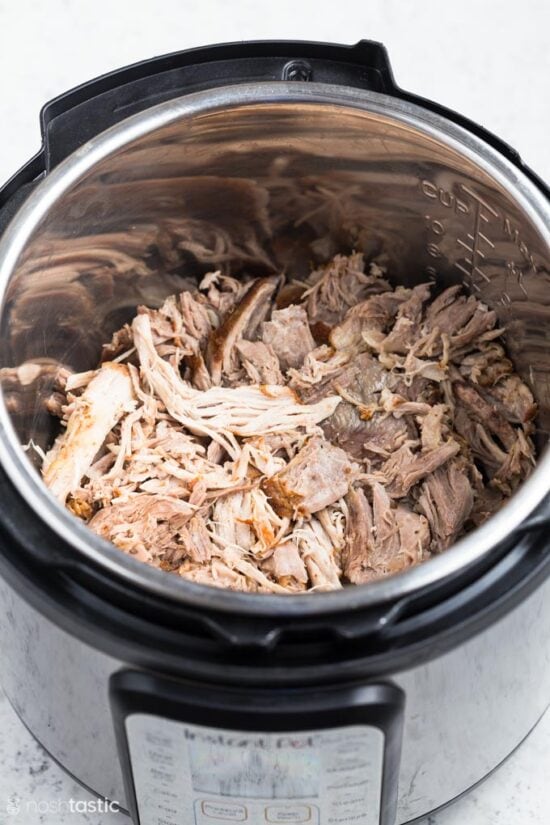 Instant Pot Pulled Pork
My Instant Pot Pulled Pork recipe is seasoned with a great BBQ rub and creates a fork tender result that takes about an hour to cook.
Prep Time: 10 minutes
Cook Time: 1 hour 5 minutes
Total Time: 1 hour 15 minutes
Total Carbs: 5.33 g
Protein: 39.18 g
Servings: 8
Ingredients
3 lb boneless pork shoulder , cut into two large pieces
1 tbsp olive oil , 15mls
Instructions
Scroll up to watch the recipe video first.

Cut the Pork shoulder into two pieces so that it will fit into your pressure cooker. This is easier with boneless pork but you may be able to make it work with bone-in.

Rub the meat all over with the BBQ rub.

Turn on the saute setting in your pressure cooker and add a little oil, then brown the meat on all sides.

Add the small trivet with handles that came with your Instant Pot into the inner pot and pour in 1 cup water. I have a 6qt model, you may need more water for the 8qt. I was only able to fit one piece of the pork shoulder in at a time.

Lock the lid, turn the steam release vent to 'sealing' and using the manual setting, adjust it to cook for 65 minutes.

When the cook time time is up, allow the unit to reduce pressure on its own without opening the steam release vent (Natural Release) for 15 minutes, then release the remaining pressure and open the lid.

Check the meat to see if it cooked enough, you should be able to pull it apart easily if it is. If not simply add the lid back and cook it for 10-15 more minutes.

Once cooked and pulled apart you can add BBQ sauce if desired.
Recipe Notes
Cook time – How long it takes to cook depends on the size of the piece of meat so it's best to check it after 65 minutes to see if you can pull it apart, if not simply cook it for a little longer. 
Servings – 3lbs of pork will make about 8 servings. 
Nutrition – If you make the recipe as written then it has about 4g net carbs per serving.
Storage – You can keep the cooked pork in the fridge for three to four days in an airtight container. Or you can freeze it for later.
Nutrition Facts
Instant Pot Pulled Pork
Amount Per Serving
Calories 257.41 Calories from Fat 74
% Daily Value*
Fat 8.26g13%
Saturated Fat 2.17g14%
Cholesterol 102.06mg34%
Sodium 1404.14mg61%
Potassium 748.34mg21%
Carbohydrates 5.33g2%
Fiber 1.57g7%
Sugar 2.61g3%
Protein 39.18g78%
Vitamin A 1766.35IU35%
Vitamin C 0.19mg0%
Calcium 28.32mg3%
Iron 2.61mg15%
* Percent Daily Values are based on a 2000 calorie diet.
Nutritional information on Noshtastic is provided as a courtesy and is approximate only. We cannot guarantee the accuracy of the nutritional information given for any recipe on this site.
Course: Main Course
Cuisine: American