Drunken noodles (or pad kee mao) is a wonderfully tasty Thai noodle dish made with wide rice noodles, Thai Basil, and a rich tasty sauce, my version is gluten free.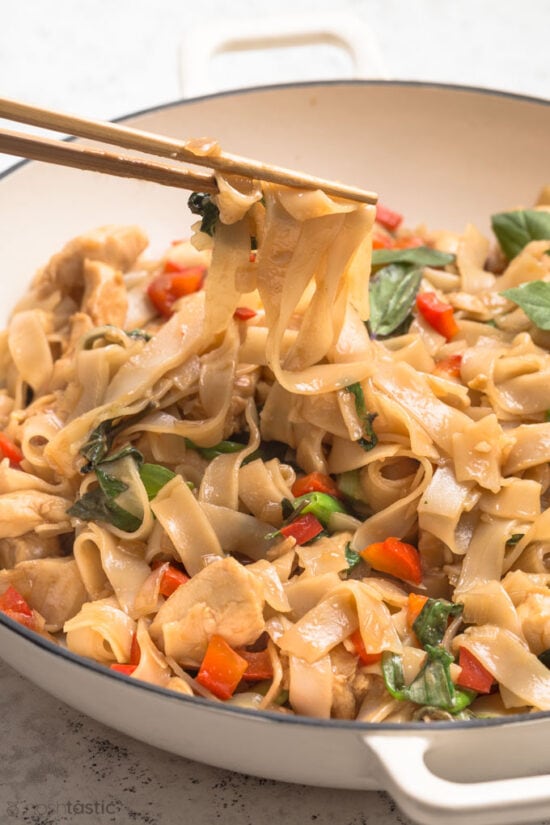 This post contains affiliate links
What do I need to make Drunken Noodles?
Most Drunken Noodles recipes have a common combination of ingredients including Thai red chilis (birds eye), Thai Basil, wide rice noodles, and usually oyster sauce, soy sauce and fish sauce.
However, if you've been around here for any length of time you'll know that all my recipes are gluten free and so I've offered ingredient substitutes below for some of the more hard to find ingredients.
Gluten Free Oyster Sauce
The main hard-to-find ingredient for Drunken Noodles is gluten free Oyster Sauce as the average grocery store doesn't always carry it, although that's changing as more and more gluten free ingredients show up in stores. I was able to find Kikkoman Green Label Oyster Sauce in my local Asian grocery store and it worked really well in this recipe.
Another popular option is the gluten free Panda Brand Oyster Flavored Sauce (with the green label) which has similar ingredients, but I've not tried it yet.
Oyster Sauce substitutes
If you can't find gluten free Oyster Sauce but still want to make this recipe then you'll find my measurements for substituting it with a mixture of a little more fish sauce, brown sugar and soy sauce in the recipe card below. It doesn't taste exactly the same as the oyster sauce but it's a close approximation.
Thai Basil or regular Basil?
Thai Basil is easy to find if you have a local Asian grocery store that stocks fresh fruit and vegetables. It has a wonderfully aromatic aniseed flavor and is really key to this dish but if you can't find it then simply substitute regular basil instead, it works well.
Wide Rice Noodles
Rice noodles are easy to find these days in most grocery stores and many of the main brands are gluten free (check the label!) If you can find 'A Taste of Thai' Wide Rice Noodles they are my preferred brand and they are labelled gluten free.
Red Chili Peppers
If you can't find Thai Red Chilis you can substitute with Serrano chilis or jalapenos in a pinch. Just be sure you know how hot the chili's are that you choose so you can adjust the heat to your own tastes.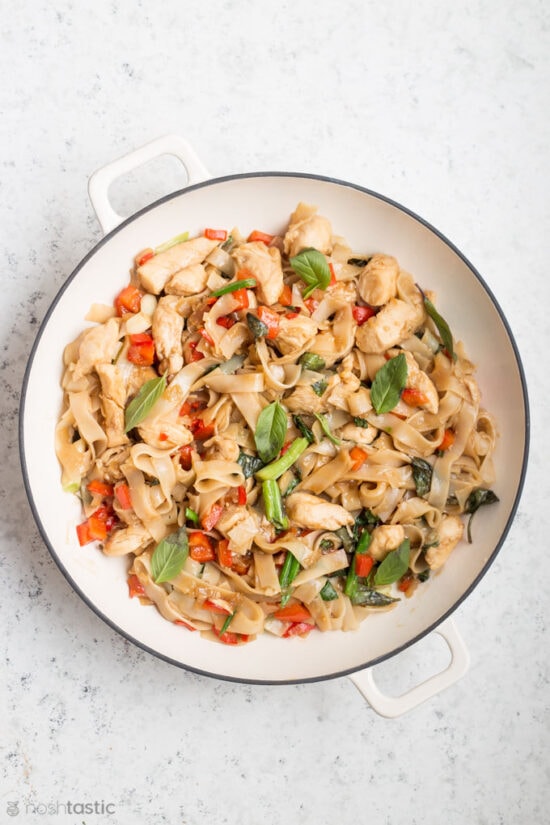 The Easy way to Make Drunken Noodles
The first step is to read the directions on the rice noodles for cooking or soaking them, this can take up to 30 minutes depending on the brand so that gives you time to prep the other ingredients.
Then, wash and prepare all the vegetables and chicken BEFORE you start to cook. This dish comes together very quickly so you'll want to have everything ready to go once you start cooking.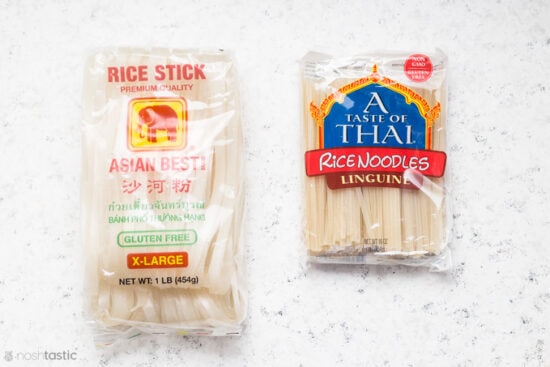 Next, prepare the chicken thigh meat (or chicken breast) by removing any excess fat and slicing it into small pieces about 1.5″ square then add the soys ingredients to the meat and set aside for 15 minutes.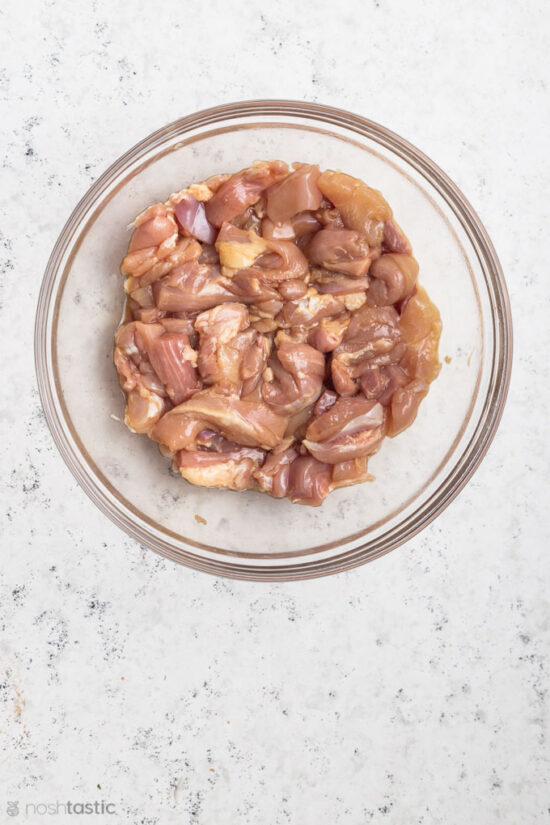 While the chicken is marinating you'll have time to deseed and slice the red bell pepper, finely chop the shallots, chili peppers, garlic, and peel and grate the ginger. Then, slice the green onions into 3″ long pieces and measure out about a cup of Thai basil leaves (remove the stems) for later.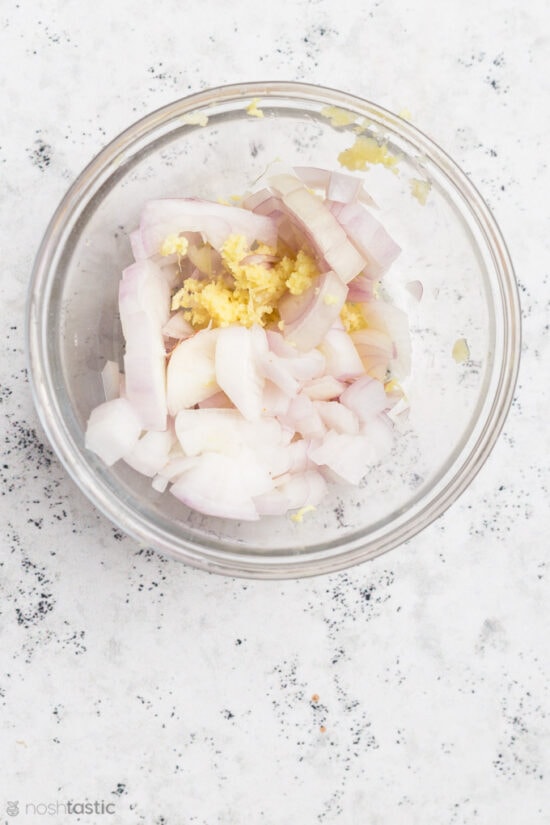 When you are ready to cook heat the oil in a large wok or high sided skillet (I like a cast iron skillet for this) and then drain the chicken from the marinade and reserve the marinade for later.
Add the garlic, shallots and chili peppers and cook for a minute or two and then add the chicken and the bell pepper slices and cook, stirring all the time, until the chicken is fully cooked.
Then, add the reserved marinade from the chicken and cook (stirring again) for a minute to cook off the marinade, then add the drained noodles, stir fry sauce and turn the noodles over in the sauce until they are fully coated and the sauce has thickened.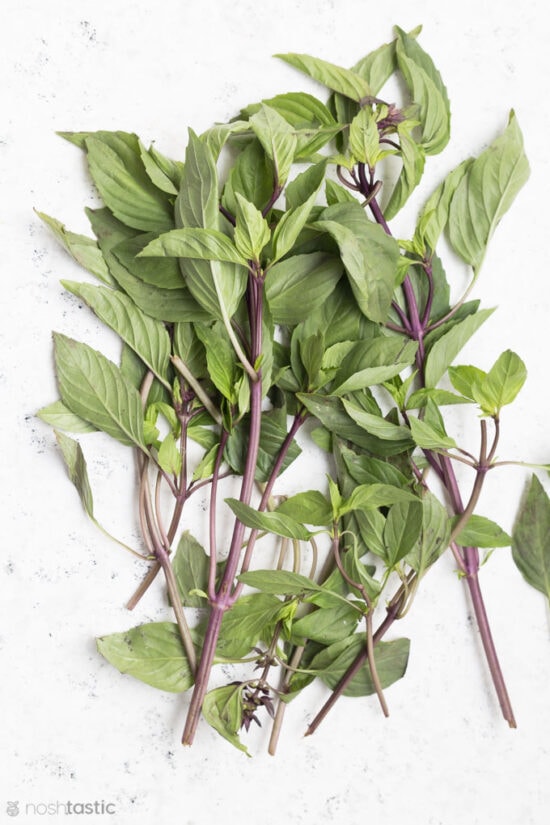 Take the pan off the stove and stir in the Thai basil leaves, the residual heat in the skillet with cause them to wilt very quickly. Serve right away while the noodles are still piping hot!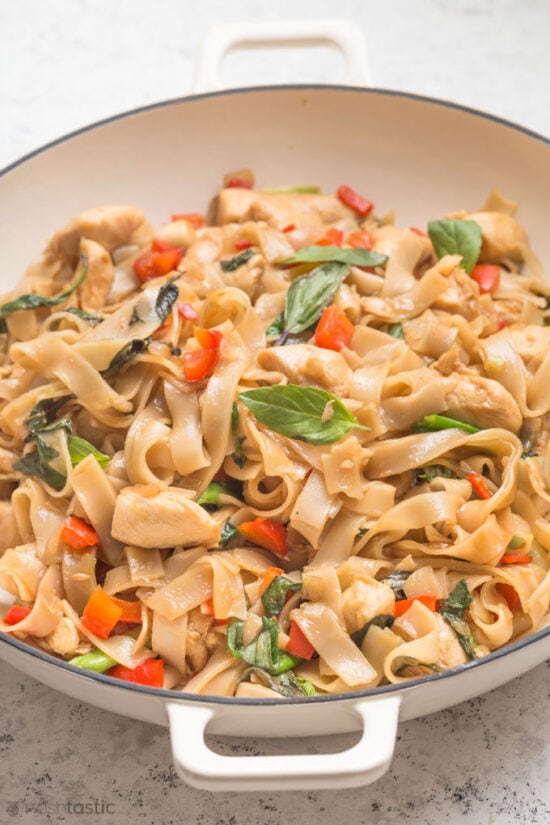 Drunken Noodles (Pad Kee Mao)
A wonderfully tasty Thai noodle dish made with wide rice noodles, Thai Basil, and a rich tasty sauce, my version is gluten free.
Prep Time: 20 minutes
Cook Time: 10 minutes
Total Time: 30 minutes
Total Carbs: 62 g
Protein: 26 g
Servings: 4
Ingredients
1/2 lb gluten free wide rice noodles , 225g
3 tbsp coconut oil , or other neutral oil
4 cloves garlic , minced
1 tsp fresh ginger , peeled and grated
2 small red chili peppers (birds eye) , deseeded, minced – or sub Jalapenos or Serrano chilis
3 shallots , finely chopped
1 red bell pepper , deseeded, chopped
3 green onions
1 cup Thai basil leaves , (packed cup) remove stems
Chicken Marinade Ingredients
1 lb boneless skinless chicken thighs (4) , or chicken breast, sliced into small 1.5" pieces
Stir Fry Sauce ingredients
Instructions
Read the directions on the rice noodles and cook or soak them accordingly and then drain well.

Mix 1 tbsp of low sodium gluten free soy sauce for the marinade with the chopped chicken together in a small bowl and set aside.

Add the coconut oil (or other neutral oil) to a hot skillet or wok then add in the garlic, ginger, finely chopped shallots, finely chopped chili peppers, and stir over a medium high heat for about a minute.

Add the sliced chicken and red bell pepper pieces and cook, stirring constantly, until the chicken is cooked all the way through, takes about three to six minutes depending on the thickness of the chicken pieces.

For the stir fry sauce mix together the gluten free oyster sauce, (or substitutes listed in the notes) reduced sodium gluten free soy sauce, water, coconut sugar or brown sugar, and corn starch.

Add the drained cooked rice noodles, sliced green onions, stir fry sauce, and cook for one to two more minutes until the noodles are coated in the sauce and the sauce has thickened.

Remove the skillet from the heat and immediately add the Thai basil leaves and stir well to mix and they will wilt in about a minute or two.

Serve right away while still hot.
Recipe Notes
Low Sodium Gluten Free Soy Sauce – I always try to use the lower sodium version of gluten free soy sauce so that the whole recipe is not overly salty when it's cooked.
Gluten Free Oyster Sauce – This may be hard to track down in your grocery store, if you have an Asian grocery store that's your best bet. The two common brands I know of that are gluten free are Panda Brand Oyster Flavored Sauce (green label) and Kikkoman Green Label Oyster Sauce.
Rice Noodles – Traditionally Drunken Noodles use wide rice noodles which are easy to find in any Asian Grocery. You should be able to find regular width rice noodles in your grocery store and can of course use them if that's all you can get.
Thai Basil – You should be able to find this in any Asian grocery store that carries fresh produce, it has purple stems and is more aromatic than regular basil with a slightly aniseed flavor. That said, if you can't find any you can substitute with regular basil
Chili Peppers – Authentic drunken noodles use Thai chilis but I've subbed with either Serrano or Jalapeno peppers as that was all that was available to me locally. Serranos are hotter than Jalapenos. You can add more or less depending on your heat tolerance, real birds eye chilis are pretty hot for most people so just be aware of that if you've not used them before. 
Nutrition Facts
Drunken Noodles (Pad Kee Mao)
Amount Per Serving
Calories 497 Calories from Fat 144
% Daily Value*
Fat 16g25%
Saturated Fat 10g63%
Cholesterol 108mg36%
Sodium 1119mg49%
Potassium 496mg14%
Carbohydrates 62g21%
Fiber 3g13%
Sugar 5g6%
Protein 26g52%
Vitamin A 1383IU28%
Vitamin C 47mg57%
Calcium 54mg5%
Iron 2mg11%
* Percent Daily Values are based on a 2000 calorie diet.
Nutritional information on Noshtastic is provided as a courtesy and is approximate only. We cannot guarantee the accuracy of the nutritional information given for any recipe on this site.
Course: Main Course
Cuisine: Thai