Perfect Sage and Onion Whole 30 Paleo Meatballs served with a tasty, creamy, dairy free gravy made from coconut milk and beef broth!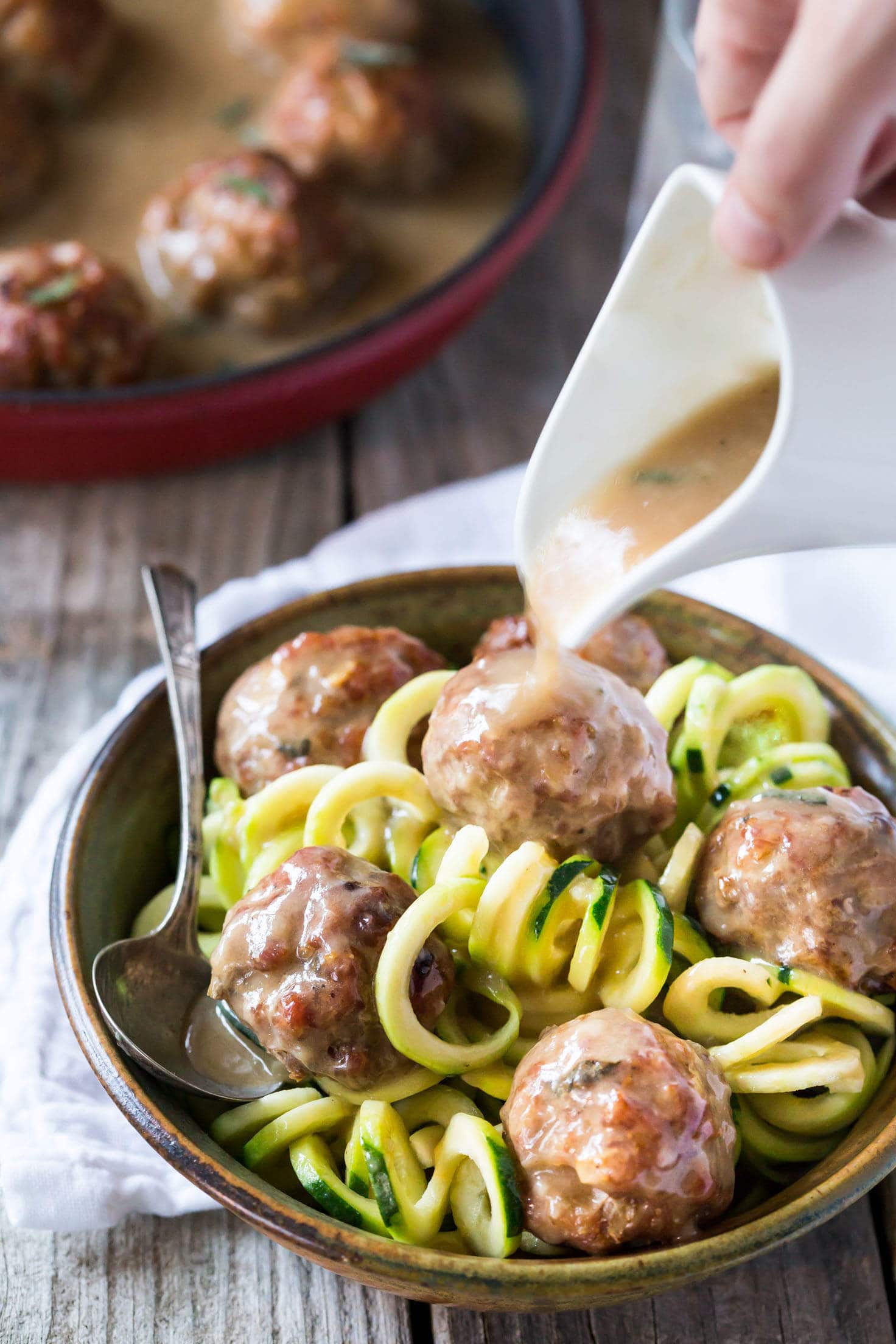 The key to the great taste in my Paleo meatballs is the combination of sage and onion.
If you are tempted to skip the step of sautéing the onions, please don't! Cooking down the onions a little makes them much sweeter and will mean the difference between a mediocre paleo meatball with little taste and a really great flavored one.
Pork, Sage and onion stuffing is commonplace at Christmastime in the UK, I grew up having it with my Christmas turkey every year.
If you can get fresh sage leaves then use those as they will give your meatballs considerably more flavor than dried sage.
We bought a spiralizer a little while back but I'm ashamed to admit that it has been languishing unused in the back of my pantry for too long.
We've made 'zoodles' (zucchini noodles) with it in the past, they are probably the most popular thing to spiralize, and the easiest. I love them and so does my husband, but my kids are going to take some convincing.
They simply don't like summer squash or zucchini and making it into noodles didn't entice either of them to have a taste, but that meant all the more for us!
I use the Paderno Spiralizer, I did my research and it seems to be one of the best spiralizers out there and we've certainly been very happy with it.
I like to cook the zucchini noodles in a covered dish in the microwave, you don't need to add any water.
I can't give you an exact time to cook, anywhere from about 40 seconds to 2 minutes depending on your microwave. You do need to watch them closely or you will end up with a big fat pile of mushed noodles if they overcook.
If you are not Paleo then you could serve this over mashed potatoes or pasta, either would work well. The cooked meatballs should freeze well. but I'm not sure about the gravy as it has coconut milk in it. If anyone tries it let me know!
*This post may contain Amazon or other affiliate links*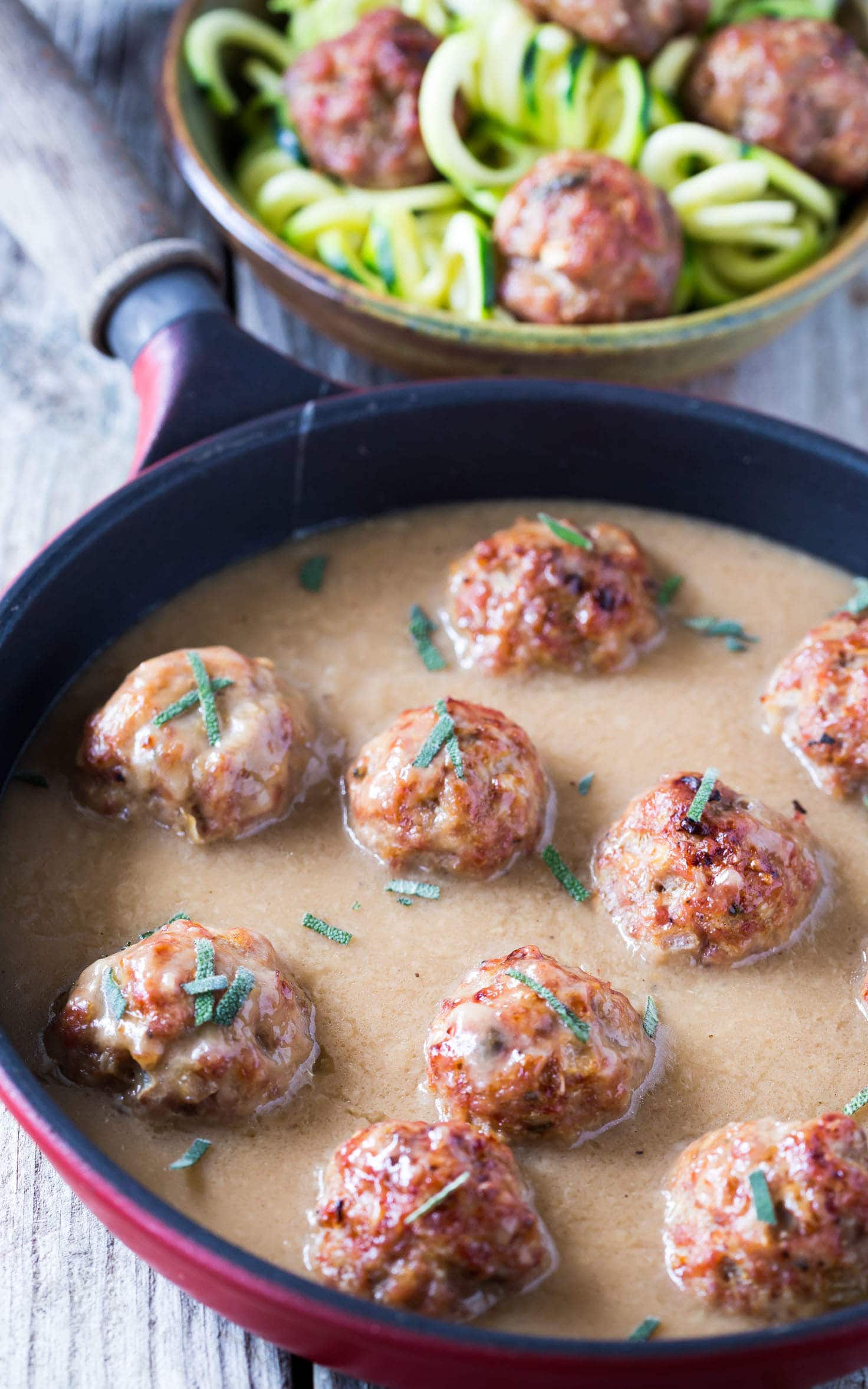 MORE EASY WEEKNIGHT RECIPES!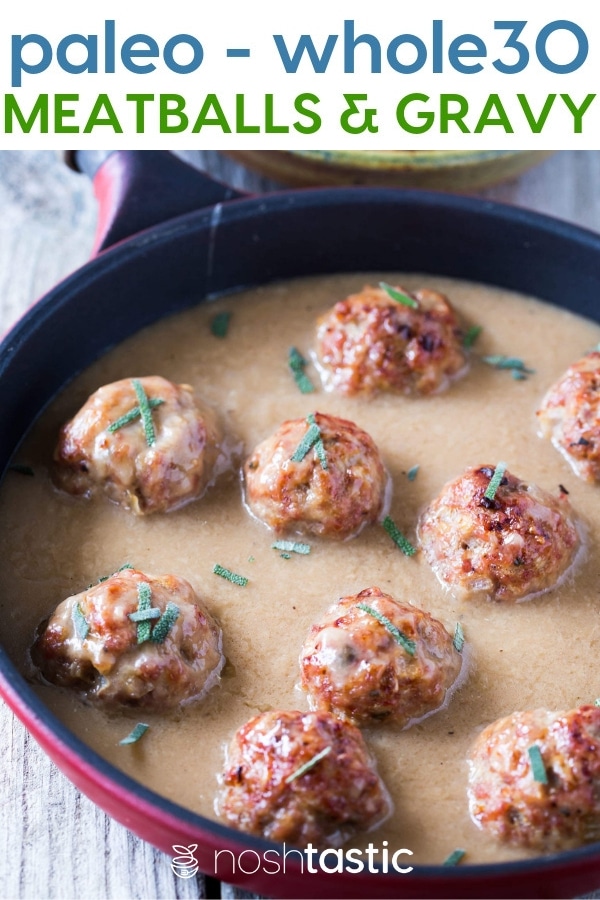 Whole30 Paleo Meatballs with gravy and zoodles
Easy Whole 30 sage and onion Paleo Meatballs with Creamy Dairy Free Gravy made with coconut milk, served with zucchini noodles (zoodles)
Prep Time: 20 minutes
Cook Time: 40 minutes
Total Time: 1 hour
Total Carbs: 8 g
Protein: 28 g
Servings: 6
Ingredients
1 onion , finely chopped.
1 tbsp coconut oil , for frying
1 tbsp fresh sage , finely chopped
2 lb ground pork , 900g
2 tbsp almond meal/flour
1 tsp salt
1/2 tsp pepper
1.5 cups gluten free beef broth , 375mls
1 tsp fish sauce , I used Red Boat brand
400 ml full fat coconut milk , 1 can
3 tbsp arrowroot , (optional)
salt and pepper , to taste
1 zucchini , (1 per person to make the noodles)
Instructions
*READ NOTES FIRST*

Preheat your oven to 400F

Saute the finely chopped onions in about two tablespoons of coconut oil until soft (but not brown) this will take about 10-15 minutes. Add in the chopped sage for the last five minutes.

In your

mixing bowl

add pork, onions, sage, almond meal, salt and pepper and mix well.

Form the meatballs by hand, about two tablespoons of the mixture for each meatball.

You now have two choices for cooking the meatballs. You can brown them in a skillet then bake them, or you can skip the skillet part and simply place the meatballs on a parchment lined baking sheet then bake as directed below.

The main difference between the two methods is that if you skip the skillet part the gravy won't have any of the tasty bits from browning the meatballs.

To brown the meatballs place them in a hot well oiled cast iron or non stick skillet for about 3 mins each side to get them brown on the outside, then transfer them to a sheet pan lined with parchment paper.

At this point I usually try and scoop out any stray cooked onions from the skillet as they will start to burn if you brown a second batch meatballs and spoil the flavor of your gravy.

Bake meatballs into your preheated oven at 400F for 20 minutes.

GRAVY

In the same skillet you cooked the meatballs in, add the beef broth, coconut milk, and fish sauce.

Using a wooden spoon or a whisk stir well to get the bits of browned meat up from the bottom of the pan and into the gravy, simmer for five minutes.

If you want to thicken it you can use about 2-3 tablespoons of arrowroot mixed with about a tablespoon of cold water or beef broth.

Remove gravy from the heat and add the arrowroot mixture, stir really well then return to a low heat until the gravy thickens.

Sieve gravy to get any lumps out and season with salt and pepper to taste.

ZUCCHINI NOODLES (optional)

Steam them in a covered dish in the microwave for 40 seconds - 2 minutes, watch them closely so they don't turn to mush.
Nutrition Facts
Whole30 Paleo Meatballs with gravy and zoodles
Amount Per Serving
Calories 594 Calories from Fat 441
% Daily Value*
Fat 49g75%
Saturated Fat 26g163%
Cholesterol 108mg36%
Sodium 786mg34%
Potassium 725mg21%
Carbohydrates 8g3%
Fiber 1g4%
Sugar 1g1%
Protein 28g56%
Vitamin A 95IU2%
Vitamin C 8.9mg11%
Calcium 57mg6%
Iron 4mg22%
* Percent Daily Values are based on a 2000 calorie diet.
Nutritional information on Noshtastic is provided as a courtesy and is approximate only. We cannot guarantee the accuracy of the nutritional information given for any recipe on this site.
Course: Main Course
Cuisine: Paleo