My Paleo Italian Meatballs contain no breadcrumbs or grains of any kind, they are perfect for Whole30 and low carb and keto diets with less than 2g net carbs per serving.
These beef and pork meatballs are baked in the oven and the Marinara sauce is made on the stove, from scratch, with tomatoes, onions, garlic and herbs, it's a delicious and easy recipe and your family will love it!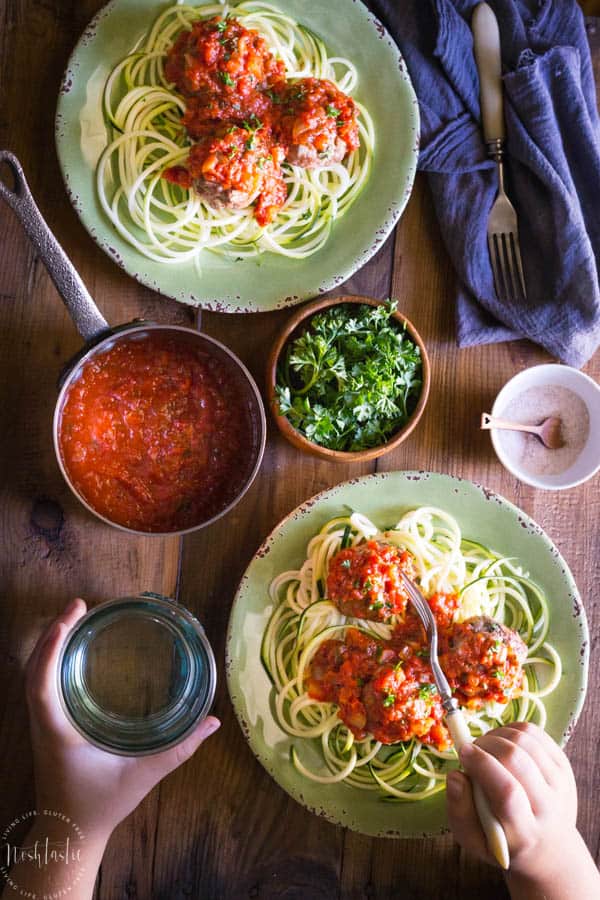 How to make Homemade Paleo Italian Meatballs with Marinara Sauce
It's so quick, they only take about 20 minutes to bake and they get a nice sear on the outside from the hot oven that you don't really get if you cook them right in the sauce.
Step 1 –  The first thing I do is to use parchment paper to line the sheet pan, it makes for less scrubbing and cleaning later on, I've found that meat sometimes sticks to foil.
Step 2 – Preheat your oven so it's ready to bake the paleo meatballs, then mix the ground pork and ground beef together in a bowl along with the egg and seasonings.
Step 3 – Now you need to make the meatballs, I used about two tablespoons of the mixture and try to make them all a uniform size so they cook evenly.
Step 4 – Bake the meatballs for about 20 minutes, it doesn't take long!
Step 5 –Saute the onions in a pan on the stove, then add the chopped garlic, canned tomatoes, bay leaf and pepper to the pan and simmer for about 20-30 minutes.
Step 6 –Serve your Paleo Italian Meaballs with the Marinara Sauce over the top and garnish with a little chopped parsley.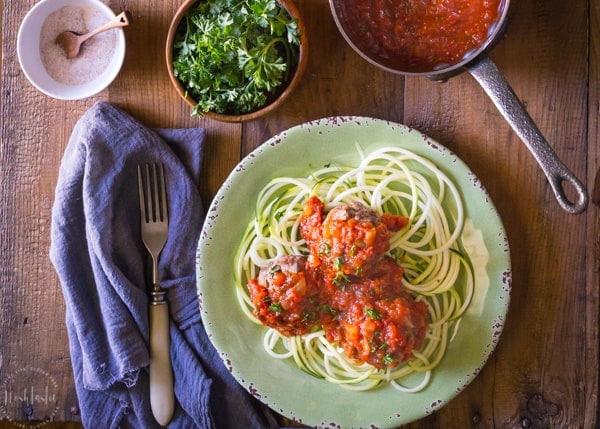 Kitchen Tools I used to make Paleo Italian Meatballs
Paderno Spiralizer – This is the spiralizer I have and I love it! I've had it for several years without any issues.
Inspiralized Spiralizer – If I didn't already own my Paderno, the Inspiralizer would be the one I'd go with. Lots of of my fellow food bloggers have it and have said it holds up really well compared to some of the others.
This post contains Amazon affiliate links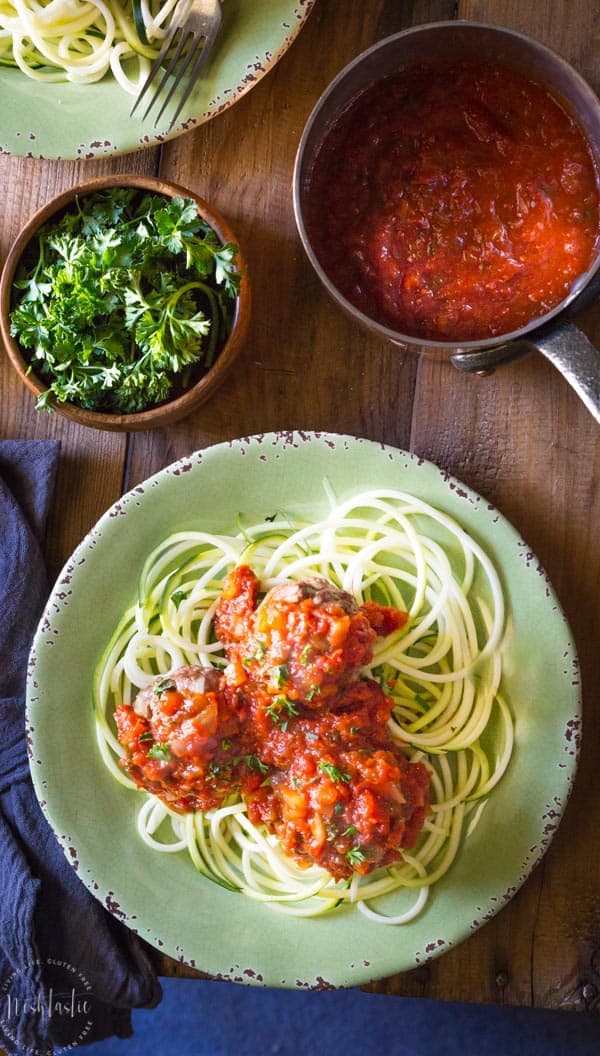 Related Paleo Dinner Recipes
Best Ever Paleo Italian Meatballs in Marinara Sauce!
Unbelievably easy Oven Baked Paleo Italian Meatballs! (Gluten Free and Whole 30 too) Perfect for a weeknight dinner and on the table in LESS than 30 minutes
Prep Time: 15 minutes
Cook Time: 30 minutes
Total Time: 45 minutes
Total Carbs: 3.5 g
Net Carbs: 1.6 g
Protein: 42.1 g
Servings: 8
Ingredients
Meatballs
2 lb Lean ground pork
1 lb Lean ground beef
2 tbsps Italian Seasoning
1 egg
1 tbsp parsley , finely chopped
2 tsp salt
1 tsp ground black pepper
Instructions
Have you watched my easy recipe video? It's right below the recipe directions.

Preheat your oven to 400F

Line a half sheet pan with parchment paper so that the meatballs don't stick to the pan.

Mix the meat, egg and seasonings together in a large bowl.

Form about two tablespoons of the meat mixture into even sized meatballs and place them on the lined sheet pan.

Bake in a 400F oven for 20 minutes, or until fully cooked through.

To make the marinara sauce, first add the olive oil to a pan and heat up on a medium heat.

Now add the chopped onion and saute for five minutes.

Next, add the chopped garlic, canned tomatoes, bay leaf and pepper to the pan.

Cook on a low to medium heat for 20 - 30 minutes, until the sauce has thickened.

Serve over the cooked meatballs and sprinkle with chopped fresh parsley. (If you enjoyed this recipe, please leave a comment below, thank you!)
Recipe Video
Nutrition Facts
Best Ever Paleo Italian Meatballs in Marinara Sauce!
Amount Per Serving (265 g)
Calories 359 Calories from Fat 172
% Daily Value*
Fat 19.1g29%
Cholesterol 161mg54%
Sodium 509mg22%
Carbohydrates 3.5g1%
Fiber 1.9g8%
Sugar 2.6g3%
Protein 42.1g84%
* Percent Daily Values are based on a 2000 calorie diet.
Nutritional information on Noshtastic is provided as a courtesy and is approximate only. We cannot guarantee the accuracy of the nutritional information given for any recipe on this site.
Course: Main Course
Cuisine: Italian