Paleo Chicken Piccata recipe made with flattened seasoned chicken breast, dredged in almond flour and then pan fried and topped with a tangy flavorful sauce that's made with chicken broth, capers and a little lemon juice and fresh parsley, it's a very easy paleo recipe to make!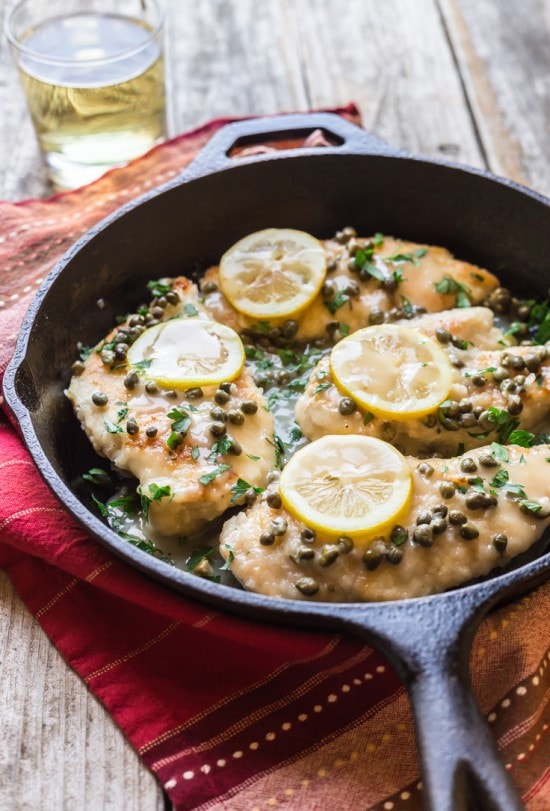 This post contains affiliate links
This is a healthy remake of a classic Chicken Piccata recipe, I think you'll love it!
Where is Chicken Piccata From?
Chicken Piccata originally comes from Italy.
The word Piccata means 'larded', when used in reference to cooking and food it means sliced, sauteed and cooked with lemon and butter.
Usually the flattened chicken breast is dredged in seasoned flour before being sauteed in a pan, my Paleo Chicken Piccata uses almond flour instead of regular flour.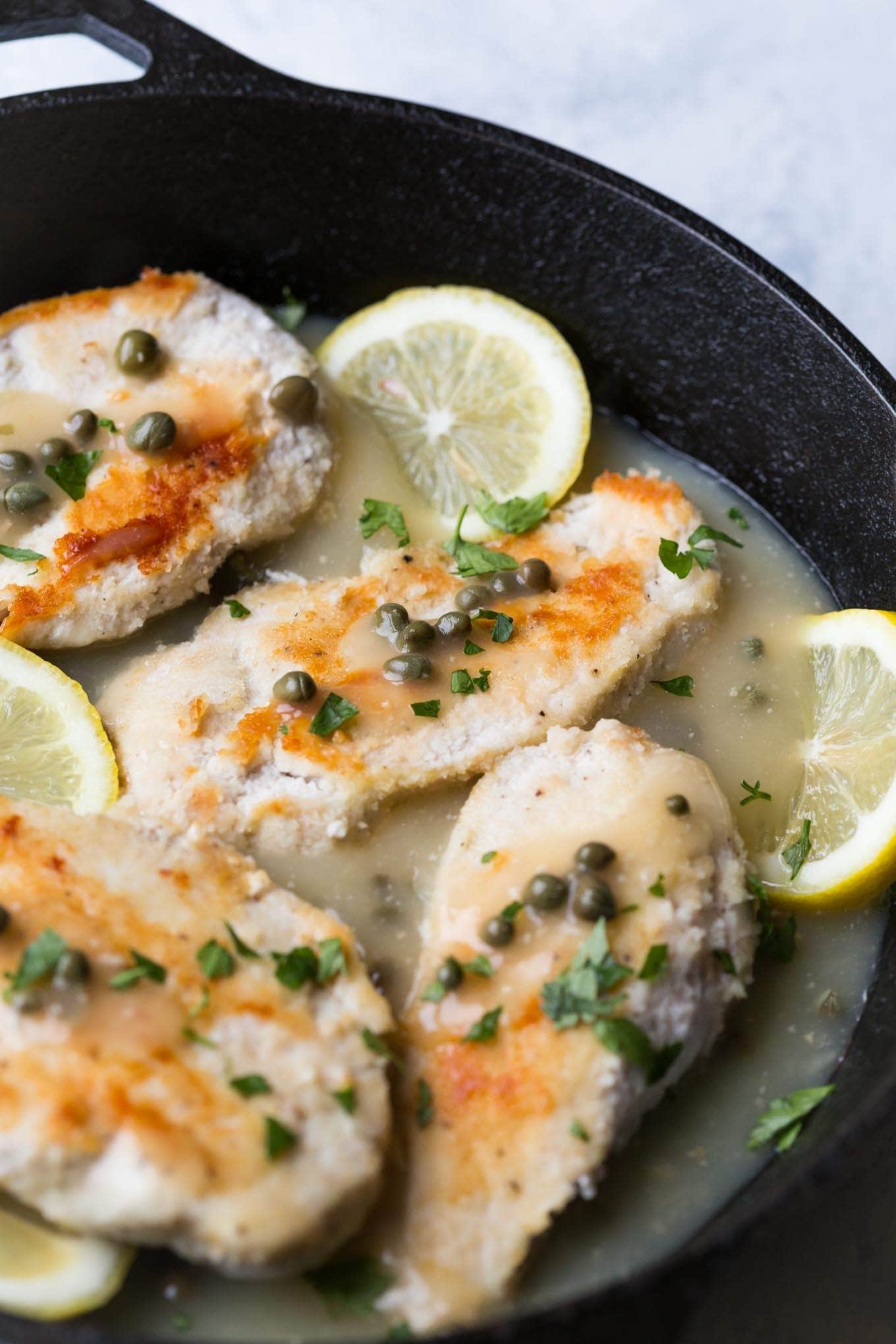 How To Make Paleo Chicken Piccata
I've experimented with the original recipe and added nutritional yeast which has a very rich flavor, so just a little gave a wonderful boost to the seasoned almond flour mixture.
The almond flour is a wonderful choice for 'breading' chicken and holds up well to shallow frying.
I had tried in the past to use tapioca and arrowroot starch to coat the chicken but they tended to turn slimy as soon as you add the liquid.
It's easiest if you cook the chicken in non stick pan or well seasoned cast iron skillet so that all that lovely coating doesn't stick to the pan.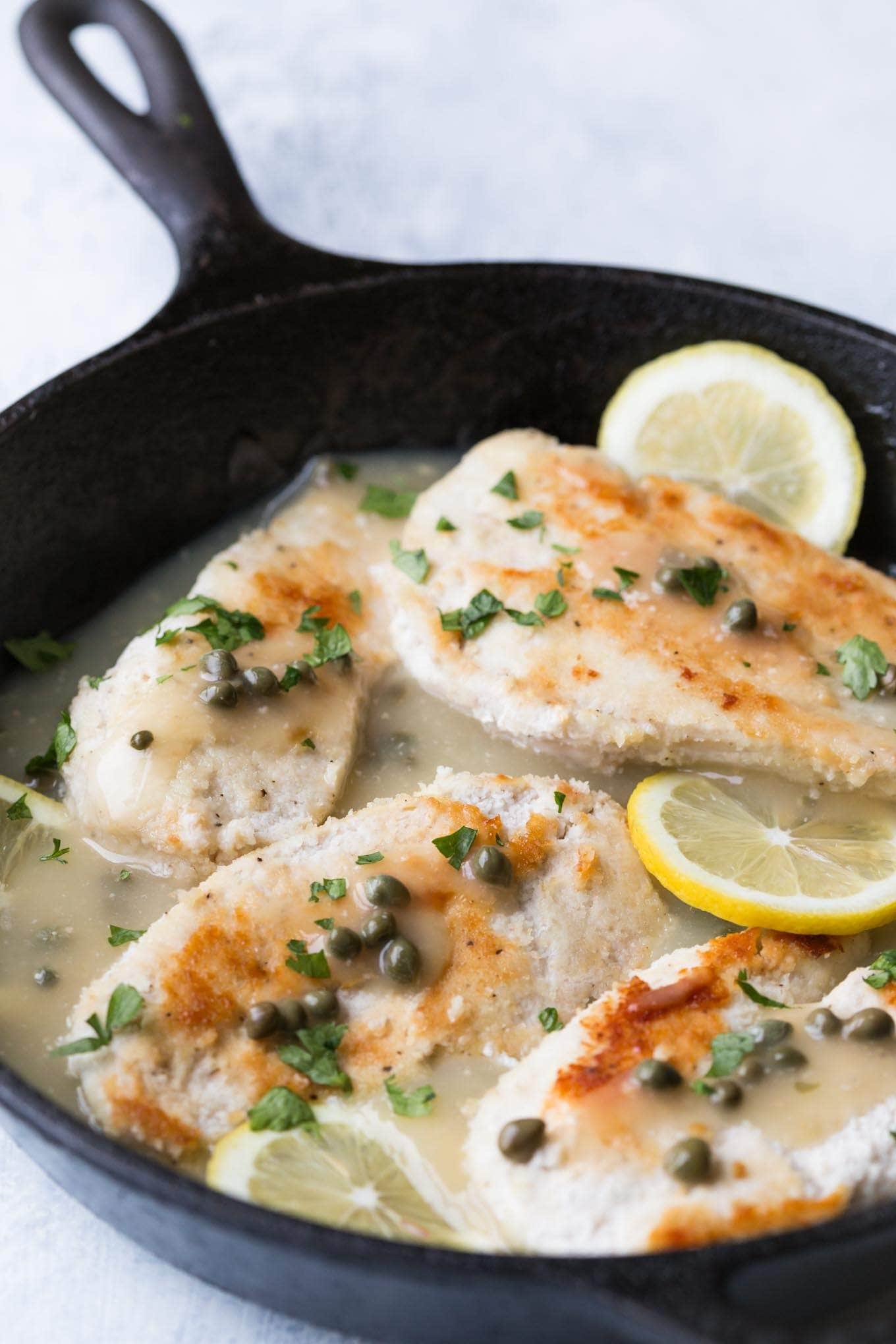 Making the Paleo Chicken Piccata Sauce
The sauce is very simple, it's just chicken broth or stock, freshly squeezed lemon juice and capers, that's it!
I like to rinse the capers before I add them so that the vinegar taste doesn't overwhelm the sauce.
Once you've thickened the sauce you can taste it and see if you like the lemon flavor as it is, or if it's too tart. If it is, you can simply add a little more chicken broth to dilute it.
I love the sharp lemon flavor but my children don't so I water it down for them.
Then, sprinkle with a little parsley and serve hot!
Related Paleo Chicken Recipes
Paleo Chicken Piccata
This easy chicken recipe is Low Carb,Whole 30, low in calories and gluten free, and dairy free. Super quick to make!
Prep Time: 15 minutes
Cook Time: 15 minutes
Total Time: 30 minutes
Total Carbs: 15 g
Protein: 34 g
Servings: 2
Ingredients
2 chicken breasts , 700g (approx.) butterflied, skinless and boneless
1/2 cup almond flour , 45g
1 tbsp nutritional yeast , optional, make sure it's gluten free
1/4 tsp salt
1/4 tsp ground black pepper
1 tbsp oil
3/4 cup gluten free chicken stock , 190mls
2 tbsp fresh lemon juice
1/4 cup capers , rinsed in cold water
1 tbsp arrowroot , or cornstarch if not paleo/w30
1/4 cup parsley , finely chopped for garnish
lemons , thinly sliced for garnish
Instructions
Have you watched the step by step recipe video yet? it's just above the recipe card on mobile, and will autoplay in the sidebar on desktop as you scroll.

(For details on my 2015 version of this recipe which had no 'breading', please see recipe notes.)

butterfly the chicken breasts by cutting them in half lengthways.

put the butterflied chicken pieces into the seasoned flour mixture and pat down to get it to coat each side evenly

cook the chicken for 4-6 minutes per side, or until it's fully cooked all the way through.

Remove the cooked chicken to a plate and cover with foil to keep warm, repeat with the other pieces of chicken and add a little more oil if you need to.


rinse the capers in cold water.


Now add the stock, lemon juice, capers and 1 tbsp tapioca starch or arrowroot starch mixed with cold water to the pan and stir on a medium heat until the sauce thickens


return the chicken to the pan with the sauce and warm it through before serving

Serve hot and garnish with parsley and lemon slices. If you enjoyed this recipe please leave a comment below, thank you!

Recipe Notes
You can make my 2015 version of this recipe by simply pan frying the chicken pieces (season with salt and pepper) without the 'breading', then thicken the sauce. It won't have quite the same flavor but it's a simpler option.
Adapted from Giada De Laurentiis
Nutrition Facts
Paleo Chicken Piccata
Amount Per Serving
Calories 417 Calories from Fat 225
% Daily Value*
Fat 25g38%
Saturated Fat 2g13%
Cholesterol 75mg25%
Sodium 1160mg50%
Potassium 629mg18%
Carbohydrates 15g5%
Fiber 4g17%
Sugar 2g2%
Protein 34g68%
Vitamin A 695IU14%
Vitamin C 12.3mg15%
Calcium 84mg8%
Iron 2.7mg15%
* Percent Daily Values are based on a 2000 calorie diet.
Nutritional information on Noshtastic is provided as a courtesy and is approximate only. We cannot guarantee the accuracy of the nutritional information given for any recipe on this site.
Course: Main Course
Cuisine: American