Pot Roast Tacos  are very easy to make and make a great weeknight meal option that you can cook in the oven or in a slow cooker if you prefer. I've got a few quick tips below to ensure you get the most from this easy recipe!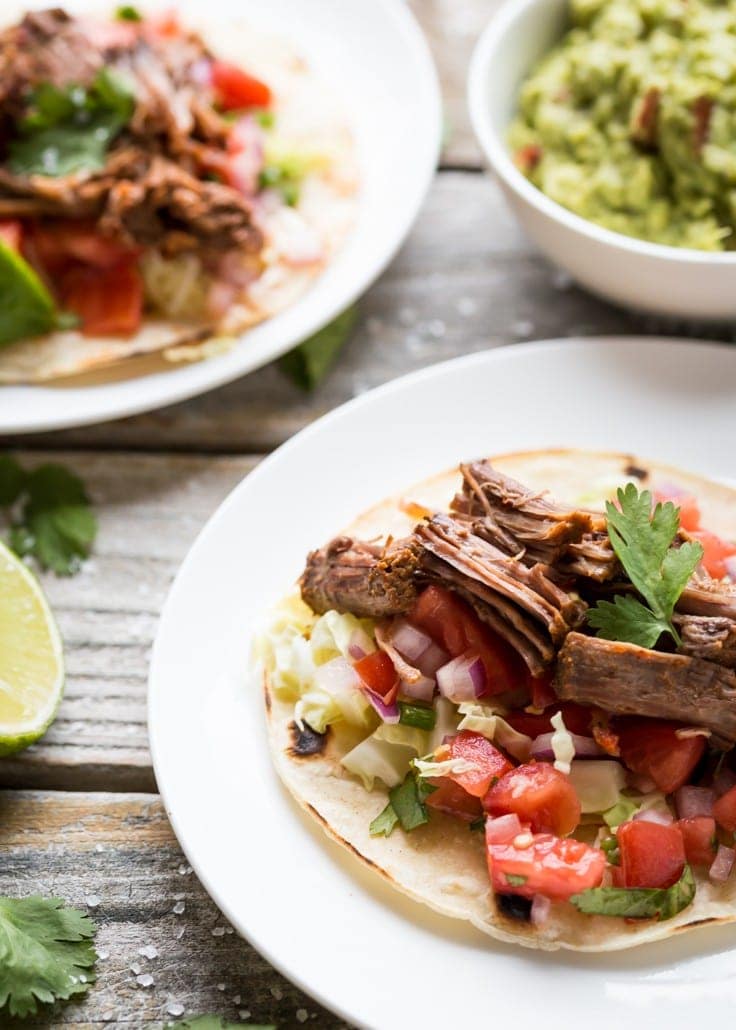 Tips for Making Pot Roast Tacos
This is a very forgiving Pot Roast Tacos recipe and it's perfect for an easy weeknight meal, or you can easily double the recipe to feed a hungry crowd as a little goes a long way if you add some sides to go with it. Here are my tips:
When you season the beef chuck roast with the salt, pepper, cumin, chili, garlic and cayenne pepper make sure that you mix the spices together first and then rub them well into the meat.
Brown the meat on both sides, don't skip this step! When you brown the meat well it adds to to the overall flavor and is really worth it.
If you are cooking your pot roast tacos in a slow cooker please take care not to overcook the meat. Your cook time will depend on how large your piece of beef chuck is and how hot your slow cooker gets, the newer ones tend to run hotter than the older models which cooked at a lower temperature.
This post  contains Amazon affiliate links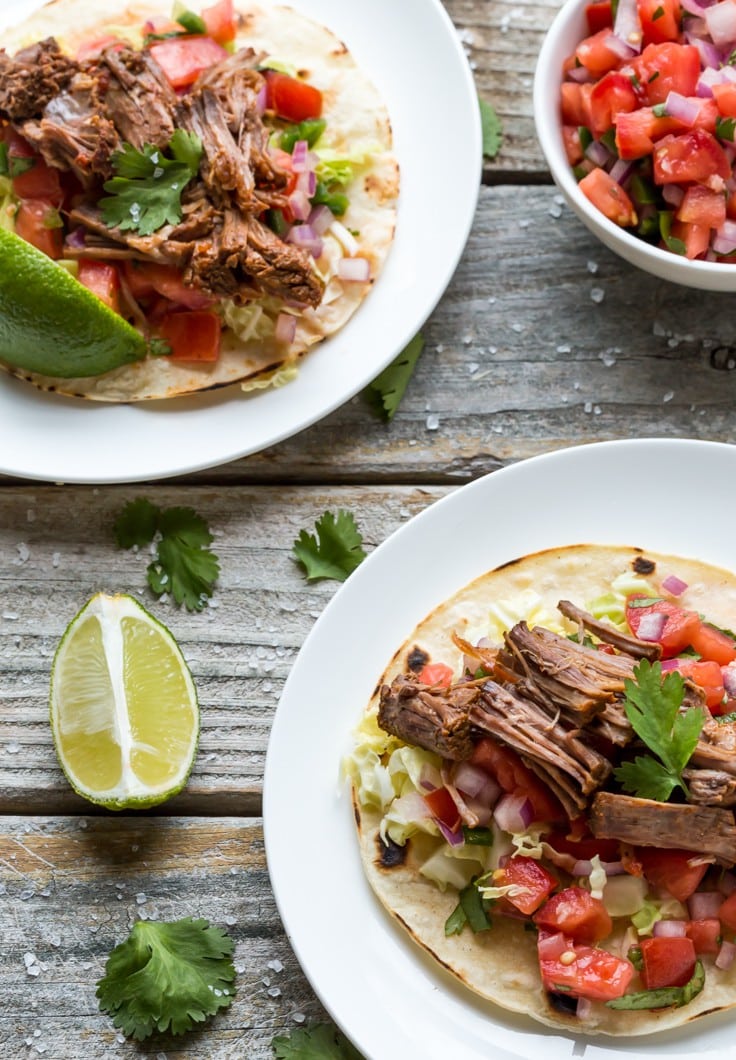 What to serve with Pot Roast Tacos
Corn tortillas are a must for Pot Roast Tacos. I like them best if they are warmed and slightly toasted in a cast iron skillet first as it improves the flavor tremendously.
If you are following the Paleo or Whole30 diet then you'll want to skip the corn tortillas that these pot roast tacos are normally served with and either wrap them in a large piece of lettuce or simply eat it from a bowl with the sides.
Guacamole is a must, if you can make it homemade that's the best, if you don't have time then avocado slices will work instead.
I love red onion slices with my pot roast tacos, they have a different flavor to white onions and I think they work really well with this dish.
I also put out some salsa, shredded lettuce and lime wedges to serve, add a little squeeze of lime to the meat just before you eat it really adds to the flavors already there.
My kids love to add shredded cheese and sour cream, that may not be strictly authentic but they enjoy it and they pile it on top of all the other sides!
Pot Roast Tacos
An easy Pot Roast Tacos Recipe made with a beef chuck roast that tastes delicious and can be made in the oven or in a slow cooker.
Prep Time: 20 minutes
Cook Time: 3 hours
Total Time: 3 hours 20 minutes
Total Carbs: 9 g
Protein: 45 g
Servings: 6
Instructions
HOW TO COOK POT ROAST TACOS IN A DUTCH OVEN
Preheat your oven to 325F

Season the meat with salt and pepper on all sides, and then rub the spices into the meat by hand, then add the meat to the pan and brown well on both sides.

Heat the oil in a

Dutch oven

and brown the meat well on both sides then remove the meat and set aside.

Add the tomatoes and onions to the

Dutch Oven

and a 1/4 cup of water and simmer for a few minutes and make sure to scrape up the meat juices from the bottom of the dutch oven.

heat the pan and contents on the stove top until the tomato mixture is hot, add the meat on top of the tomatoes put the lid on the pan and put it in the oven.

Cook it at 325F for 30 minutes, then at 300F for two hours or until just tender.
HOW TO COOK POT ROAST TACOS IN A SLOW COOKER
Season the meat with salt and pepper on all sides, and then rub the spices into the meat by hand. then add the meat to the pan and brown well on both sides.

Add a little oil to a hot skillet then add the meat to the pan and brown well on both sides.

Add the tomatoes to the pan you browned the meat in and simmer it for a minute or two and scrape all the meaty bits from the bottom of the pan, then add that to the slow cooker.

Add the tomatoes from the pan along with the onions to the slow cooker and place the chuck roast on top.

Cook the chuck roast on HIGH for 3-5 hours or 5-8hrs low. Some slow cookers run hotter than others so it's hard to give an exact time, I would check the meat after the shortest listed cook time, if you overcook the meat it will become dry and stringy and lose flavor.
Nutrition Facts
Pot Roast Tacos
Amount Per Serving
Calories 493 Calories from Fat 279
% Daily Value*
Fat 31g48%
Saturated Fat 12g75%
Cholesterol 156mg52%
Sodium 399mg17%
Potassium 1102mg31%
Carbohydrates 9g3%
Fiber 2g8%
Sugar 4g4%
Protein 45g90%
Vitamin A 730IU15%
Vitamin C 14mg17%
Calcium 107mg11%
Iron 7.6mg42%
* Percent Daily Values are based on a 2000 calorie diet.
Nutritional information on Noshtastic is provided as a courtesy and is approximate only. We cannot guarantee the accuracy of the nutritional information given for any recipe on this site.
Course: Dinner
Cuisine: Mexican