You can make these ADORABLE, cute,mini gingerbread house mug toppers!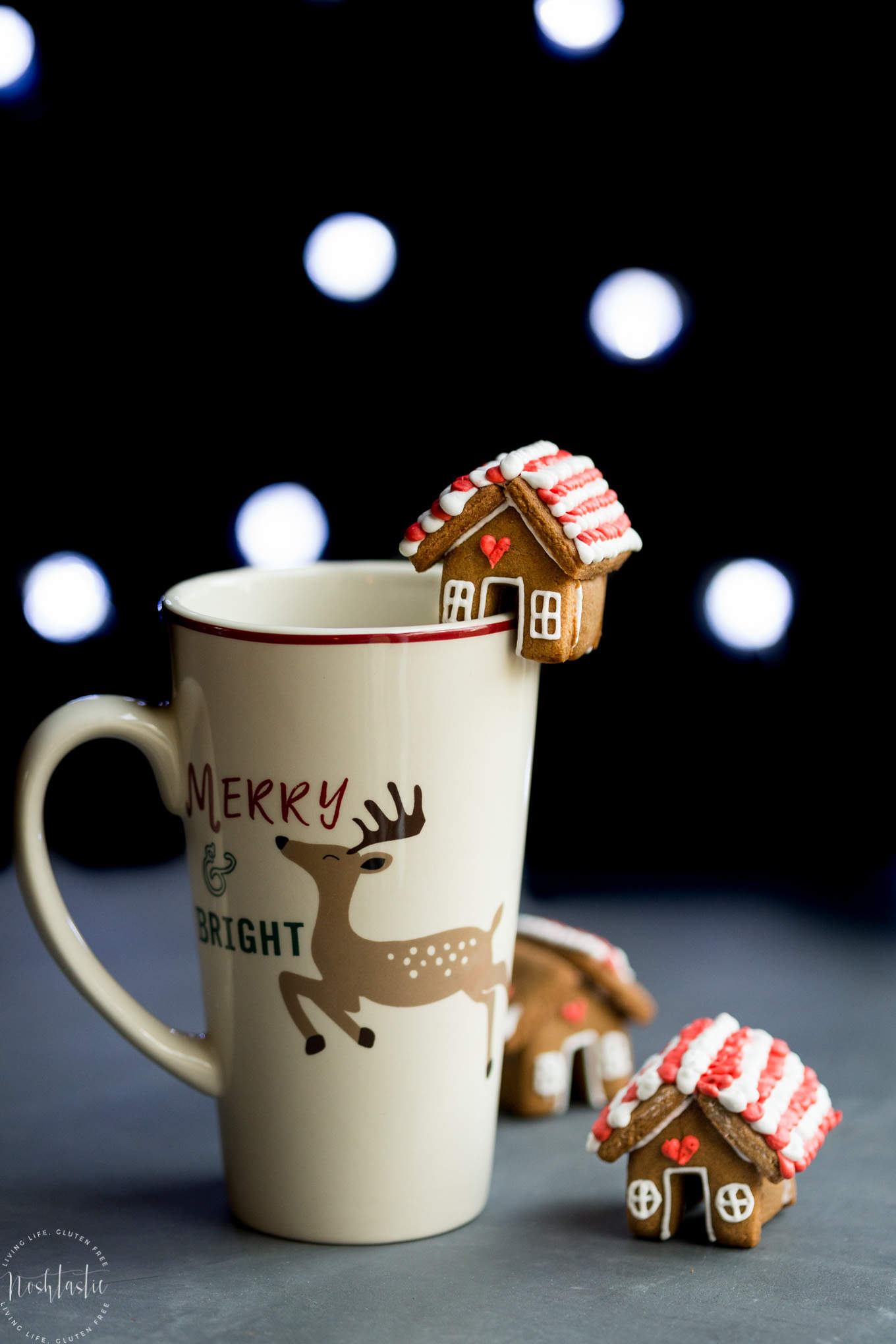 This post contains affiliate links
How to make mini gingerbread house mug topper cookies
I've had these mini gingerbread house cookie cutters since last year and this was the first time I've used them, I think they turned out really well, don't you?
I've made several batches of both mini house cookies with my own gluten free cut out cookie recipe which worked really well, and then I set to work tweaking a few gingerbread cookie recipes to get one that would work for these teeny tiny houses.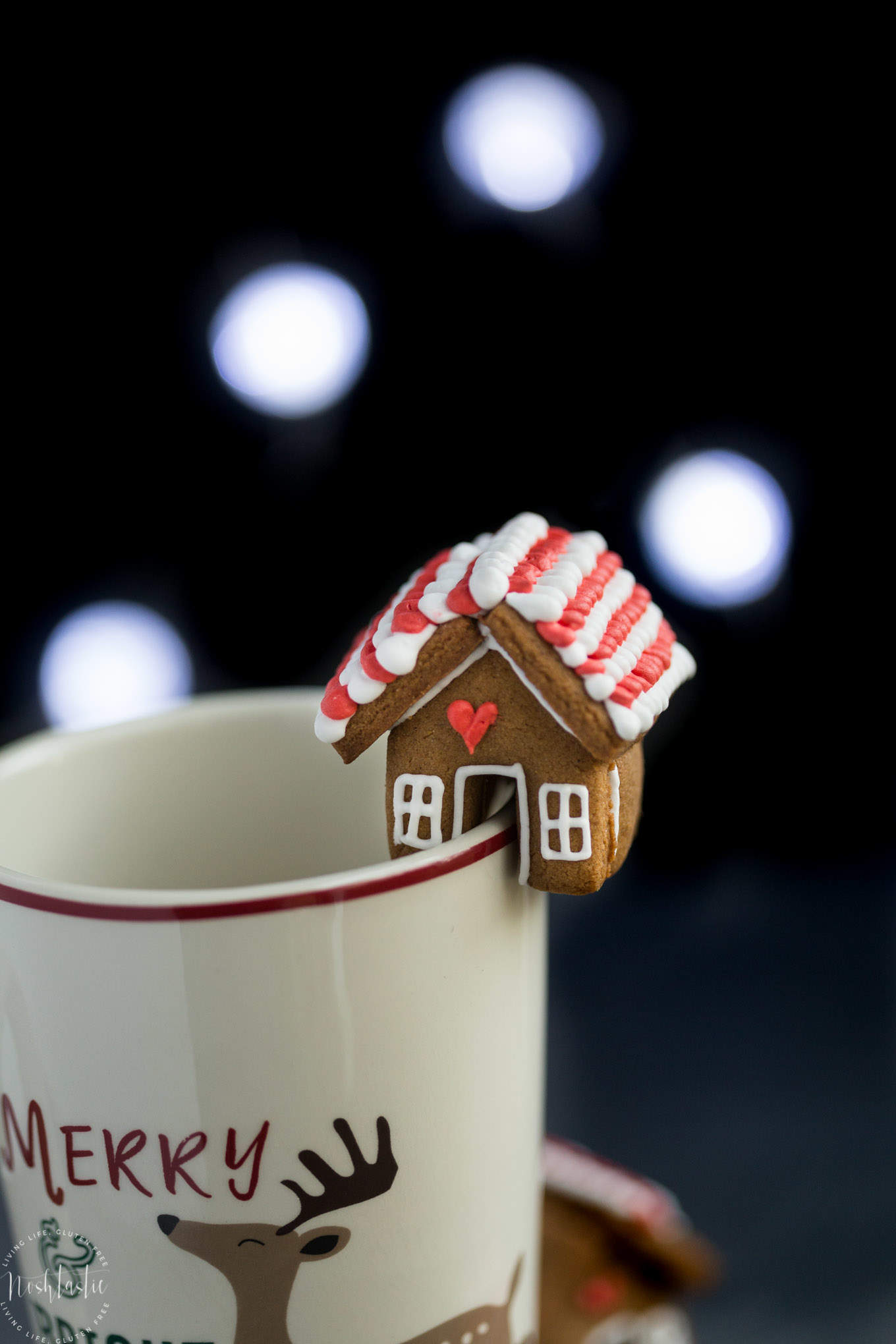 So in order to create a gingerbread recipe that works well for these mini houses you need one that will not only hold it's shape, but remain firm enough to handle and not puff up too much during cooking.
I found that most of the gingerbread cut out cookie recipe had too much molasses in them to work well for such small cookies, so I reduced the amount in half to make a much crunchier cookie.
I found it near impossible to move the cut out raw cookie dough cut outs when the recipe had more molasses in it, so that was another reason to cut the amount.
If you are making bigger cookies for cut outs, for gingerbread men for example,  then you could add another 1/4 cup of molasses to make them softer, but it will make it very tricky for this project so I suggest you stick to my recipe
Tools you'll need to make mini gingerbread houses
Obviously you can't make this without the appropriate mini house cookie cutter! I got mine from Amazon, it's very small but does the job perfectly.
There are a few to choose from in that list, mine was made by the Gingerbread Cutter Co who also have a super cute heart shaped mini cookie cutter that would be perfect for Valentine's day.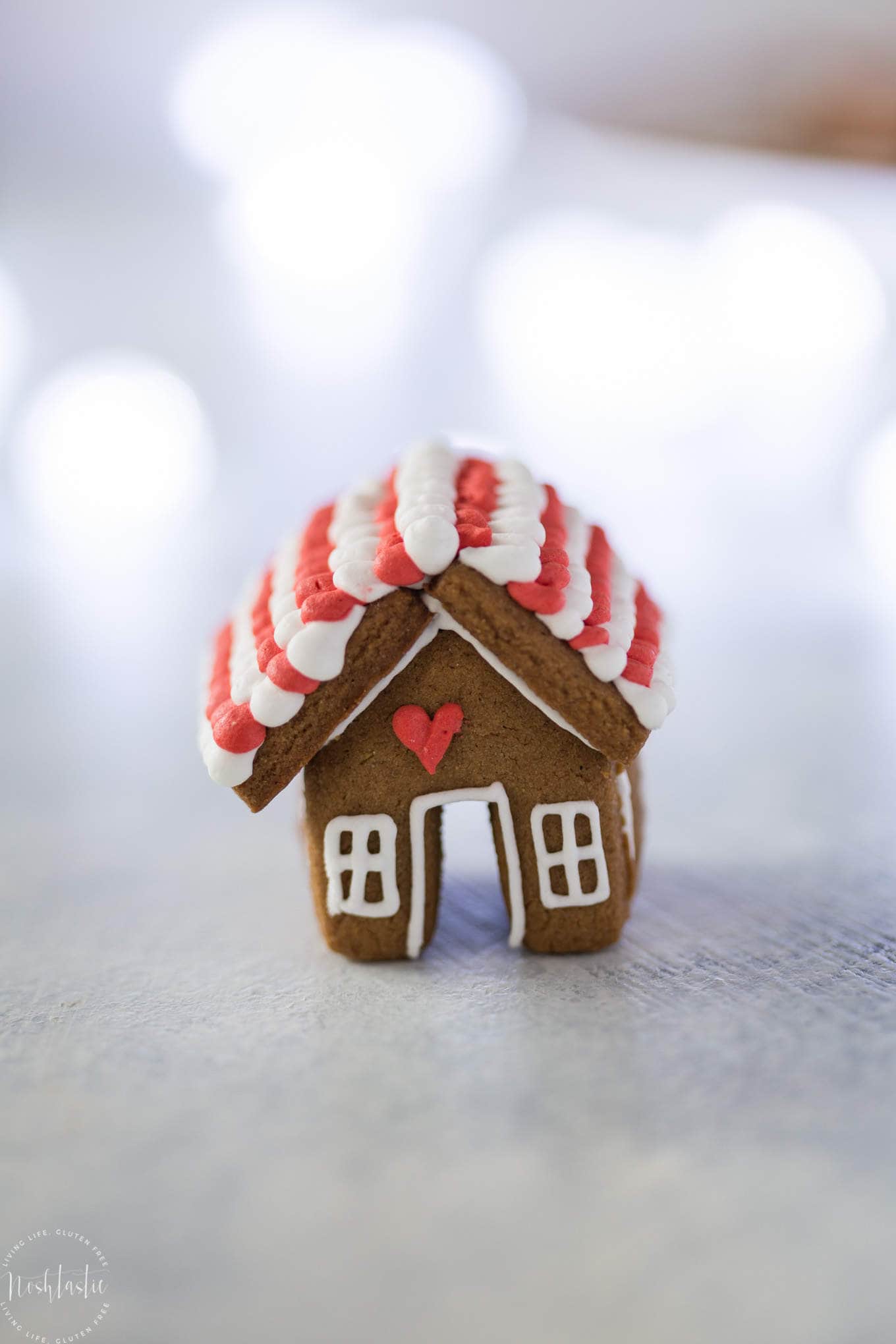 How to assemble and decorate your mini gingerbread house
You need stiff royal icing to glue the house together, it won't do to just mix powdered sugar and water and hope for the best. It will take about an hour or so until the icing is dried enough to handle the little houses.
It's pretty easy to assemble the house, the small squares are the sides and the rectangles form the roof.
I used my Royal Icing recipe for cookie decorating to stick the house together and to decorate it with. I just added about 1/2 tsp water to approximately two cups of the stiff icing, so it was still stiff but not quite as stiff as it comes out of the mixer.
I divided it up and colored one half with the no taste red color and the other half was just white.
You can see in the video how I decorated the mug cookie in detail, it will take at least 6-12 hours to dry fully.
Mini Gingerbread House Mug Cookie – gluten free
You can make these ADORABLE, cute,mini gingerbread house mug toppers!

Prep Time: 15 minutes
Cook Time: 12 minutes
Total Time: 27 minutes
Total Carbs: 14 g
Protein: 1 g
Servings: 36 cookies
Instructions
Please watch the video first, it's right above the recipe!

Whisk the flour, xanthan gum, baking soda, and spices together. Set aside.

With an electric mixer, cream the butter and sugar together for several minutes until smooth.

Add the molasses, egg, zest, and clementine juice, mix until well combined. Scrape down sides and bottom of bowl as you go.

On low speed add the flour mix a little at a time and scrape the bowl down as you go until it's fully incorporated.

Cover the dough with plastic wrap and refrigerate for 30- 45 minutes.

Preheat oven to 350. Line cookie sheets with parchment.

roll the dough out in to about 1/8th inch thick and use the mini gingerbread house cookie cutter to make the houses.

Remove to cooling rack to cool completely before you start to assemble the houses.

Use a half batch of my royal icing recipe to glue the house together (keep it stiff for this part)

Decorate it with stiff icing (watch the video above) that's thinned just a tiny bit so that it will come through the piping nozzle without clogging.

I used a wilton tip 2 for the roof tiles and heart over the door, and a wilton tip 1 to decorate round the door.

It will take several hours for the icing to fully dry, it will dry very hard.
Recipe Notes
I always bake by weight using a cheap digital kitchen scale as it's the most accurate way to ensure your recipe is correct, especially with gluten free baking where the different flour blends can vary wildly in terms of weight per cup. I have included approximate cup measures for those of you who don't yet have a scale, but you will get a better result if you weigh your ingredients. 
calorie count does not include icing and will vary depending on the size of your cookie.
Adapted from Bake at 350
Nutrition Facts
Mini Gingerbread House Mug Cookie – gluten free
Amount Per Serving (24 g)
Calories 100 Calories from Fat 36
% Daily Value*
Fat 4g6%
Saturated Fat 2g13%
Cholesterol 15mg5%
Sodium 57mg2%
Potassium 44mg1%
Carbohydrates 14g5%
Fiber 1g4%
Sugar 6g7%
Protein 1g2%
Vitamin A 125IU3%
Vitamin C 0.2mg0%
Calcium 19mg2%
Iron 0.6mg3%
* Percent Daily Values are based on a 2000 calorie diet.
Nutritional information on Noshtastic is provided as a courtesy and is approximate only. We cannot guarantee the accuracy of the nutritional information given for any recipe on this site.
Course: Cookie
Cuisine: American