Fish Pie is classic British comfort food that's easy to make and can be made with a variety of fish and shellfish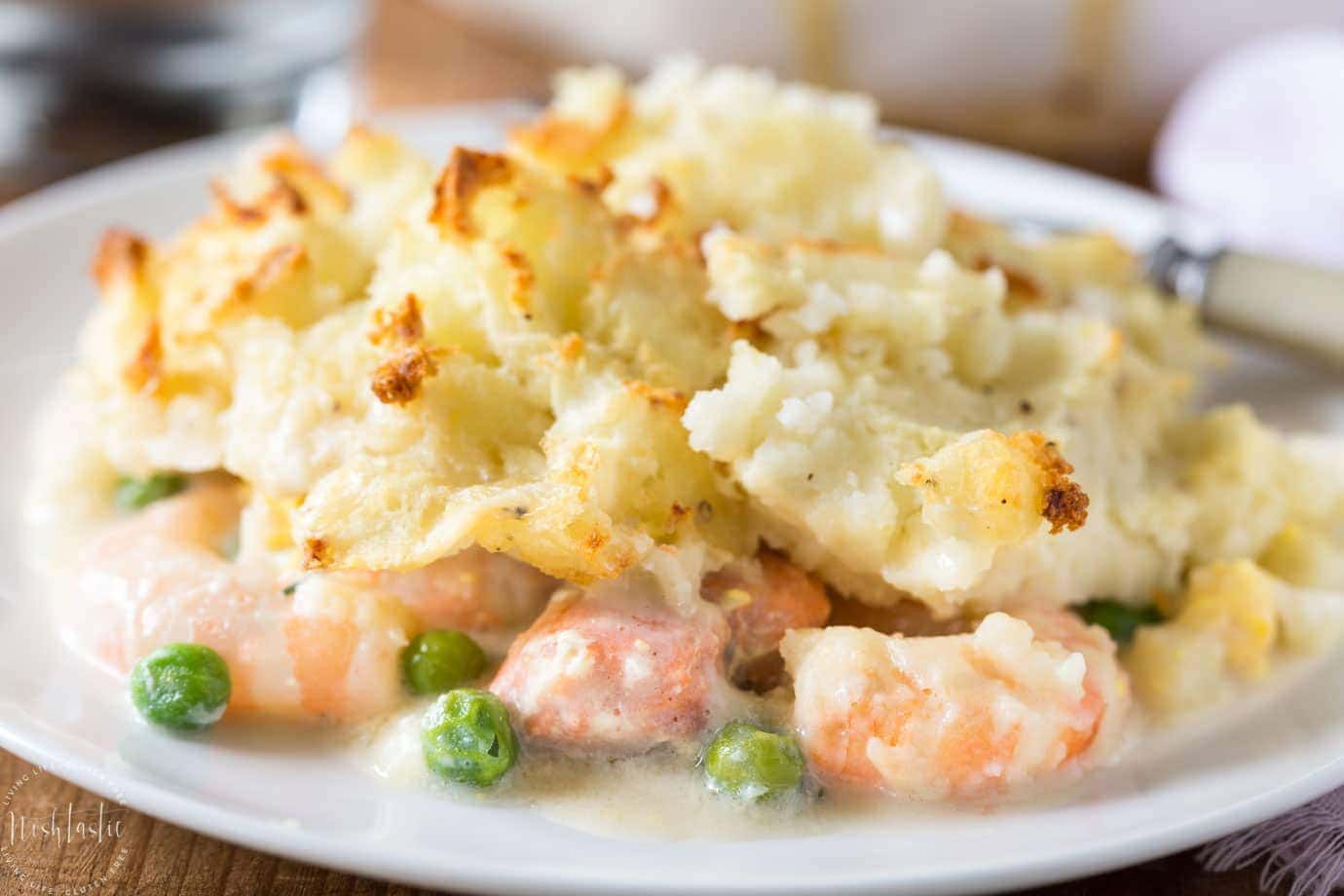 What is Fish Pie?
Fish Pie (sometimes known as Fisherman's Pie) is a classic British recipe that's the ultimate in weeknight comfort food!
It's typically made by first poaching the fish lightly in milk, and then that milk is used to make the white sauce. The pie is topped with mashed potato rather than pastry and baked in a hot oven.
I grew up on the West Coast of Scotland so the fish pie my family made had locally caught fish which often included cod, haddock, Whiting, or Pollock. We didn't usually prawns to it (they are similar to US shrimp) but I've added them to my recipe.
Smoked haddock is a very popular option that's often mixed in with the other fish, but I couldn't find any in Mississippi.
I've also added green peas and hard cooked eggs as that's the way my Mother in Law made it and I really liked her version.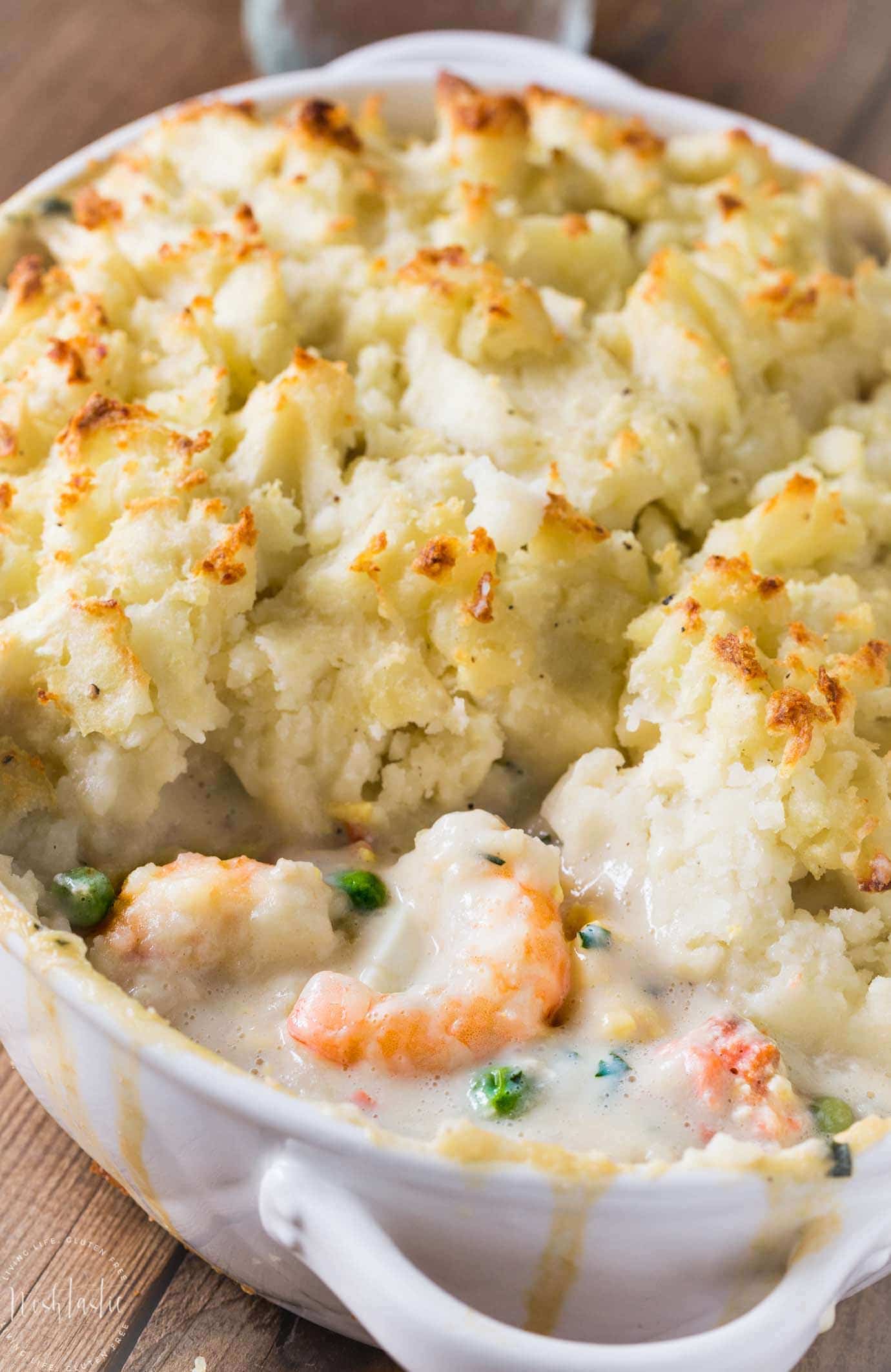 How Do I Make Fish Pie?
The first step is to select your fish. I used salmon and shrimp as that was the best option available in my grocery store.
Ideally you are looking for firm fleshed salt water fish that will hold up well during cooking and not fall apart. Personally, I don't think fresh water fish such as Bass, Crappie or Catfish will provide the same flavor as salt water fish, so I would avoid them.
Once you are ready to cook,  you need to preheat your oven to 350F.
In order to get a mild fish taste in the milk that you will use for your white sauce, you either need to simmer the fish in the milk for a few minutes, or you can follow my lead and simply simmer the shrimp shells in the milk for about 20 minutes and that will work in the same way.
Next, you'll need to peel and boil the potatoes, then mash them and add a little butter and milk.
Now season the milk with salt, pepper, lemon juice, and fresh chopped parsley. Then, add two tablespoons of tapioca starch (or cornstarch if you are not following paleo/w30) and bring slowly to the boil until the white sauce is thickened.
Layer the fish, shrimp, hard boiled egg slices into an 8×8 inch oven proof dish. Then pour over the white sauce, let it chill for 15 minutes in the fridge so the sauce will thicken a little before adding the potatoes
Lastly, add the mashed potato over the top of the fish and bake for 30-40 minutes.
It's a full meal in itself, but I sometimes serve it with steamed broccoli or green beans, and if you made this lovely gluten & rice free multigrain bread from Allergy Free Alaska that would also be a perfect accompaniment too.
Make it Dairy Free
I made this pie dairy free by using unsweetened Soy Milk for the white sauce, and dairy free margarine for the mashed potatoes.
Can I freeze it?
The pie will keep in the fridge for a couple of days, so that's always an option. One thing to note is that generally speaking potatoes do not freeze well, so if you want to freeze it I would just layer the uncooked fish into the oven dish, then layer with the cooked white sauce and freeze it in the oven dish.
On the day you plan to serve it, defrost it and cook, mash and add the potatoes and, then just follow the directions for baking it.
This post contains Amazon affiliate links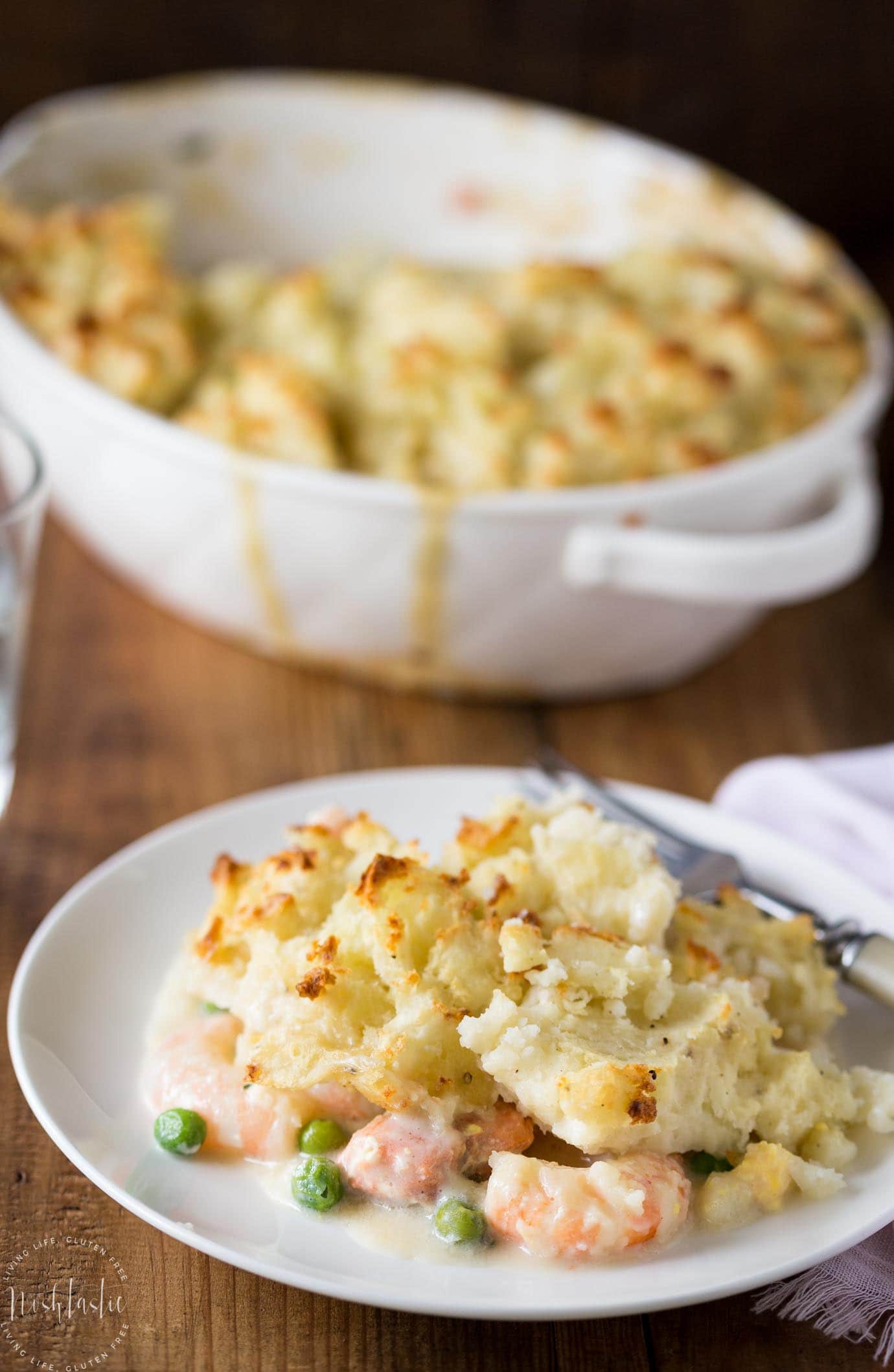 More Gluten Free British Recipes!
I have several gluten free British Recipes right here on Noshtastic, so don't leave without checking them out. If you're looking for another easy dinner recipes try my  Gluten Free Shepherd's Pie , it's one of my most popular posts year round.
I also have a couple of gluten free British Baking Recipes you may want to try including Gluten Free Empire Biscuits, and a recipe for gluten free Shortbread Cookies.
Fish Pie
Fish Pie is a classic British dish that's easy to make and can be made with a variety of fish and shellfish, my recipe is gluten free and dairy free.
Prep Time: 25 minutes
Cook Time: 50 minutes
Total Time: 1 hour 15 minutes
Total Carbs: 42 g
Protein: 40 g
Servings: 6
Ingredients
1lb raw shrimp, in the shell , 454g - keep the shells
1lb salmon, skinned and cut into chunks , 454g
3 cups milk, I used unsweetened soy , 750mls
1 bay leaf
butter, or dairy free margarine , 25g
2-3 tbsp cornstarch , , or tapioca starch for paleo/w30
2.5 lbs potatoes, russets are good , 1133g
3 tbsp chopped fresh parsley
2 tbsp lemon juice
2 eggs, hard boiled and sliced
Instructions
Shell the shrimp and add the shells to a pot of milk (I used unsweetened soy) Simmer milk along with bay leaf for 20 minutes then let it cool.

Preheat your oven to 350F.




Peel and boil potatoes until soft, then add salt and pepper, mash with a little butter and milk.

Season the milk with salt and pepper and add the lemon juice and parsley. Add in two tablespoons of cornstarch (or arrowroot or tapioca if you are not following paleo/w30) and bring slowly to the boil stirring all the time until the sauce is thickened. Please note: sometimes arrowroot and tapioca will produce a more gloopy/gluey sauce than using cornstarch will, so use a small amount first and then see how the sauce is.

Layer the fish and hard boiled egg slices in an 8x8 inch oven proof dish, or one of similar size. Then pour over the white sauce and let it chill for 15 minutes in the fridge until the sauce thickens a little. (it's much easier to add the mashed potatoes when the sauce thickens)

Now add the mashed potato over the top of the fish and bake in the oven for 30-40 minutes.

Serve hot, straight from the oven!
Nutrition Facts
Fish Pie
Amount Per Serving
Calories 427 Calories from Fat 90
% Daily Value*
Fat 10g15%
Saturated Fat 2g13%
Cholesterol 303mg101%
Sodium 707mg31%
Potassium 1415mg40%
Carbohydrates 42g14%
Fiber 2g8%
Sugar 7g8%
Protein 40g80%
Vitamin A 395IU8%
Vitamin C 18.6mg23%
Calcium 296mg30%
Iron 4.2mg23%
* Percent Daily Values are based on a 2000 calorie diet.
Nutritional information on Noshtastic is provided as a courtesy and is approximate only. We cannot guarantee the accuracy of the nutritional information given for any recipe on this site.
Course: Main Course
Cuisine: British