A deliciously tasty  Cuban Pork roast that is fall of the bone tender! Marinaded in a combination of warm spices, subtle herbs, lime and orange juice, this pork roast will melt in your mouth! It's low carb, keto friendly,  Paleo, Whole30 and Gluten Free.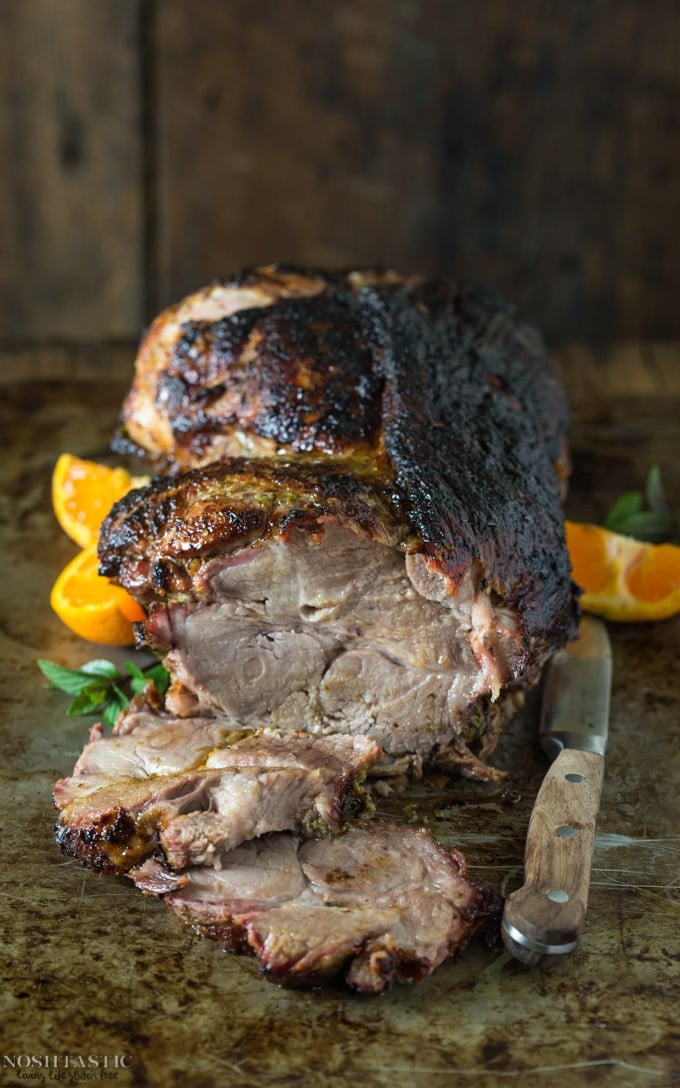 Once of the BEST things about living in Mississippi is the BBQ, there's really nothing quite like it back home in Scotland. My most favoritest (is that a word?) thing to order is pulled pork, I just can't get enough of it!
While I love the BBQ rubs and smoky flavors that go into it, I mostly love the fact that the pork is all juicy and falls apart, it's so good!
My Paleo Cuban Pork recipe obviously has quite different flavors to pulled pork but I used the same cut of meat, the Boston Butt. For my non American friends, no it doesn't come from the pigs butt (my kids asked me that) it's actually cut from the shoulder and has the bone in.
This post may contain Amazon affiliate links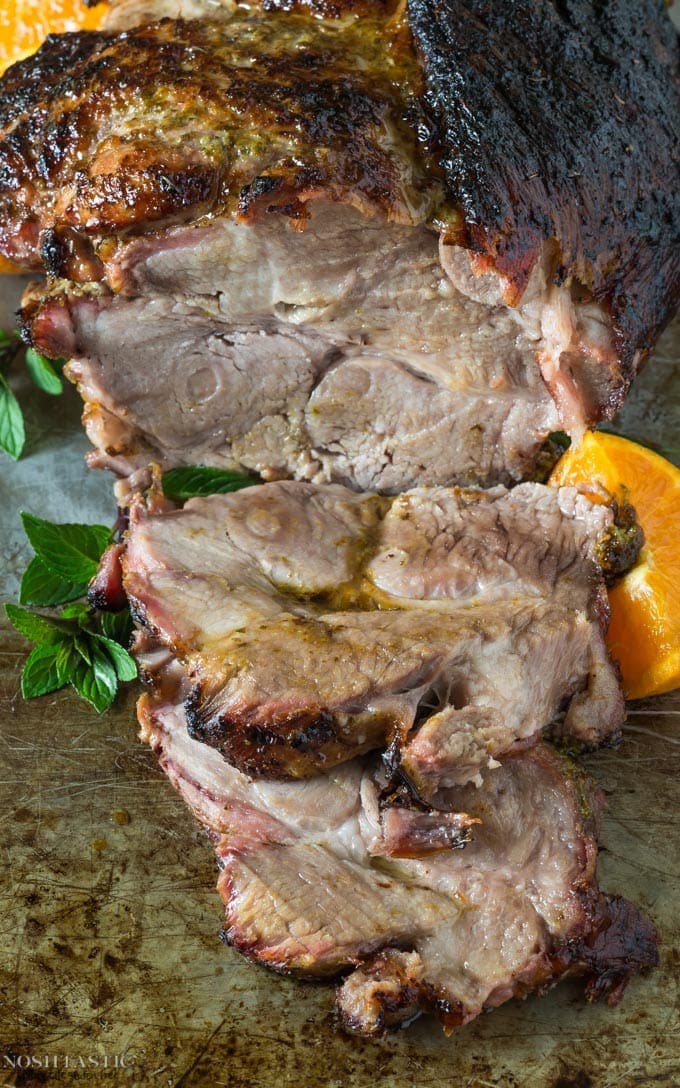 First I quickly made the marinade by adding all the marinade ingredients into my blender and whizzing it until it was smooth and all the fresh herbs and garlic were blended up. Then I let the meat marinade overnight, I squished it into a large bowl so that the roast was almost covered with the liquid then I covered it and put it in the fridge.
I roasted it the next morning in a large deep roasting pan so that the marinade liquid was only about an inch deep around the meat, you don't want to boil or steam it as you won't get that fabulous 'bark' on the outside of the meat.
How long you cook it really depends on whether you want to be able to slice the meat, or if you want it 'pulled', then you will need to cook it a little bit longer.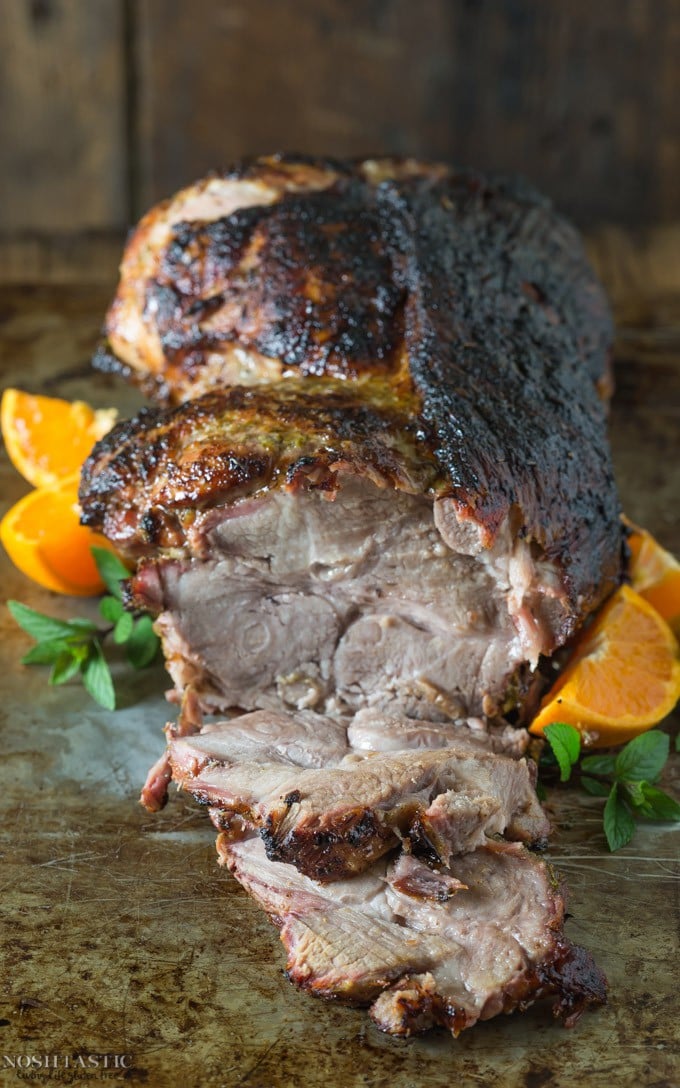 MORE OF MY FAVORITE EASY RECIPES!
BEST Paleo Cuban Pork Roast
A deliciously tasty Paleo Cuban Pork that is fall of the bone tender! Marinaded in a combination or warm spices, subtle herbs, lime and orange juice, this pork roast will melt in your mouth! Whole30 and Gluten Free.
Prep Time: 6 hours
Cook Time: 4 hours
Total Time: 10 hours
Total Carbs: 8 g
Net Carbs: 8 g
Protein: 41 g
Servings: 8
Ingredients
Instructions
*see notes for directions for cooking on a gas grill*

Add all the marinade ingredients (that's everything except the pork) into a

blender

and blend until the garlic and herbs are fully blended.

In a

large bowl

or other non-reactive container add the pork shoulder and pour over the marinade and cover it with cling wrap.

Ideally you want to use a container that allows the pork to be almost immersed in the marinade. I squished the meat into a

large bowl

with not a lot of room left on either side of the meat, that meant that the marinade almost covered the pork, which is what you want.

Marinate the meat for at least six hours in the fridge, or preferably overnight to get the best flavor

Bring the meat to room temperature for about an hour before you cook it.

Preheat the oven to 425F.

How long you cook your meat depends on the weight of it and whether you want to be able to slice it, or have it more like pulled pork so that it's falling apart.

Put the meat into a wide, deep, oven proof

roasting pan

so that the marinade is no more than about an inch deep around the meat, you don't want to boil or steam it.

Cook it uncovered.

After 20 mins turn it down to 325F

I cooked my 6lb roast for about 4hrs because I wanted sliceable meat. If you want more like 'pulled' pork you may need to cook up to two hours more until you can pull it apart with a fork.
Recipe Notes
These are my basic notes on cooking indirectly, for a more detailed explanation you can google 'indirect cooking on a grill' and you will find photo tutorials that will help if you've not done it before, or if you want to make this on a charcoal grill.
In order to cook this on a gas grill you will need at least one full tank of gas to start as it takes several hours to cook and you don't want to run out halfway.
An instant read thermometer is also a good idea and will make your life easier in knowing whether it's cooked or not.
You need to set the grill up for indirect cooking, so essentially you make the grill work like an oven and the meat is not placed directly over the flames where it would burn underneath before the meat is cooked in the middle.
Try to resist the temptation to open the lid all the time as you will let the heat out and it will just take longer to cook.
So for example if you have three gas burners you could put on the two burners on either side and leave the one in the middle off, that's where you would place the meat.
You will also want to put a large foil drip pan underneath the meat on the grill to catch all the drippings.
Heat the grill up to 425F, then add the meat so that its not directly over the heat.
After 20 minutes turn it down to 325F
The meat will be ready to be 'pulled' when it is fall apart tender, The cook time will vary depending on the size of your meat, but for a 6lb pork butt I would expect it to take between 4-6hrs, possibly a bit longer.
If it has a bone it will come out with little resistance once cooked, the internal temperature should be 190- 200F.
Nutrition Facts
BEST Paleo Cuban Pork Roast
Amount Per Serving
Calories 407 Calories from Fat 189
% Daily Value*
Fat 21g32%
Saturated Fat 6g38%
Cholesterol 139mg46%
Sodium 162mg7%
Potassium 894mg26%
Carbohydrates 8g3%
Sugar 5g6%
Protein 41g82%
Vitamin A 345IU7%
Vitamin C 36.2mg44%
Calcium 66mg7%
Iron 3.8mg21%
* Percent Daily Values are based on a 2000 calorie diet.
Nutritional information on Noshtastic is provided as a courtesy and is approximate only. We cannot guarantee the accuracy of the nutritional information given for any recipe on this site.
Course: Main Course
Cuisine: Cuban