This easy Paleo Meatloaf is made with ground beef, onions, carrots and a variety of delicious herbs and spices, so it's full of fiber and vitamins too!
I wanted to make a Paleo Meatloaf that was also a great fit for people who also want a Whole30 meatloaf, and it's a perfect fit fo that diet too, and I even have a recipe for home made paleo ketchup too!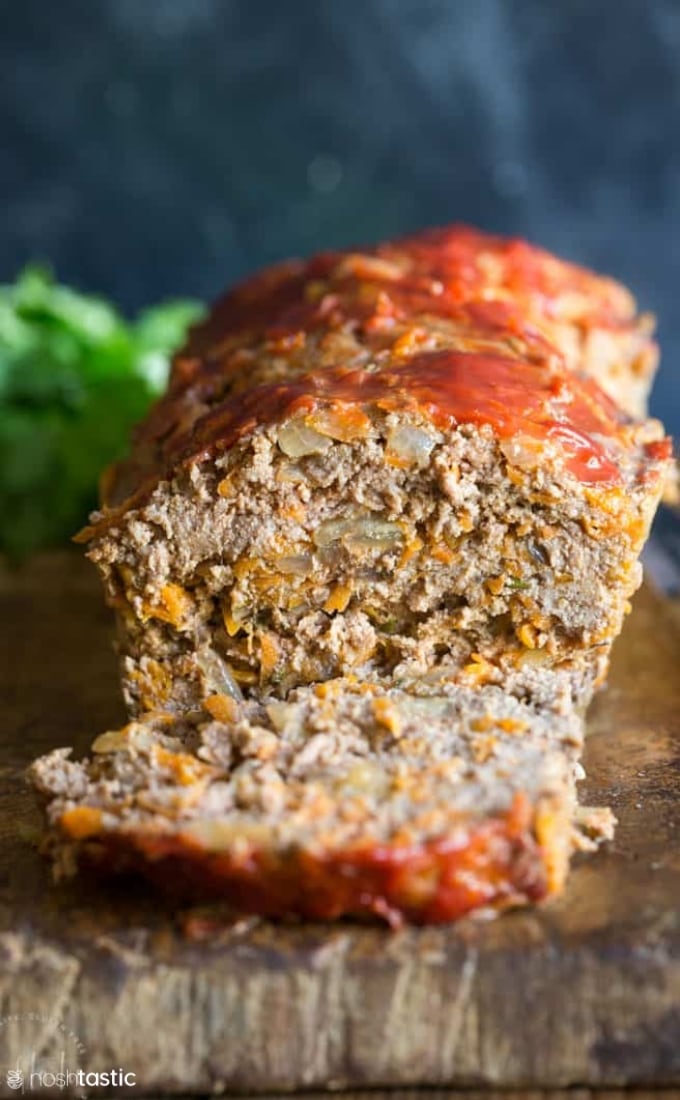 Traditional Meatloaf recipes often include some sort of grains like dried breadcrumbs, some people even use oatmeal.
As we're making a Paleo Meatloaf (that's also Whole30) we are skipping all of that, and the milk that is sometimes added and replacing it with much more nutritious and fiber rich shredded vegetables.
I'm not exaggerating when I say this is one of the best paleo meatloaf recipes I've tried!
Now of course I'm biased and there's a big subjective element to it!
But, the vegetables add a depth of flavor to the meatloaf that you simply don't get by adding breadcrumbs.
I opted not to replace the breadcrumbs in the meatloaf with another grain, almond flour or coconut flour would be the obvious choice here for a Paleo meatloaf.
But, I don't think it's needed plus they are fairly expensive to buy if you don't normally cook with them and the meatloaf binds together pretty well, although my Paleo meatloaf texture is not exactly the same as a traditional meatloaf.
How to make Whole30 Paleo Meatloaf
STEP 1 – Shred your vegetables using a grater, food processor or if you have non of those you can very finely chop them by hand.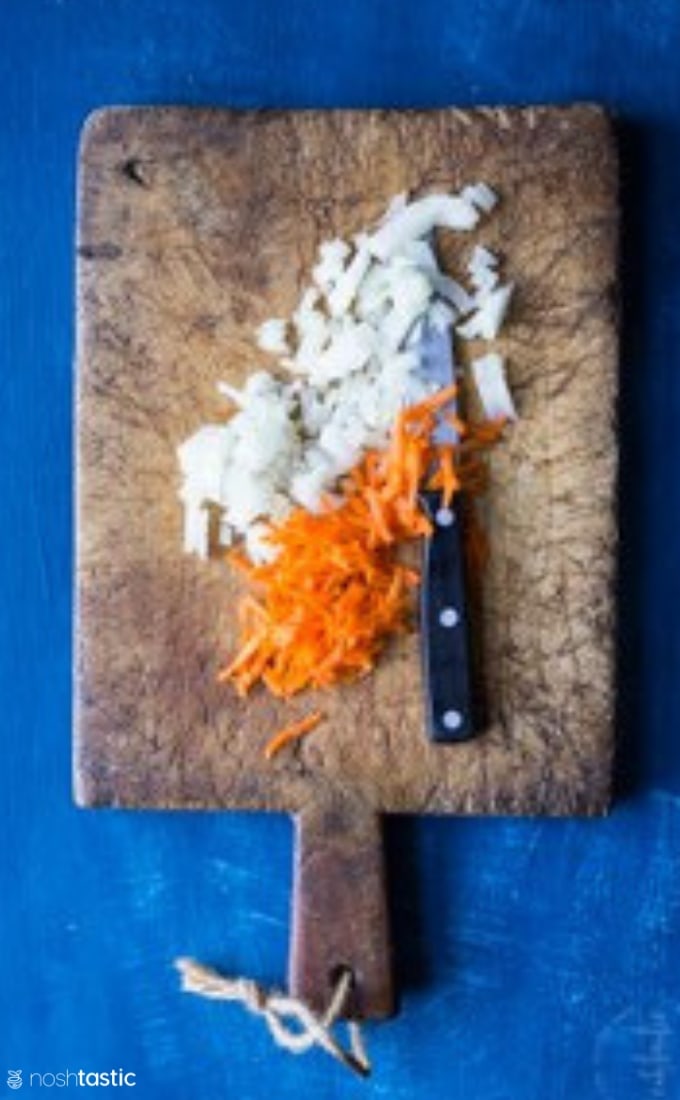 STEP 2 – Then, Saute the vegetables in a skillet for about 5 minutes until they are soften up, you do not want to brown them.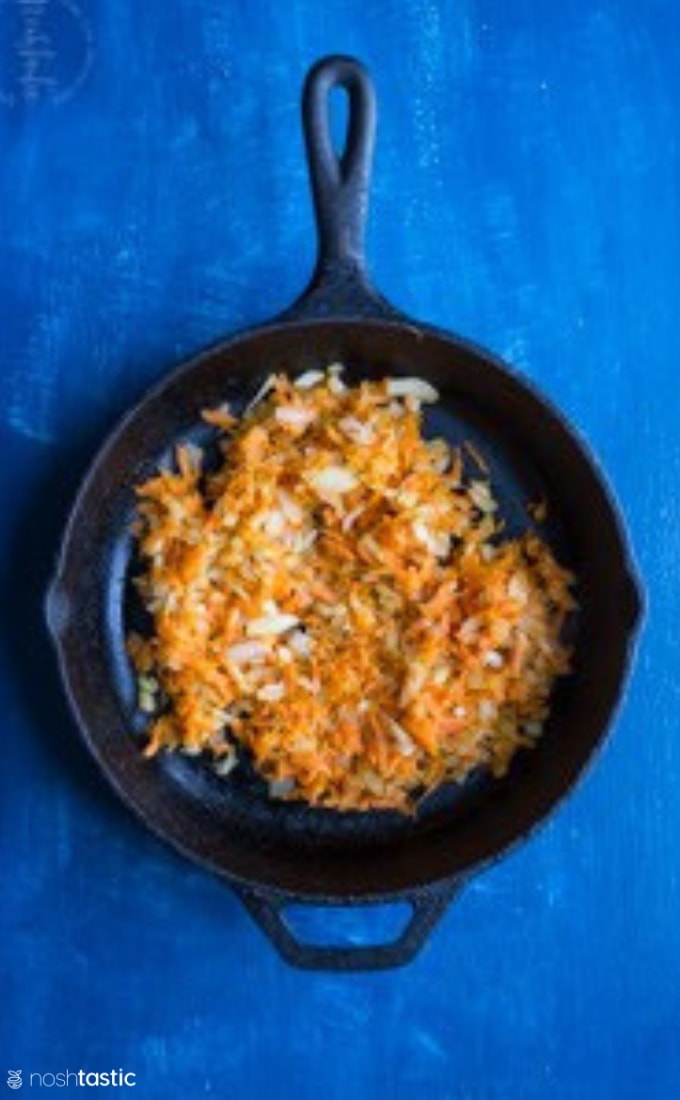 STEP 3 – Next, Mix all the Paleo meatloaf ingredients together including the vegetables, you may need to get your hands in there to mix it all up properly!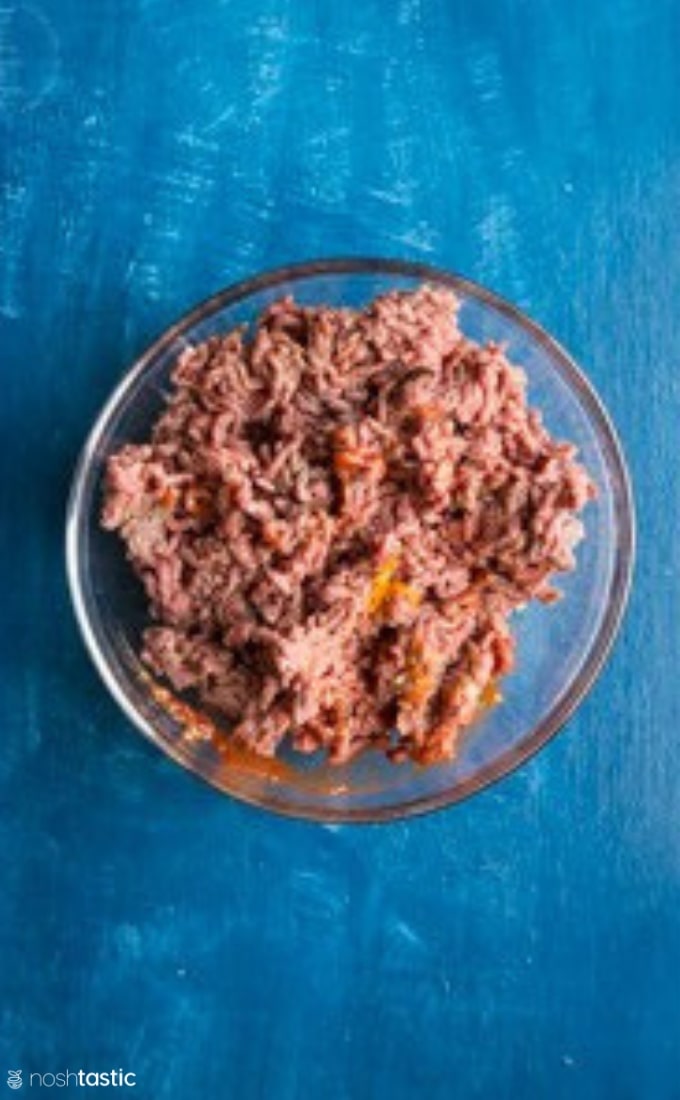 STEP 4 – Put the Paleo Meatloaf mixture into a loaf pan and shape the top a little bit by hand so that it resembles a loaf.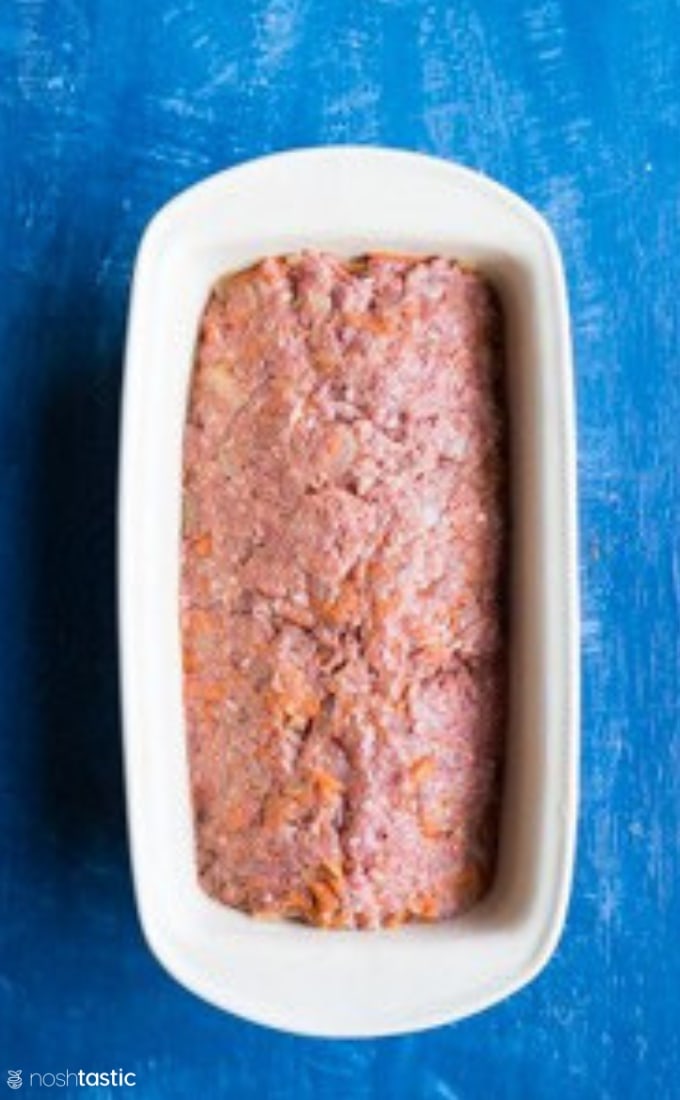 STEP 5 – If you have some Paleo Ketchup you can spread it over the top of the meatloaf, if not you can skip this step.
STEP 6 – Cook your paleo meatloaf for about 1 hr, then let it cool just a little bit.
It is a bit more crumbly than regular meatloaf so I wouldn't try to get it out of the loaf pan when it's still really hot.
The gravy is optional and is best made with homemade broth or a really good quality beef stock or broth.
I used a Paleo ketchup for the topping, you can omit that if you prefer.
If you're still missing the breadcrumbs then this delicious recipe for Paleo Sandwich Bread from my friend Lindsay at Cotter Crunch should make up for it!
This post contains Amazon affiliate links
More tips for making paleo meatloaf
TIP 1 – You can easily prep the grated carrots and onions ahead to save time.
TIP 2 – If you don't want to make your own paleo ketchup you can skip this step, it will still taste great!
TIP 3 – Chop the vegetables small! if you don't the meatloaf may not hold together quite as well.
TIP 4 – This will make six servings, but if your family eats a lot like mine do you may want to double it.
kitchen items used for Paleo meatloaf
Ceramic Loaf Pan – I have two of these gorgeous ceramic loaf pans!
Cutting Board – You can't go wrong with this set of cutting boards, and you can wash them in the dishwasher.
Cheese Grater – I have one just like this with the box underneath to catch all the cheese
more paleo dinner recipes
Paleo Meatloaf Recipe (Whole30)
This Paleo Meatloaf is packed with flavor and added vegetables and is also a perfect Whole30 meatloaf recipe.
Prep Time: 15 minutes
Cook Time: 1 hour 15 minutes
Total Time: 1 hour 30 minutes
Total Carbs: 14 g
Protein: 28 g
Servings: 6
Ingredients
OPTIONAL GRAVY
1.5 cups Beef Broth, gluten free , 375mls
1 tsp fish sauce, I used red boat , 5mls
1 can full fat coconut milk , 400mls
3 tbsp Arrowroot , (optional)
salt and pepper , to taste
OPTIONAL PALEO KETCHUP TOPPING
Instructions
HOW TO MAKE PALEO MEATLOAF
Preheat your oven to 350F

Saute the onions and carrots together in the oil until the onions are soft but not browned, about five minutes.

In a bowl combine the beef, onion, carrots and all remaining ingredients (except the Paleo ketchup) and mix really well, you might need to get your hands in there!

Put the mixture in a

loaf pan

and spread it out evenly, then spread the

Paleo Ketchup

on top. (or use the optional Paleo Ketchup recipe in the post – simply mix all the ingredients together)

Put the loaf pan onto a

sheet pan

(in case any juices come over the sides) and bake in your oven for about 1hr – 1hr 15 mins.

Depending on how high the fat content is in your ground beef, you might find that the meatloaf is swimming in fat when you take it out of the oven. This is normal and the meatloaf itself will not be too fatty as most of the fat will have rendered out during cooking.

Let it cool a little bit and remove from the loaf pan and put it on paper towels to absorb any excess fat, I think if you try and lift the meatloaf out when it's super hot and right out of the oven it may fall apart.
HOW TO MAKE THE GRAVY (OPTIONAL)
The gravy is best made with homemade beef broth or a good quality Paleo broth.

In a pan add the beef broth, coconut milk, and fish sauce.

Mix well and simmer on a medium heat for five minutes.

If you want to thicken your gravy you can use about 2-3 tablespoons of arrowroot mixed with about a tablespoon of cold water or cold beef broth.

Remove gravy from the heat and add the arrowroot mixture, stir really well then return to a low heat until the gravy thickens.

Sieve gravy to get any lumps out and season with salt and pepper to taste.
Nutrition Facts
Paleo Meatloaf Recipe (Whole30)
Amount Per Serving
Calories 586 Calories from Fat 414
% Daily Value*
Fat 46g71%
Saturated Fat 24g150%
Cholesterol 107mg36%
Sodium 1015mg44%
Potassium 762mg22%
Carbohydrates 14g5%
Fiber 1g4%
Sugar 4g4%
Protein 28g56%
Vitamin A 3535IU71%
Vitamin C 5.4mg7%
Calcium 59mg6%
Iron 5.5mg31%
* Percent Daily Values are based on a 2000 calorie diet.
Nutritional information on Noshtastic is provided as a courtesy and is approximate only. We cannot guarantee the accuracy of the nutritional information given for any recipe on this site.
Course: Main Course
Cuisine: American