My Keto Meatballs contain no breadcrumbs or grains of any kind, they are perfect for a low carb or paleo diet. With no added sugar, it's an easy healthy dinner!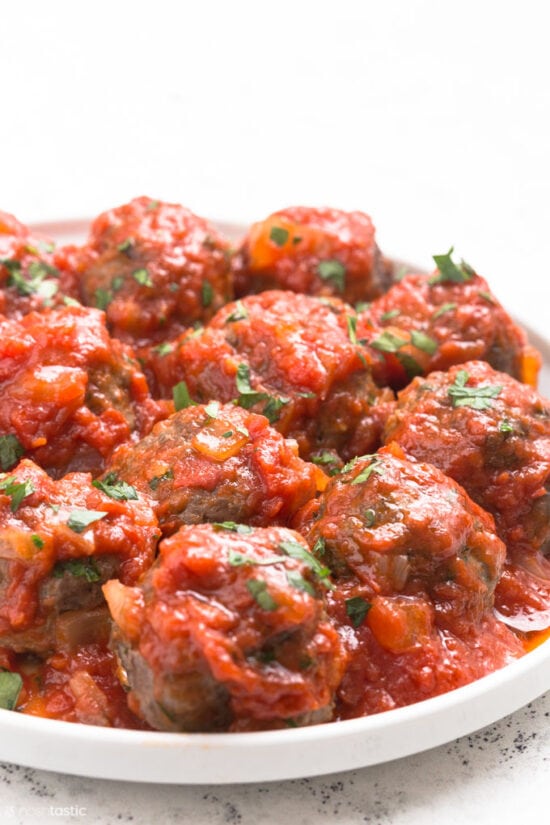 This post contains affiliate links
These easy beef and pork paleo meatballs are baked in the oven and the Marinara sauce is made on the stove, from scratch, with tomatoes, onions, garlic and herbs, it's a delicious and easy recipe that's whole30 too and I promise your family will love it!
How to make Keto Meatballs
Step 1 – The first thing I do is to use parchment paper to line the sheet pan, it makes for less scrubbing and cleaning later on, I've found that meat sometimes sticks to foil so don't use that.
Step 2 – Preheat your oven so it's ready to bake your Keto meatballs, then mix the ground pork and ground beef together in a bowl along with the egg and seasonings.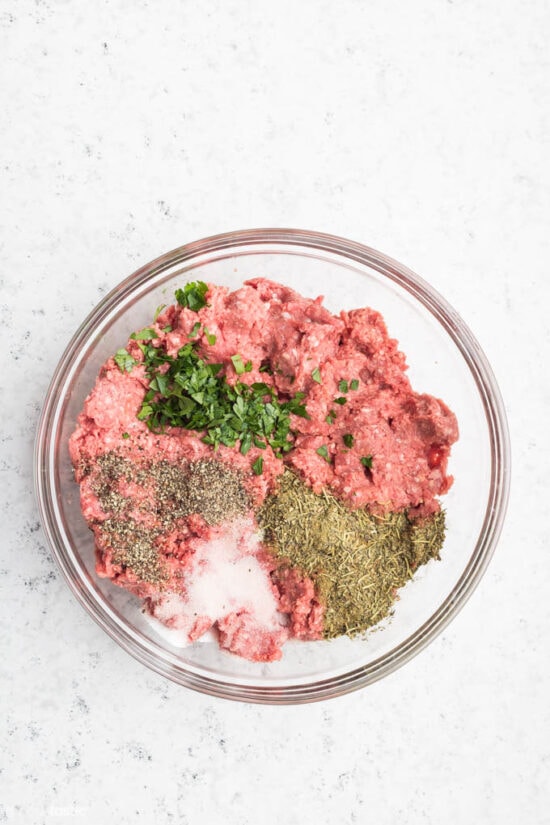 Step 3 – Form the ground meat into meatballs that are about two tablespoons each of the mixture and place them on the lined sheetpan. If they are larger than that they may take longer to cook.
Step 4 – Bake the meatballs in the already heated oven for about 20 minutes, or until they are fully cooked.
Step 5 – while the meatballs are cooking you can go ahead and make the marinara sauce. First thing you need to do is add a little olive oil to the pan over a medium heat and when it's hot add the chopped onion and saute for about five minutes or until the onion softens you don't need to brown it.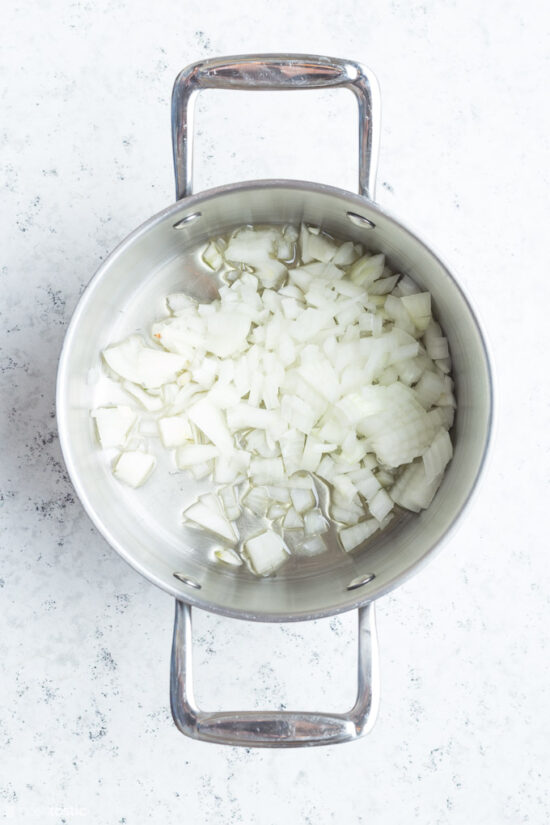 Step 6 – Add the tomatoes along with the chopped garlic, bay leaf and pepper to the pan and simmer for 20-30 minutes so that the sauce thickens up.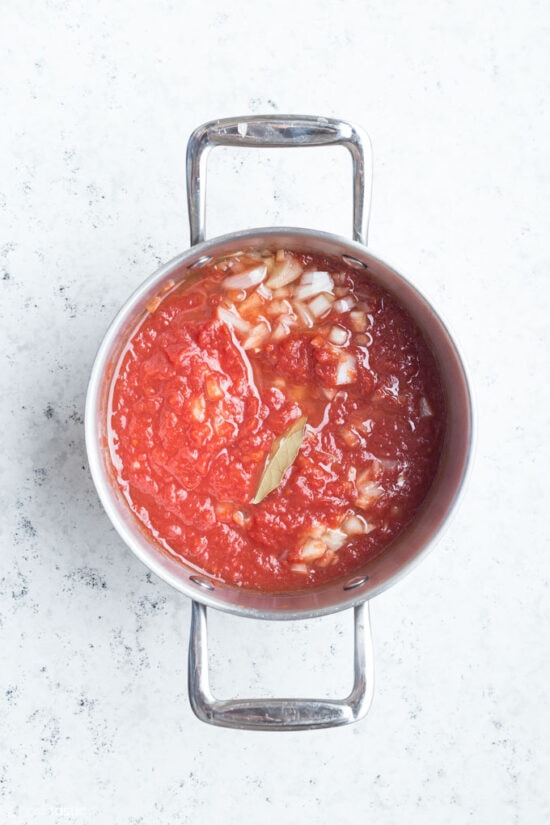 Step 7 – Serve your keto meatballs with the marinara sauce spooned over the top, sprinkle with fresh chopped parsley and a little parmesan cheese if you like.
Keto Meatballs FAQ's
How many net carbs are in keto meatballs? This recipe has approximately 7 grams net carbs per serving and serves eight people which is a generous 6oz of meat per person and includes the tomato sauce.
How many keto meatballs are there per serving? It really depends what size they are, but I got about 38 meatballs that were about two tablespoons of the meatball mixture.
Can I make them ahead? Yes you can, they are really easy to reheat in the sauce either on the stove or in the microwave.
How long do they keep? They will keep for three to four days in the fridge, they also freeze well.
Can I make them with beef only? Yes, but if you use really lean beef they may be dry.
Could I add almond flour to my keto meatballs? You could, but I chose not to because it's expensive, and I didn't think it improved the taste or texture.
Are tomatoes Keto? Tomatoes can be keto-friendly, it depends how much you have. According to the United States Department of Agriculture [1] red ripe tomatoes have almost four grams of carbs per 100 grams, and a little over one grams of fiber per 100 grams.
Can I omit the eggs? Yes, the meatballs might be a tad more crumbly but they will still work really well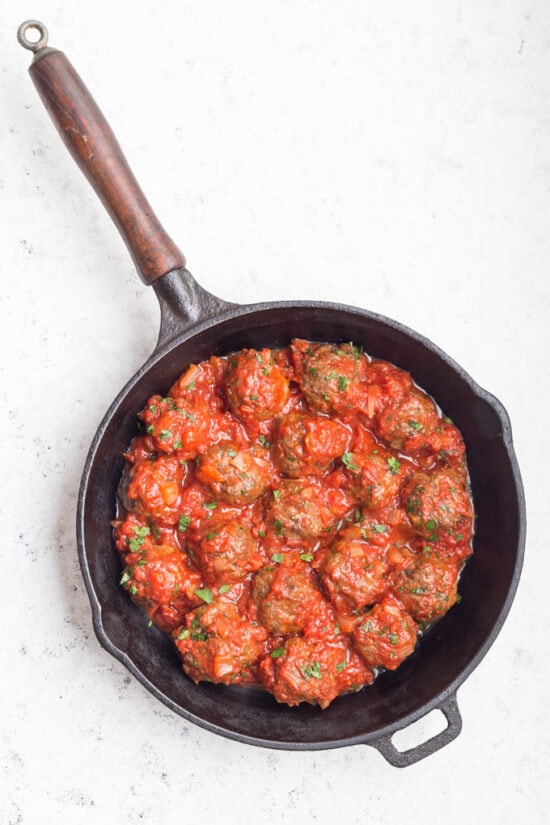 More Keto Dinner Recipes
Keto Meatballs (with marinara sauce)
Unbelievably easy Keto Meatballs recipe served with marinara sauce.
Prep Time: 20 minutes
Cook Time: 30 minutes
Total Time: 50 minutes
Total Carbs: 10 g
Net Carbs: 7 g
Protein: 34 g
Servings: 8
Instructions
Preheat your oven to 400F

Line a half sheet pan with parchment paper so that the meatballs don't stick to the pan.

Mix the meat, egg and seasonings together in a large bowl.

Form about two tablespoons of the meat mixture into even sized meatballs and place them on the lined sheet pan.

Bake in a 400F oven for 20 minutes, or until fully cooked through.

To make the marinara sauce, first add the olive oil to a pan and heat up on a medium heat.

Now add the chopped onion and saute for five minutes.

Next, add the chopped garlic, canned tomatoes, bay leaf and pepper to the pan.

Cook on a low to medium heat for 20 – 30 minutes, until the sauce has thickened.

Serve over the cooked Keto meatballs and sprinkle with chopped fresh parsley.
Recipe Notes
Serving Size – This amount of Keto meatballs will easily serve eight people, I am usually able to make between 34- 38 meatballs depending on their size.
Storage – they keep in the fridge for three to four days and freeze really well in the sauce. I recommend defrosting overnight in the fridge.
Ingredient Substitutions – you can use all pork or all beef but the taste will be different and if the beef is very lean the meatballs will tend to be dry. 
Nutrition Facts
Keto Meatballs (with marinara sauce)
Amount Per Serving (265 g)
Calories 457 Calories from Fat 279
% Daily Value*
Fat 31g48%
Saturated Fat 11g69%
Cholesterol 137mg46%
Sodium 823mg36%
Potassium 856mg24%
Carbohydrates 10g3%
Fiber 3g13%
Sugar 5g6%
Protein 34g68%
Vitamin A 356IU7%
Vitamin C 12mg15%
Calcium 81mg8%
Iron 4mg22%
* Percent Daily Values are based on a 2000 calorie diet.
Nutritional information on Noshtastic is provided as a courtesy and is approximate only. We cannot guarantee the accuracy of the nutritional information given for any recipe on this site.
Course: Main Course
Cuisine: Italian