My Keto Broccoli Salad works as a great side dish recipe (dairy free too!) that goes with most any recipe, but we think it's especially good with some Air Fryer Chicken or Air Fryer Salmon.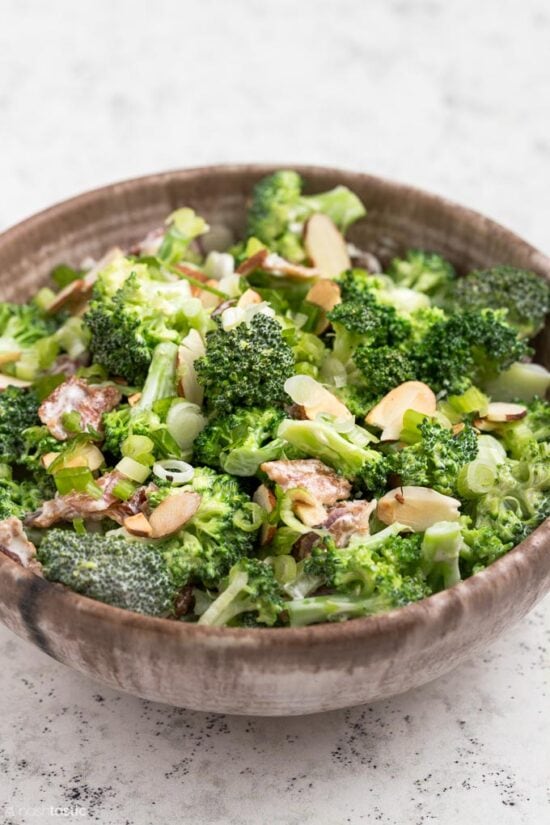 This post contains affiliate links
How to Make Keto Broccoli Salad
Start by chopping the broccoli into small bitesized pieces. Then, bring a pan of lightly salted water to the boil and add the broccoli pieces and blanch them for two minutes.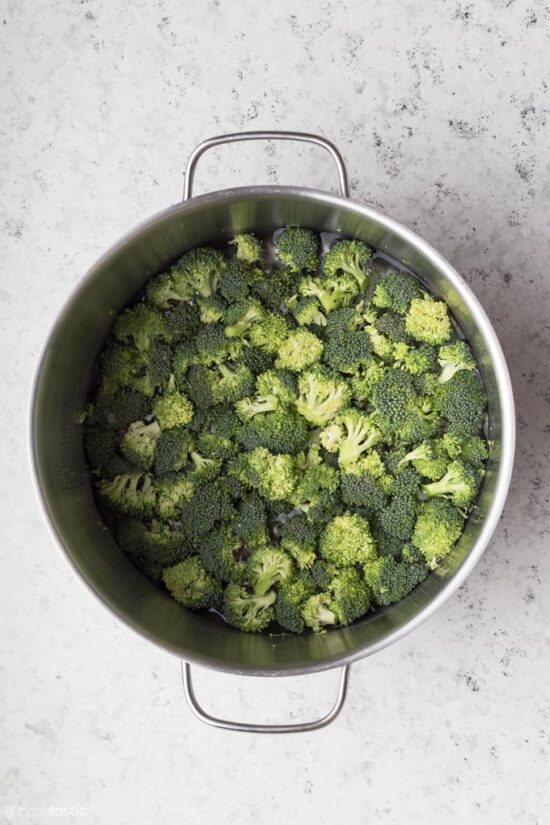 When the two minutes are up drain the broccoli from the hot water and pour cold water into the pan to stop it cooking, then fully drain it in a colander and pat dry with paper towels.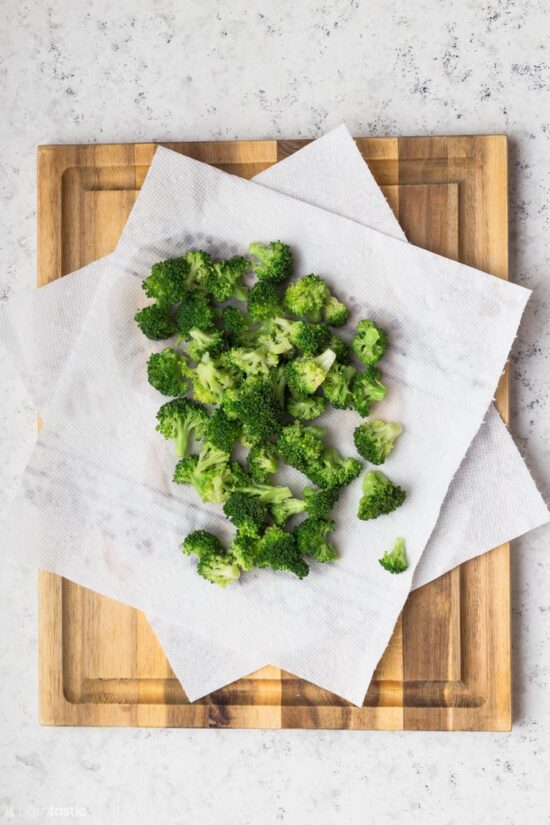 In a small bowl whisk together the red wine vinegar, mayonnaise, salt, and pepper to make your Broccoli Salad Dressing.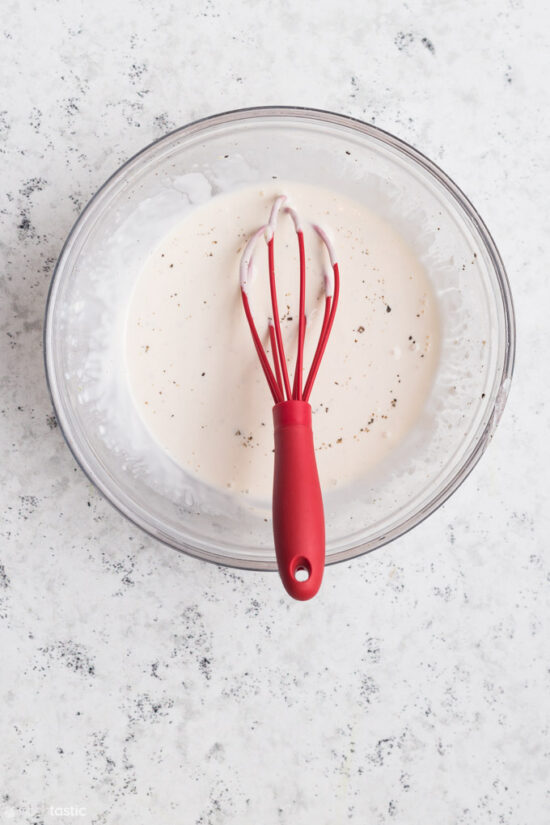 I love to add toasted almonds to my Keto Broccoli Salad, it's really easy to make them at home. All you need to do is add them to a dry skillet and toast them over a medium heat for about 3-5 minutes, stirring all the time, Do not have the heat too high or they will burn very quickly.
Keep browning them until you get the level of toastiness you like! As soon as they are done tip them out onto a plate so they don't continue to brown.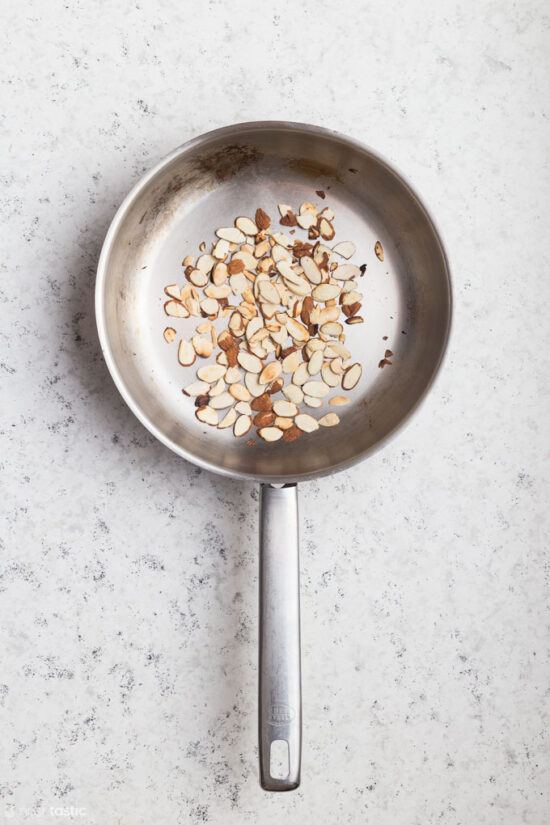 In a large enough bowl to accommodate the salad, add your blanched broccoli, sliced green onion, cooked bacon bits, and toasted sliced almonds.
Toss with the keto salad dressing and add more seasoning to taste.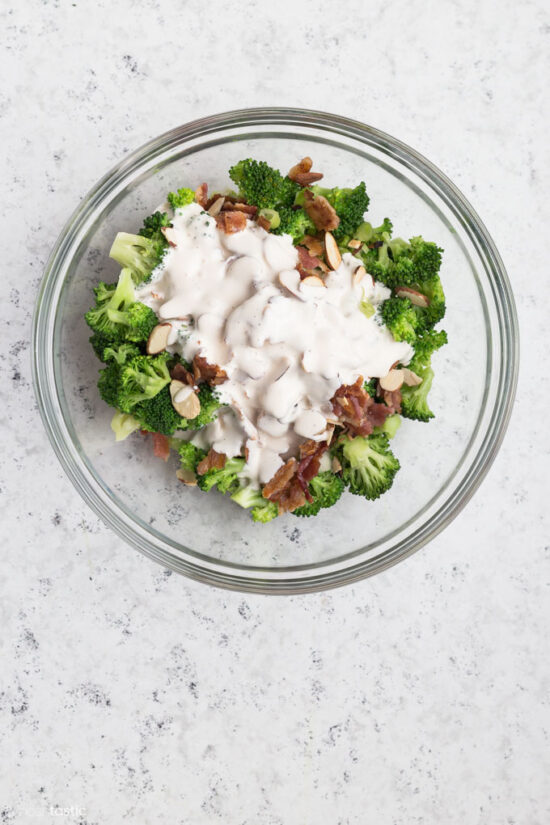 The salad will keep in the fridge for one to two days but I wouldn't leave it too long after that before eating or the broccoli may get soggy.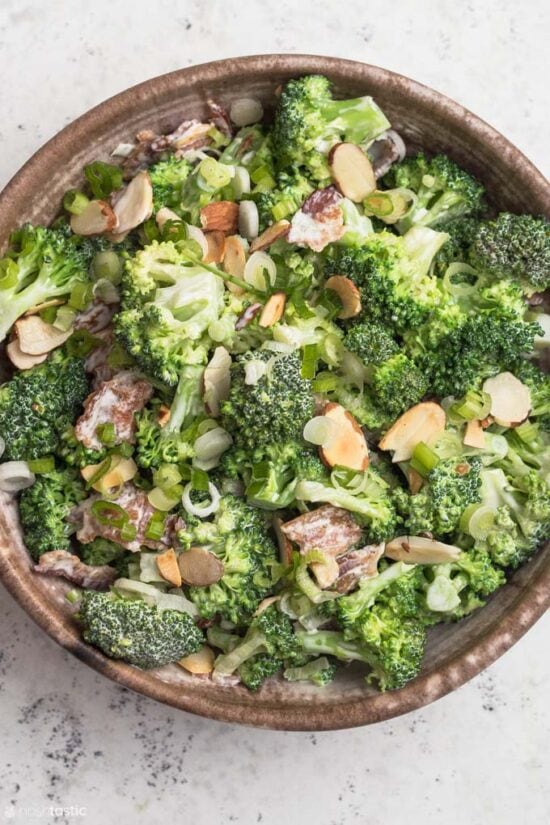 Keto Broccoli Salad FAQ's
Can I use Raw Broccoli? Yes! I just prefer it to be just a tad bit softer, but you can of course serve it with un-blanched broccoli.
How about frozen broccoli? I would not use frozen broccoli, I don't think it will hold up well and it tends to be more mushy than fresh broccoli.
I want to change the Red Wine Vinegar That would work, though I've not tested it with other vinegars but I think your best bet for a substitute would be Apple Cider vinegar.
Is broccoli low carb? Yes it is! a single cup, which is about 90 grams of raw broccoli has 6 grams of carbs and 4 grams net carbs.
Can I use different nuts? Sure! Other nuts that would be great in this salad would be chopped walnuts or pecans, or sunflower seeds if you want to avoid nuts.
How many carbs are in Keto Broccoli Salad? The serving size is about a cup and had 8g carbohydrates and 5g net carbs.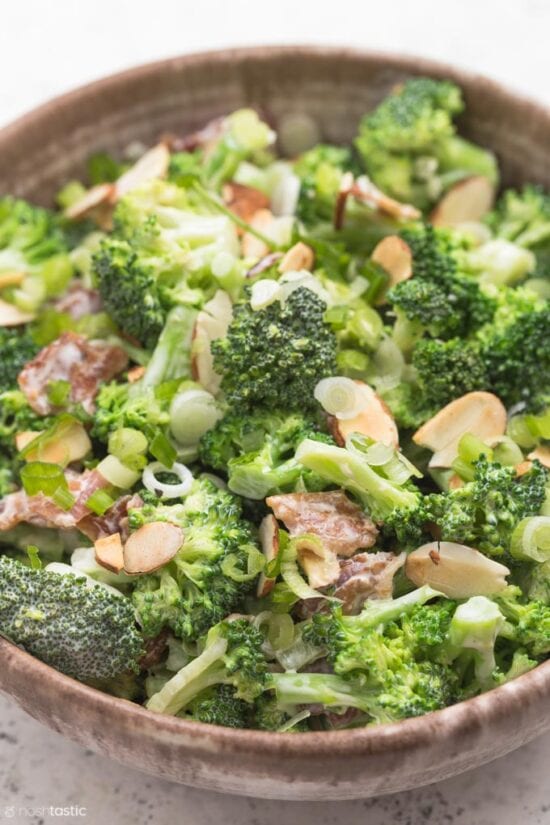 More Keto Sides
Keto Broccoli Salad
My Keto Broccoli Salad works as a great side dish recipe, with a red wine vinegar mayo dressing that is dairy free.
Prep Time: 15 minutes
Cook Time: 2 minutes
Total Time: 17 minutes
Total Carbs: 8 g
Net Carbs: 5 g
Protein: 6 g
Servings: 4 cups
Ingredients
4 cups broccoli , 280g
1/4 cup sliced almonds, toasted , 25g
1/4 cup green onions , 25g
3 slices cooked bacon, crumbled , 40g
Instructions
Bring a pan of lightly salted water to the boil.

Prepare the broccoli by chopping it into small bite sized pieces.

Add the broccoli pieces to the boiling water and blanch for two minutes then drain and run under cold water (this will stop it cooking) and drain once more and pat dry with paper towels.

Mix together the red wine vinegar, low carb mayonnaise, salt, and pepper to make the Broccoli Salad Dressing.

In a large bowl, combine blanched broccoli pieces, green onion slices, cooked bacon pieces, and toasted sliced almonds (see below for directions on toasting almond slices)

Refrigerate for at least an hour before serving.
How to Toast Almonds
heat a skillet over a medium heat and when hot add in the almond slices in a single layer.

Watch them closely and stir for a 30 seconds to two or three minutes until the slices start to brown a little on both sides. Do not make the pan too hot or they will burn.

As soon as they are toasted to your liking remove them from the pan onto a plate and set aside to cool.
Recipe Notes
Servings – makes four cups, assumes one cup per serving. Carb count may vary depending on the mayonnaise you use but is about 8g carbs/ 5g net carbs per serving.
Broccoli – I prefer to blanch the broccoli so it's not quite as hard but still crisp and it only takes a couple of minutes, however, you can use raw broccoli if you prefer.
Almonds – you can sub these for other nuts or sunflower seeds for nut free. 
Storage – I would not make this more than a day ahead, I think it will tend to get more soggy as time goes on. Store it in the fridge. 
Nutrition Facts
Keto Broccoli Salad
Amount Per Serving (1 cup)
Calories 292 Calories from Fat 243
% Daily Value*
Fat 27g42%
Saturated Fat 4g25%
Cholesterol 18mg6%
Sodium 458mg20%
Potassium 383mg11%
Carbohydrates 8g3%
Fiber 3g13%
Sugar 2g2%
Protein 6g12%
Vitamin A 647IU13%
Vitamin C 82mg99%
Calcium 65mg7%
Iron 1mg6%
* Percent Daily Values are based on a 2000 calorie diet.
Nutritional information on Noshtastic is provided as a courtesy and is approximate only. We cannot guarantee the accuracy of the nutritional information given for any recipe on this site.
Course: Side Salad
Cuisine: American