Instant Pot Mississippi Pot Roast is my version of the ubiquitous recipe that's been popular almost since the internet began. And, as I live in the great state of Mississippi it seems only fitting that I'm sharing my healthier version with you today!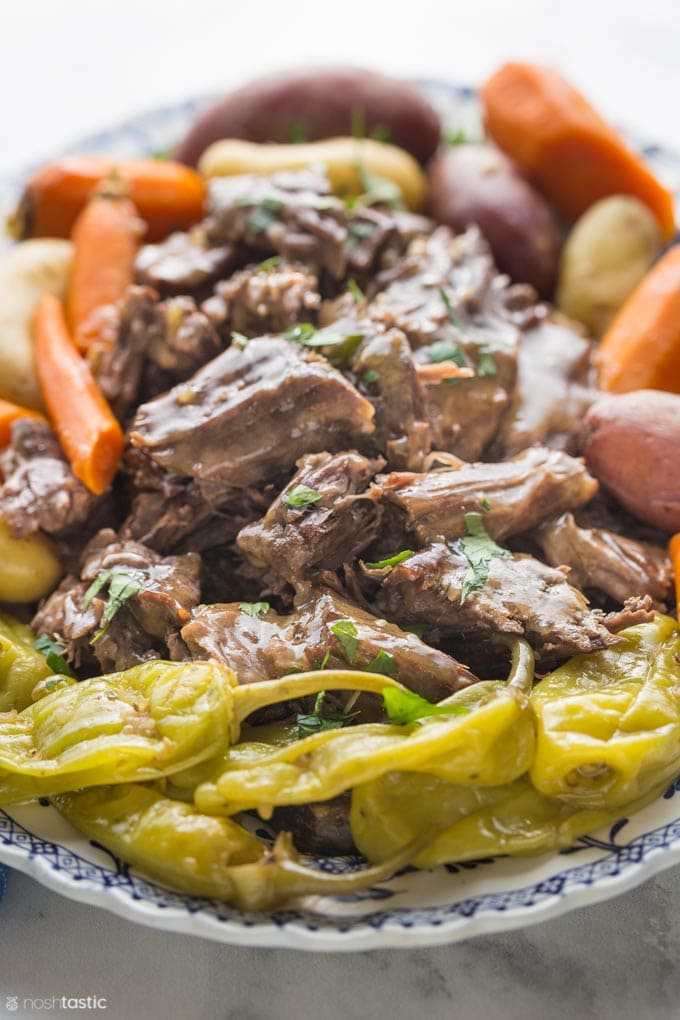 I've replaced all the usual packet mixes with dried herbs and spices and simply used beef broth instead of the au jus mix, it worked a treat in your pressure cooker and I promise you won't miss the packets!
Step By Step Photo Guide for Instant Pot Mississippi Pot Roast
So the first thing to do is season the meat evenly on both sides with salt and pepper, this will really enhance the flavor!
this post contains affiliate links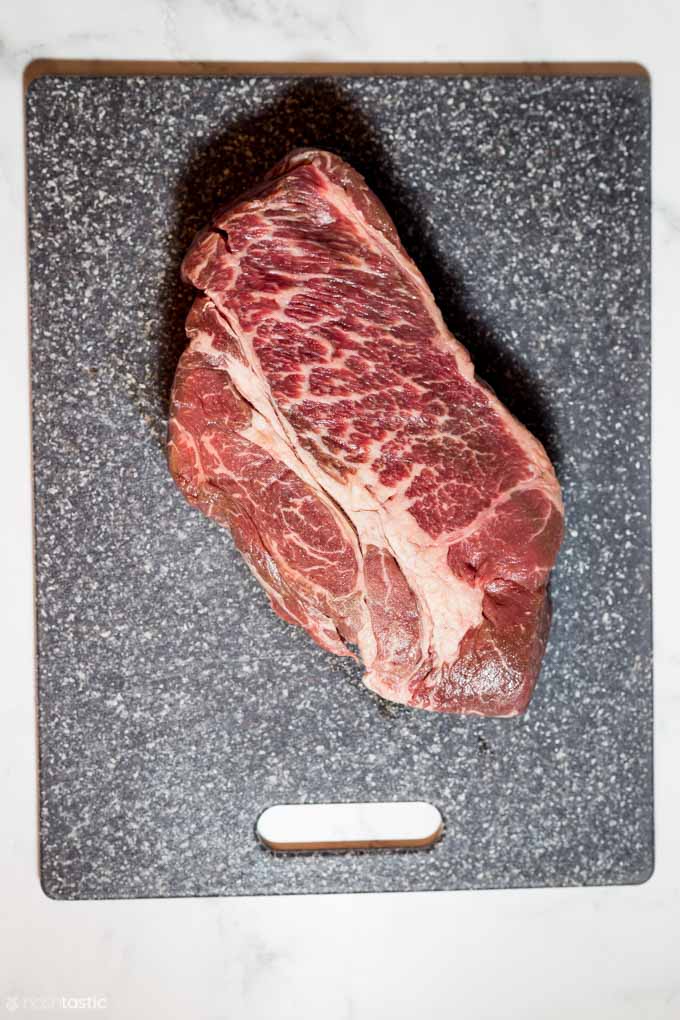 The next step is to brown the beef, don't skip this part as it adds so much flavor! I prefer to use my trusty cast iron skillet than to try to stuff the pot roast into the pressure cooker for browning but you can absolutely use the saute function on your pressure cooker to brown it if you prefer.
Ensure that you get a good sear on both sides and when you are done deglaze whatever pot or pan you used to brown the meat with the beef broth, so you get all those tasty brown bits an meat juices incorporated!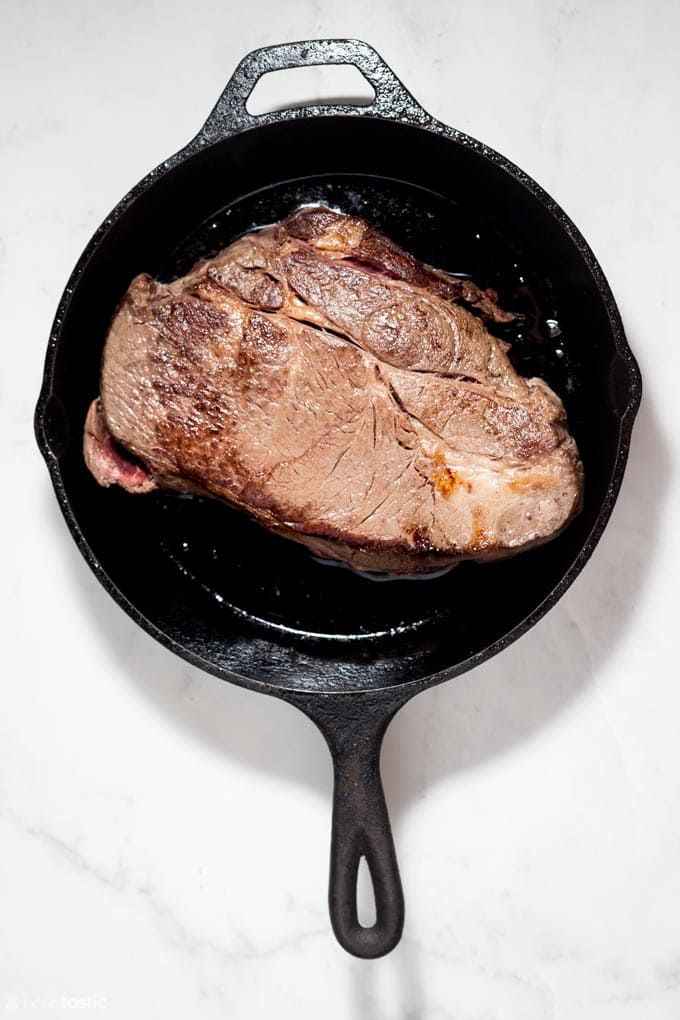 Next, add about 1/4 cup of my homemade onion soup mix it's simply a mix of dried herbs and spices and it's very easy and quick to throw it together and the total amount is a little over 1/4 cup so just put it all in there!
Add some gluten free beef broth (see photo below) and a little garlic to amp up the flavor and give it a good stir.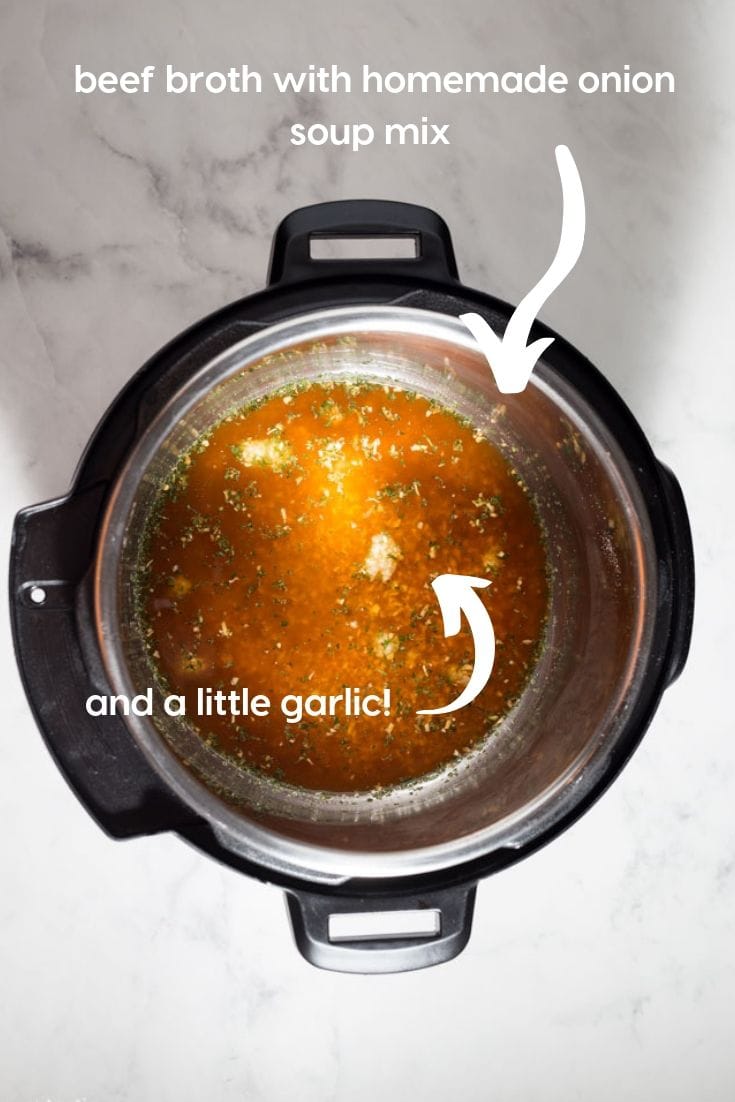 Then add the browned chuck roast and the pepperoncinis.
While they have a little bit of bite they are not super hot peppers so I added eight to the recipe along with some of the juice and I had no pushback from my kids who don't really tolerate anything that might be spicy hot.
But you can certainly adjust it to suit to your own taste.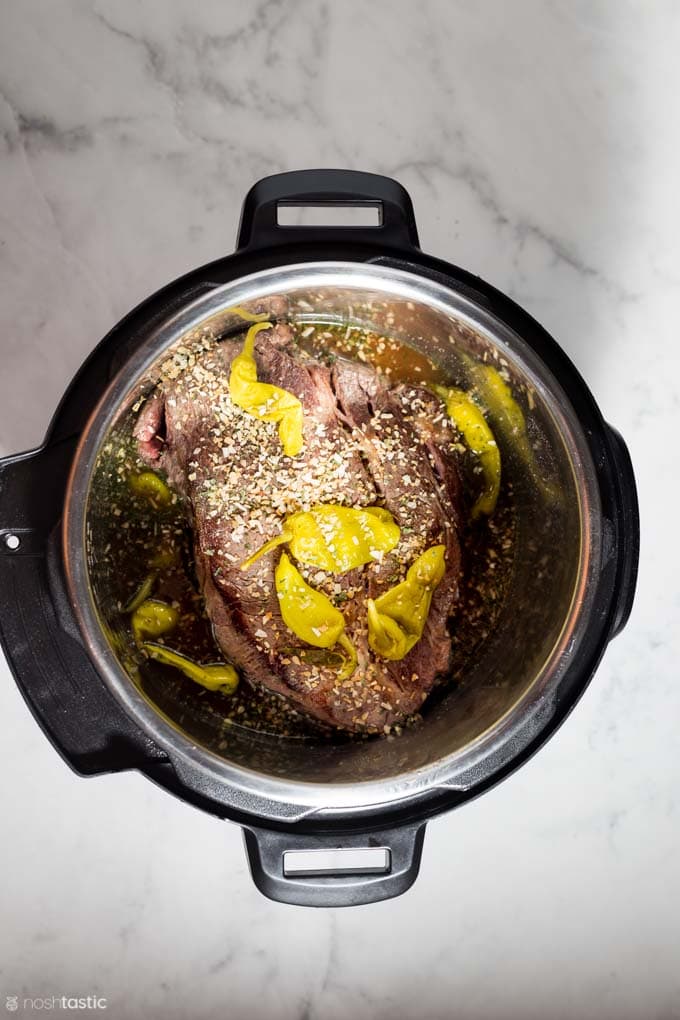 Once you've done that you can add the Instant Pot lid, don't forget the sealing ring! and set it to cook for the desired length of time which for me is about 47 minutes for a chuck roast that is about 2 inches thick.
That usually will create a roast that is tender and falling apart, but not overcooked. Occasionally (this is not an exact science!) I have found it to be not quite cooked enough so in that case I simply put the lid back on and further pressure cook it for about another 5-10 minutes.
The photo below shows my Instant Pot Mississippi Pot Roast after it's been cooked, it's hard to tell from the image but the meat is fork tender but not overcooked so I was mostly able to remove the whole roast in one piece.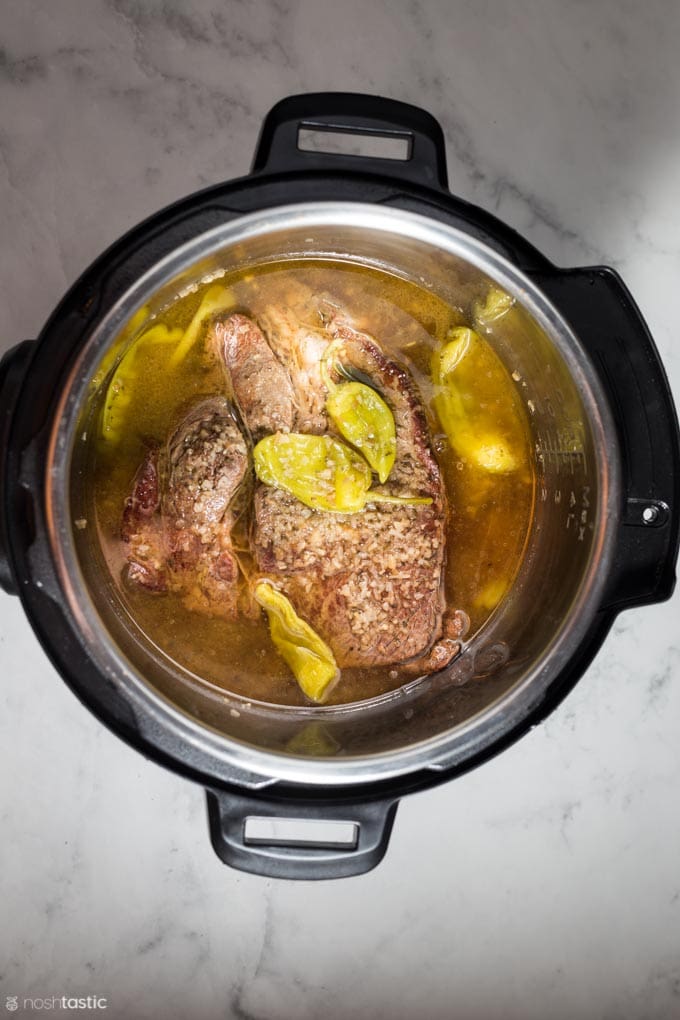 Instant Pot Mississippi Pot Roast Gravy
This is really simple! All you need to do is pick a starch such as cornstarch, potato or tapioca, and mix 1-2 tbsp of the starch with the equivalent amount of cold water.
Do NOT use warm or hot water to mix it or it may thicken up on you before you even add it to the gravy.
Remove the meat and pepperoncinis from the cooking liquid, turn on the saute function or equivalent setting on your electric pressure cooker and while stirring add half the starch mixture and stir well until it thickens, that's really all there is to it!
If it's not thick enough add more of the starch mixture in the same manner as before.
what are the best cuts of meat for instant pot pot roast?
In general, tougher cuts of meat that require a long slow cook time (if cooked conventionally) work best for making a Instant Pot pot roast.
My absolute favorite cut of beef for any kind of pot roast is a nice boneless chuck roast with plenty fat marbeling, it's pretty foolproof and works for me every time. If you can't find chuck roast then  brisket would work well but it tends to be much more expensive where I live so I'd never use it for a pot roast.
Alternatively you could use a beef rump roast or bottom round.
More Pot Roast Cooking Tips
Browning Meat – I prefer to use a cast iron skillet, I find that the Instant Pot is often too small to accommodate the chuck roast flat on the bottom for even browning and getting it to be fully non-stick can be finicky.
Overcooking – Some of this may be partly personal taste, but if you pressure cook a 2.5lb – 3lb pot roast for 90 minutes as I've seen suggested in some Facebook groups then I guarantee you'll be overcooking it. Overcooked pot roast will become dry, stringy and have no taste left as all the flavor will have transferred into the cooking liquid. I think the ideal is to have the meat 'just cooked' and fork tender. If you find that at the end of the cook time it's not quite done enough for your tastes simply put the lid back on and pressure cook for 5-10 more minutes, that's a much better option than way overcooking it.
Gravy – This gravy tastes amazing and I think it's really great to pull apart the meat (see photo below) and then immerse it back in the gravy, delicious!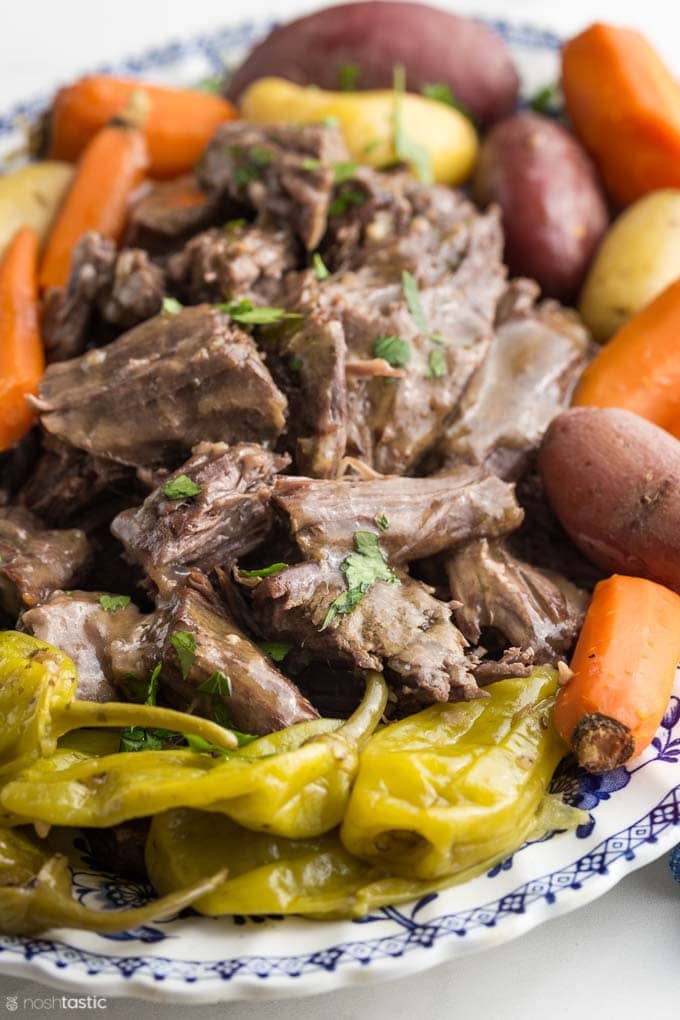 Recipe adaptations for Paleo, Whole30, and Keto and Low Carb Diets
keto and low carb – you'll need to omit any of the starch thickeners for the gravy. You could reduce it a little more if you prefer but that may make it too salty as it gets more concentrated. I don't like using xanthan gum as a thickener as I think it just makes it slimy, but if you prefer to use it to thicken sauces it's definitely an option.
Paleo – Cornstarch is not Paleo but arrowroot and tapioca starches are. Fair warning, they can be a bit more slimy than cornstarch if you use too much so perhaps one tbsp here would be enough.
Whole30 – Use the same starches as above, and also potato starch would also be an option for W30.
Pepperoncini – for Paleo andWhole30 you'd need to find a brand that has no added colors or preservatives such as Jeff's Naturals brand.
Instant Pot Mississippi Pot Roast
Easy Instant Pot Mississipp Pot Roast in less than one hour! with no nasty packet mixes, this healthy recipe is perfect for Paleo, Whole30 and can be a slightly adapted for low carb and Keto diets.
Prep Time: 15 minutes
Cook Time: 47 minutes
Total Time: 1 hour 2 minutes
Total Carbs: 6 g
Net Carbs: 5 g
Protein: 88 g
Servings: 6
Ingredients
3lb boneless chuck roast
1/4 cup pepperoncini juice  - from jar
1 cup gluten free beef stock , 250mls
1/4 cup onion soup mix
3 cloves garlic , crushed
8 pepperoncinis , whole
Instant Pot Mississippi Pot Roast Gravy
2 tbsp potato starch , or tapioca, corn, or arrowroot starch to thicken
Instructions
Season the meat on both sides with a little salt and pepper

Using either the saute function on your Instant Pot or other pressure cooker, or a large skillet brown the beef chuck roast on both sides. Deglaze the pan with gluten free beef broth.

Add the pepperoncini juice, gluten free beef broth, onion soup mix, and garlic to the pressure cooker.

Add the beef into the liquid and top the meat with the half the pepperoncinis and tuck the others around the side of the meat.

Lock the lid, turn the steam release vent to 'sealing' and using the manual setting, adjust it to cook for 47  - 50 minutes at High Pressure. 

My chuck roasts are about 1.5 - 2 inches thick and a 47 minute cook time works for me, if yours is thicker than that you may need to increase the time a little.

When the cook time time is up, allow the unit to reduce pressure on its own without opening the steam release vent (Natural Release) for 10 minutes, then carefully release the pressure and open the lid

Remove the meat and cover with foil.
Pressure Cook Additional Vegetables
Add already prepared whole baby potatoes and larger carrot chunks to a steamer basket and place it over the hot meat juices.

Cook on high pressure for 3 minutes and then quickly release the pressure.
Mississippi Pot Roast Gravy
Mix two tablespoons of your starch of choice into two tablespoons of cold water and stir well.

Strain the meat juices to remove the pepperoncinis.

Turn on the saute function and pour in half the starch mixture stirring all the time until the sauce thickens.

If it's not thick enough for you after a couple of minutes of cooking, simply add the rest of the starch and cook as before.
Recipe Notes
Cook Time - this will vary depending on the thickness of your roast. If your roast is thicker than 2 inches you may need to increase the cook time from what I have listed. 
Nutrition Facts
Instant Pot Mississippi Pot Roast
Amount Per Serving (533 g)
Calories 840 Calories from Fat 468
% Daily Value*
Fat 52g80%
Saturated Fat 23g144%
Cholesterol 311mg104%
Sodium 448mg19%
Potassium 1672mg48%
Carbohydrates 6g2%
Fiber 1g4%
Sugar 1g1%
Protein 88g176%
Vitamin A 105IU2%
Vitamin C 13.3mg16%
Calcium 93mg9%
Iron 9.6mg53%
* Percent Daily Values are based on a 2000 calorie diet.
Nutritional information on Noshtastic is provided as a courtesy and is approximate only. We cannot guarantee the accuracy of the nutritional information given for any recipe on this site.
Course: Main Course
Cuisine: American