Instant Pot Pork Chops with Creamy Mushroom sauce will transform your weeknight dinner table!
It's made with a deliciously rich mushroom sauce that includes a dash of white wine, chicken broth, and a little coconut milk to get the creaminess, yet it's still Paleo ,  dairy free, and low carb so it's a win-win for everyone!

The Best Way to Make Instant Pot Pork Chops
The benefit of this recipe over making it on the stove is that it cooks fast, the meat is tender, and if you saute the pork chops in the pressure cooker then it's a very easy one pot meal!
this post contains affiliate links
Choosing your Pork Chops
We prefer bone-in pork chops for using in our pressure cooker and the reason is simple, they have more fat marbling than lean pork chops and are much less likely to dry out during cooking.
Also, take a look at the thickness of your pork chops and refer to my recipe cooking notes for pressure cooker timing.
The thicker they are the longer they will take to cook, I used chops that were approximately 3/4inch (1.9cm) thick so if yours differ from that you'll need to adjust the timing up or down as needed.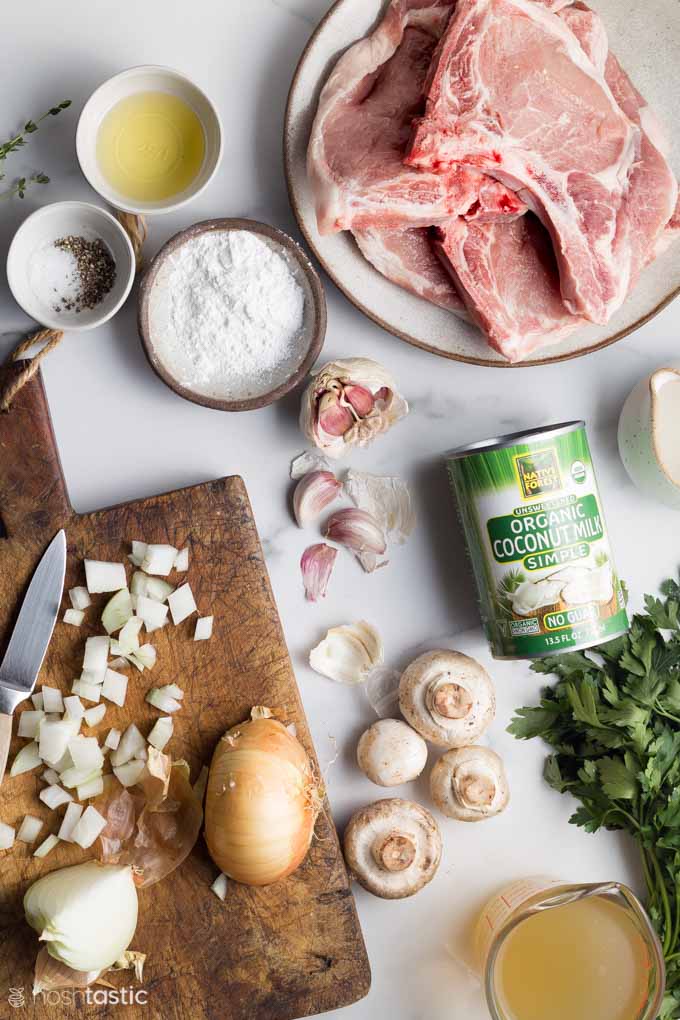 Brown your Pork chops!
First, you need to season the chops with salt and pepper before you brown them, although some grocery store pork chops these days come with an already added salt solution which I hate as it makes them overly salty in my opinion, so just make sure you read the label!
Once you are ready to brown them you can use a cast iron skillet as I've done in the photo below, or you can use the saute function on your Instant Pot or other pressure.
I know most people don't like to dirty extra pans, but ya'll, I'm forever sticking meat to the base of the pressure cooker if I try to brown it,  so for me the skillet is easier and works like a charm every time!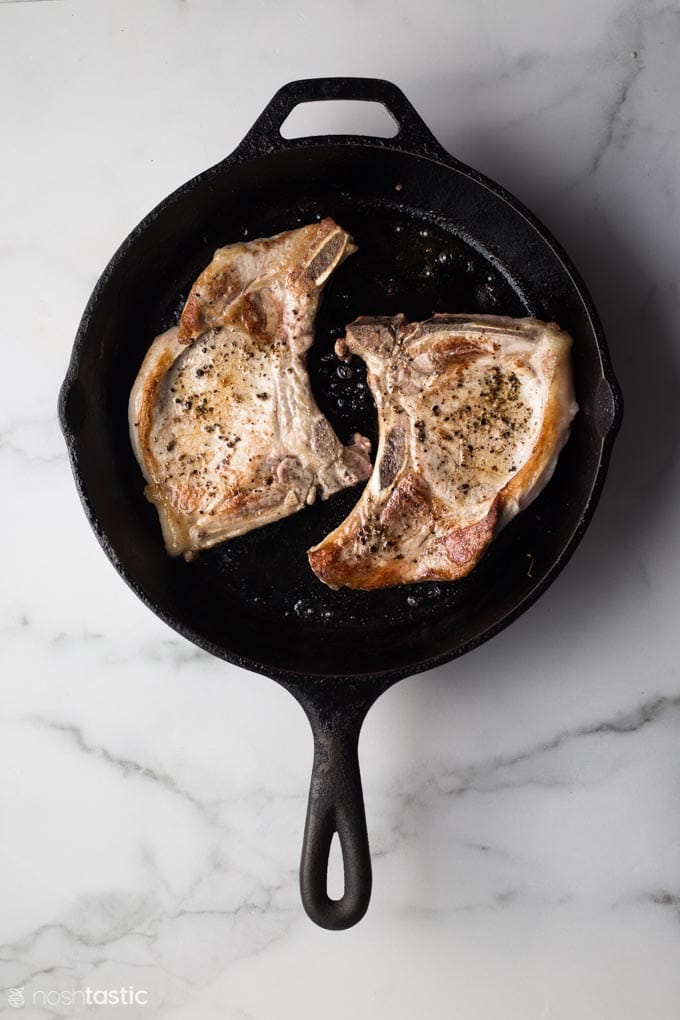 Add in the liquids
Once you've browned your chops, in the same pan you can saute the onions and garlic for a couple of minutes until they are soft and then you need to deglaze the pan with the chicken broth.
This is especially important if you used the saute setting on your pressure cooker as failure to deglaze and remove all the bits on the bottom can cause the dreaded 'burn' notice to appear!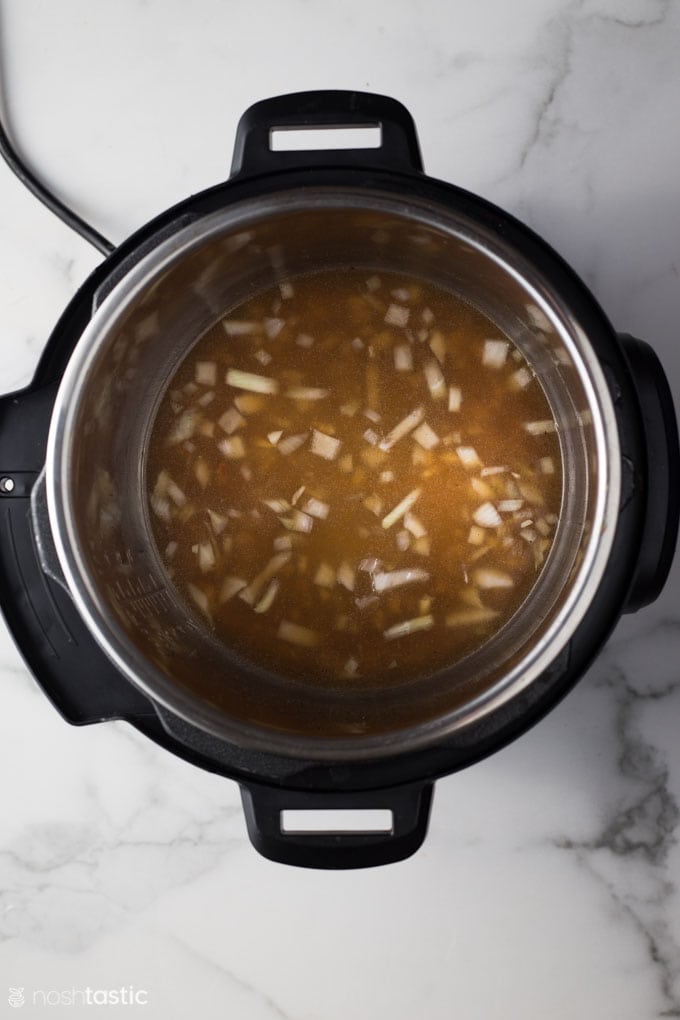 Next step is to add in the white wine, Dijon mustard, and thyme and carefully add the browned pork chops into the cooking liquid. It's totally fine if they are not fully submerged in the liquid, they'll cook either way.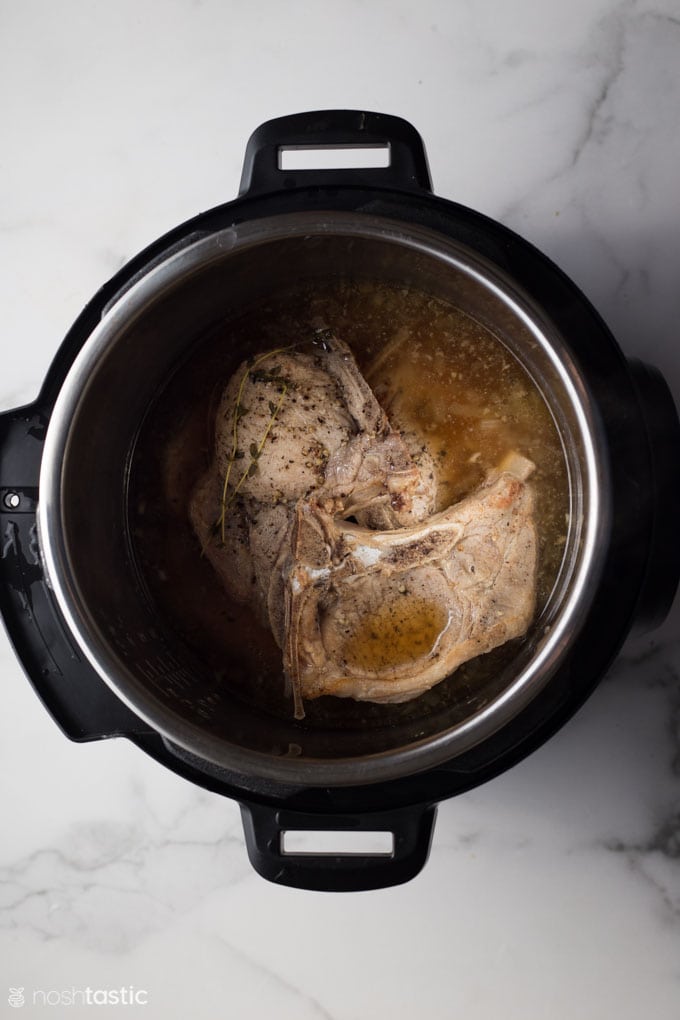 It's time to pressure cook it!
Once you've added the chops simply add the lid of your pressure cooker, turn it so it locks, and then turn the steam vent to 'sealing' and using the 'manual' or 'pressure cook' button to program it to cook for 5 minutes for 3/4 inch pork chops.
It's worth mentioning again that your cook time may vary if your chops are thinner or thicker than the ones I used.
When the cook time is up you'll need to let it sit for about eight to ten minutes, then you can carefully release the remaining pressure and open the lid.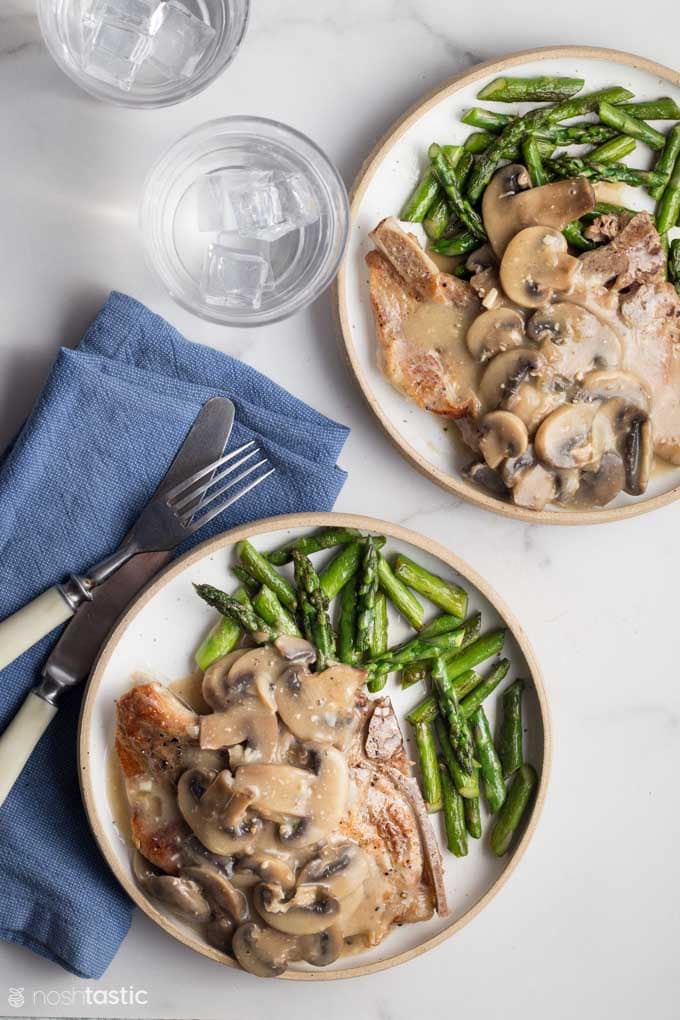 Finishing the creamy mushroom sauce
You're almost done! Very carefully remove the pork chops and set aside and cover them with foil to keep warm.
Add the sliced mushrooms to the sauce and and turn on the saute function. Then, add the tapioca starch to the coconut milk and stir well, and pour it in to the pot while stirring to prevent lumps. If you are Keto or Low Carb simply omit the starch, your sauce will not be as thick but it will still taste great!
You'll need to cook the mushrooms in the sauce for about three or four minutes or until they are just tender.
Add back the pork chops into the pot for the last minute of cooking to warm through, if you have a little parsley you can chop and sprinkle over the top of the sauce as you serve it.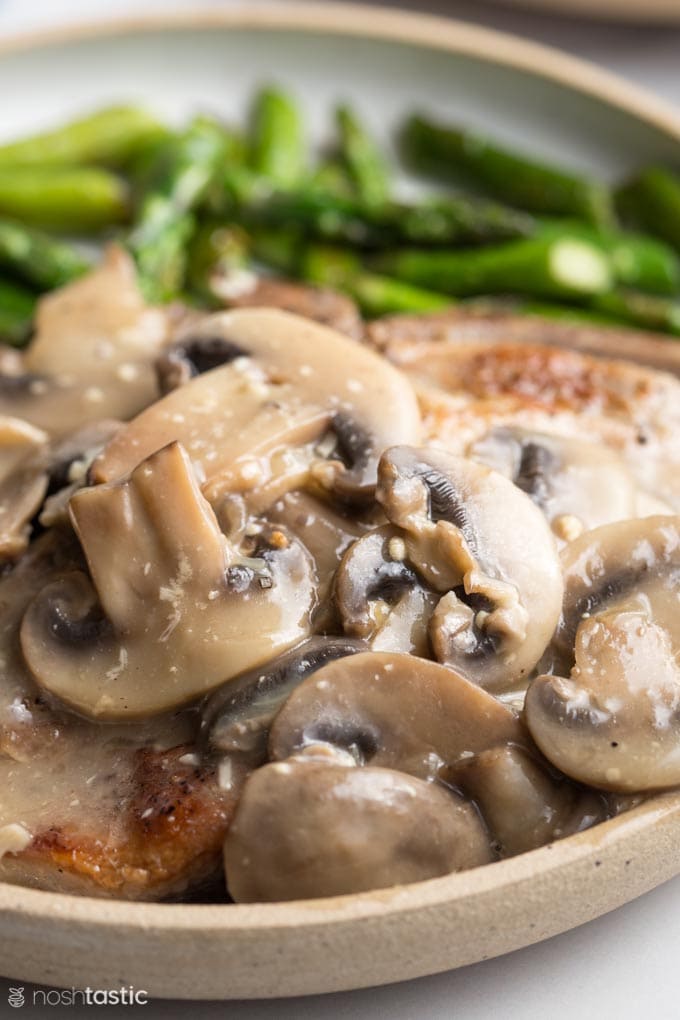 What sides to serve with Instant Pot Pork Chops
This is a very versatile weeknight recipe that goes well with so many different sides, here are a couple of ideas my family loved with it.
We served it with Asparagus as you can see in the picture, my favorite way to cook it is to make Parmesan Asparagus which is quickly roasted in the oven. If you are dairy free you can omit the cheese and cook them in the same manner
For the low carb eaters in our house we love to serve our Instant Pot pork chops alongside a generous helping of Cauliflower Mashed Potatoes, they are a firm favorite with everyone actually, whether they are low carb or not.
If we want to be extra fancy and are not counting carbs then it really has to be Duchess potatoes, they are very easy to make.
More Instant Pot Dinner Recipes
Instant Pot Pork Chops with Mushroom Sauce
Perfectly tender bone-in pork chops in your Instant Pot with a creamy dairy free mushroom sauce that will be a real crowd pleaser!
Prep Time: 10 minutes
Cook Time: 5 minutes
natural pressure release: 10 mins
Total Time: 25 minutes
Total Carbs: 10 g
Net Carbs: 5 g
Protein: 32 g
Servings: 4
Ingredients
4 pork chops (bone in) , 3/4 inch thick
1/2 tsp salt
1/4 tsp pepper
1 tbsp olive oil
1/2 cup onion , finely chopped
2 tsp garlic , crushed
1.5 cups low-sodium gluten free chicken broth , 355 mls
1/4 cup dry white wine , 60 mls
2 sprigs fresh thyme
2 tsp Dijon Mustard
8 oz white mushrooms, sliced thin , 226g
1/2 cup coconut milk, full fat canned , 125 mls
2 tbsp tapioca starch
1 tbsp parsley, finely chopped , for garnish
Instructions
Season the pork chops with salt and pepper (see note 1)

Saute both sides of the pork chops in a little oil for just one to two minutes per side using the saute function in your pressure cooker, or use a skillet like I have, then remove the chops and set aside.

Saute the onions and garlic for one minute, then carefully deglaze the bottom of the pot with the chicken broth, then add in the white wine, Dijon mustard, and thyme.

(read note 2) Lock the lid, turn the steam vent to 'sealing' and using the 'manual' or 'pressure cook' button, adjust it to cook for 5 minutes at high pressure, then let it do a natural pressure release for 8-10 minutes. (see note 2)

Release any remaining pressure and open the lid and remove the pork chops (cover with foil) and the thyme sprigs.

Add in the mushrooms into the sauce and turn on the saute function and cook them for three to four minutes.

Mix the coconut milk with the tapioca starch, then add it to the sauce and stir well.

Add back the pork chops into the sauce and simmer for two minutes.

Garnish with chopped parsley and serve hot.
Recipe Notes
Seasoning - here in the USA your average grocery store pork chop often has a brine solution added to it, which can sometimes make it taste quite salty and in that case it may not need to be seasoned with salt again. 
Cook Time - the exact cook time will vary depending on the thickness of your pork chops, I used 3/4 inch thick bone-in pork chops so if yours are different you may need to adjust the timing. Also remember that during the natural pressure release time the chops are still cooking up until you open the lid. I do not recommend using lean boneless chops for this recipe.
Pork Chops - I recommend you use bone in only, in my experience lean boneless chops will become dry in the pressure cooker (unless you cook them forever, and they they are tender but tasteless) 
Low Carb - To lower the carbs simply omit the tapioca starch, the sauce will not be as thick though. 
Nutrition Facts
Instant Pot Pork Chops with Mushroom Sauce
Amount Per Serving
Calories 350 Calories from Fat 171
% Daily Value*
Fat 19g29%
Saturated Fat 9g56%
Cholesterol 90mg30%
Sodium 715mg31%
Potassium 853mg24%
Carbohydrates 10g3%
Fiber 1g4%
Sugar 2g2%
Protein 32g64%
Vitamin A 105IU2%
Vitamin C 11.6mg14%
Calcium 27mg3%
Iron 2.3mg13%
* Percent Daily Values are based on a 2000 calorie diet.
Nutritional information on Noshtastic is provided as a courtesy and is approximate only. We cannot guarantee the accuracy of the nutritional information given for any recipe on this site.
Course: main
Cuisine: American