Brown Sugar Ham Glaze creates the perfect finish to your store bought ham and really amps it up a level from the little packet of glaze that comes with it.
With a mix of winter warming spices such as cinnamon, nutmeg and cloves, this brown sugar Ham Glaze will rival the flavor of those expensive Honeybaked Hams and for a fraction of the price!
I used a ready cut spiral ham with the bone it. It's already been cooked so we are just carefully reheating it without drying it out and making a wonder brown sugar glaze to spoon over the top.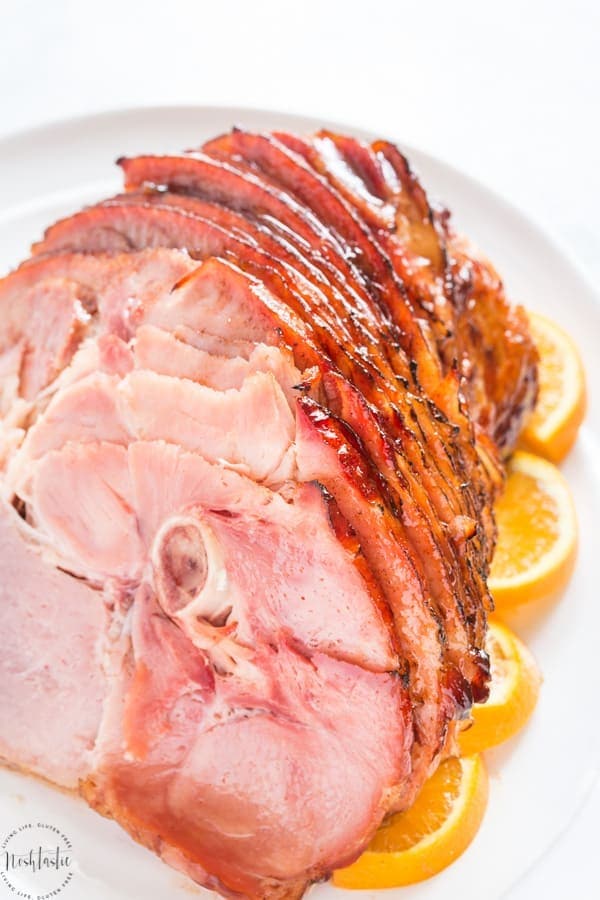 Quick Tips for making Brown Sugar Ham Glaze
Remember the ham is already cooked so you don't want to dry it out so using a Crockpot or slow cooker to reheat it is ideal
You may also reheat the ham in the oven at a low temperature, around 325F is best, make sure you wrap it with foil too.
Hot sugar can burn if you are not careful so do make sure you watch the pan on the stove when you are making your brown sugar Ham Glaze.
I used a culinary blow torch to get a little bit of caramelization on the outside of the ham, you can do it under the broiler just as easily but you must watch it so that it does not burn.
My kids love the glaze so I often make extra to spoon over the ham slices if I'm reheating them later on, it's a real treat round the holidays!
This post contains affiliate links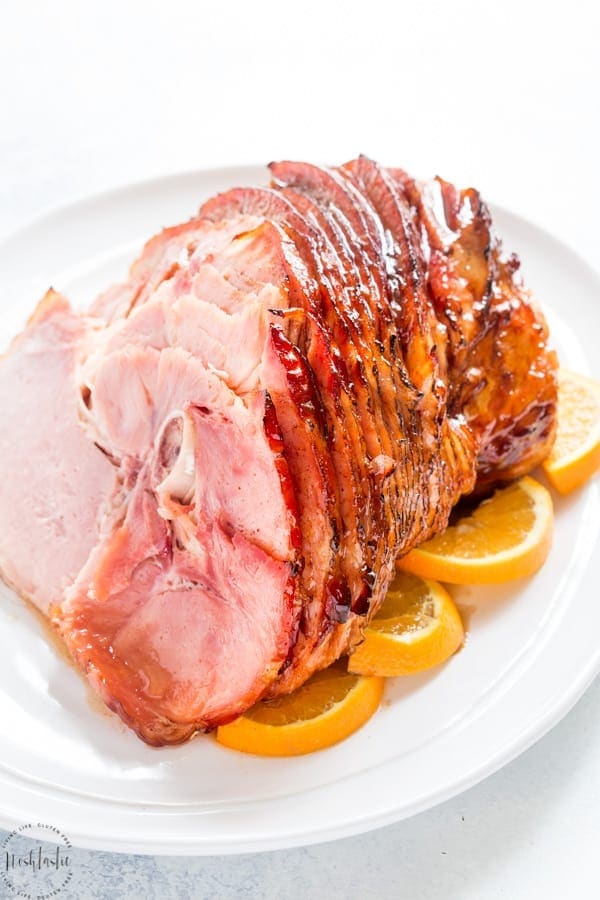 More Easy Holiday Recipes
Brown Sugar Ham Glaze
My Brown Sugar Ham Glaze is perfect for the holidays, is quick to make and will transform your store bought ham into something really special!
Prep Time: 15 minutes
Cook Time: 3 hours
Total Time: 3 hours 15 minutes
Total Carbs: 37 g
Protein: 73 g
Servings: 12
Ingredients
1 cup orange juice
1 7-9lbs bone in, spiral sliced pre-cooked ham
Brown Sugar Ham Glaze
1 cup white sugar
1 cup light brown sugar
1 tsp onion powder
1 tsp cinnamon
1 tsp nutmeg , freshly ground
1/2 tsp ground ginger
1/2 tsp ground cloves
1/2 tsp paprika
Instructions
REHEAT SPIRAL HAM IN SLOW COOKER
Add the ham to your slow cooker and add a cup of orange juice.

Cook on the low setting in your slow cooker for 3 hours.
REHEAT SPIRAL HAM IN OVEN
To reheat the spiral ham in your oven place the ham in a cup or orange juice and cover the entire ham with aluminum foil and warm it at 325 °F for around 10 minutes per pound.
MAKE BROWN SUGAR HAM GLAZE
Mix the sugars and ham glaze spices together in a small pan with 5 tbsp of the orange juice the ham cooked in.

Make your brown sugar ham glaze by bringing the syrup to a boil on the stove top and cook for 1 minute, then remove from heat.

Place the ham on a foil lined sheet pan.

Baste the ham with the syrup and then broil at a high heat for 2-5 minutes until sugar starts to bubble.

You will need to watch it closely so it does not burn.

Alternatively you can use a culinary blow torch to caramelize the sugar, use small short strokes with the flame to ensure you don't burn the sugar.
Nutrition Facts
Brown Sugar Ham Glaze
Amount Per Serving
Calories 973 Calories from Fat 513
% Daily Value*
Fat 57g88%
Saturated Fat 20g125%
Cholesterol 210mg70%
Sodium 4044mg176%
Potassium 1038mg30%
Carbohydrates 37g12%
Sugar 36g40%
Protein 73g146%
Vitamin A 90IU2%
Vitamin C 10.3mg12%
Calcium 43mg4%
Iron 3.2mg18%
* Percent Daily Values are based on a 2000 calorie diet.
Nutritional information on Noshtastic is provided as a courtesy and is approximate only. We cannot guarantee the accuracy of the nutritional information given for any recipe on this site.
Course: Main Course
Cuisine: American