Shrimp Foil Packets are my kind of dinner. They are quick to prepare, make for super easy clean up, and not only that they taste delicious and will please grown ups and kids alike!
My recipe for healthy shrimp foil packets is naturally low carb, keto, paleo and whole30 so we've got y'all covered! I used a fresh lemon juice and garlic marinade and a selection of summer vegetables, but you can make this recipe year round and cook it either in the oven or on the grill.
this post contains affiliate links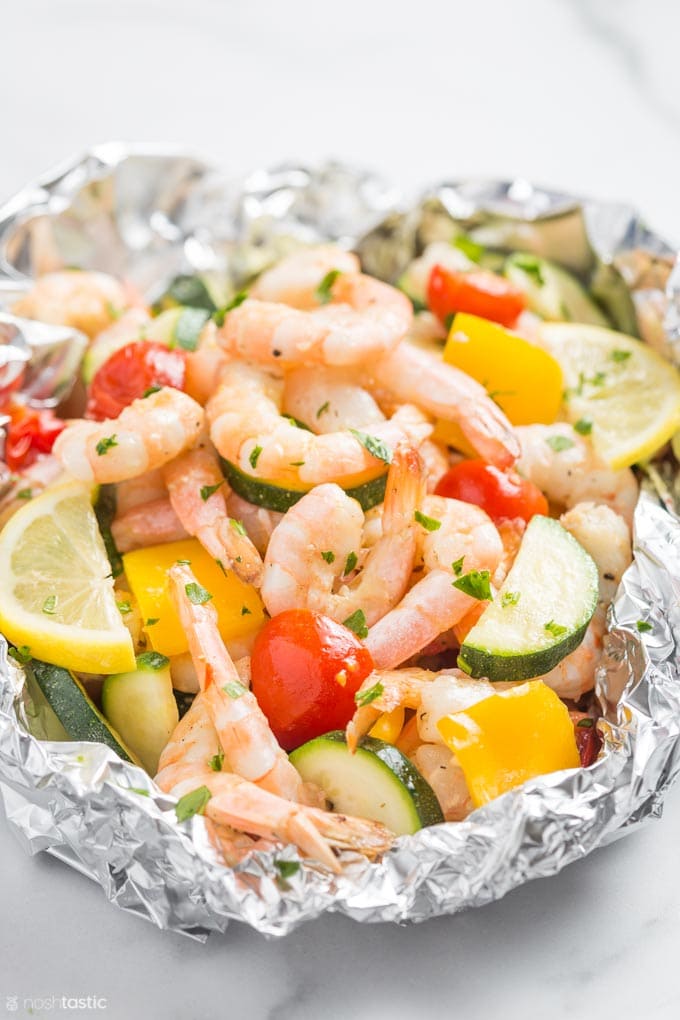 How To make Shrimp Foil Packets
Start by peeling the shrimp. We left the tails on as it's looks pretty, but it's easier to eat if you remove them completely .
Cut the zucchini into thin slices, and then cut them in half again.
The cherry tomatoes should be halved too, unless they are very small and the bell pepper needs to be deseeded and cut into 1 inch squares.

Mix the shrimp, zucchini, tomatoes, bell peppers, along with the olive oil, salt, pepper, and garlic in a large bowl and then stir really well
Tear off pieces of foil that are about 15 inches long and evenly divide the shrimp packet mixture onto the foil pieces then simply place a slice of lemon on the top and fold them into pouches (see image below) then place them all on a baking sheet and bake in the oven for about 15 – 20 minutes.
Check the shrimp foil packets after 15 minutes, if the vegetables are cooked remove them and carefully open each packet. You can serve them with a little more lemon juice and a sprinkle of chopped parsley.
Related Shrimp Recipes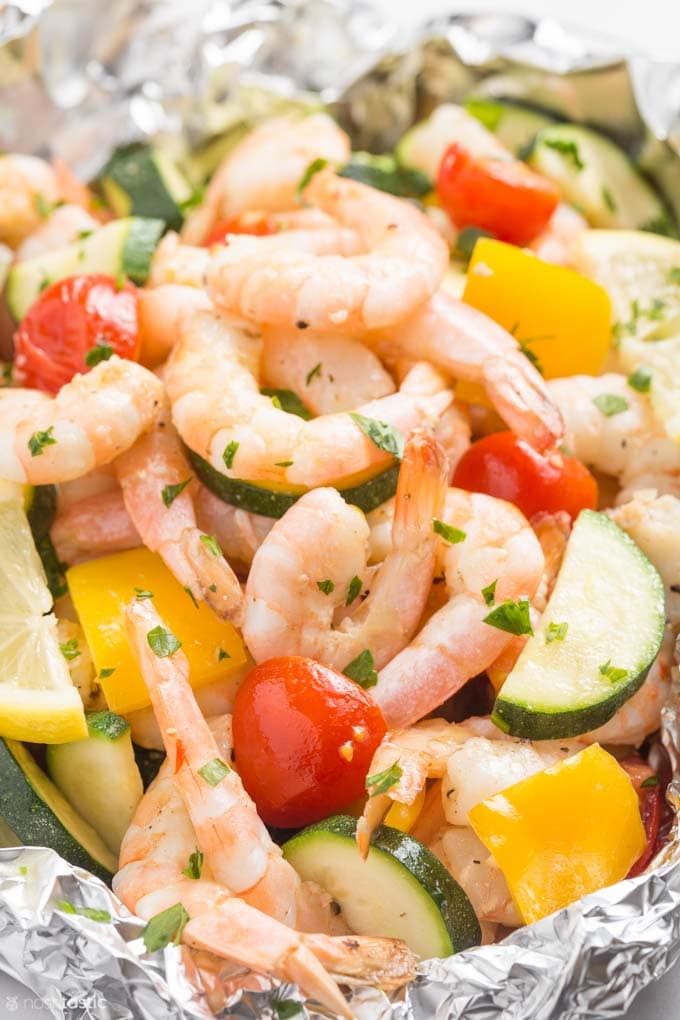 Shrimp Foil Packets
Quick, easy, healthy, these shrimp foil packets are a fun weeknight meal.
Prep Time: 10 minutes
Cook Time: 15 minutes
Total Time: 25 minutes
Total Carbs: 8 g
Net Carbs: 7 g
Protein: 48 g
Servings: 4
Ingredients
Instructions
HOW TO COOK SHRIMP FOIL PACKETS ON A GRILL
Prepare the shrimp and vegetables as directed below and wrap up the foil packets

Cook the shrimp foil packets on a hot grill for about 10-15 minutes or until the vegetables are cooked through. serve hot and sprinkle with a little chopped parsley and a squeeze of lemon juice.
HOW TO COOK SHRIMP FOIL PACKETS IN THE OVEN
Preheat your oven to 400F

Cut 4 large sheets of foil, about 12-15 inches long.

Toss the shrimp, tomatoes, and zucchini in the olive oil, garlic, salt and pepper and let sit for 15 minutes in the fridge, then stir again.

Equally divide the shrimp and vegetable mixture over the foil pieces and top with a slice of lemon.

Fold the foil packets over the shrimp and vegetables to completely cover the food, then fold the top and bottom sides to close them.


Bake for 15 – 20 minutes or until vegetables and shrimp are fully cooked.

serve hot and sprinkle with a little chopped parsley and a squeeze of lemon juice.
Nutrition Facts
Shrimp Foil Packets
Amount Per Serving
Calories 326 Calories from Fat 90
% Daily Value*
Fat 10g15%
Saturated Fat 1g6%
Cholesterol 571mg190%
Sodium 2357mg102%
Potassium 565mg16%
Carbohydrates 8g3%
Fiber 1g4%
Sugar 3g3%
Protein 48g96%
Vitamin A 590IU12%
Vitamin C 98.8mg120%
Calcium 355mg36%
Iron 5.8mg32%
* Percent Daily Values are based on a 2000 calorie diet.
Nutritional information on Noshtastic is provided as a courtesy and is approximate only. We cannot guarantee the accuracy of the nutritional information given for any recipe on this site.
Course: Main Course
Cuisine: American