Easiest ever Air Fryer French Fries Recipe! Crispy and crunchy on the outside and tender in the middle, they taste better than your favorite restaurant fries and are cooked with a lot less oil.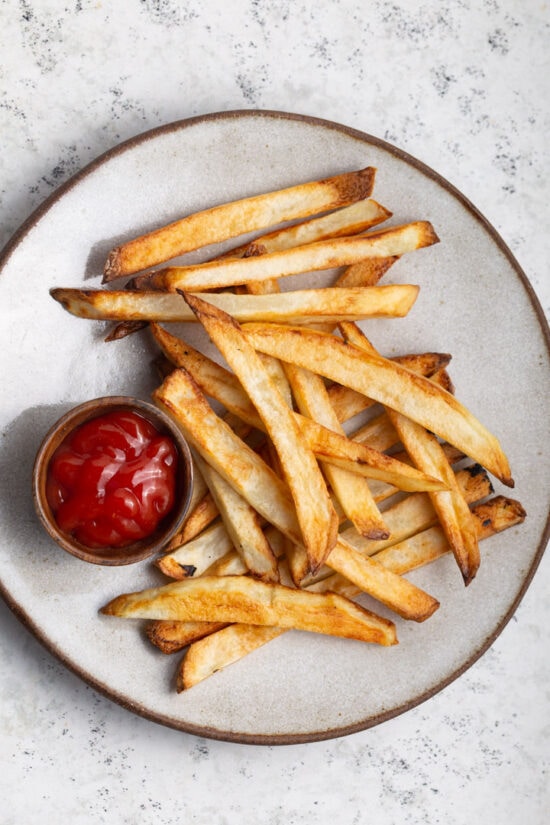 This post contains affiliate links
Tips for making Air Fryer French Fries
Start by selecting the best variety of potato for making French Fries. My favorite is the Russet Potato (sometimes labeled 'baking potato') which is easy to find in any grocery store.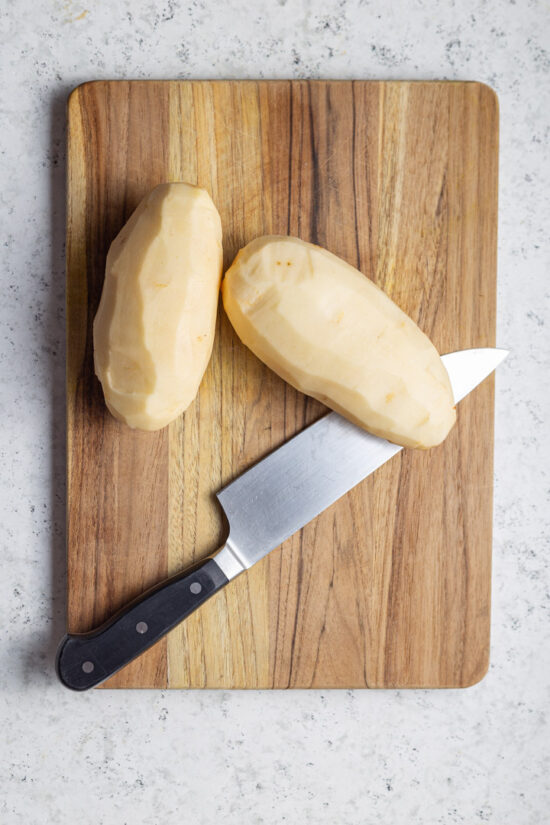 Wash and peel the potato and then as carefully as you can (see recipe video for details) cut the potato into even slices and then cut those slices into fries. Try to make the fries a uniform size so that they will cook more evenly. If you have a mandoline this is the easiest way to make evenly cut fries.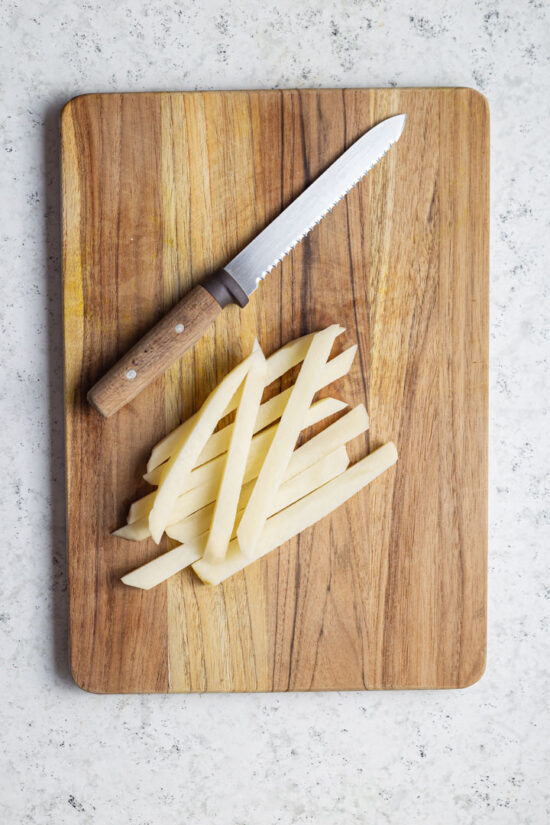 The next step is to soak the hand cut fries in a bowl of water, this will help remove the excess starch and in turn will result in crispier fries! I'd advise you don't skip this step.
After 30 minute to 1 hour of soaking drain the fries and carefully pat them dry with paper towels.
Toss the fries in a little olive oil and salt and arrange them in a single layer in the basket of your air fryer.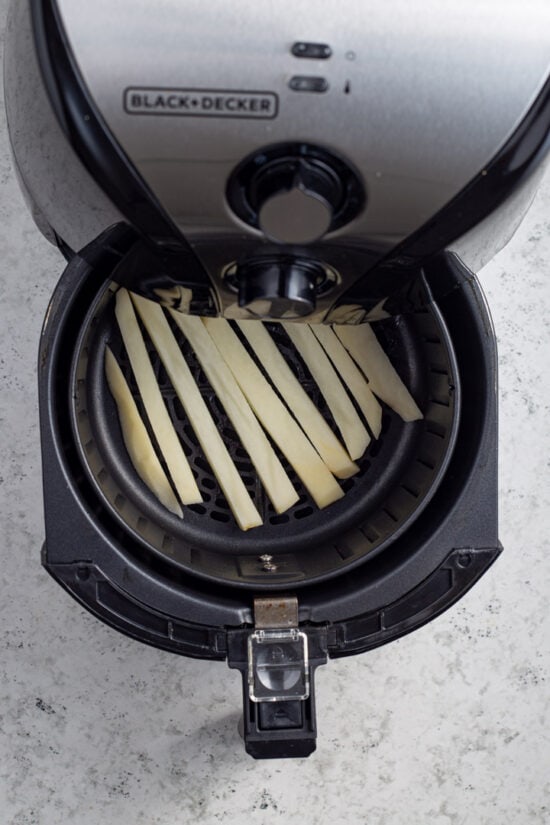 Exact cook time will vary depending on what size your fries are and the model of your air fryer, but I found that about 10-15 minutes was usually long enough.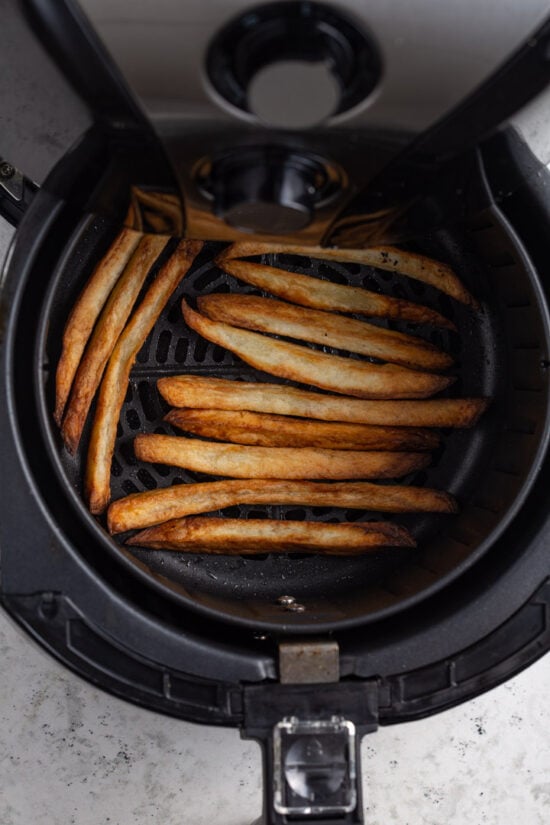 More Air Fryer Recipes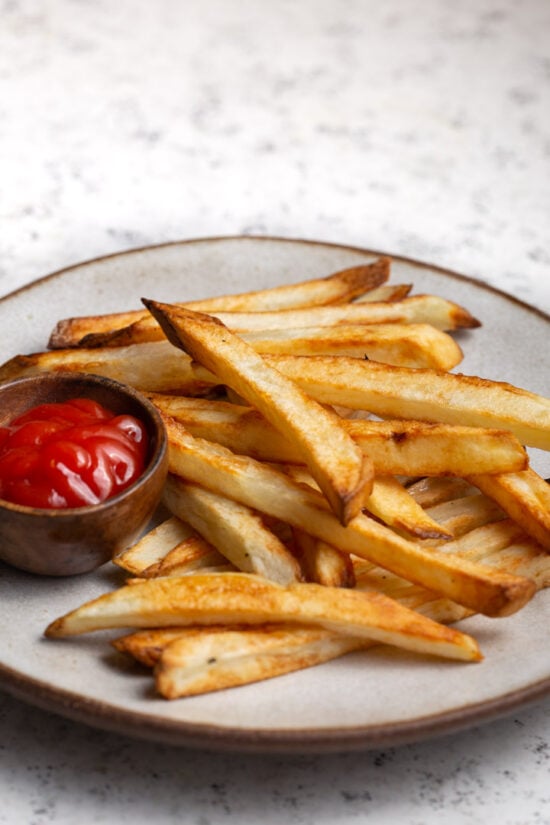 Air Fryer French Fries
A quick easy way to cook hand cut French Fries!
Prep Time: 1 hour 15 minutes
Cook Time: 15 minutes
Total Time: 1 hour 30 minutes
Total Carbs: 41 g
Protein: 5 g
Servings: 4
Ingredients
4 large Russet Potatoes
1 tbsp olive oil
salt, to taste
Instructions
Peel the potatoes. Evenly slice each potato to make 1/2 to 3/4 inch fries. Try to ensure that the fries are the same size for even cooking. A Mandoline is the easiest way to cut even fries.

Soak the fries in a bowl of cold water for 30 minutes to one hour to reduce the starch and create crispier fries.

Drain the fries and thoroughly pat dry with paper towels

Toss the fries in olive oil and a little salt.

Arrange them in your air fryer basket in a single layer for best results.

Cook at 400°F for approximately 12-15 minutes, check them after 10 minutes. Exact cook time will vary depending on the size of your fries and your specific air fryer.

For best results serve right away while fries are still hot and crispy.
Recipe Notes
Potatoes – for best results choose Russet potatoes. They are often labeled as baked potatoes in the produce section of your grocery store. I like to peel them but you can leave the peel on if you prefer.
Servings –  assumes an 8oz (226g) potato per serving.
Storage – these fries really are best served just as soon as they are cooked as they will rapidly lose their crispness. You can reheat them by putting them back in the air fryer basket for a few minutes but they will not be quite as crisp as they are freshly cooked.
Nutrition Facts
Air Fryer French Fries
Amount Per Serving (8 oz)
Calories 210 Calories from Fat 36
% Daily Value*
Fat 4g6%
Saturated Fat 1g6%
Sodium 11mg0%
Potassium 946mg27%
Carbohydrates 41g14%
Fiber 3g13%
Sugar 1g1%
Protein 5g10%
Vitamin A 2IU0%
Vitamin C 13mg16%
Calcium 30mg3%
Iron 2mg11%
* Percent Daily Values are based on a 2000 calorie diet.
Nutritional information on Noshtastic is provided as a courtesy and is approximate only. We cannot guarantee the accuracy of the nutritional information given for any recipe on this site.
Course: Side Dish
Cuisine: American