These delectable Scottish Gluten Free Empire Biscuits are tasty little shortbread cookies sandwiched together with jam and iced on the top, perfect with a nice cup of tea!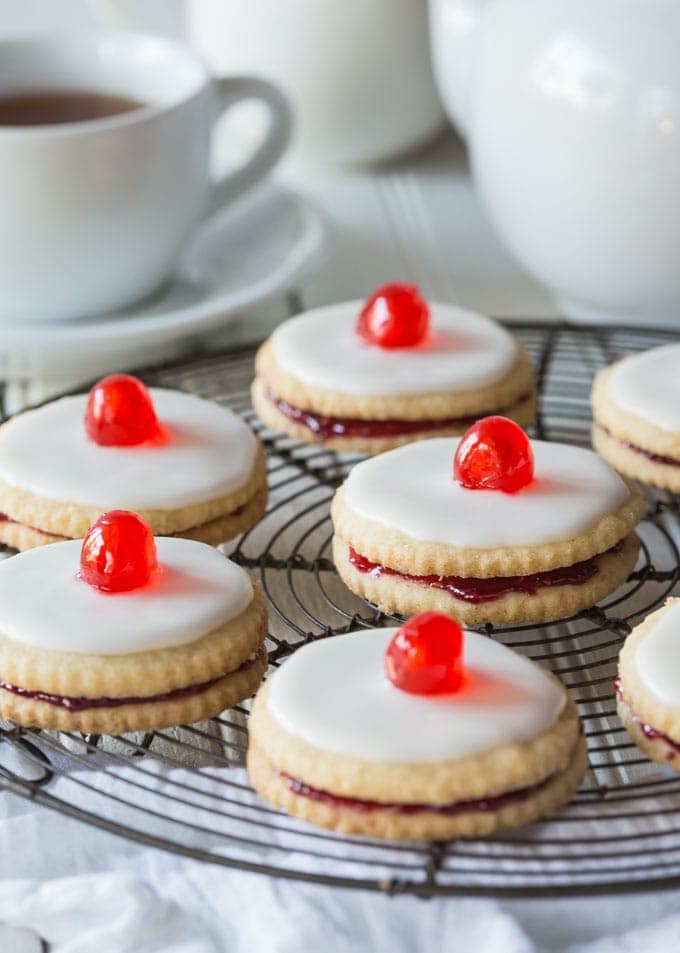 How to make gluten free Empire Biscuits
I'm feeling a little nostalgic today writing up my recipe for gluten free Empire Biscuits! I grew up eating these iconic little Scottish cookies which are found in the window of nearly every Scottish bakers shop from Gretna Green to John O' Groats.
I'm not sure if they have them in England or not but their popularity in Scotland isn't in doubt, you can even see them in the Disney movie 'Brave' in the scene where the little boys steal a basketful of them from a maid in the castle.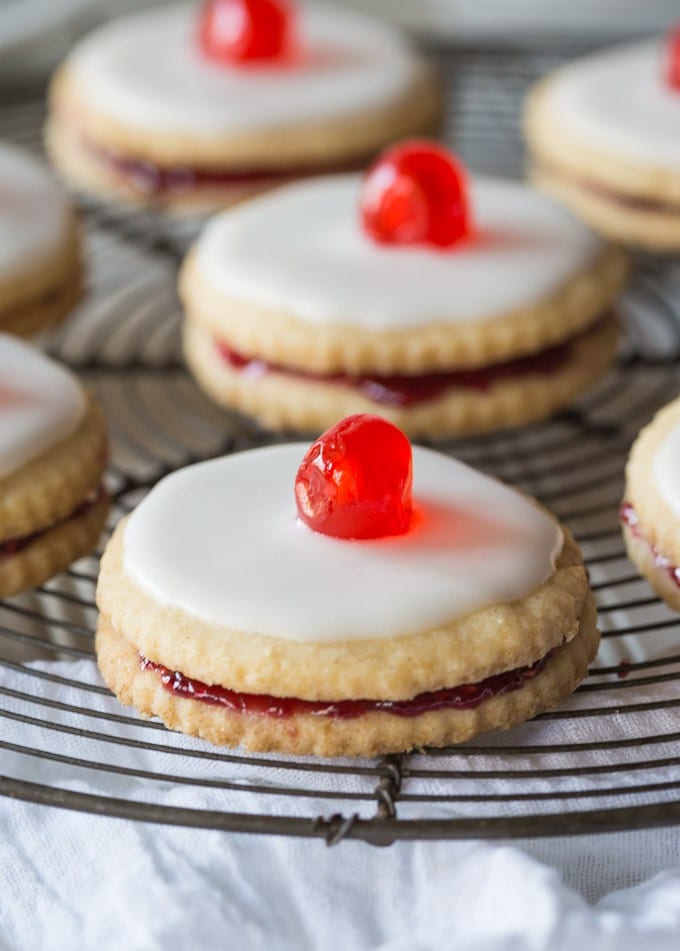 I didn't grow up eating them gluten free of course and now that I'm living in Mississippi my only option is to make them myself if I want one.
They're really just a simple buttery shortbread cookie sandwiched together with jam and iced on the top. Usually they are topped with a cherry but sometimes a jelly tot is used instead, it's a sugary British gummy candy.
Either way they are quite delicious and perfect to have with a hot cup of tea or coffee! I used dairy free margarine instead of butter to make them, you could use either.
I rolled the dough quite thin so that they wouldn't be really thick when I sandwiched them together, but that also meant they were a little fragile so be careful when handling them that they don't break apart. The icing is very simple, just powdered sugar, water and a little lemon juice and if you're like me you won't even want to wait for it to dry before tucking in!
Looking for an alternative, then you'll want to take a look at these gluten free almond meltaway cookies from Veggie Balance.
Gluten Free Empire Biscuits
Delectable Scottish Gluten Free Empire Biscuits are tasty shortbread cookies sandwiched together with jam and iced on the top, perfect with a cup of tea!
Prep Time: 5 minutes
Cook Time: 10 minutes
Total Time: 15 minutes
Total Carbs: 40 g
Protein: 2 g
Servings: 9
Instructions
PLEASE READ THE NOTES FIRST!

Turn the oven on to 350F

Cream the margarine and sugar together in your mixing bowl.

sieve the flour and mix into the butter/sugar.

roll out thinly to about 3-4mm or 1/8th inch and use a cookie cutter to cut into rounds.

Place them on a lined baking sheet and bake for 10-12 minutes (remove as soon as biscuits are firm on top but still pale)

Once baked place them on a wire rack to cool

Sandwich biscuits together with jam

mix the icing sugar with a little lemon juice and water and coat the top of the sandwiched biscuit and leave until the icing dries.

These cookies are best eaten the day they are made, or you could freeze them
Recipe Notes
1. I bake by weight as I find that gives the most consistent results, especially when baking gluten free. One cup of your gluten free flour blend may not weigh the same as my blend, all the commercially available blends have different mixes and ratios of flour in them. I've weighed cups of different blends of flour and noted that a cup of gluten free flour can vary in weight from 125g up to as much as 170g depending on how you scoop it, and what type of mix you use. You can see how this could drastically alter the outcome of a recipe.
I recognise that most Americans are used to the cup method which is why I also include those measurements,but they may not give you accurate results. If you are a keen gluten free baker I would encourage you to invest in a scale, you can get one for only $10 - $15.
2.I prefer to use my own homemade gluten free flour blend as it's cheaper and I get really great results.
3. If you can, avoid buying flour with gums already added. The reason for this is that you have no way of knowing how much gum is in there and that can alter the outcome of the recipe. So for example, too much gum can give you a more sticky texture in a cupcake. And though the cupcake recipe will still work, it won't be as nice as if you measured and added the gum yourself.
Nutrition Facts
Gluten Free Empire Biscuits
Amount Per Serving
Calories 288 Calories from Fat 126
% Daily Value*
Fat 14g22%
Saturated Fat 2g13%
Sodium 169mg7%
Potassium 63mg2%
Carbohydrates 40g13%
Fiber 2g8%
Sugar 25g28%
Protein 2g4%
Vitamin A 600IU12%
Calcium 42mg4%
Iron 0.8mg4%
* Percent Daily Values are based on a 2000 calorie diet.
Nutritional information on Noshtastic is provided as a courtesy and is approximate only. We cannot guarantee the accuracy of the nutritional information given for any recipe on this site.
Course: Cookie
Cuisine: British