My easy Air Fryer Wings will blow you away with the simplicity of the recipe and just how amazingly crispy they are compared to oven baked chicken wings!
They are healthier than authentic Buffalo wings which are typically deep fried, and this gluten free appetizer recipe requires no additional oil.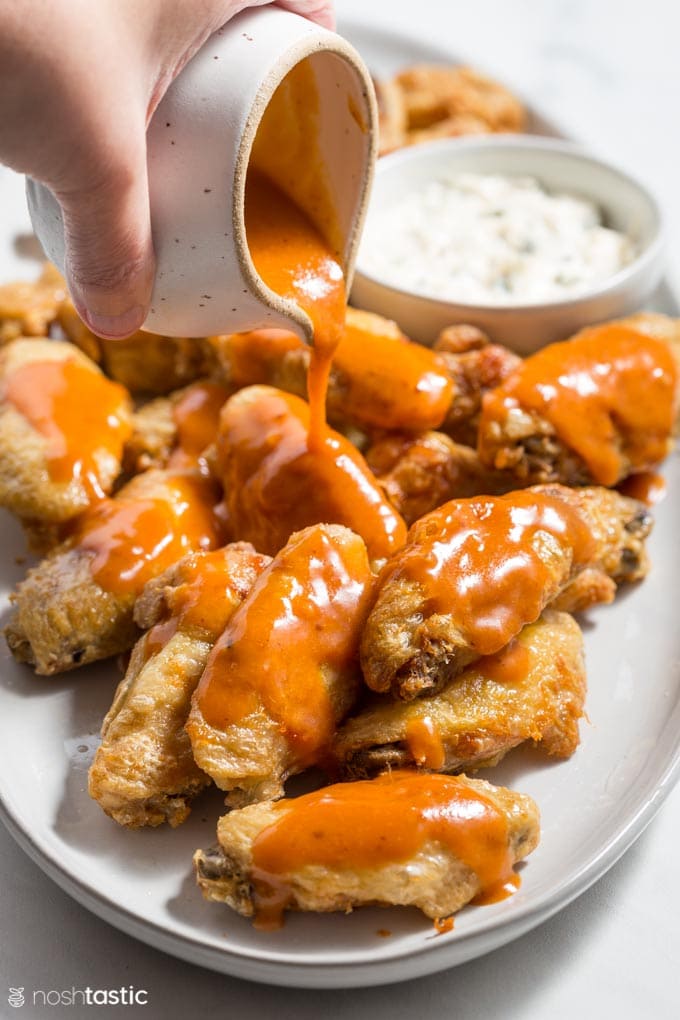 this post contains affiliate links
The Best Way to Make Crispy Air Fried Chicken Wings!
This is SUCH an easy recipe but I have a couple of quick tips to make your prep easier.
The first tip is to buy full chicken wings and cut them up yourself, it's much cheaper than buying the ready cut wings and it's very easy to do, I'll show you how below.
Then, before you start any chopping up of wings you want to mix together all the ingredients for the blue cheese dip and put it in the fridge. The longer you can leave the dip for the flavors to mix together the better!
How to cut up Chicken Wings
Simply separate the 'wingette' and 'drumette' parts by laying the wing flat on a cutting board and carefully cut them apart at both joints with a very sharp knife, and then cut off the wing tips.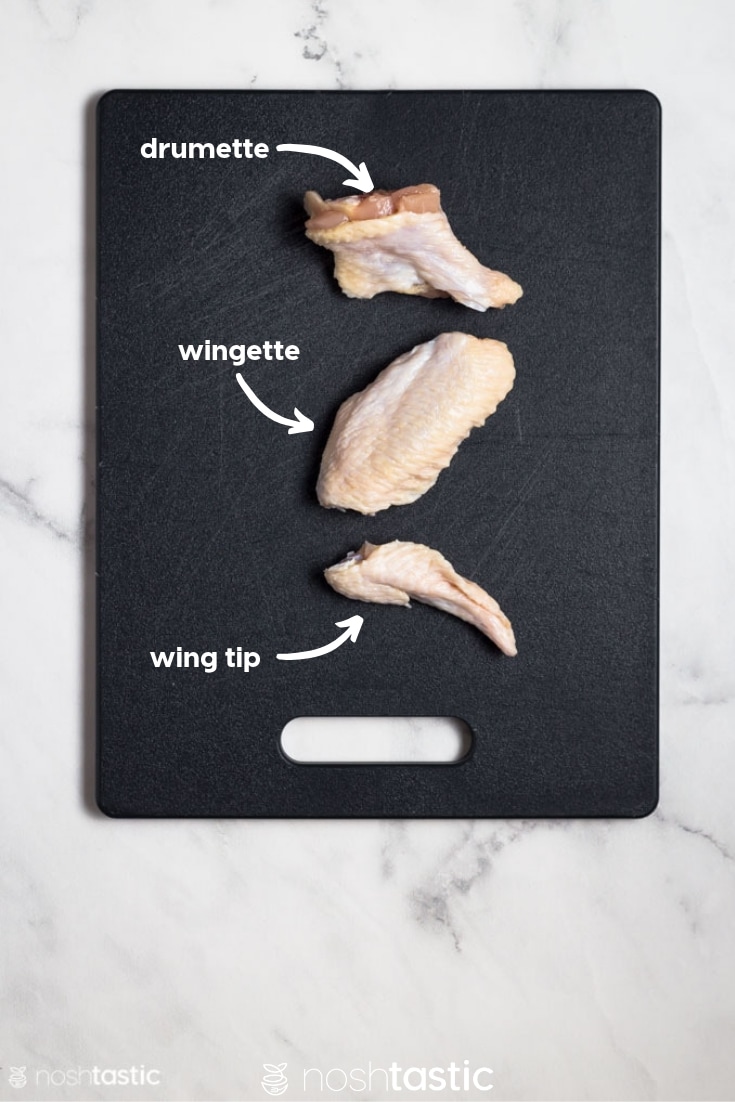 We don't eat the wing tips for this recipe, you'll only use the drumette and the wingette parts.
However, you can freeze the wing tips to use up the next time you make homemade chicken broth, don't throw them out! I simply add them in with the other pieces of chicken for making stock or broth.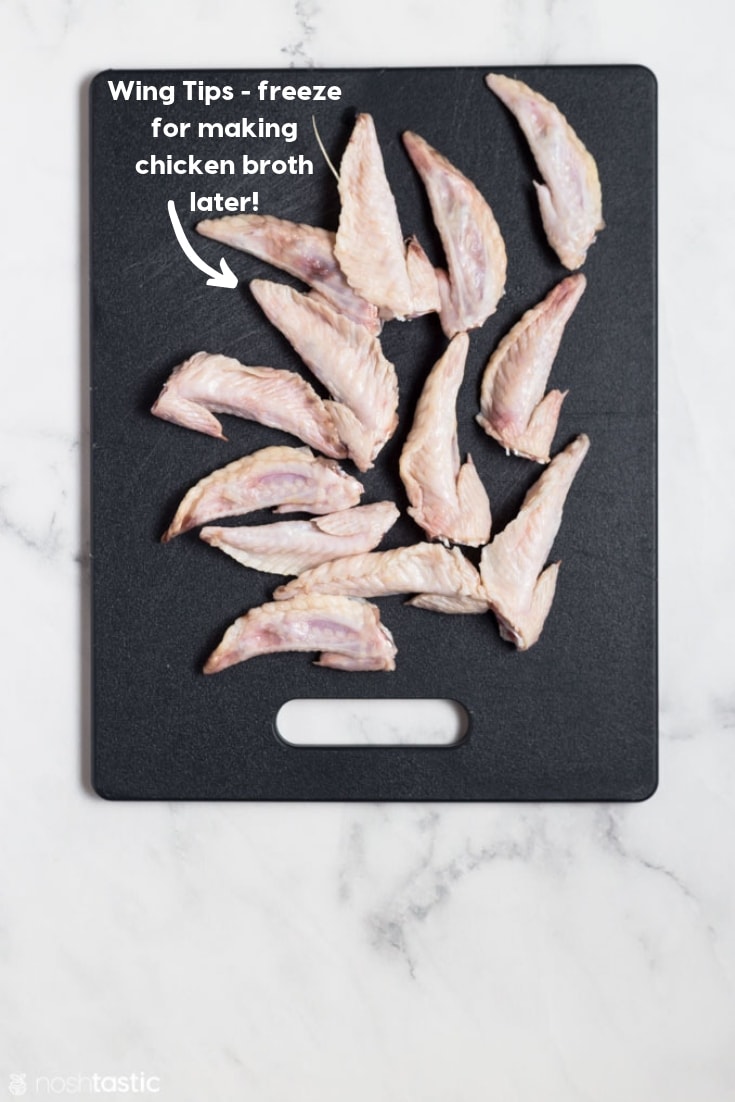 Now you'll have a pile of wing parts (see above photo) for making our air fryer wings!
The next step is to add the baking powder, which you may think a little odd if you've never tried this before but it does help to dramatically crisp up the skin of your air fryer wings while they cook.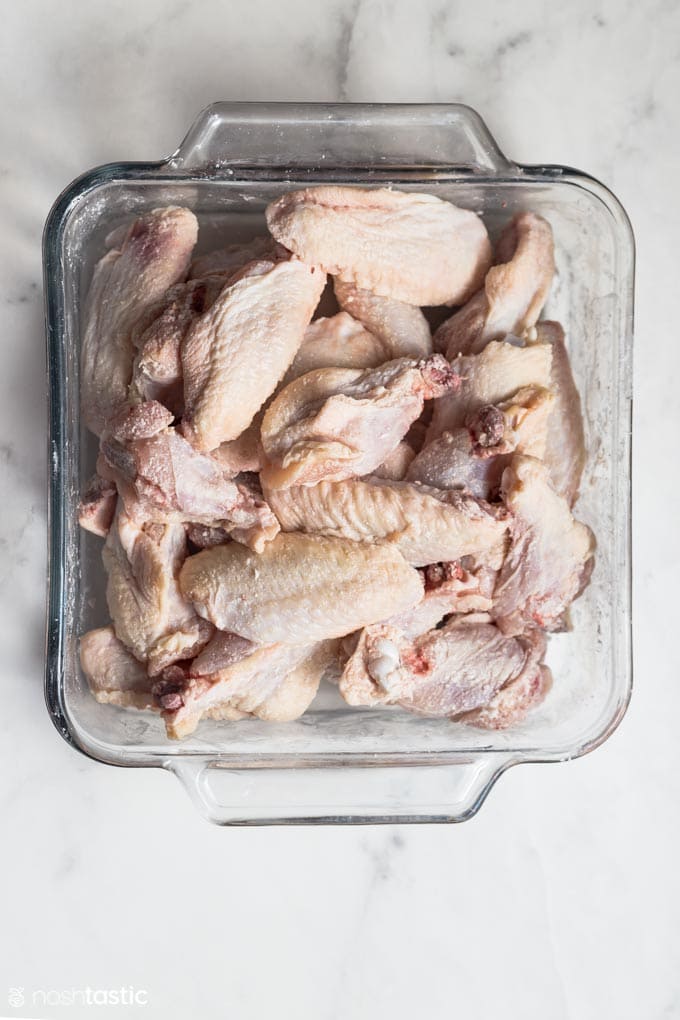 Just ensure that you use baking powder and not baking soda, they are not the same! If you use baking soda they will be inedible.
Toss the chicken wings in the baking powder, you'll hear them fizz and sizzle a little bit as the baking powder hits the moisture on the skin, this is totally normal!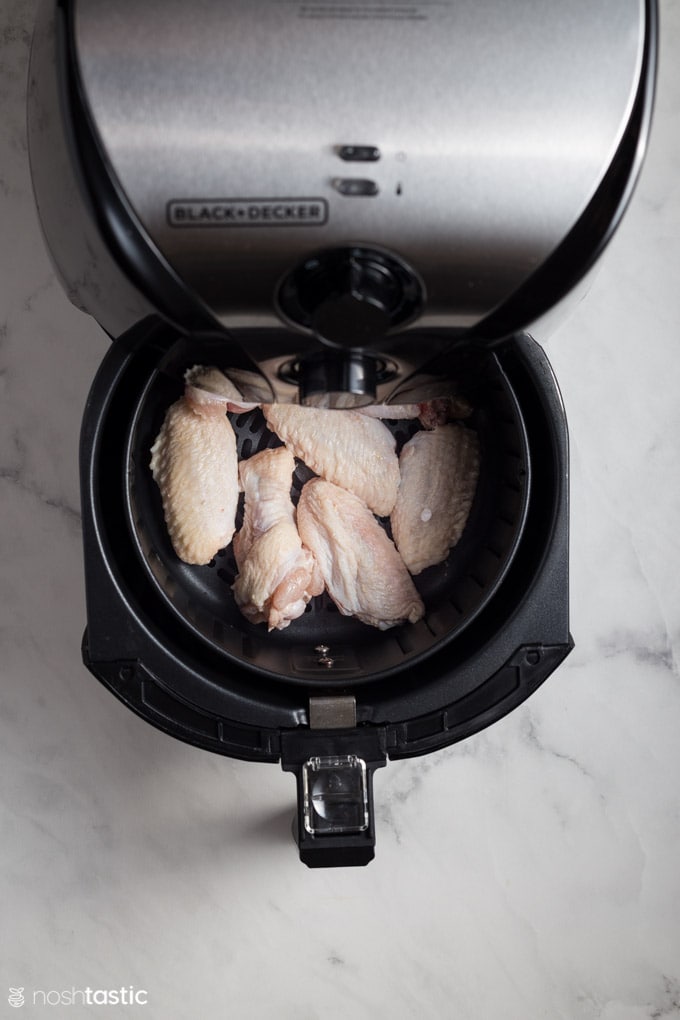 Preheat your Air Fryer for a few minutes, and then in one single layer (see photo above) lay out the wings, shut the drawer and cook for about 12-15 minutes, then turn them over and cook for about another 8-10 minutes.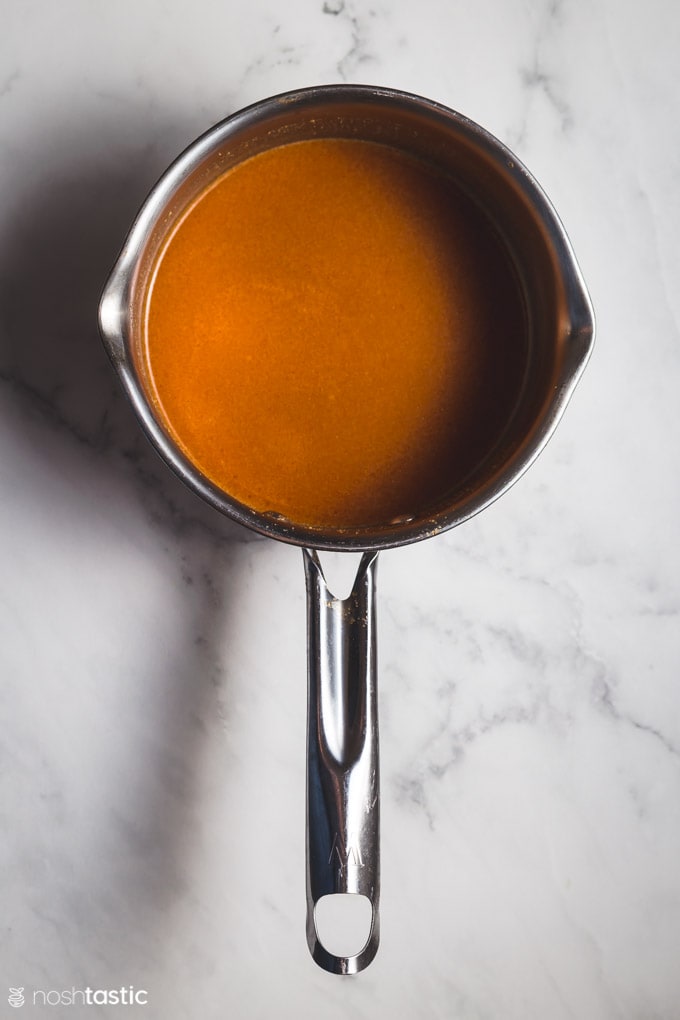 While the wings are cooking you can make my Buffalo style sauce on the stovetop, it's really easy and all that you need to do is measure out all the ingredients and add them to a small pan and simmer until thickened.
Once the wings are cooked toss them in the Buffalo Style sauce and serve while still hot, oh, and don't forget the blue cheese dip!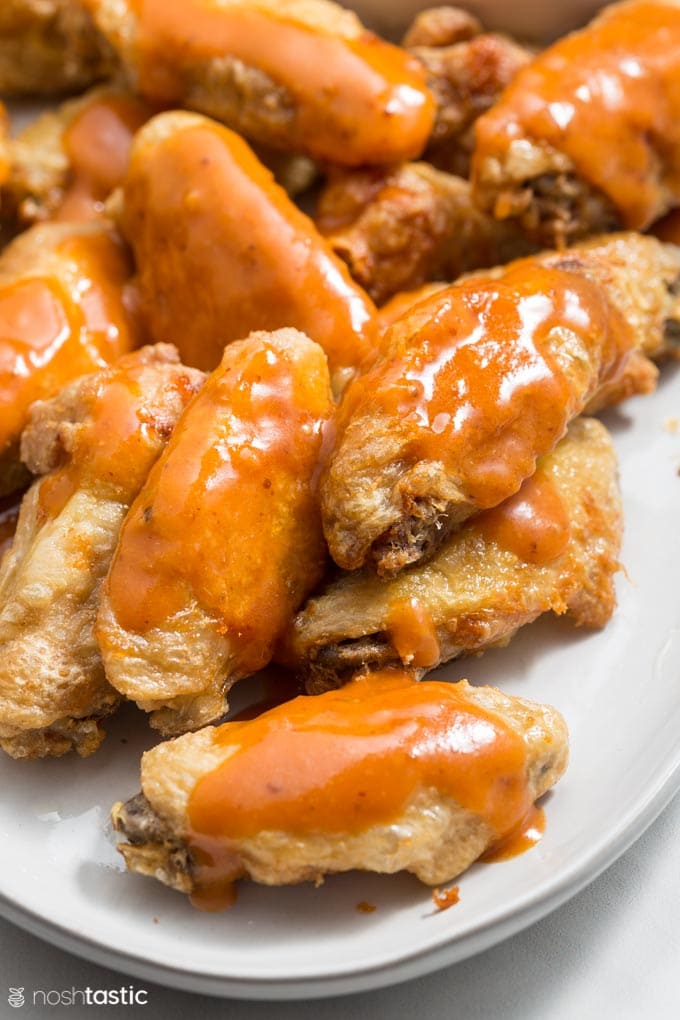 Can I use Frozen Chicken Wings?
Yes you can! I think defrosted chicken yields best results but you can definitely cook frozen wings, they'll take about an additional 5-6 minutes until they are fully cooked.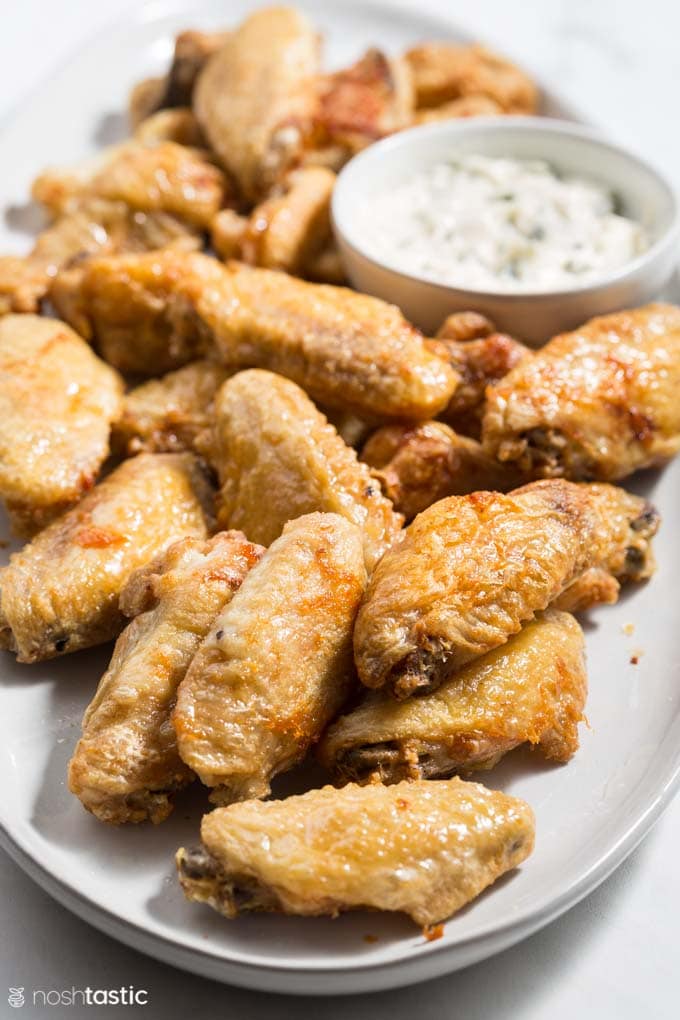 More Gluten Free Appetizers and Dips
Air Fryer Wings
Crispiest Ever Air Fryer Wings with a tasty Buffalo Style Sauce and Blue Cheese Dip, a favorite appetizer recipe!
Prep Time: 15 minutes
Cook Time: 25 minutes
Total Carbs: 13 g
Protein: 41 g
Servings: 4
Ingredients
3 pounds chicken wings , tips removed, wings separated at joints
4 tsp baking powder , NOT baking soda!
1/2 tsp salt
Blue Cheese Dip
4 ounces crumbled blue cheese
3/4 cup mayonnaise
1/4 cup sour cream
1 tablespoon red wine vinegar
1 tablespoon lemon juice
1/4 teaspoon garlic powder
Salt and pepper
Air Fryer Chicken Wings Sauce
Instructions
Scroll up to watch the recipe video first!
Blue Cheese Dip
Mix blue cheese in a bowl with the mayonnaise, sour cream, vinegar, lemon juice, garlic powder, salt and pepper an stir to combine. For best results, cover and chill for 2 hours.
Air Fryer Chicken Wings
Cut the wings into three parts, we will use the wingette and drumette parts. see post for photos and details of how to cut the wings.

Toss the wing parts in baking powder (do NOT use baking soda) and salt and set aside

Bake chicken wings in a single layer for 12 – 15 minutes, then open the air fryer basket and turn the wings over and cook for a further 10 minutes, or until wings are crispy (exact timing will vary depending on your air fryer)

While the wings are cooking combine all the Buffalo style sauce ingredients into a small pan, stir, and cook on the stove until smooth and thickened, about ten minutes.

Serve the chicken wings hot from the air fryer, toss in the Buffalo style sauce and serve with the blue cheese dip on the side.
Recipe Notes
Nutrition – serves 4 – includes the blue cheese dip and the sauce, which is why the calorie count is high per serving. 
Baking powder – not essential, you can make the wings without it but it does provide a much more crispy skin. 
Cooking Time – All Air Fryers are a bit different so you'll need to figure out the exact timing for yours.
Nutrition Facts
Air Fryer Wings
Amount Per Serving
Calories 972 Calories from Fat 747
% Daily Value*
Fat 83g128%
Saturated Fat 27g169%
Cholesterol 218mg73%
Sodium 1724mg75%
Potassium 996mg28%
Carbohydrates 13g4%
Fiber 1g4%
Sugar 8g9%
Protein 41g82%
Vitamin A 1055IU21%
Vitamin C 15.1mg18%
Calcium 415mg42%
Iron 2.8mg16%
* Percent Daily Values are based on a 2000 calorie diet.
Nutritional information on Noshtastic is provided as a courtesy and is approximate only. We cannot guarantee the accuracy of the nutritional information given for any recipe on this site.
Course: Appetizer
Cuisine: American