The BEST Potato Salad with Bacon and Egg recipe ever!! It's loaded with yummy bacon, egg and pickle!! Can be made Paleo and Whole30, gluten free too!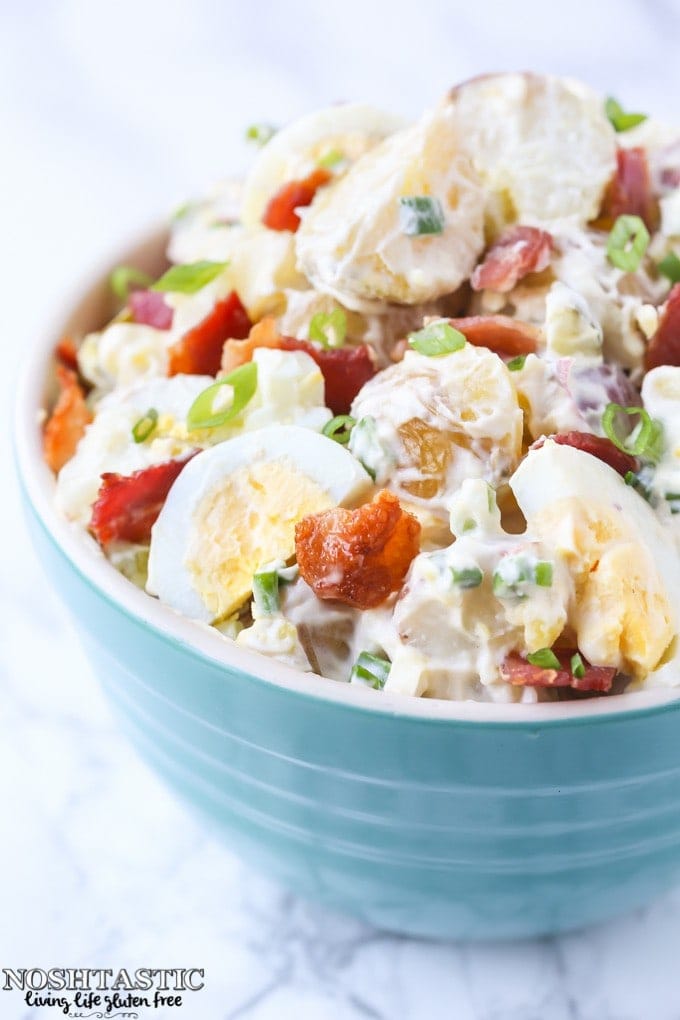 How to make Potato Salad with Bacon and Egg
So the first step in making this potato salad is to NOT peel the potatoes, that's right, no peeling! I prefer to use baby potatoes, or fingerling potatoes so that I can keep the skins on.
If you have a steamer basket insert for your pans,  I think that's the best way to cook the potatoes, if not you can just boil them but do make sure you don't overcook them.
Once the potatoes are fully cooked you want to cool them down before you add the mayonnaise and seasonings, you can put them in the fridge to cool them more quickly if you need to. If the potatoes are still warm when you add the mayo it may melt.
This post contains Amazon affiliate links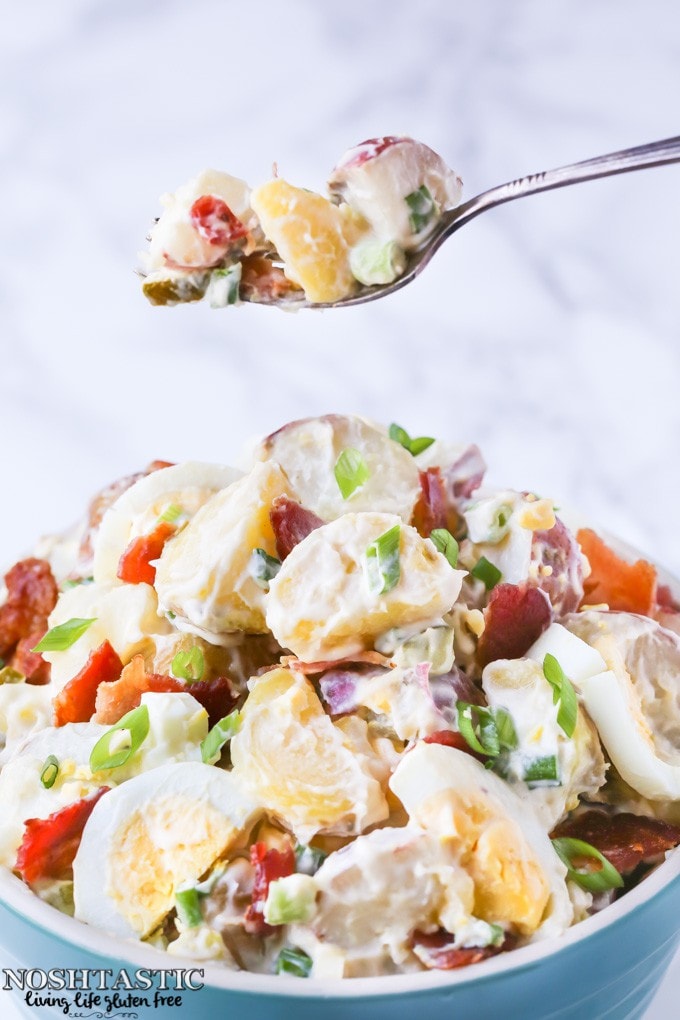 Ingredients you'll need for Potato Salad with Bacon and Egg
All of the ingredients for this recipe should be easily found at your local grocery store.
Potatoes are now allowed on the Whole30 diet, so if you want to make this Paleo and Whole30 compliant just leave out the dill pickles and use a suitable Paleo mayonnaise.
You can mix the mayonnaise with half sour cream if you prefer, but I just use mayo as I eat dairy free as well as gluten free.
What are The Best Potatoes to use for Potato Salad?
There are three types of potatoes, waxy, starchy, and all purpose, the latter has varieties that fall somewhere in the middle of the other two.
Waxy potatoes have thinner skins and really are the best variety for potato salad. As mentioned above, fingerling or new potatoes are my favorites for potato salad. Red potatoes work too, I don't like them with the skin on, but I know others don't mind it.
All purpose potatoes such as Yukon Gold also work for potato salad and hold up well during cooking.
Starchy potatoes, such as Russets, are typically not suitable for potato salad as they tend to fall apart so I would opt for another variety.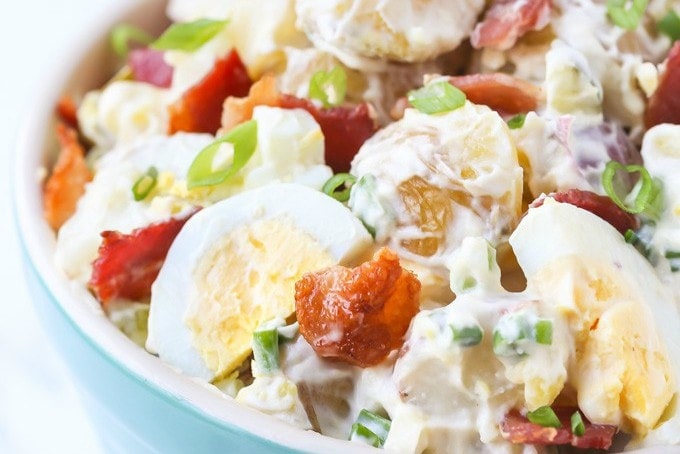 What to serve with Potato Salad
Potato Salad is such a ubiquitous side dish, and personally speaking, I could eat it with almost anything!
It does go particularly well with grilled and roasted meat dishes, and is perfect to take to a picnic, cook out, or pot luck as a side dish. And where you have potato Salad, well, you also need some Slaw! This Sesame Coleslaw from Katie at Healthy Seasonal Recipes looks terrific!
I love to eat it with my Grilled Flat Iron Steak, it's so easy to prepare and cooks quickly on the grill.
Another couple of options are my Grilled Paleo Lemon Chicken with Thyme and my Cuban Pork recipe, they all have wonderful marinades and taste fabulous!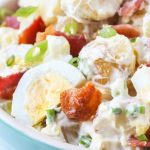 Potato Salad with Bacon and Egg
You guys!! This is the BEST Potato Salad with Bacon and Egg recipe ever!! It's loaded with yummy bacon, egg and pickle, so, so good!!
Total Time
1
hour
20
minutes
Ingredients
3

lbs

baby potatoes

1.360 kg

8

pieces

bacon

cooked and broken into pieces

5

hard boiled eggs

peeled and sliced

1 - 1.5

cup

mayonnaise, or half mayo, half sour cream

240mls

1

teaspoon

salt

1

teaspoon

mustard

1/2

teaspoon

garlic powder

1/4

teaspoon

pepper

1/4

cup

chopped gluten free dill pickles

4

chopped green onions
Instructions
Cook the potatoes whole in a large pan of salted boiling water. Once they are cooked let them fully cool in the fridge.

When they are cool cut them in half or into quarters (depends on the size) and add to a large bowl.

Cut your peeled hard cooked eggs into smallish pieces and add to the bowl with the potatoes.

in a small bowl mix all remaining ingredients together with the mayo, except for the bacon and chopped salad onions

Add the mayo mix to the potatoes and egg and fold in together with the bacon and chopped onions. Serve chilled.

PALEO AND WHOLE30

To make it Paleo and Whole30 compliant - leave out the dill pickles, and use a paleo mayonnaise and mustard with no added sugar.
Nutrition Facts
Potato Salad with Bacon and Egg
Amount Per Serving
Calories 503
Calories from Fat 297
% Daily Value*
Total Fat 33g 51%
Cholesterol 171mg 57%
Sodium 761mg 32%
Potassium 1036mg 30%
Total Carbohydrates 41g 14%
Protein 10g 20%
* Percent Daily Values are based on a 2000 calorie diet.