P F Chang's Beef a La Sichuan recipe (Szechuan Beef) This is a gluten free Copycat version that is so easy to make at home and better than take out!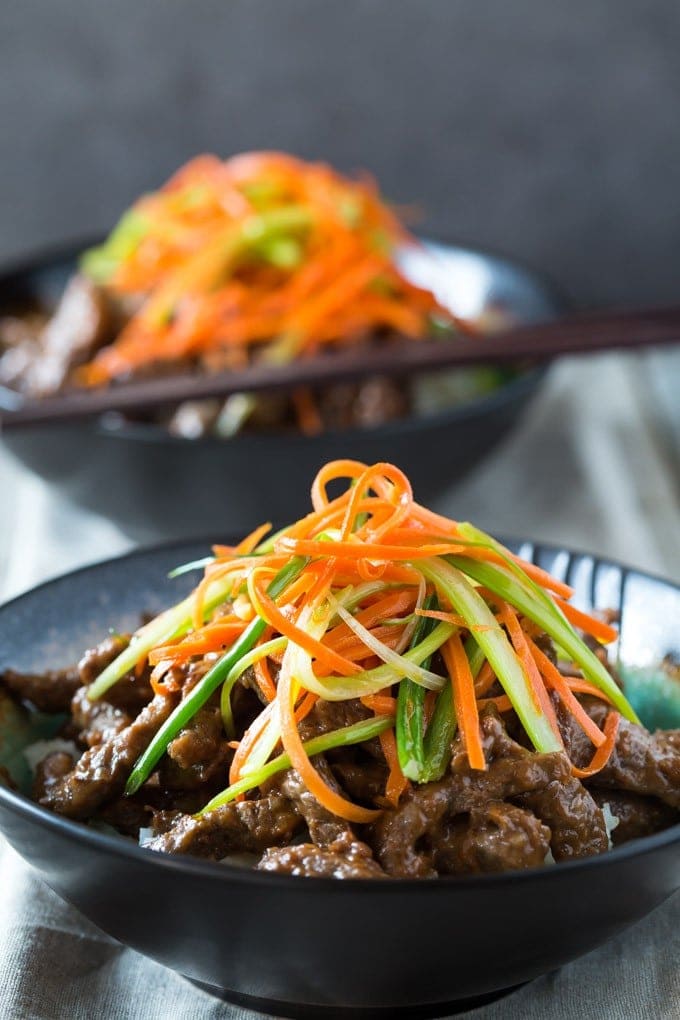 How to Make P F Chang's Beef a La Sichuan Recipe
I don't eat out very often as I have Celiac Disease and find it tricky to find safe places to eat that take cross contamination issues seriously. These days it seems like every restaurant is offering a gluten free menu, but in my experience very few of them are actually able to make safe gluten free food that I can eat.
One of the few restaurants that we can enjoy safe gluten free foods in is PF Chang's. We've eaten at several locations and usually find that the staff take our various food issues seriously, plus they have an extensive gluten free menu that is inside the main menu and not on a photocopied piece of paper that the staff have to go and look for!
They have lots of things that I can eat there but I'm a creature of habit and tend to order the same meal each time.
During the Thanksgiving break we were in the Destin, Florida area and found a PF Chang's to eat in. I decided to try something different so I ordered their Gluten Free Beef a La Sichuan.
I really, really enjoyed it so I snapped a picture and decided to recreate it for the blog! One of the main ingredients that was a little different to most of the other dishes that I've eaten there was the addition of celery, and it had a little chili kick to it too!
I looked online for a PF Chang's Beef a La Sichuan recipe and found plenty versions, I adjusted the one I found to make it gluten free. I also decided to go with a little peanut butter instead of hoisin sauce as I couldn't find a gluten free version locally. The rest of the ingredients are very easy to find at any grocery store, enjoy!
This post may contain Amazon affiliate links* 

Beef a La Sichuan
Prep Time: 15 minutes
Cook Time: 10 minutes
Total Time: 25 minutes
Total Carbs: 12 g
Protein: 27 g
Servings: 4
Ingredients
1 lb flank steak, or sirloin steak, sliced thin , 453g
4 medium celery ribs
2 medium carrots
1 green onion
1/4 cup oil
2 tbsp cornstarch , or arrowroot
1 1/2 tsps sesame oil
SAUCE
4 tbsp gluten free soy sauce
1 tbsp creamy peanut butter *read note*
1 tsp sriracha sauce
1 teaspoon rice wine vinegar
3 teaspoons light brown sugar
1/4 teaspoon garlic powder
1 teaspoon fresh ginger , minced
1/2 teaspoon red pepper flakes *read note*
Instructions
If you plan to serve this over rice you should put your rice on before you start to cook this recipe so it will all be ready at the same time.

Mix all the sauce ingredients together (not the chili flakes) and put to one side.

Use a

julienne peeler

to make thin strips of carrot. I found it easier to cut the celery ribs into thin strips by hand, but you may find the julienne peeler easier.

cut the green onion into strips if you are using it

Place the beef in a medium bowl. Add the cornstarch and toss to make sure each piece is thoroughly coated.

Heat the oil in wok and add the beef and fry it in hot oil until crispy (3-5 minutes). Remove from oil and drain on paper towels.

drain out the left over oil and wipe out the wok with paper towel.

Heat the sesame oil in the wok to a med high heat and add the vegetables and red chili flakes

stir well for about 30 seconds.

Now add back in the meat and sauce, stir well and cook on a high heat for about a minute.

Serve over rice.
Recipe Notes
1. I didn't add a whole lot of chili because I was serving this to my children and knew they wouldn't eat it if it was too hot, but you should feel free to add more to your tastes.
2. I used a little peanut butter instead of gluten free hoisin sauce because it's almost impossible for me to find that locally.
Nutrition Facts
Beef a La Sichuan
Amount Per Serving
Calories 250 Calories from Fat 81
% Daily Value*
Fat 9g14%
Saturated Fat 3g19%
Cholesterol 68mg23%
Sodium 1170mg51%
Potassium 652mg19%
Carbohydrates 12g4%
Fiber 1g4%
Sugar 5g6%
Protein 27g54%
Vitamin A 5305IU106%
Vitamin C 4.5mg5%
Calcium 54mg5%
Iron 2.4mg13%
* Percent Daily Values are based on a 2000 calorie diet.
Nutritional information on Noshtastic is provided as a courtesy and is approximate only. We cannot guarantee the accuracy of the nutritional information given for any recipe on this site.
Course: Main Course
Cuisine: Chinese