Air Fryer Sweet Potato Fries just might be my favorite new thing! We are massive sweet potato fans in this house and my usual method of cooking them is chopped into pieces and oven roasted, but this will be my go to method from now on.
We are in love with air fryer sweet potato fries because they cook so evenly and are about the best way to make them in my opinion, try it and I'm sure you'll agree!
this post contains affiliate links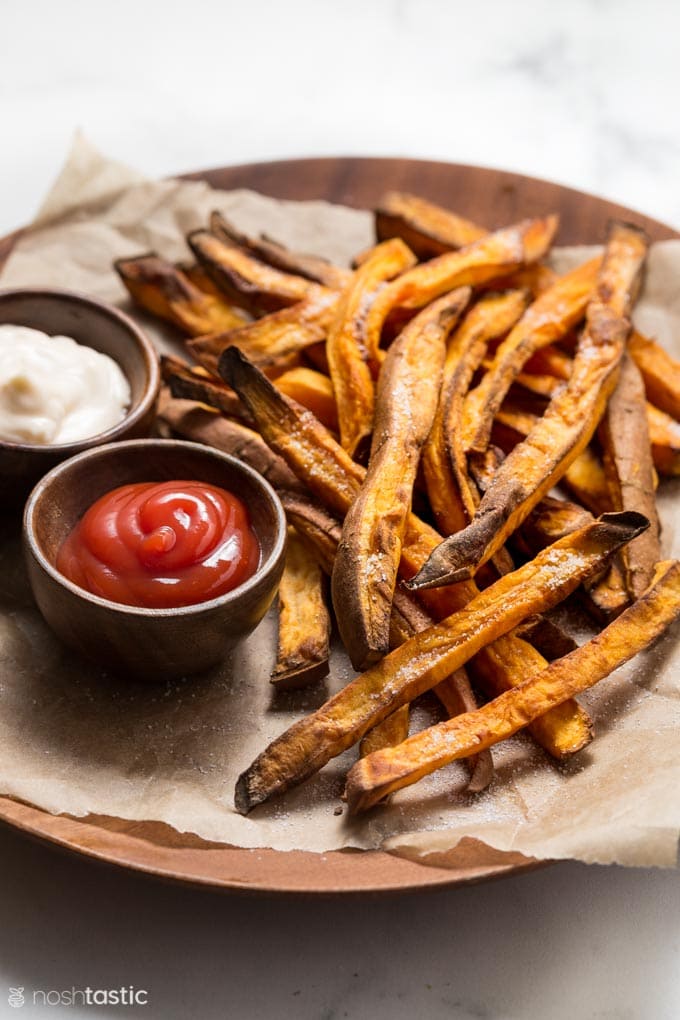 Step by Step Photo Guide for Making Air Fryer Sweet Potato Fries
Air frying is quite possibly the easiest way to make sweet potato fries, and it's a lot less hassle (and less messy) than deep frying them!
Start by washing and drying your sweet potatoes, there's no need to peel them as the skin helps to provide a nice crispy edge.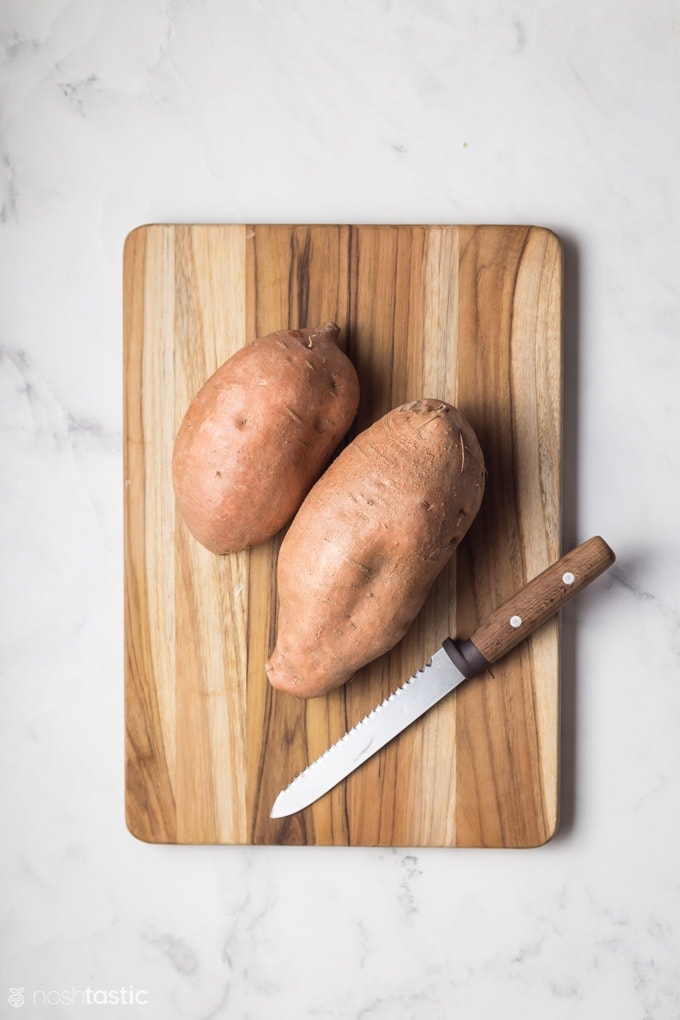 Then, pat them dry and cut the sweet potatoes into slices of an even thickness (see photo below)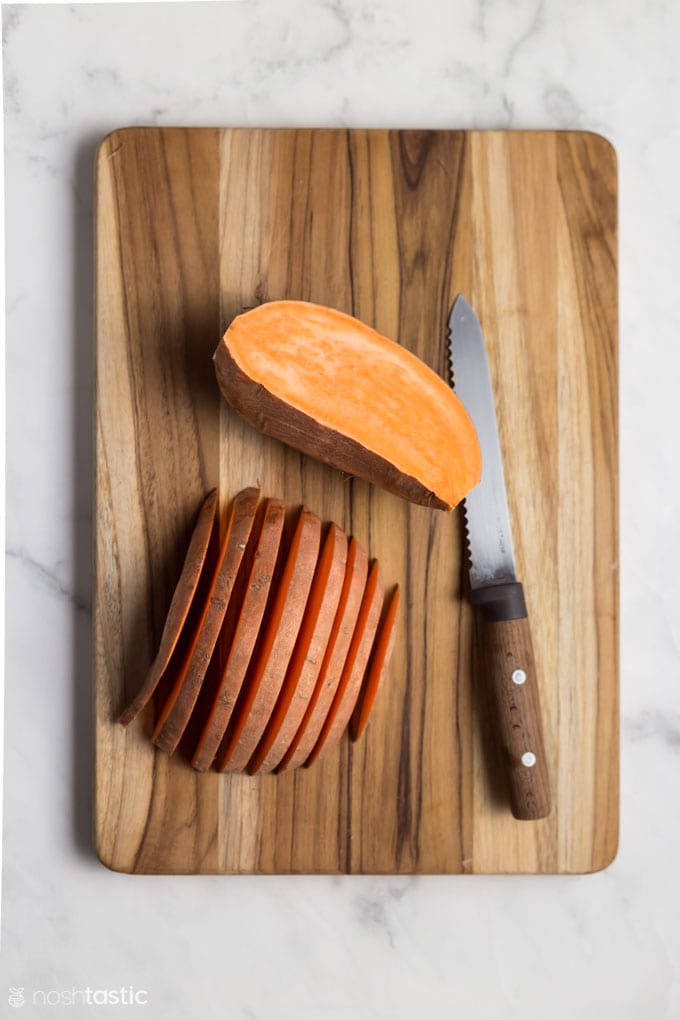 Once you've done that simply cut them into even sized fries.
It doesn't matter if they are exactly the same size but the more even the thickness the better results you'll have as different thickness fries will cook at different times.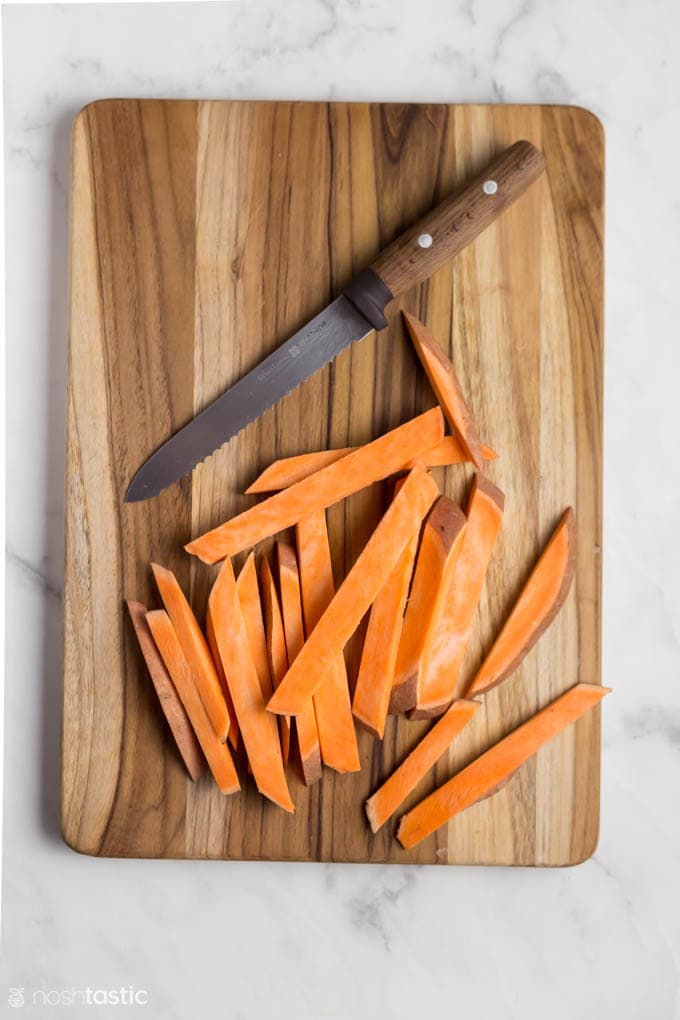 There's no need to soak the fries, simply add them to a bowl (see below) and toss with a little oil and salt.
Once you've done that you can add them to the basket of your Air Fryer in a single layer for best results, and cook about 7 minutes, and toss them, then cook for a further 3-7 minutes.
Remember there will be some variation between different air fryer brands in terms of performance so exact cook time may vary.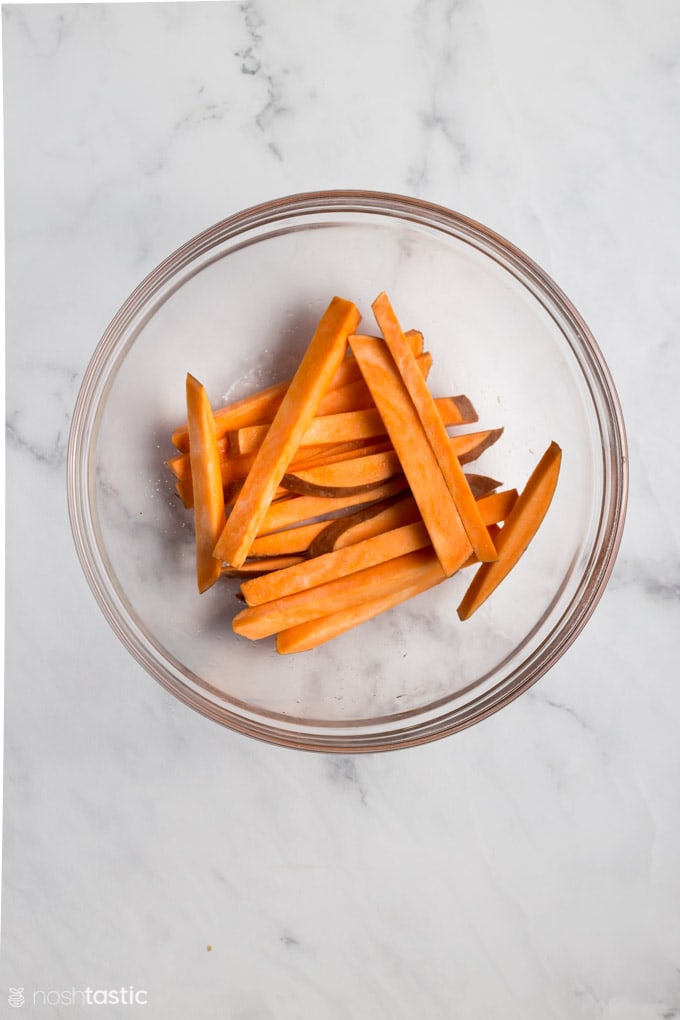 Is it possible to make crispy sweet potato fries?
The short answer is not really, but it is possible to somewhat crisp up the outside a little.
Just so you understand that this is not recipe specific, Sweet potatoes are simply not the same as regular potatoes (which is stating the obvious) so I think any disappointment with the lack of crispiness will be lessened if we adjust our expectations!
The insides of the fries will always cook up much softer than potatoes unless you barely cook them, but in that instance the outside will not even come close to resembling a regular fry.
I have found that the fries with the skin on will have a crispier coating than those without.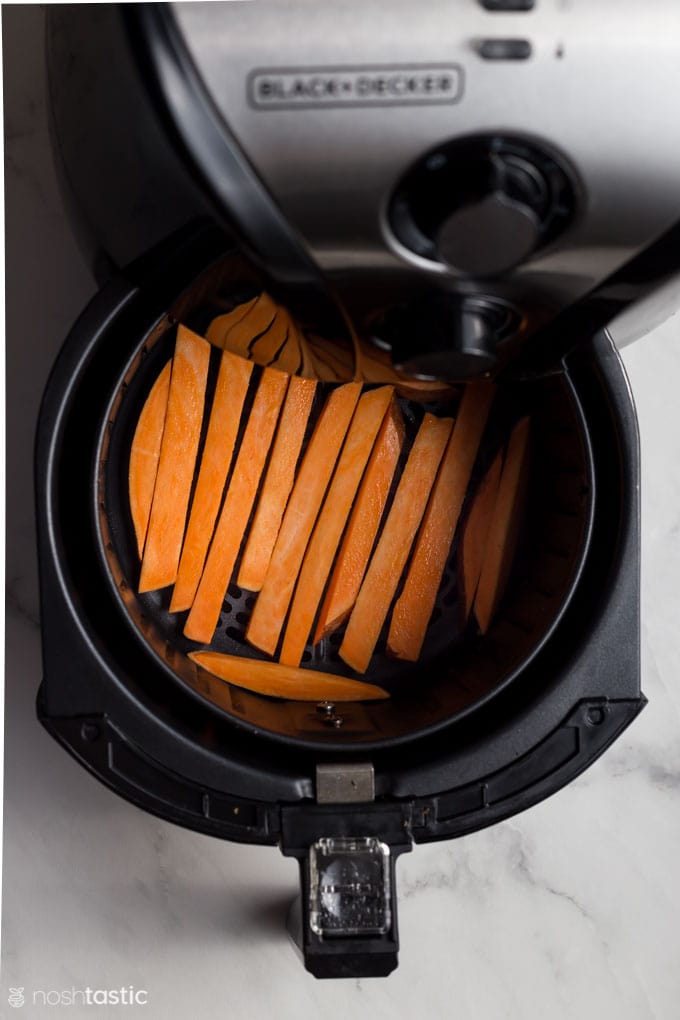 What about adding a starch coating?
One trick that helps make them a little bit crispier on the outside (but it will not prevent the middle from becoming very soft) is to toss your oil coated uncooked sweet potato fries first in the oil and salt and then in a little starch, about a tablespoon or two for one potato should be enough.
I tried it with potato starch, but any starch such as corn or tapioca will work. It did give a nice coating that had a little more crunch than those cooked without added starch, but it still was not close to a regular potato fry, but delicious nonetheless!
Just be aware that if you crowd the fryer basket with the starch coated fries they may stick together in clumps.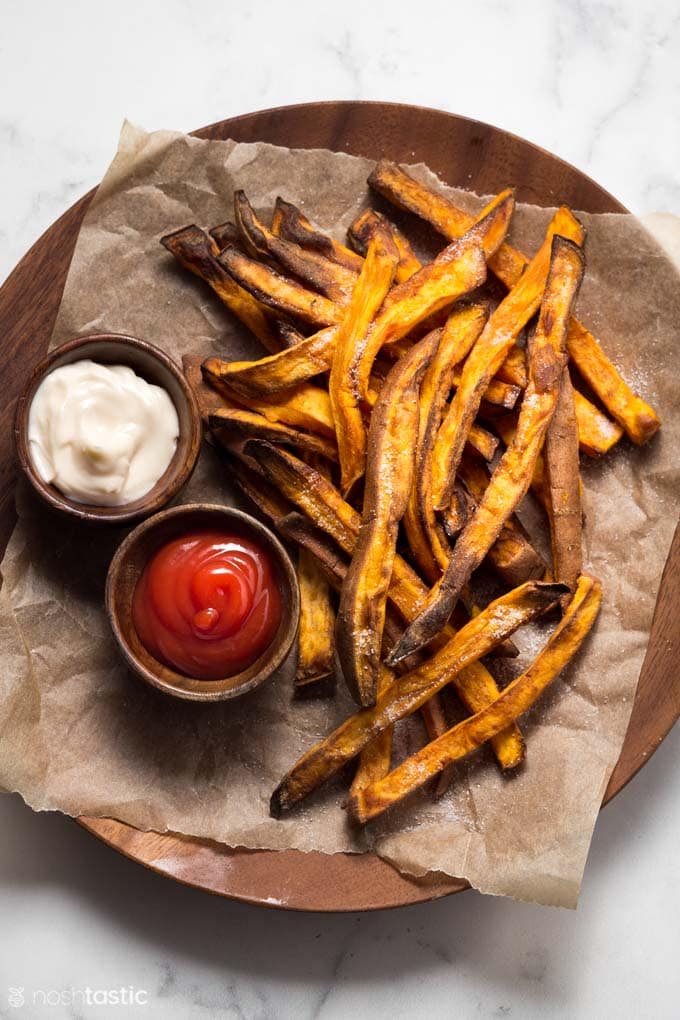 Related Vegetable Sides
Air Fryer Sweet Potato Fries
Easy, healthy Air Fryer Sweet Potato fries make the perfect guilt free side dish!
Prep Time: 10 minutes
Cook Time: 15 minutes
Total Carbs: 46 g
Protein: 4 g
Servings: 2
Ingredients
1 lb sweet potatoes , 453g
2 tbsp coconut oil , or olive oil
1 tsp sea salt
1/4 tsp garlic powder (optional)
Instructions
Preheat your air fryer to 400°F

Cut the sweet potatoes lengthwise (no need to peel) into slices 1/2 inch thick, then into evenly sized 'fries'

Toss in a bowl with the oil, salt, and garlic powder if using

Arrange in a single layer in your air fryer basket. (you may need to cook in batches)

After 7 minutes carefully turn all the fries

Bake for 3-7 more minutes or until golden brown. Every air fryer is slightly different so you'll need to adjust timing as needed.
Recipe Notes
Crispy Fries – As mentioned in the post, I don't think it's possible to get really crispy sweet potato fries that resemble regular potato fries. Sweet potatoes simply cook up much softer than regular potatoes. Please see the post narrative for some details on crisping up the outside of the fries a little.
Nutrition – Recipe is based on one average sized sweet potato which would be around 1lb and make two servings. 
Cook Time – All air fryer brands work a little differently so you'll need to watch how they cook in your particular air fryer and adjust the timing as needed. 
Nutrition Facts
Air Fryer Sweet Potato Fries
Amount Per Serving (226 g)
Calories 312 Calories from Fat 126
% Daily Value*
Fat 14g22%
Saturated Fat 12g75%
Sodium 1287mg56%
Potassium 764mg22%
Carbohydrates 46g15%
Fiber 7g29%
Sugar 9g10%
Protein 4g8%
Vitamin A 32175IU644%
Vitamin C 5.4mg7%
Calcium 68mg7%
Iron 1.4mg8%
* Percent Daily Values are based on a 2000 calorie diet.
Nutritional information on Noshtastic is provided as a courtesy and is approximate only. We cannot guarantee the accuracy of the nutritional information given for any recipe on this site.
Course: Side Dish
Cuisine: American