My easy oven baked Gluten Free Turkey Meatballs with Asian Style Sauce are perfect for a weeknight family meal, with paleo option.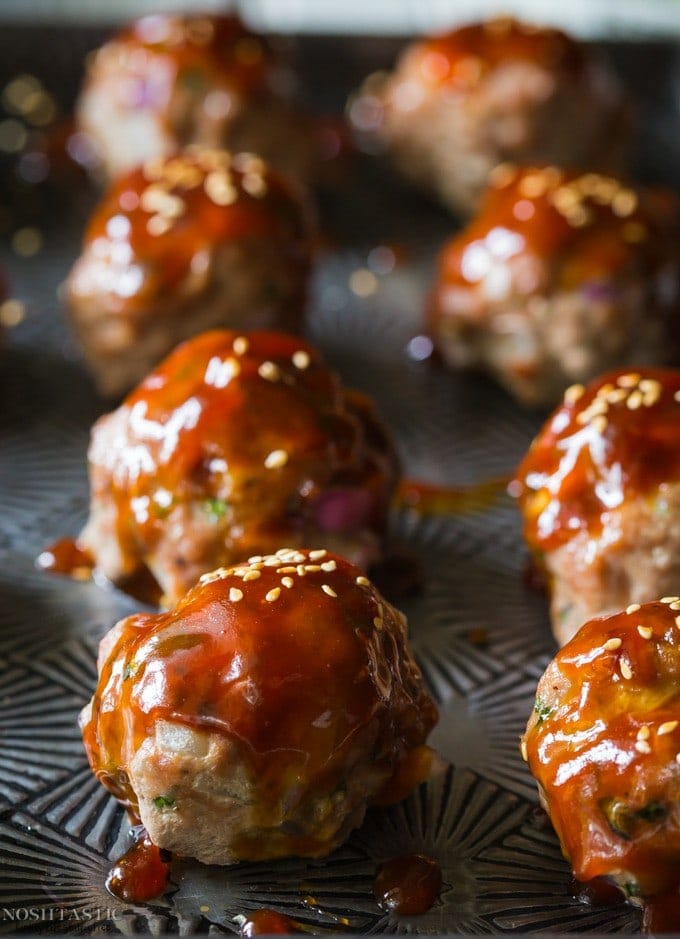 Meatballs are not something I grew up eating, I don't think I'd ever tried any until I was an adult.
I wrongly assumed that meatballs were an American creation but according to Wikipedia they can be found in Chinese cuisine as far back as 220 BC! Clearly I need to brush up on my meatball history.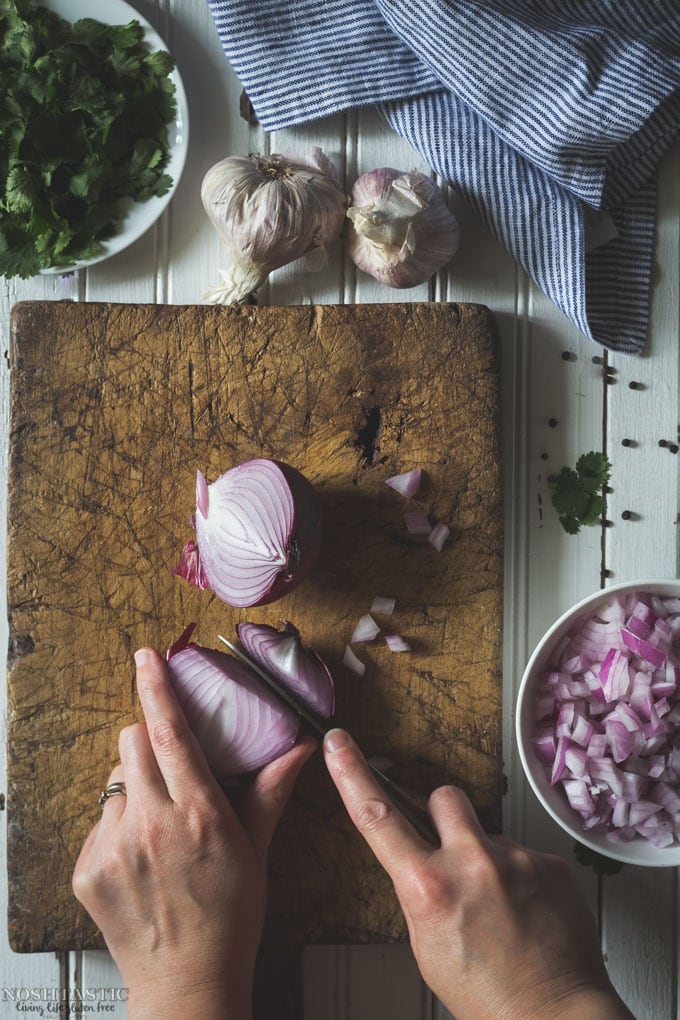 In my defense I will say that the same meatball page had a long list of meatball varieties from countries around the world, but they didn't have any from Scotland so that lets me off the hook for failing meatballs 101!
I don't make any claims that my Gluten Free Turkey Meatballs are in anyway authentic, likewise for the Asian style sauce. I can promise that they are very easy to make and throw together in a hurry, which is usually the way I'm making dinner these days.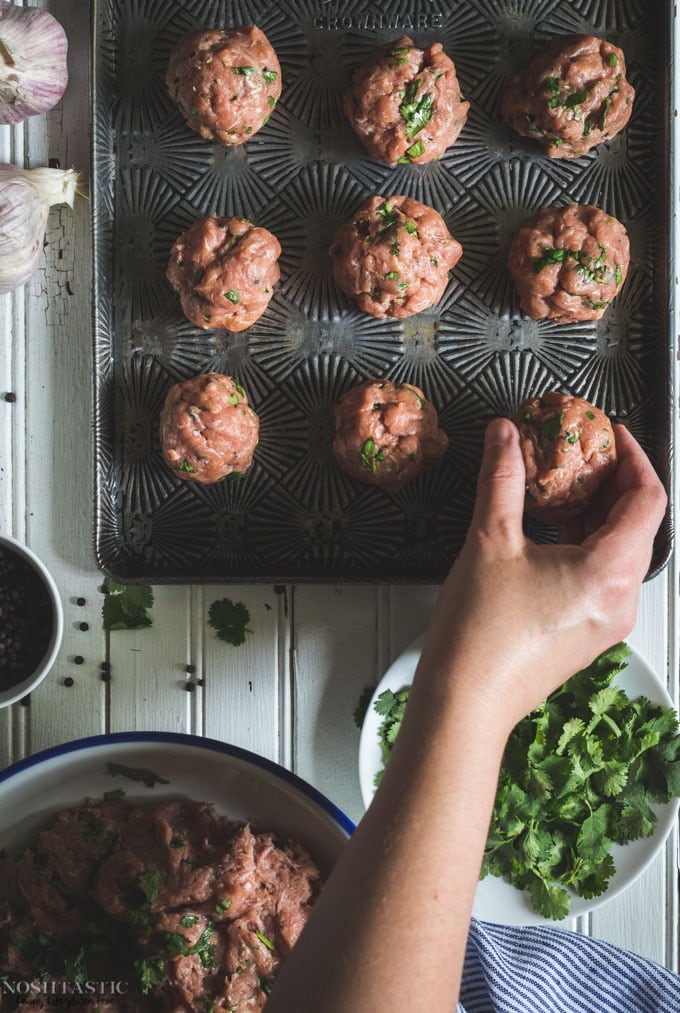 You don't need any fancy equipment to make them, just a sharp knife, a cutting board, a bowl and a small pan to make the sauce in.
I used lean ground turkey to make these meatballs but you could in theory use any kind of ground meat, I sometimes use pork and beef combined but that of course typically means a bunch more calories, so if that's ok with you go right ahead!
I also think ground Venison would work well but it's very lean so you may want to add a little ground pork to keep them from drying out totally, it's really up to you.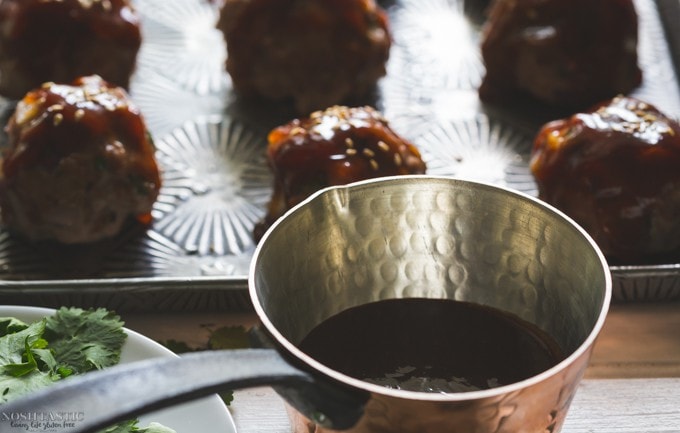 The sauce as I made it is not paleo due to the gluten free Soy Sauce, ketchup, and the cornstarch, but you can easily substitute them for Coconut Aminos and arrowroot flour instead.
If you've never used either of those ingredients before then let me tell you a little bit about them.
Coconut Aminos have a very similar taste to soy sauce but the flavor is much milder so depending on what you are making you may need to add more.
Arrowroot flour is a popular starchy gluten free flour that is made from root of several different types of tropical plants, it's not from a grain so that's why it fits well in the paleo diet. I often use arrowroot to thicken sauces instead of cornstarch, it works in the same way. It's also a nice starchy flour to use in paleo or gluten free baking.
So I hope that helps! And if you're looking for a couple more meatball recipes I have a really nice one for Oven Baked Italian Meatballs with Marinara Sauce and also my favorite which are Paleo Meatballs with a Dairy Free Gravy made with coconut milk served over zoodles, they are flavored with fresh sage and onion and are SO yummy!!
This post may contain Amazon affiliate links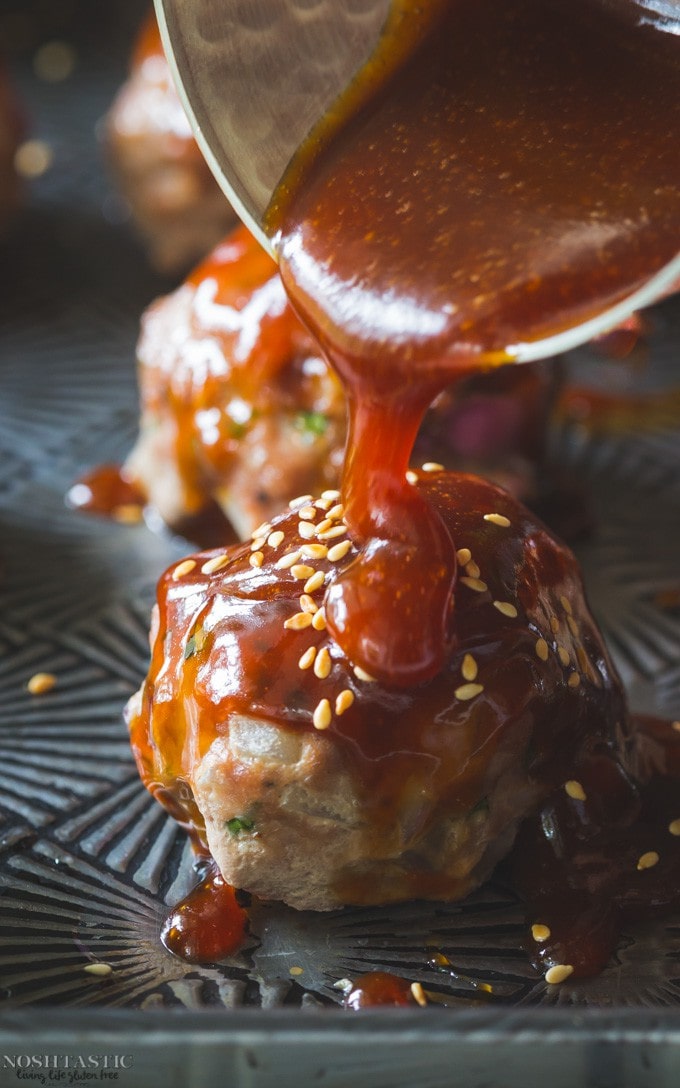 Gluten Free Turkey Meatballs with Asian Style Sauce & Paleo Options
My easy oven baked Gluten Free Turkey Meatballs with Asian Style Sauce are perfect for a weeknight family meal, with paleo option.
Prep Time: 10 minutes
Cook Time: 20 minutes
Total Time: 30 minutes
Total Carbs: 31 g
Protein: 38 g
Servings: 6
Ingredients
2 tablespoons sesame seeds
MEATBALLS
2 lbs lean ground turkey
1 tbsp gluten free soy sauce , or coconut aminos for paleo
1 leaves bunch cilantro , finely chopped
1 medium onion , finely chopped
1.5 tsp salt
2 tsp pepper
SAUCE
1/2 cup honey , 120mls
1/3 cup gluten free soy sauce , 80mls, coconut aminos for paleo
4 tablespoons ketchup , tomato sauce for paleo
4 teaspoons toasted sesame oil
¼ teaspoon crushed red pepper flakes , optional
4 cloves garlic , chopped
Salt and pepper
1 tbsp cornstarch , arrowroot for paleo
Instructions
Preheat your oven to 350F

Toast sesame seeds in a dry pan over medium heat. It will take about three minutes or so and you will need to stir them all the time so get toasted evenly and don't burn, toss them out onto a plate once they are done.

Add all the meatball ingredients to a bowl and mix well to combine.

Form the mixture into evenly sized meatballs and place them on a sheet pan, bake for 20 - 25 minutes or until they are cooked through.

Mix honey, soy sauce, ketchup, sesame oil, garlic, and red pepper flakes (optional) together in a small pan, add in 1 tablespoon of cornstarch and mix well to combine. Heat slowly until sauce heats up and thickens, stirring it all the time.

When the meatballs are cooked, serve them hot with the sticky sauce poured over the top and then sprinkle with the toasted sesame seeds.
Nutrition Facts
Gluten Free Turkey Meatballs with Asian Style Sauce & Paleo Options
Amount Per Serving
Calories 332 Calories from Fat 63
% Daily Value*
Fat 7g11%
Saturated Fat 1g6%
Cholesterol 83mg28%
Sodium 1641mg71%
Potassium 588mg17%
Carbohydrates 31g10%
Sugar 26g29%
Protein 38g76%
Vitamin A 205IU4%
Vitamin C 2.9mg4%
Calcium 46mg5%
Iron 2.2mg12%
* Percent Daily Values are based on a 2000 calorie diet.
Nutritional information on Noshtastic is provided as a courtesy and is approximate only. We cannot guarantee the accuracy of the nutritional information given for any recipe on this site.
Course: Main Course
Cuisine: Asian Style