Absolutely gorgeous Duchess Potatoes that are unbelievably easy to make and make a fantastic looking side dish!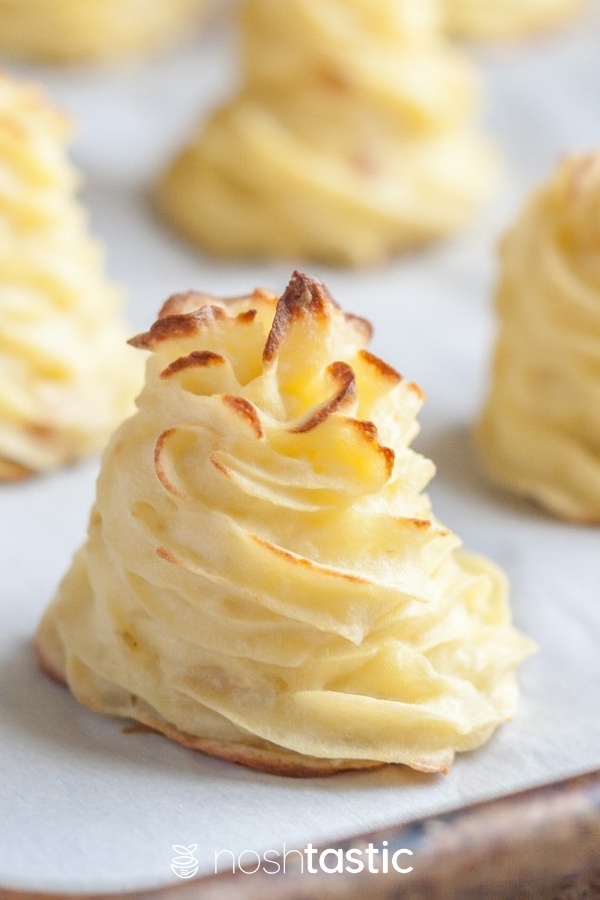 Easy Duchess Potatoes Recipe
We had a birthday meal last week and the requested dinner was steak and potatoes but I didn't want to do just regular ole' baked potatoes and thought that something a little fancier might be appreciated by all, so I decided to serve these Duchess Potatoes.
We're big potato fans in my house, I grew up eating them with almost every meal.
When I was a child we lived with my grandparents for several years and my grandad had a garden with a variety of delicious fruit and vegetables in there, but whatever else he grew there were always, always potatoes.
He also grew and ate kale about 30 years before it became a hipster vegetable 🙂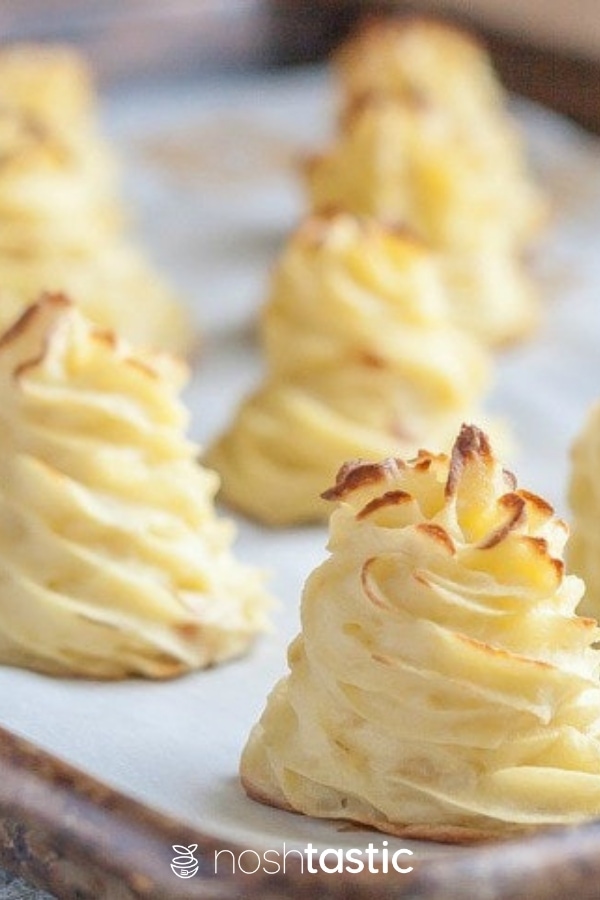 I've made Duchess Potatoes before but it was a really long time ago, I don't think my children have ever had them before the birthday dinner.
The trick here is to not over mash the potatoes, they start to get all sticky and gluey and they just aren't as nice to eat when that happens.
 If you don't have a piping bag and wide star tip then you can either put the mashed potatoes into a ziplock type of bag and cut the corner off and pipe them out like that,.
Or,  just spoon them out into little mounds and kind of rough up the outside of it with a fork. Of course they won't look exactly the same but they will still taste just as nice.
This post contains Amazon affiliate links
More Easy Vegetable Side Dishes
Duchess Potatoes
Pretty, piped, Duchess Potatoes! easy but fancy baked mashed potatoes. They are Gluten Free, vegetarian and paleo and whole30.
Prep Time: 30 minutes
Cook Time: 20 minutes
Total Time: 50 minutes
Total Carbs: 27 g
Protein: 5 g
Servings: 4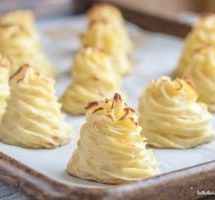 Ingredients
8 medium potatoes , peeled and chopped
1 tbsp butter, or omit if preferred , or dairy free margarine (but not for paleo/w30)
3 egg yolks
salt and pepper to taste
Instructions
Preheat your oven to 200C/400F

Line a sheet pan with parchment paper.

Boil the potatoes in water for about 20 minutes or until they are soft, but not over cooked and mushy.

Once they are cooked drain well, add in the egg yolks, butter and a little salt and pepper.

Mash until they are smooth and soft, but don't overdo it or they will get sticky and glue like.

Add the mashed potatoes to a

piping bag

fitted with a wide star tip, a

1M tip

is what I use. If you do not have a piping bag you could try adding the potatoes to a ziplock type bag and cut the corner off and try piping it out of that.

Pipe onto the parchment lined

sheet pan

to make small swirly shapes.

Bake in the oven for about 20 minutes until they turn a little brown on the edges.
Nutrition Facts
Duchess Potatoes
Amount Per Serving
Calories 187 Calories from Fat 54
% Daily Value*
Total Fat 6g 9%
Saturated Fat 3g 15%
Cholesterol 154mg 51%
Sodium 62mg 3%
Potassium 788mg 23%
Total Carbohydrates 27g 9%
Dietary Fiber 2g 8%
Sugars 2g
Protein 5g 10%
Vitamin A 5.7%
Vitamin C 17.7%
Calcium 3.4%
Iron 8.9%
* Percent Daily Values are based on a 2000 calorie diet.
Nutritional information on Noshtastic is provided as a courtesy and is approximate only. We cannot guarantee the accuracy of the nutritional information given for any recipe on this site.