Air Fryer Salmon is my new go-to weeknight dinner for my family. It's quick, easy, and has a SUPER tasty marinade with only a few ingredients that you probably already have in the fridge!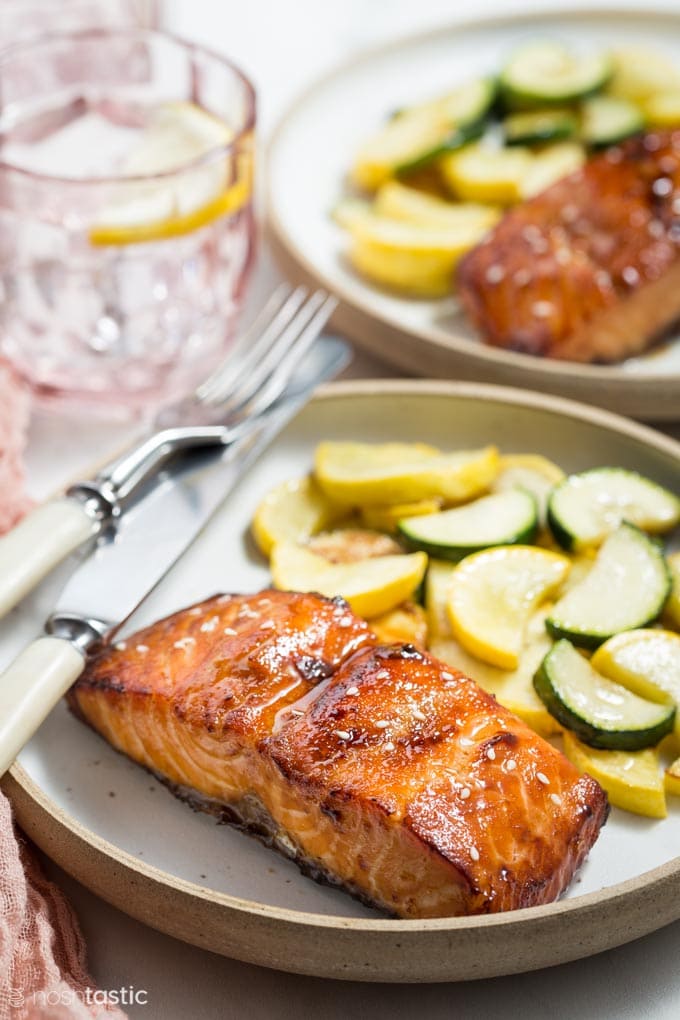 this post contains affiliate links
My marinade for this air fried salmon recipe has a little hint of sweetness thank to the natural flavor of the coconut aminos, I'm using it for everything these days!
It's perfect for Paleo, low carb, Keto and gluten free diets! It's not as salty as soy sauce so if you have to substitute it you may not need quite as much.
The Easiest Way to Make Air Fryer Salmon
Start by cutting the salmon if it's in a single piece into even sized fillets. I cooked two pieces of salmon in my air fryer so if you want to make more simply double the marinade.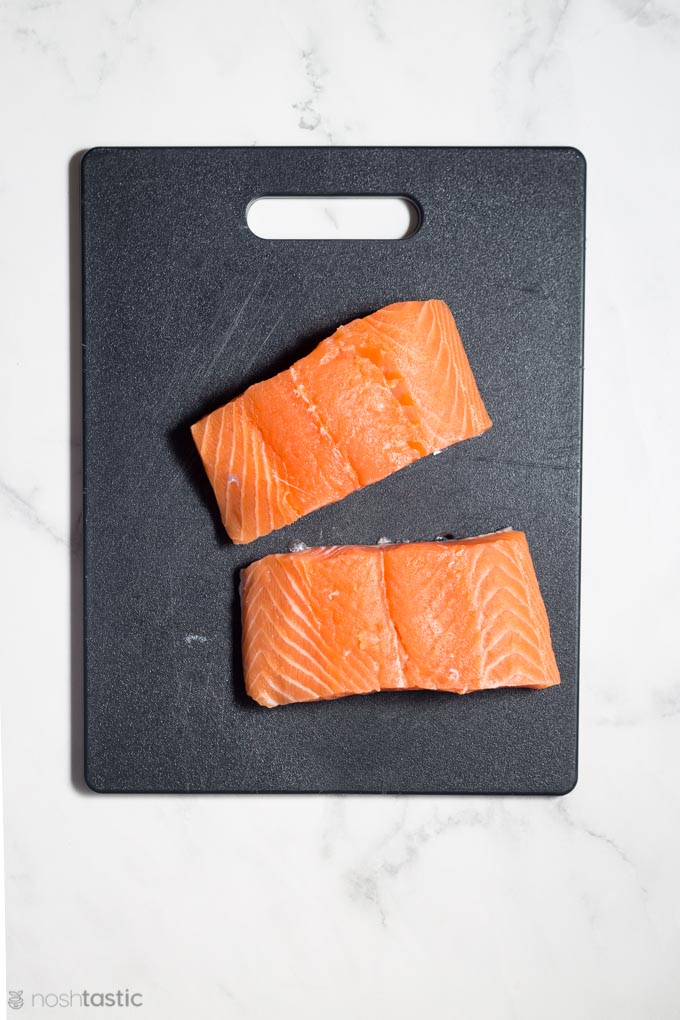 Mix together the marinade ingredients including the ginger, garlic, coconut aminos, and a little hot sauce and add it to a container that will snugly accommodate the salmon fillets (see photo below) or simply put it into a ziplock bag.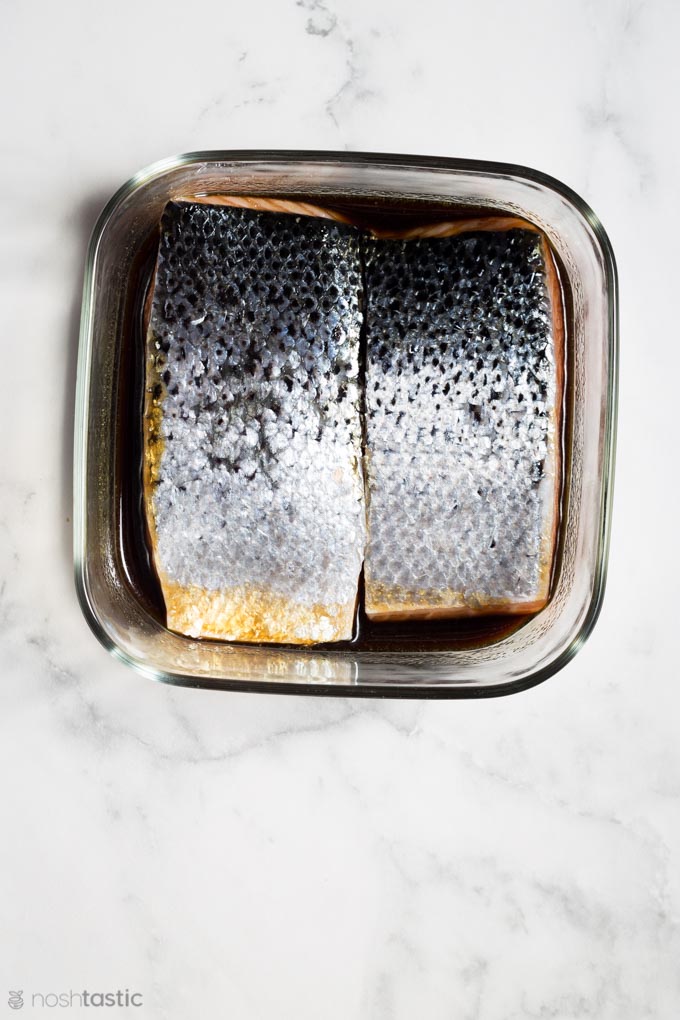 You don't really need to marinate the salmon for very long, about 30 minutes should do it. Then, about 5-10 minutes or so before the end of the marinating time you can turn on your air fryer to 400°F. Mine heats up very quickly, but all models are a little different.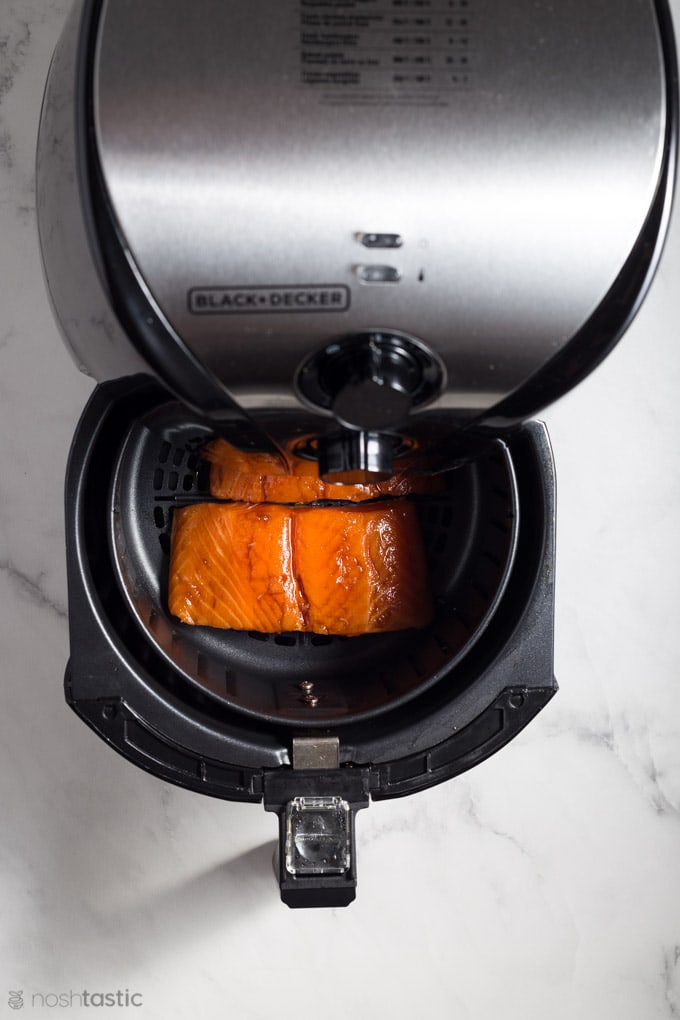 Place the salmon skin side down into the air fryer basket and reserve the remaining marinade.
Don't be tempted to use foil in the basket as that will impede the air flow and kind of defeats the purpose of 'air' frying! I didn't oil the basket and my salmon didn't stick, but again, that may vary from one model to the next.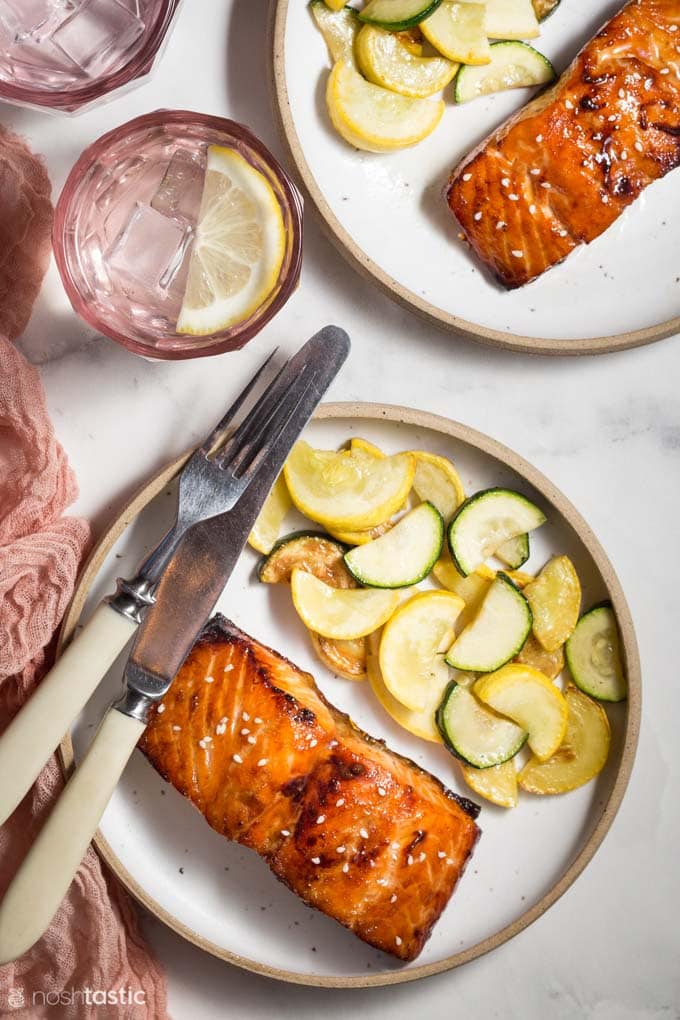 Cook time is pretty quick here so you'll need to keep an eye on it. After about six minutes open the basket and brush on or spoon over some of the leftover marinade and continue to cook for about six more minutes.
As always exact cook time will vary and will depend on a combination of your brand of air fryer and on the thickness of the fish.
What can I serve with it?
I sautéed up a little zucchini and served it with that, but some other great options would be Cauliflower Mashed Potatoes (perfect for Keto and Low Carb!) or a broccoli apple slaw, or if you have fresh corn then my black bean corn avocado salad is really great too!
More Air Fryer and Fish Recipes
Air Fryer Salmon
Quick and easy, this simple Air Fryer Salmon recipe is a perfect weeknight dinner
Prep Time: 30 minutes
Cook Time: 13 minutes
Total Time: 43 minutes
Total Carbs: 5 g
Protein: 34 g
Servings: 2
Ingredients
2 salmon fillets , approx. 6oz each
1 tsp toasted sesame seeds , to garnish
Air Fryer Salmon Marinade
Instructions
Scroll up to watch the recipe video!

Mix the salmon marinade together and pour over the two salmon fillets and let them sit in the marinade (skin side up) for 30 minutes, then drain and reserve the marinade.

Put your marinated salmon into the air fryer basket (skin side down) and cook at 400°F degrees for six minutes. 

After six minutes open the basket and spoon over, or brush on, more of the marinade. Cook for a further six minutes. 

After twelve minutes total cook time check the salmon for doneness and cook for a few more minutes if you need to. Exact timing will vary depending on your air fryer and the size of the salmon fillets.
Recipe Notes
Air Fryer – If you don't already have one then think about how many people you will be cooking for and buy one that has a big enough basket. Remember you will typically cook most things in a single layer, so the smaller models are really only big enough for 2-3 people. 
Servings – This amount of marinade is enough for two pieces of fish, if you want to cook more simply double the marinade. 
Cook Time – every air fryer is a little different so my timings are approximate and will depend on your air fryer model and on the thickness of the fish, so do check it for doneness before the end of the cook time listed in the recipe card. 
Nutrition Facts
Air Fryer Salmon
Amount Per Serving
Calories 267 Calories from Fat 99
% Daily Value*
Fat 11g17%
Saturated Fat 2g13%
Cholesterol 94mg31%
Sodium 615mg27%
Potassium 833mg24%
Carbohydrates 5g2%
Sugar 1g1%
Protein 34g68%
Vitamin A 70IU1%
Vitamin C 1.3mg2%
Calcium 20mg2%
Iron 1.4mg8%
* Percent Daily Values are based on a 2000 calorie diet.
Nutritional information on Noshtastic is provided as a courtesy and is approximate only. We cannot guarantee the accuracy of the nutritional information given for any recipe on this site.
Course: Dinner
Cuisine: Asian