Cauliflower Rice Pilaf is a simple yet delicious way to dress up a pan of Cauliflower Rice with rich curry flavors, almonds, and green peas.
It's low carb and has about 7g net carbs per serving, and you could easily reduce this to 5g net carbs if you omit the green peas.
This is an easy side dish recipe that would go well with a piece of grilled fish, or with my low carb Chicken Tikka Skewers and Indian Raita and if you've never made cauliflower rice before this is a really easy and tasty version to try!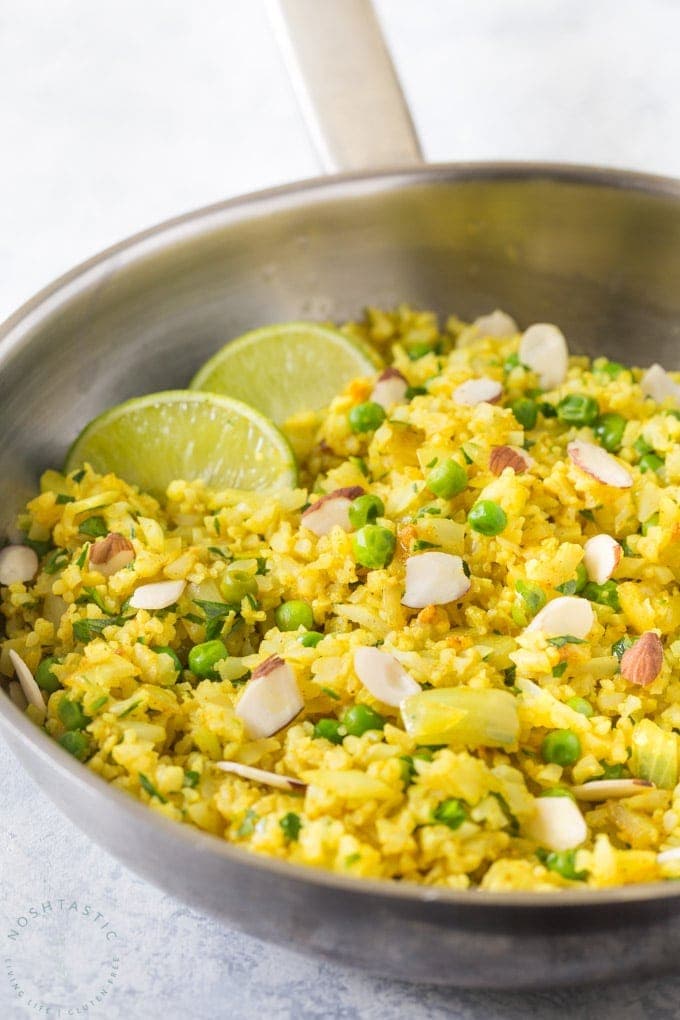 This post contains affiliate links
Tips for Serving Cauliflower Rice Pilaf with Curry
If Cilantro is not your favorite herb, you may prefer to use chopped Italian Parsley instead.
Feel free to add more curry powder to taste if you like a richer flavor.
If you have time, toast your almonds in a dry skillet for a nuttier taste!
If you want to reduce the carb count further you can omit the green peas and reduce the onion or replace it with a little onion powder.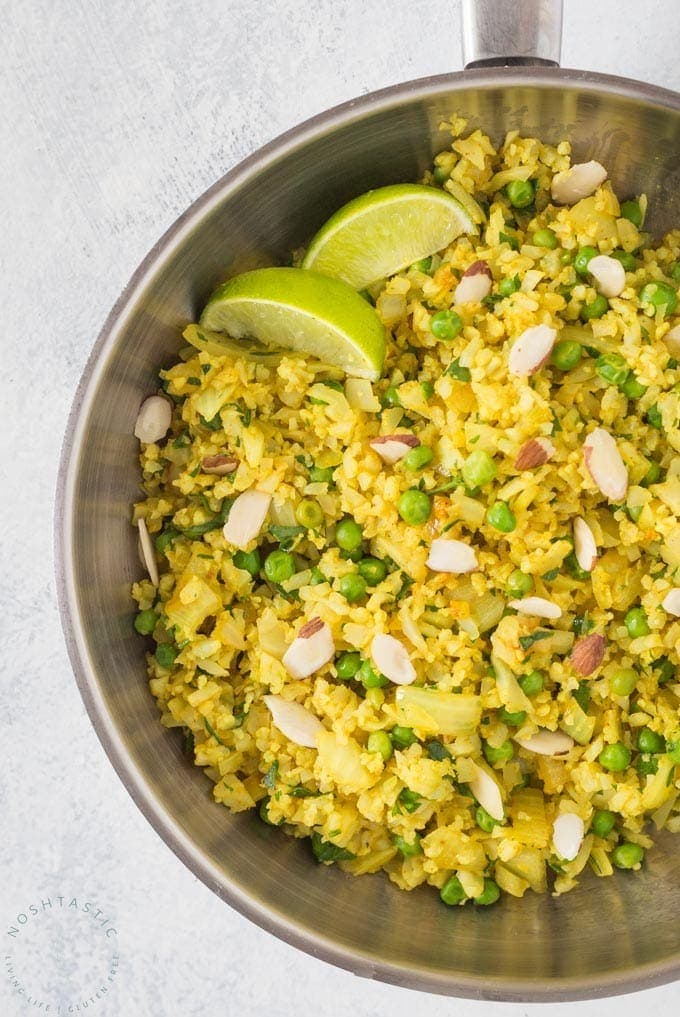 More Cauliflower Recipes
Cauliflower Cilantro Lime Rice
Roasted Cauliflower with Lemon Garlic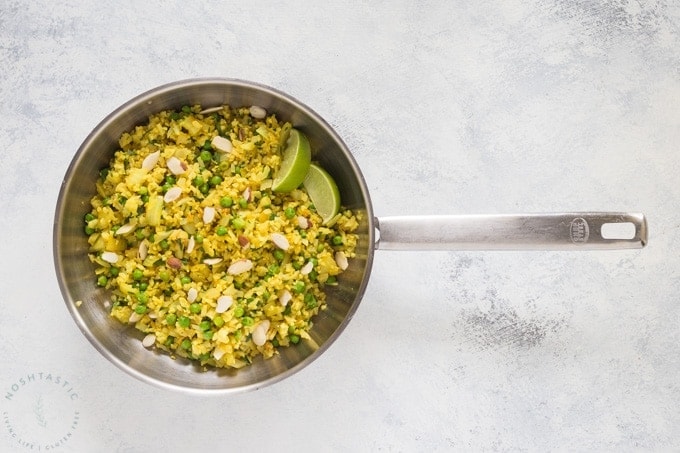 HOW DO YOU MAKE CAULIFLOWER INTO RICE?
You can make cauliflower rice really easily without a food processor by using a box grater. Just cut the cauliflower into large chunks and grate on the side with the large holes. It will make a lot of mess so just be prepared for that!
There's no actual rice involved in cauliflower rice, it's just cauliflower chopped into tiny pieces to resemble rice and is often used as a rice substitute for people following Keto, low carb or Paleo, Whole30, diets. It doesn't really taste like rice, it's still cauliflower after all, but if you season it well and don't overcook it then it's a fantastic alternative to the real thing and the texture can be similar.
The easiest option is to simply buy ready cut bags of cauliflower rice in the fresh produce and freezer sections of your grocery store. These days you can find it in almost every grocery store.
CAN I RICE CAULIFLOWER AND FREEZE IT?
Yes, you can freeze Cauliflower rice without any issues. Simply put the uncooked riced cauliflower into ziplock bags, squeeze out the air and put it into the freezer. Make sure you label the bags with the date, cauliflower should last for up to 6 months in a standard freezer.

Cauliflower Rice Pilaf with Curry, peas and Almonds
Cauliflower Rice Pilaf with Curry, peas and Almonds, an easy low carb, Keto Friendly, Paleo and whole30 recipe
Prep Time: 10 minutes
Cook Time: 10 minutes
Total Time: 20 minutes
Total Carbs: 10 g
Protein: 3 g
Servings: 4
Ingredients
Instructions
Add 1 Tbsp of olive oil to a skillet over medium high heat and saute onion.

Add garlic, spices, and green peas to skillet and stir well and then set aside if you are using fresh grated cauliflower.

Steam or microwave frozen cauliflower – follow the instructions on the bag.

Saute fresh cauliflower in skillet on medium heat until tender, 5-7 minutes using a little oil if you need to.

Return curried pea mixture to the pan as well as, cilantro & almonds to skillet and stir together. Warm for 1 minute.

Serve with a little fresh squeezed lime juice and enjoy!
Recipe Notes
LOW CARB NUTRITION FACTS
5G net carbs if you omit green peas
7g Net Carbs with green peas.
Nutrition Facts
Cauliflower Rice Pilaf with Curry, peas and Almonds
Amount Per Serving
Calories 94 Calories from Fat 45
% Daily Value*
Fat 5g8%
Sodium 318mg14%
Potassium 345mg10%
Carbohydrates 10g3%
Fiber 3g13%
Sugar 3g3%
Protein 3g6%
Vitamin A 150IU3%
Vitamin C 50.2mg61%
Calcium 37mg4%
Iron 1mg6%
* Percent Daily Values are based on a 2000 calorie diet.
Nutritional information on Noshtastic is provided as a courtesy and is approximate only. We cannot guarantee the accuracy of the nutritional information given for any recipe on this site.