Pressure Cooker Collard Greens – cooking Collard greens in your pressure cooker is the ONLY way to cook them!
My pressure cooker collard greens are cooked in a fraction of the time that it usually takes on the stove and cooking under pressure ensures that they are ready in about 30 minutes.
With the addition of a smoked turkey leg in the pot to add flavor you'll have a fabulous tasting and highly nutritional 'pot likker' (or pot liquor) to serve along with it!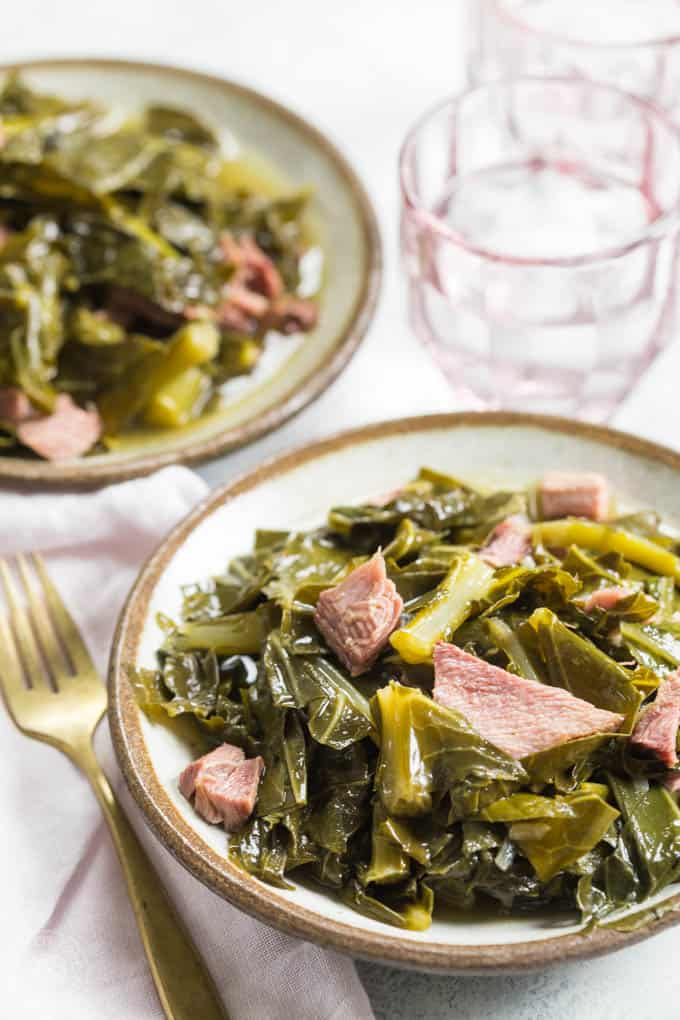 Tips for Making Pressure Cooker Collard Greens
Y'all this is quite possibly the easiest way in the world to make collard greens, no more waiting for hours and hours for them to be ready, they are done in a little less than thirty minutes! Here are a few of my quick tips to ensure that you get the most from your pressure cooker collard greens.
This post contains affiliate links
Wash the Collard Greens – Even if you buy the ready chopped greens in the bag it's worth washing them and then sticking them in a salad spinner. You absolutely must wash them if you buy them not cut up, you don't want all that dirt and grit in there!
Pot 'likker' –  Pot liquor, or pot likker as it's also known is simply the broth that remains once the collard greens have been cooked. It's highly nutritious as it contains all the water soluble vitamins such as vitamin C, and also is packed with flavinoids which have powerful antioxidant and anti- inflammatory properties. We like to pour it over our collards when we serve them.
Turkey leg or ham hock – It really helps the flavor of your collards to cook them with some sort of salty smoky meat, so either ham hocks or a smoked turkey leg is your best bet.  You can find smoked turkey legs in the meat section of your grocery store, if you don't see it just ask the staff. You could also use smoked bacon instead if they don't have it.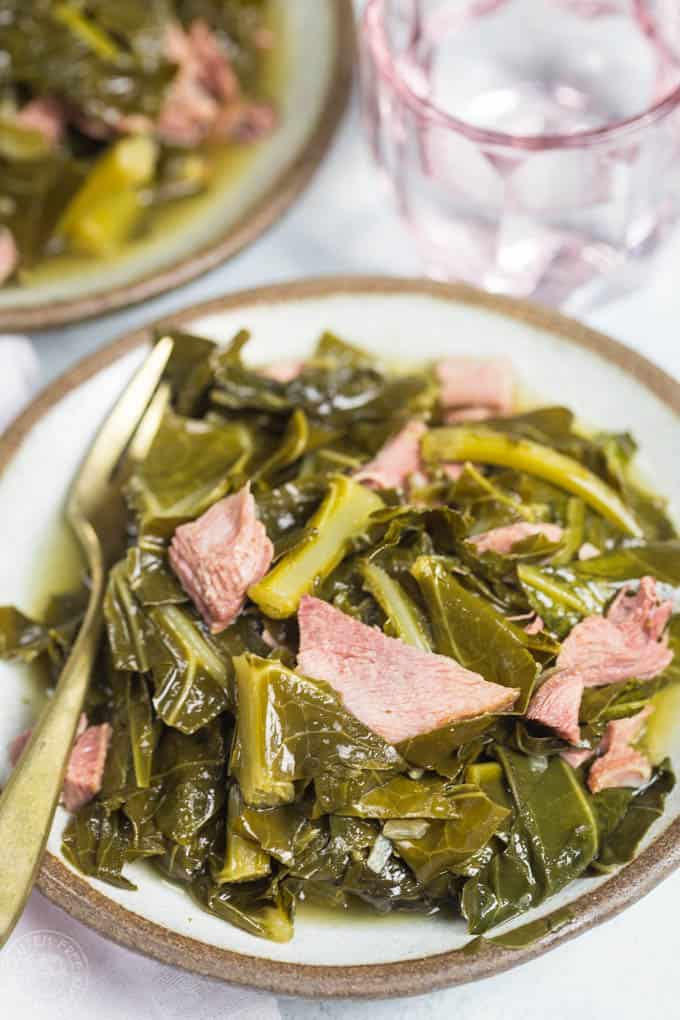 What are Collard Greens?
Collard Greens are a leafy green vegetable from the Brassica Oleracea plant species which also includes cabbage, broccoli, kale, and spring greens.
They have large dark green leaves and are often grown as ornamental vegetables in many areas.
They are a staple vegetable in the Southern USA and very popular served along with cornbread, rice and peas, and many other Southern dishes. It's considered a traditional New Years day dish, but where I live in Mississippi it's served year round.
Where can I find Collard Greens in the UK?
The closest vegetable to Collard Greens found in the UK would be Spring Greens which are very closely related to Kale and Collard Greens but not exactly the same vegetable.
Actual Collard Greens are not typically grown in the UK so Spring Greens would be your best bet though the cook time may be different.
MORE PRESSURE COOKER RECIPES
Steel cut Oats with Apple Pie Topping
Pressure Cooker Chicken Noodle Soup
Pressure Cooker Memphis Ribs
Pressure Cooker Wings with Blue Cheese Dip

Pressure Cooker Collard Greens
Pressure Cooker Collard Greens Cooked with a smoked turkey leg, a little garlic and onion and ready in a fraction of the time that it usually takes on the stove.
Prep Time: 5 minutes
Cook Time: 25 minutes
Total Time: 30 minutes
Total Carbs: 16 g
Protein: 41 g
Servings: 4
Ingredients
Instructions
Turn on the 'saute' function in your Instant pot or pressure cooker and add the olive oil and garlic and cook for about 5 minutes or until the onions soften, don't let them brown too much, then turn off the 'saute' function. Do make sure the onions are not stuck to the bottom as this can stop it coming to pressure. Add a little chicken broth if you need to, to deglaze the pan.

Now add the collard greens and press and pack them down into the pressure cooker pot, I was able to get almost 2lbs in my 6qt Instant Pot, they will wilt during cooking.

Add the smoked turkey leg and pour over the gluten free chicken broth.

Lock the lid, turn the steam vent to 'sealing' and using the 'manual' or 'pressure cook' button, adjust it to cook for 20 minutes at high pressure.

When the cook time time is up you can immediately open the steam vent (turn it to 'venting') and when all the pressure is released and the pressure valve has dropped then open the lid.

remove the turkey leg and cut the meat off it into chunks and serve with the collard greens, the 'potlikker' (that's the juice) and serve with a little hot sauce if desired.
Recipe Notes
NUTRITIONAL CONTENT - the nutrition label is generated based on all the ingredients and gives about 940 calories for the turkey leg, this accounts for almost all the calories in this recipe so if you don't eat the skin it will reduce it. 
Nutrition Facts
Pressure Cooker Collard Greens
Amount Per Serving
Calories 373 Calories from Fat 144
% Daily Value*
Fat 16g25%
Saturated Fat 4g25%
Cholesterol 120mg40%
Sodium 995mg43%
Potassium 1175mg34%
Carbohydrates 16g5%
Fiber 9g38%
Sugar 2g2%
Protein 41g82%
Vitamin A 11385IU228%
Vitamin C 98.7mg120%
Calcium 579mg58%
Iron 4.5mg25%
* Percent Daily Values are based on a 2000 calorie diet.
Nutritional information on Noshtastic is provided as a courtesy and is approximate only. We cannot guarantee the accuracy of the nutritional information given for any recipe on this site.
Course: Side Dish
Cuisine: Southern United States