Slow Cooker Beef Stew is a simple, healthy, weeknight meal that can be prepped ahead of time and cooked low and slow in your crockpot. My recipe includes sweet potatoes, red onion, carrots and fresh herbs, it's perfect comfort food!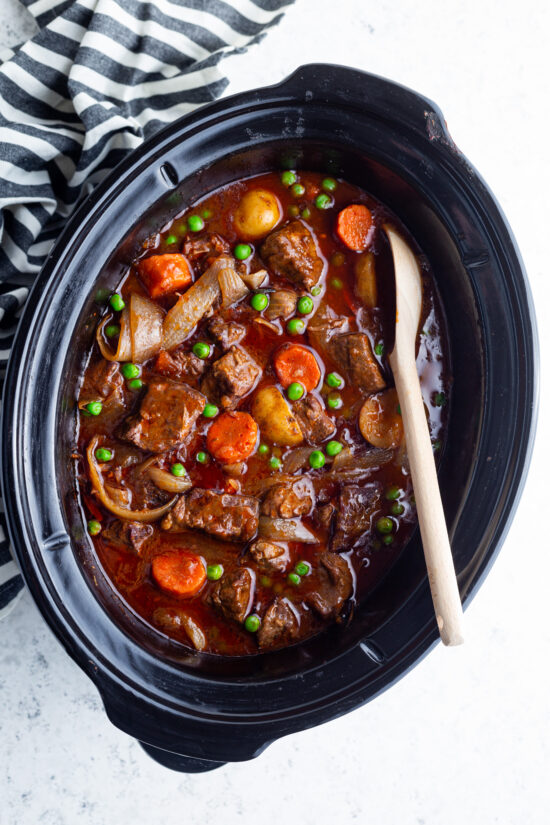 This post contains affiliate links
How to Make Slow Cooker Beef Stew
The sauce for my Crockpot Beef Stew is rich and flavorful and is tomato based, it cooks down to create a wonderfully tasty beef stew that you'll love.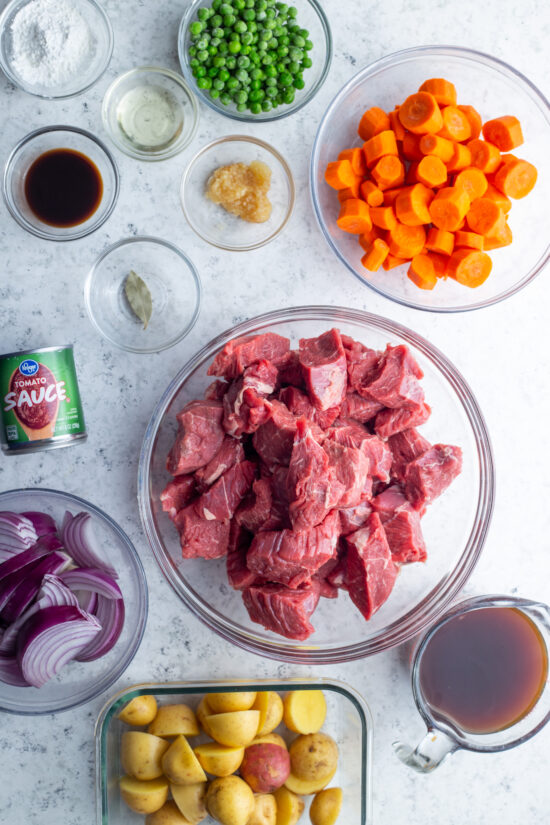 The first thing you need to do is cut up your chuck roast into large pieces, I usually make them about 2 inches long.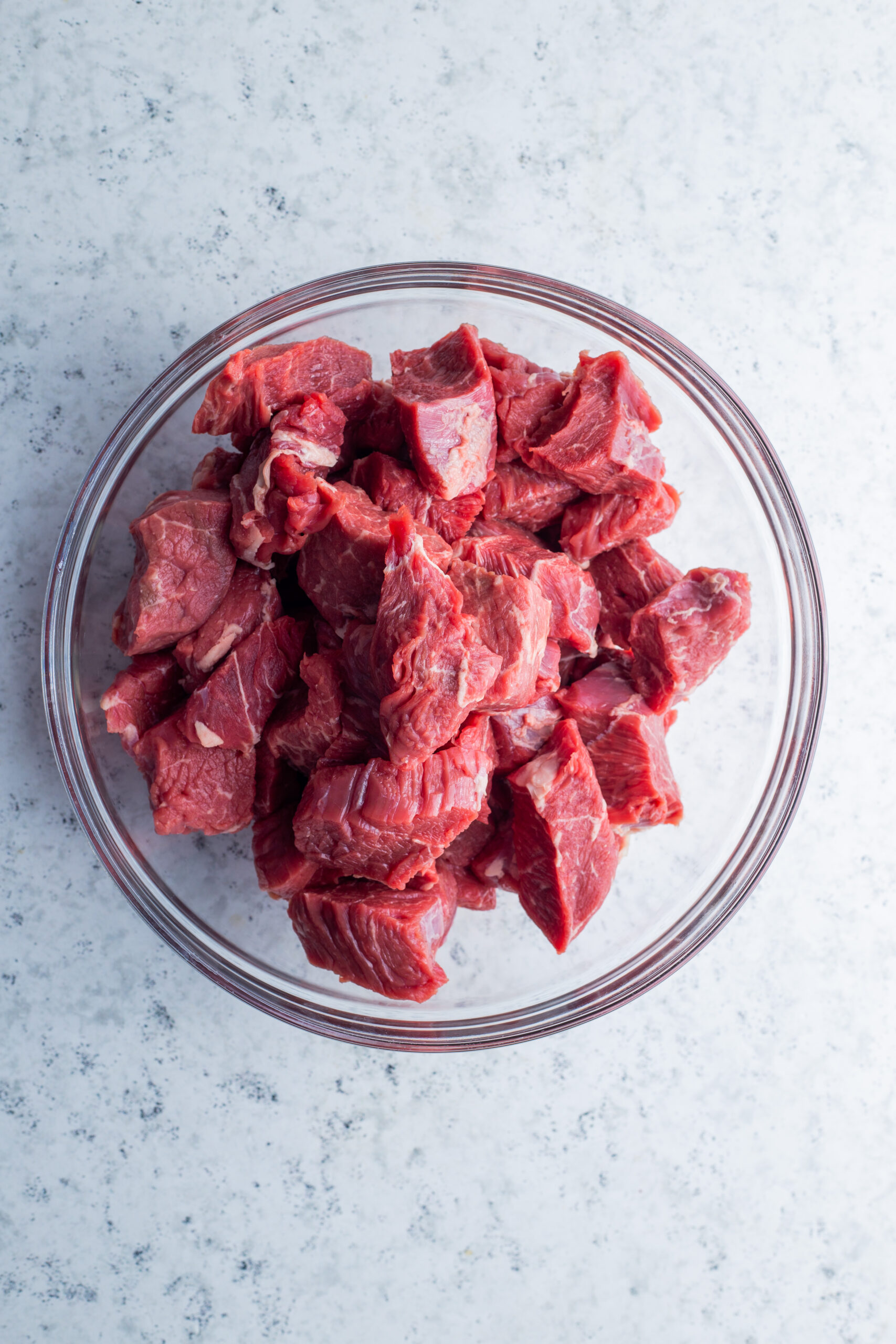 Then, you need to brown them in batches in a large skillet. I love my Cast Iron Skillet for this, it does the job perfectly.
Be sure not to crowd the pan or the meat can end up steaming instead of browning.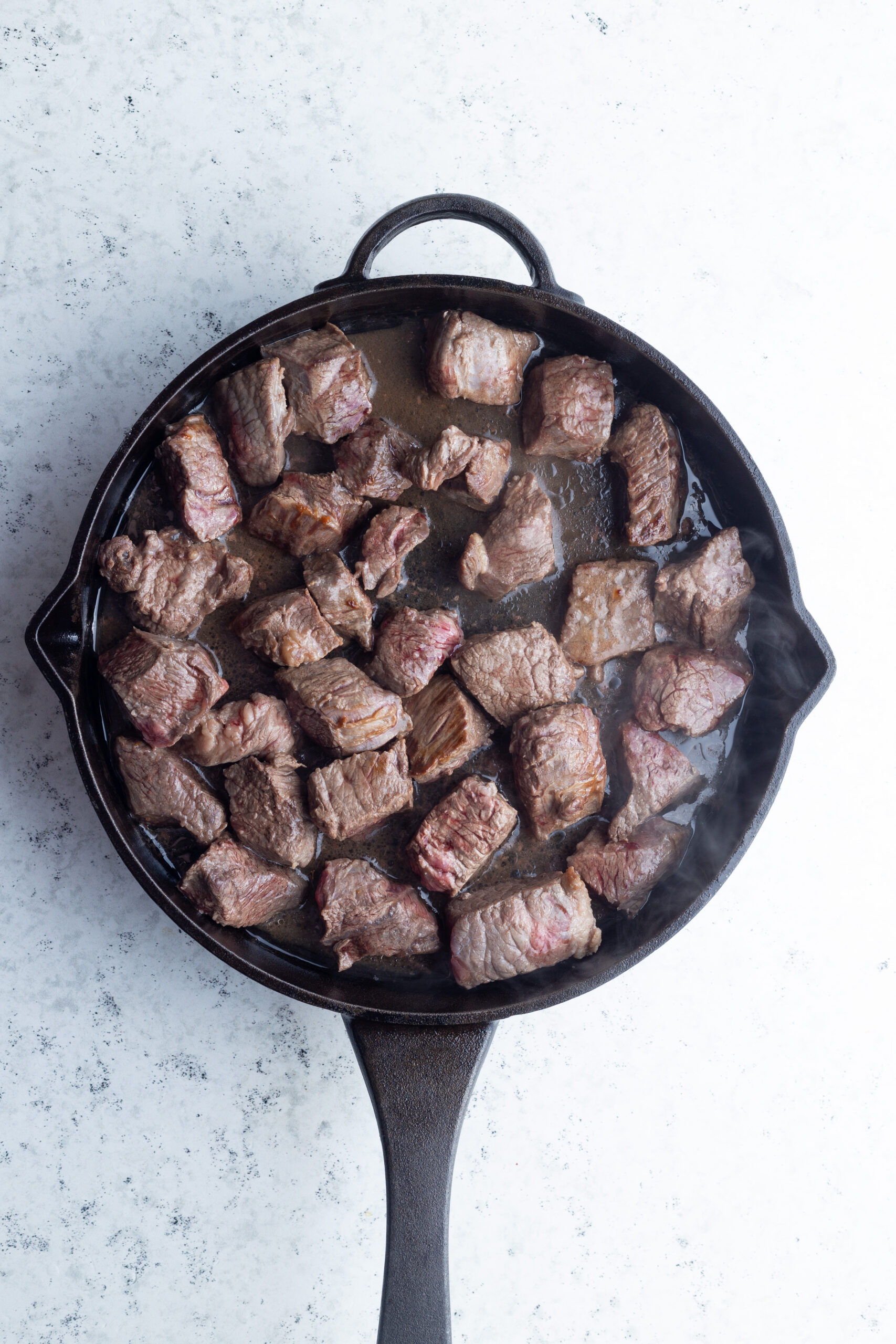 The next step is to prepare the sweet potatoes, carrots, and red onions by peeling them and cutting them into large chunks, then you can add them to the slow cooker.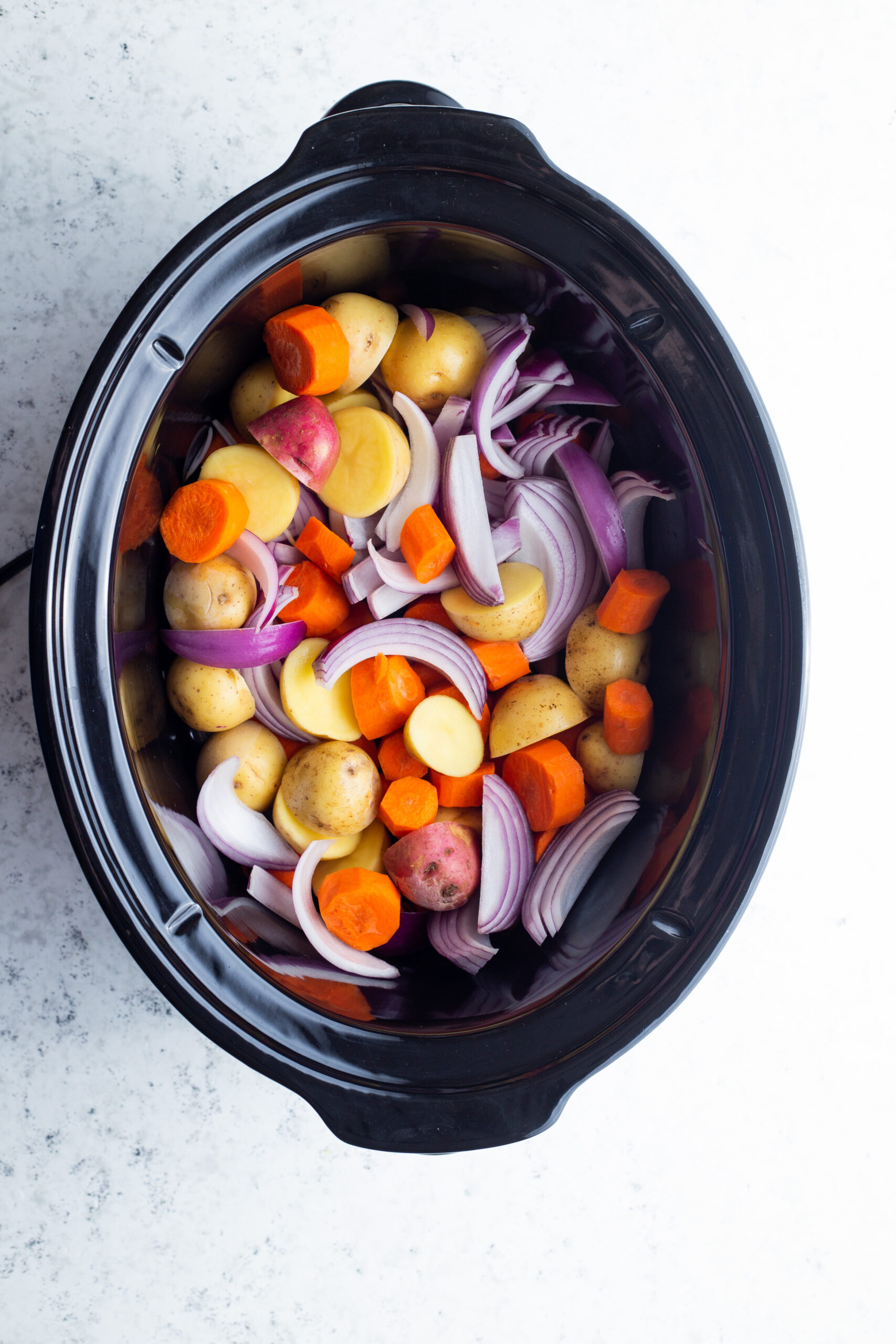 Once you've done that, add the already browned beef on top of the vegetables as shown in the photo below.
Next you need to mix the tomato sauce and paste together and pour over the beef and vegetables.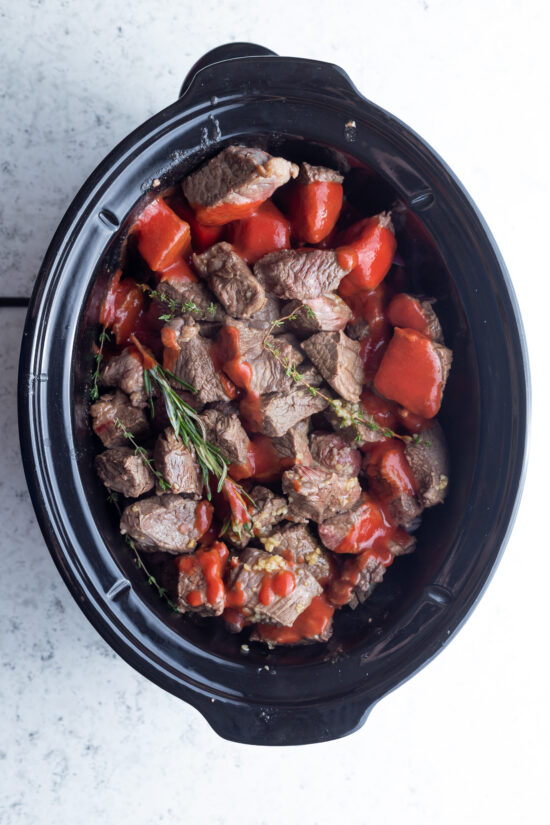 Add the beef broth mixed with the garlic and cornstarch and pour over the top. If you are Paleo or Whole30 you can simply omit the cornstarch, or add a little tapioca or potato starch at the end of the cook time if you prefer.
And finally, tuck in a couple sprigs of fresh rosemary into your crockpot beef stew, put the lid on and cook on LOW for 6- 9 hours, or on HIGH for 4-7 hours.
Kitchen Items used to make Slow Cooker Beef Stew
Slow Cooker – You can buy a slow cooker very cheaply these days, I have one similar to this model.
Kitchen Knife – a sharp kitchen knife is a must in any kitchen, this is a relatively inexpensive one.
Measuring Jug – I have a several measuring jugs, but the glass ones are my absolute favorites and I don't think you can have too many.
Cutting Board – I like to by cutting boards in sets similar to this, and you can put them in the dishwasher to make sure they are properly cleaned.
More Beef Recipes
Slow Cooker Beef Stew
Slow Cooker (crockpot) Beef Stew Recipe that's rich, healthy, flavor packed comfort food cooked to tender perfection.
Prep Time: 15 minutes
Cook Time: 7 hours
Total Time: 7 hours 15 minutes
Total Carbs: 31 g
Protein: 36 g
Servings: 4
Ingredients
4 lb beef chuck, cubed , 907g
1 tsp salt
1 tsp ground black pepper
1 large red onion , peeled and sliced
1 lb baby potatoes, halved , 454g
4 large carrots , peeled and cut into chunks
1 tbsp olive oil
8 oz tomato sauce , 240mls
2 tbsp tomato paste
2 cups gluten free beef broth , 500ml
3 cloves garlic , crushed
1 tbsp Worcestershire sauce
2 sprigs fresh rosemary
2 sprigs fresh thyme
1 bay leaf
1/4 cup potato starch, or corn starch.
3/4 cup frozen peas
Instructions
Peel and slice the red onion, halve the potatoes, and peel and slice the carrots into chunks.

Sprinkle the salt evenly over the beef.

Brown the beef chunks in batches in a skillet with a little olive oil

Add the red onion, carrots and potatoes to the slow cooker then add the browned beef chunks on top.

Mix together the tomato sauce, tomato paste, potato starch, gluten free beef broth, garlic, Worcestershire sauce then pour over the beef and vegetables.

Tuck in a couple of sprigs of fresh rosemary and thyme into the beef stew and put the lid on. 

Cook in a slow cooker on LOW for 6- 9 hours or HIGH for 4-7 hours. Check to see if the stew is cooked after 4hrs.

Stir in the frozen peas at the end and let them warm through for a couple of minutes before serving.
Recipe Notes
Servings – makes 4-6 generous servings. 
Cut of Beef – I prefer to use chuck roast and cut it up myself as that cooks nice and tender. You can use ready cut stew meat from the grocery store but the quality can be hit or miss and sometimes it's tough no matter how long you cook it. 
Potato starch – you can use corn starch if you prefer. 
Nutrition Facts
Slow Cooker Beef Stew
Amount Per Serving
Calories 480 Calories from Fat 207
% Daily Value*
Fat 23g35%
Saturated Fat 9g56%
Cholesterol 117mg39%
Sodium 1023mg44%
Potassium 1321mg38%
Carbohydrates 31g10%
Fiber 4g17%
Sugar 9g10%
Protein 36g72%
Vitamin A 19800IU396%
Vitamin C 11.6mg14%
Calcium 90mg9%
Iron 5.1mg28%
* Percent Daily Values are based on a 2000 calorie diet.
Nutritional information on Noshtastic is provided as a courtesy and is approximate only. We cannot guarantee the accuracy of the nutritional information given for any recipe on this site.
Course: Main Course
Cuisine: American