An Easy Gluten Free White Chicken Chili recipe that's ready in less than 30 minutes!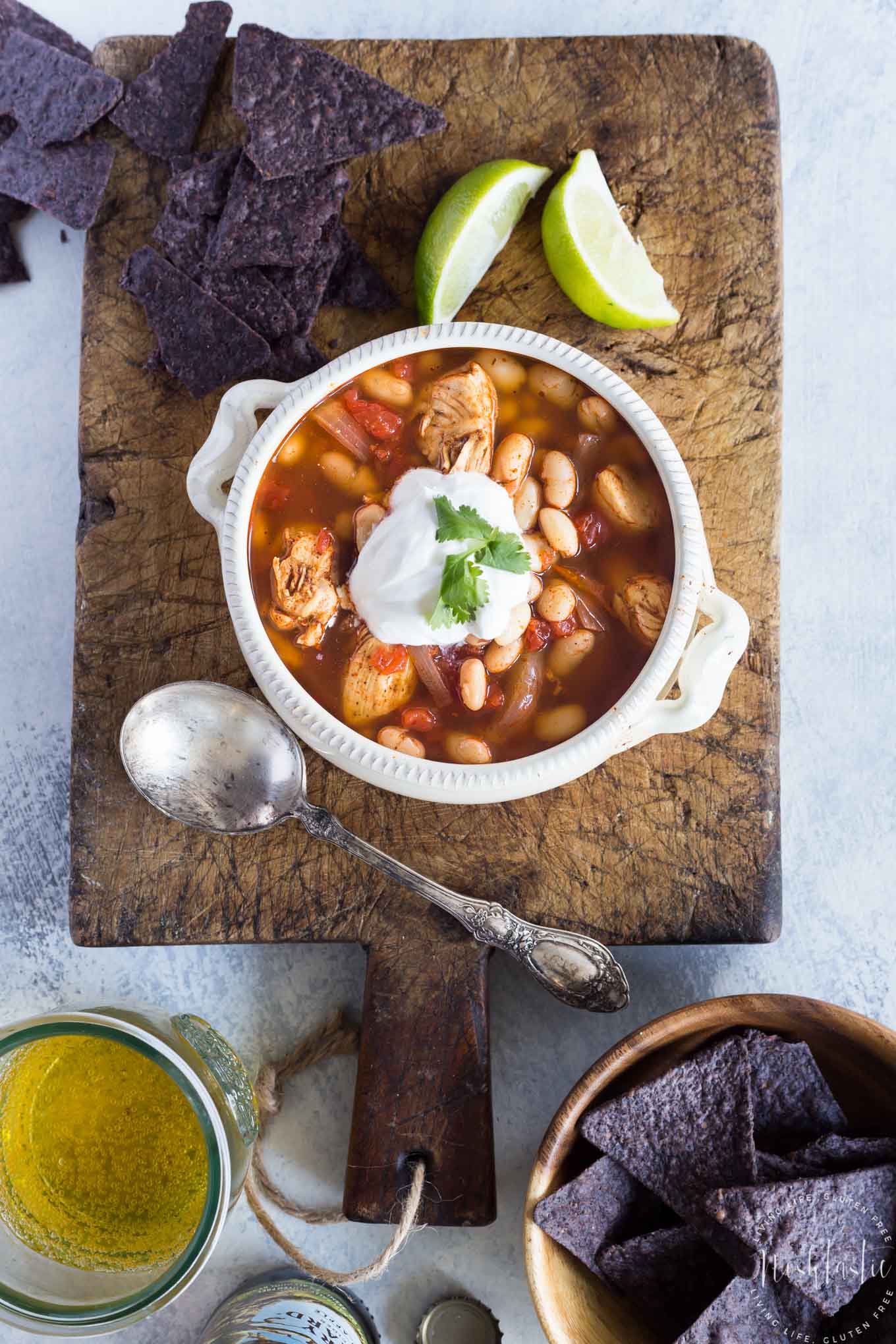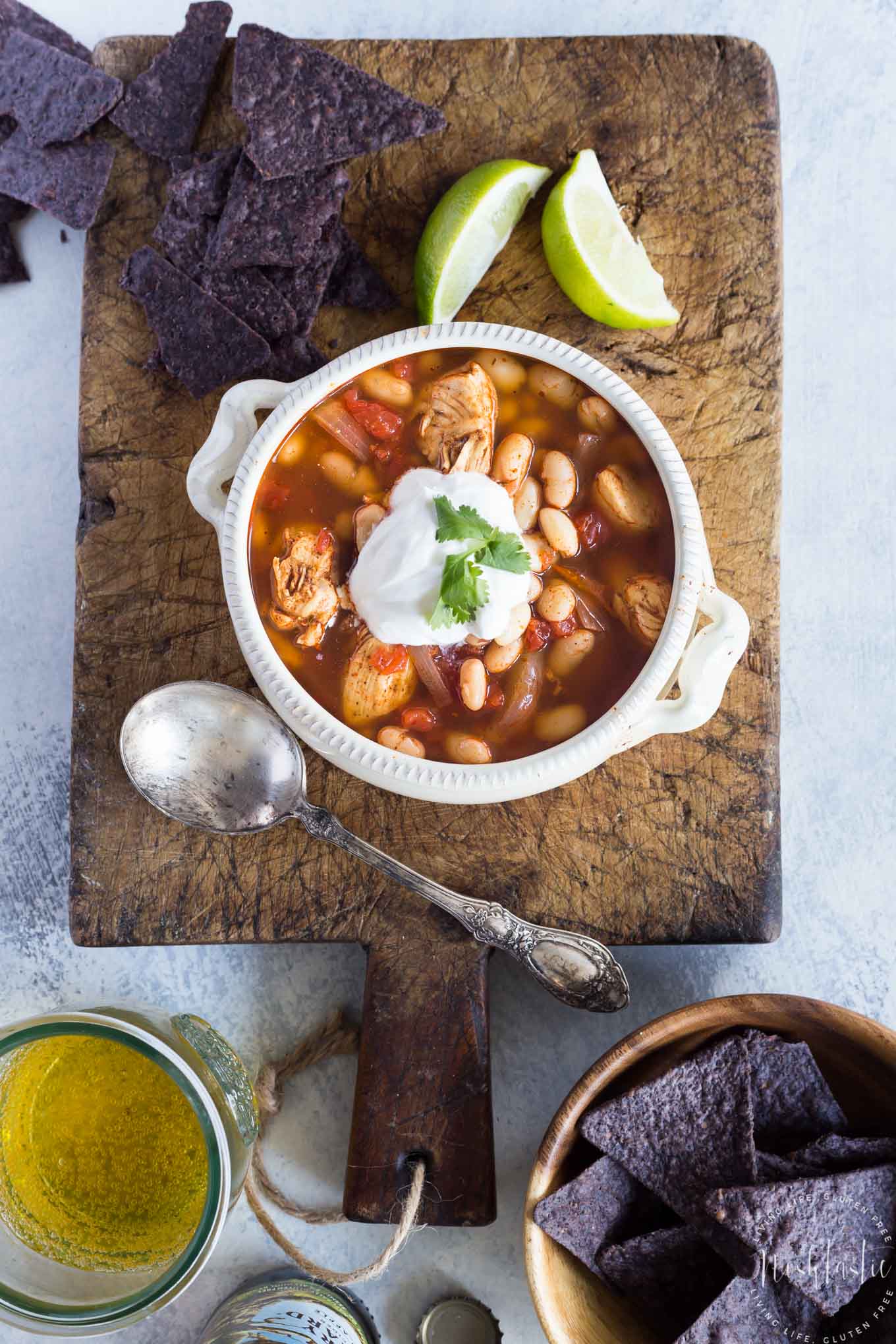 What is White Chicken Chili?
White Chicken Chili is simply a variation of Chili Con Carne  where the ground beef is replaced with chicken or turkey, and white beans such as Cannellini, Great Northern or Navy Beans are used instead of Red Kidney Beans.
There may be some other differences depending on the specific recipe, but that's the gist of it.
How to Make White Chicken Chili
White Chili is very easy to make on the stovetop, it's also a quick recipe that doesn't need a long, slow, cook time.
Chop your chicken pieces and onions before you start to cook, so you are ready to add them to the pot at the right time.
You need to cook the onions first until they are soft, then add the spices to them in the pan.  Ancho chili powder is my preferred chili powder for this recipe, but you can substitute regular chili powder instead, and you don't need to use fresh herbs, dried is just fine.
Then you simply add the chicken broth and chopped chicken breast and cook for a short time.
And lastly, I think it's best to drain and rinse the white beans before you add them to the pot, and if you don't have access to fresh plum tomatoes, then canned will work well instead.
The white beans really just need warmed through when they are added to the pot, you don't want to overcook them or they may break into pieces.
And don't forget to serve it with some homemade gluten free cornbread , and finish it with a squeeze of lime juice, it makes all the difference!
Looking for a Vegetarian Chili recipe? This Vegetarian Paleo Chili from Perry's Plate looks fantastic, as does this sweet vegetarian Chili from Vegetarian Mama.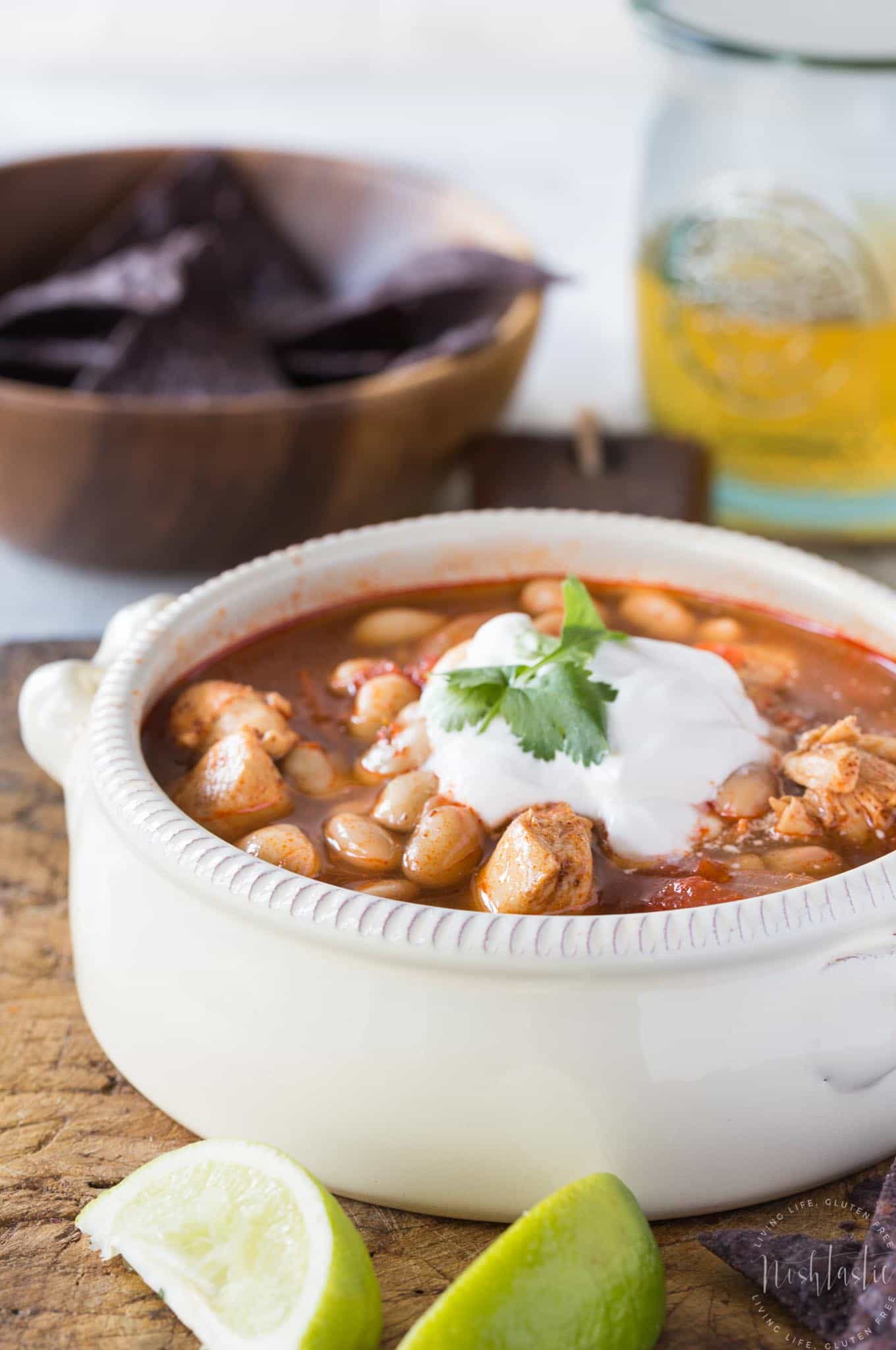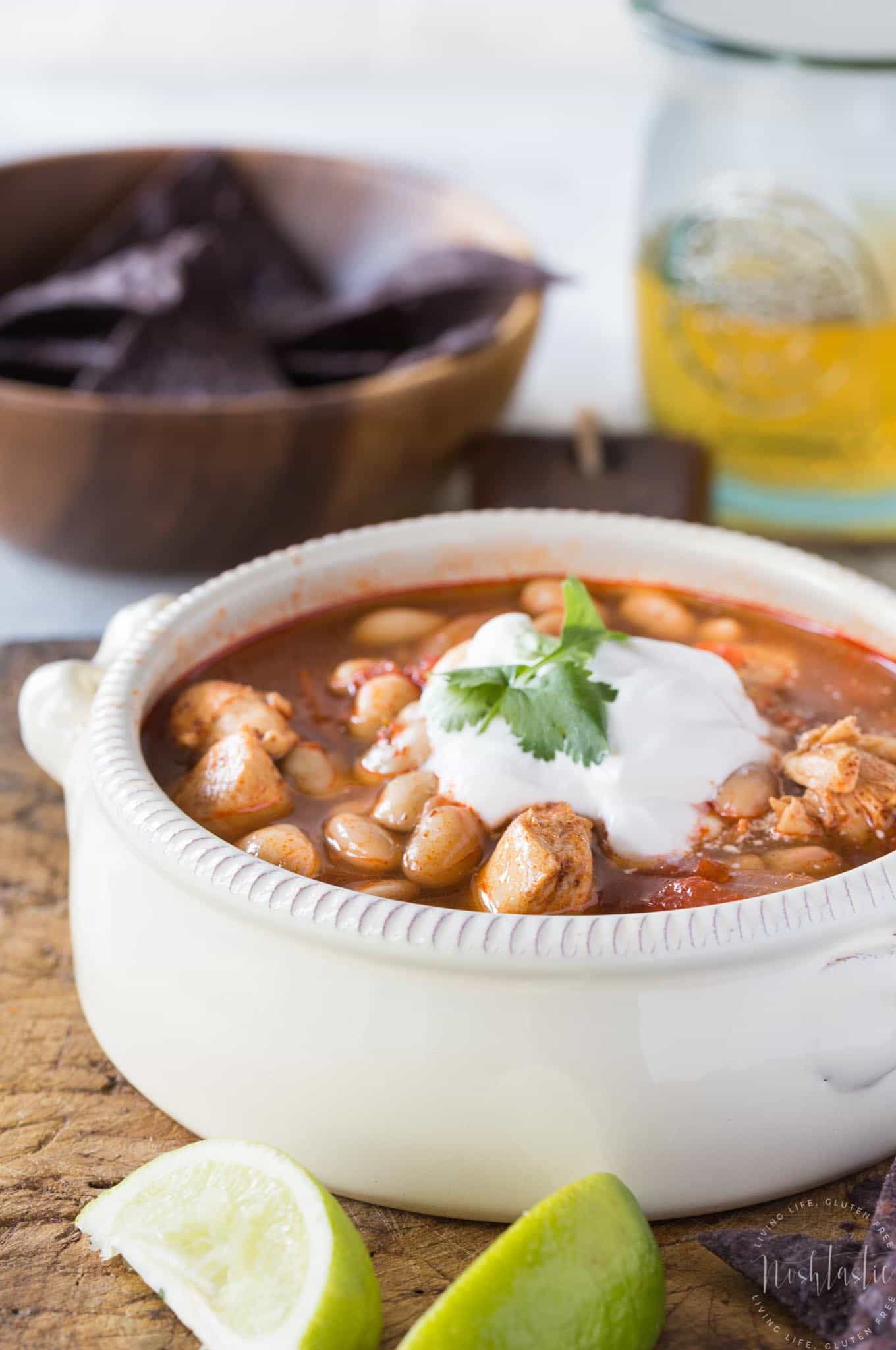 What to serve with White Chicken Chili
As I live in Mississippi lots of my friends and neighbors love to serve any sort of chili with cornbread or crackers of some sort.
As I'm from the UK we typically serve chili over rice, but I don't see that often over here.
My kids love to add all the usual chili toppings to this recipe, such as sour cream, grated cheese, a squeeze of lime and chopped cilantro.
If you're looking for a Crockpot Chili this is a great option from the Pinning Mama!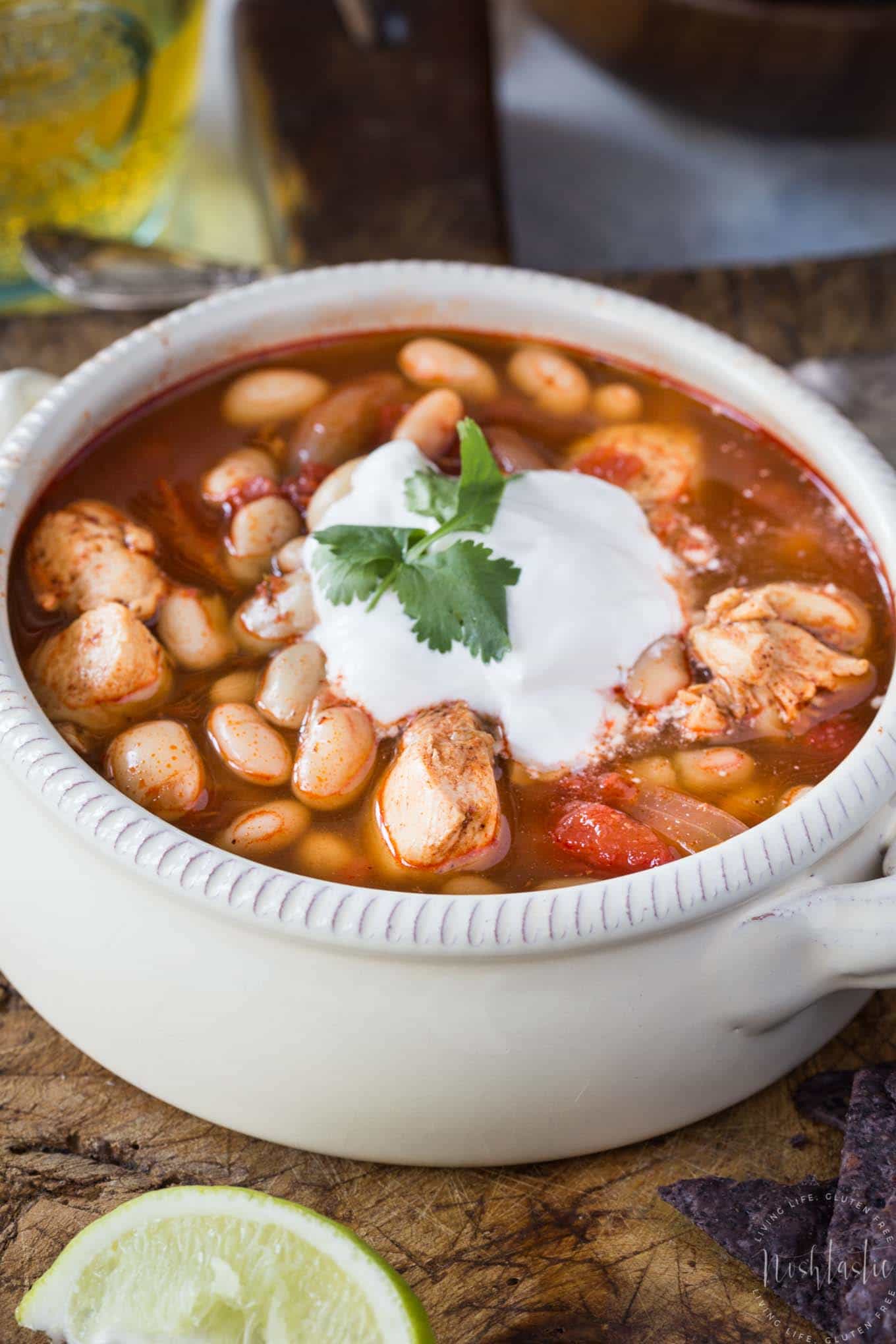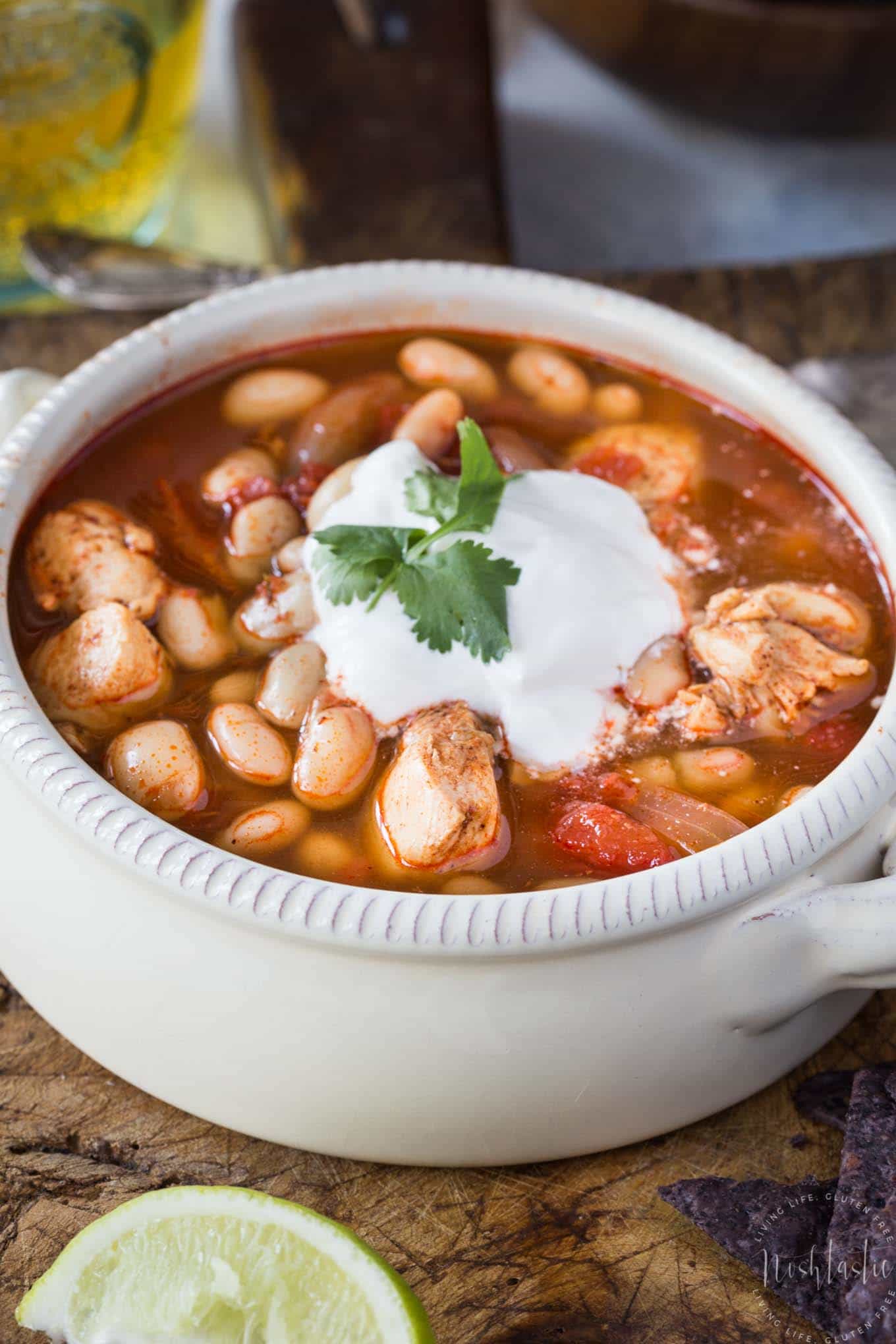 More Recipes You'll Enjoy!
If you're looking for more gluten free dinner recipes then make sure you look at my visual recipe index, here are a few easy gluten free recipe ideas :
This post may contain Amazon affiliate links
30 Minute Gluten Free White Chicken Chili
Really Easy Gluten Free White Chicken Chili - ready in less than 30 minutes!
Prep Time: 15 minutes
Cook Time: 25 minutes
Total Time: 40 minutes
Ingredients
2 tablespoons olive oil
2 medium onions , diced
1 1/2 tablespoons Ancho chili powder , or substitute regular chili powder
3 cloves minced garlic
2 teaspoons ground cumin
2 teaspoons dried oregano
4 cups gluten free chicken broth , 1 litre
3 large skinned chicken breasts , chopped
1 can Great Northern beans , rinsed and drained
1 can Cannellini beans , rinsed and drained
1/2 cup diced seeded plum tomato , about 2
1/3 cup chopped fresh cilantro
2 tablespoons fresh lime juice
1/2 teaspoon salt
1/2 teaspoon freshly ground black pepper
lime wedges to serve
Instructions
Heat the oil in a large pan over medium heat.

Add your chopped onion and cook gently for five minutes, then add ancho chili powder, garlic, cumin, oregano and cook gently for a couple of more minutes.

After 10 - 15 minutes add in the rinsed beans and cook for a further 10 minutes.

Remove the pan from heat and add chopped tomato, chopped cilantro, lime juice, salt, and pepper.

adjust seasoning to taste.

serve with lime wedges, top with sour cream, shredded cheese as desired.
Nutrition Facts
30 Minute Gluten Free White Chicken Chili
Amount Per Serving
Calories 312
* Percent Daily Values are based on a 2000 calorie diet.
Nutritional information on Noshtastic is provided as a courtesy and is approximate only. We cannot guarantee the accuracy of the nutritional information given for any recipe on this site.
Course: Stews and Soups
Cuisine: American