Corn Maque Choux is a classic Cajun and southern side dish that's simple to make and packed with flavor, it's gluten free too.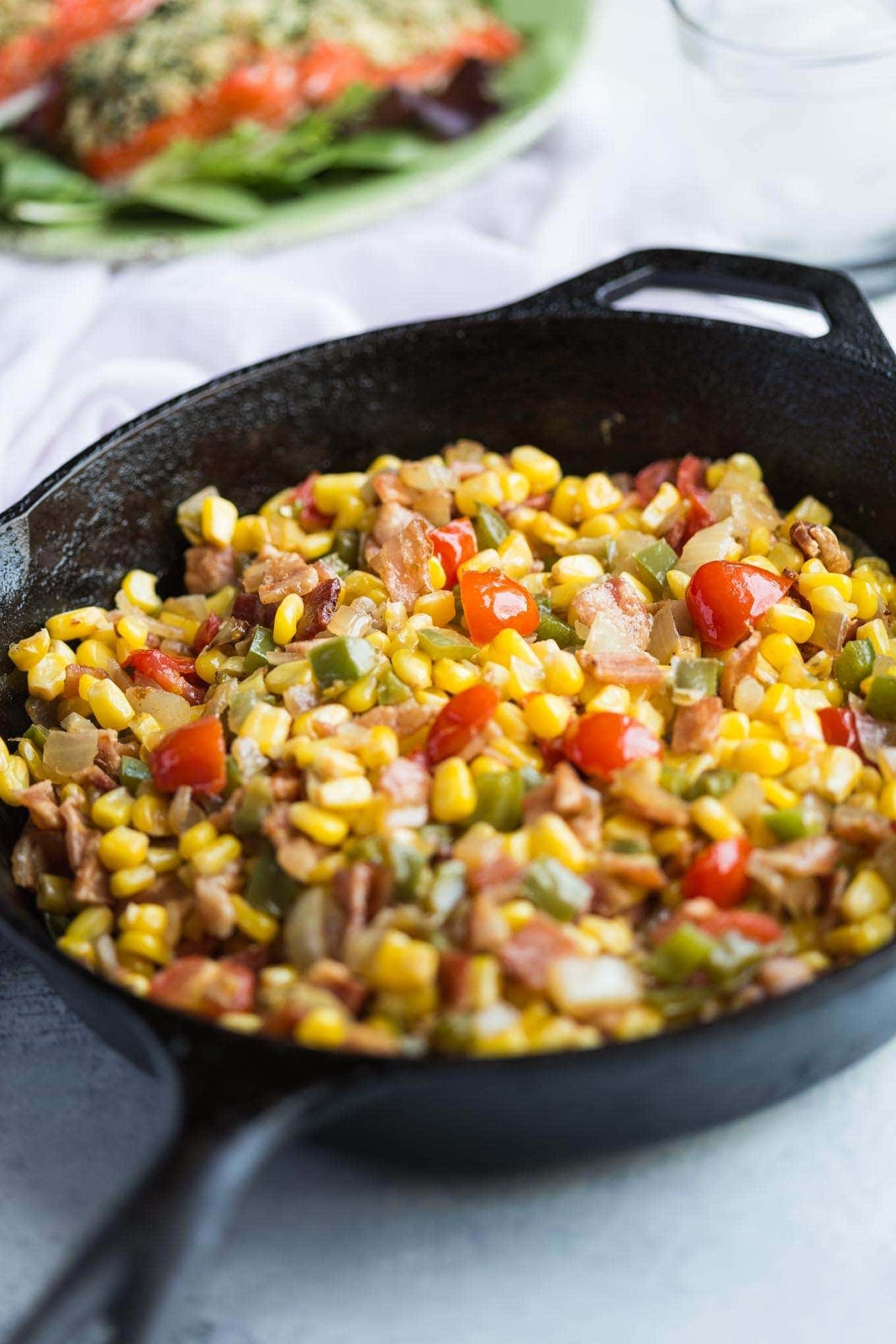 WHAT IS MAQUE CHOUX?
Corn Maque choux is a dish native to Southern Louisiana and as I live just over the border in Mississippi I thought this would be a wonderful side dish to share with y'all!
The classic version contains corn, bell peppers, onion, and sometimes garlic, celery, and tomato. I tasted this for the first time recently in a local restaurant and set about recreating my own version that is even better!
I decided to leave out the celery and added bacon instead, because bacon makes everything better! The salty bacon flavor really enhances the flavors of the vegetables and transforms this into a side dish that really packs a flavor punch.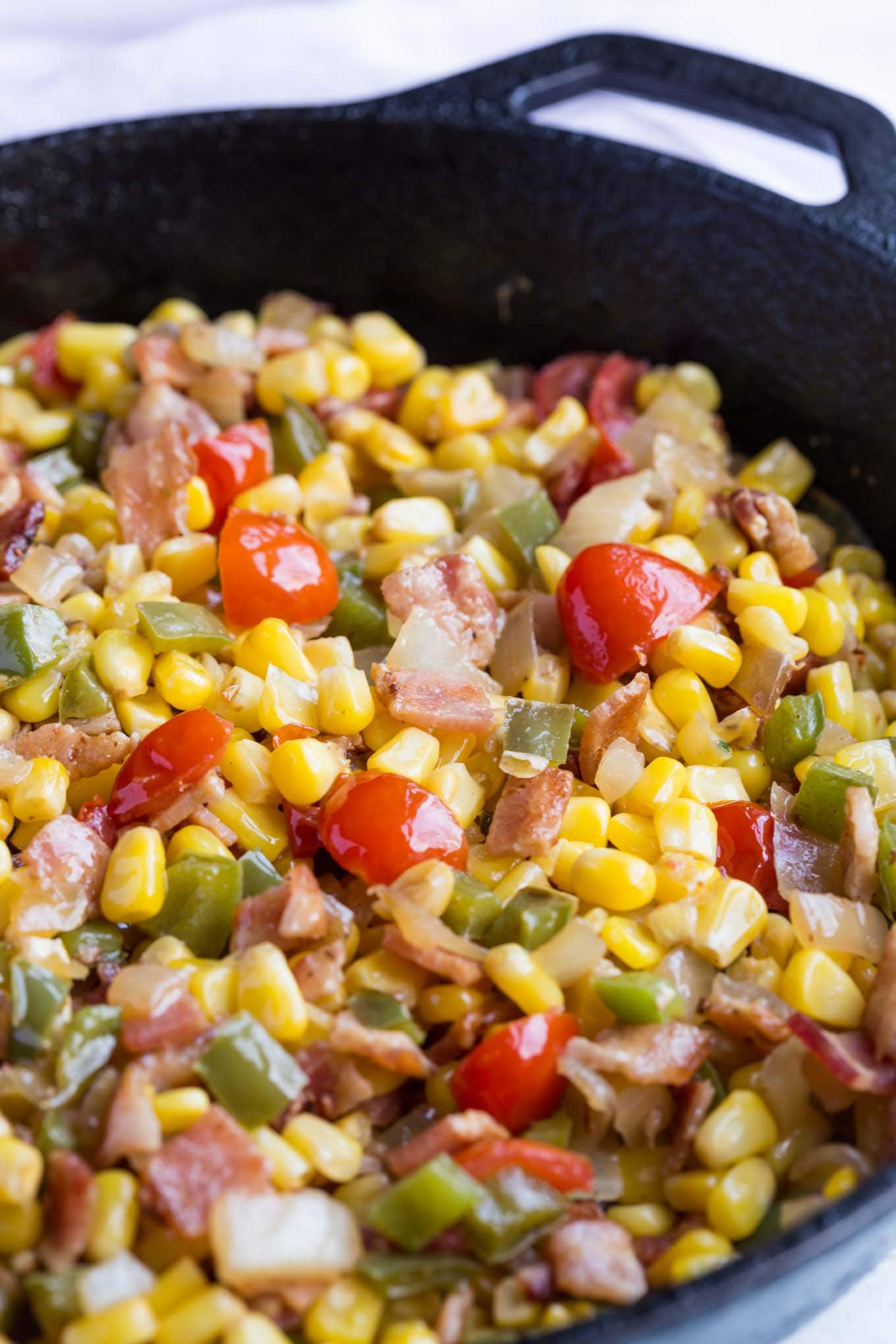 Kitchen Items you'll need to make Corn Maque Choux
A quality non stick skillet is a must for this dish. I used my well seasoned cast iron skillet  for this recipe. I use it for all sort of things, in fact it lives on my stove top because I use it daily.
You should be able to find all the ingredients for this recipe at any grocery store. I used frozen corn because it's January and there's no fresh corn to be had in Mississippi at this time of year, but if it's in season I would choose fresh corn over frozen.
This post contains affiliate links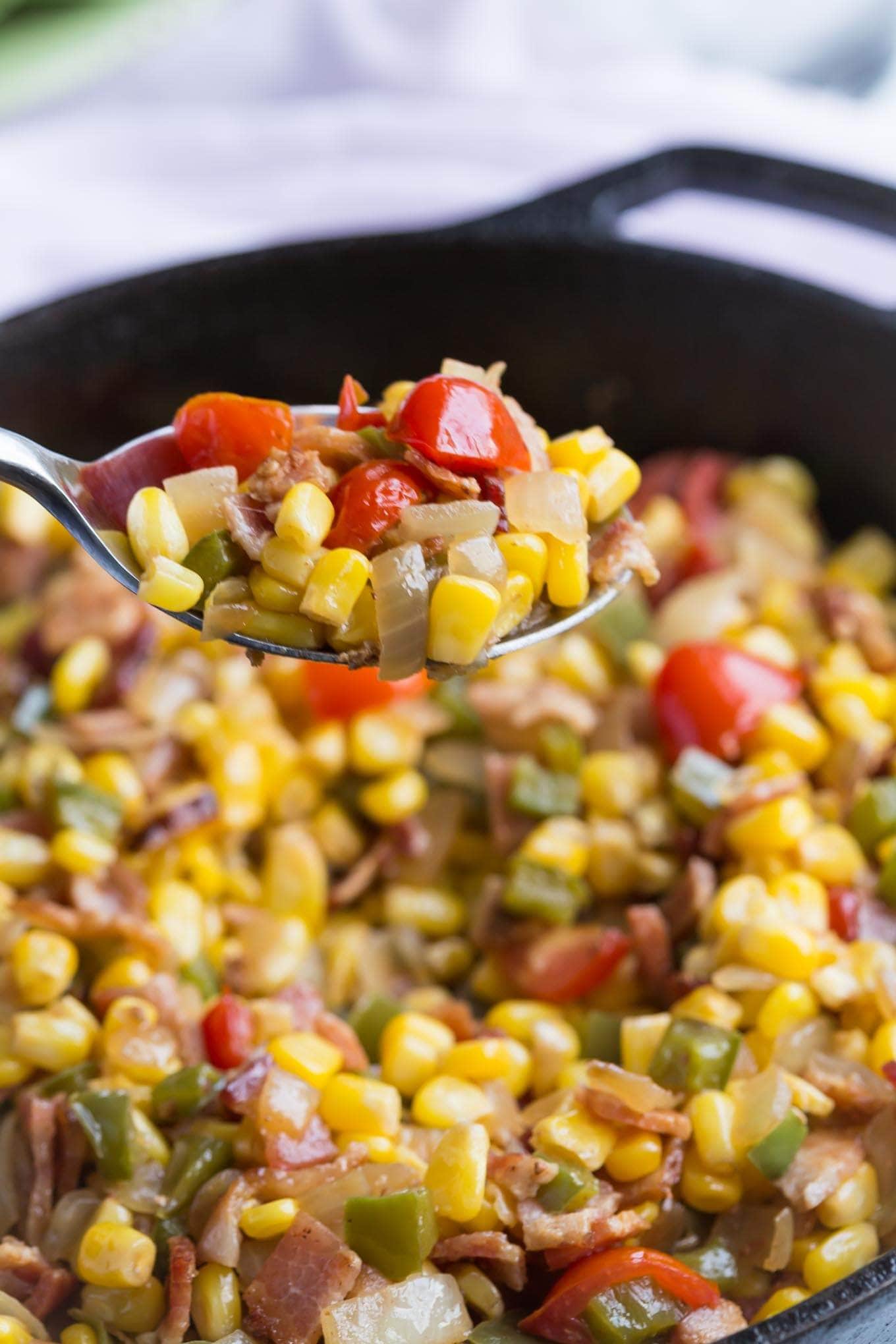 More gluten free recipes you'll enjoy!
Don't leave without checking out some more of my recipes! If you're looking for a main course recipe then I think you'd love my Salisbury Steak recipe that I created to be cooked in an Instant Pot.
You also might enjoy my Chinese Chicken Drumsticks or my Cilantro Lime Chicken, they are very easy to make for a weeknight meal.
How about a beef dinner instead? I have a wonderful recipe for a Company Pot roast that is a firm family favorite and uses natural ingredients, no cream of anything soup in my recipe!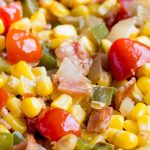 Corn Maque Choux Recipe
Ingredients
Instructions
Hit play to watch the short recipe video first! It's right above the recipe card.

Sauté onions and bell pepper in hot oil in a large skillet over medium heat until soft.

Add corn, tomatoes, and bacon; cook for 10- 15 minutes.

Stir in chopped green onions, salt, and pepper; cook 5 more minutes.
Nutrition Facts
Corn Maque Choux Recipe
Amount Per Serving
Calories 298
* Percent Daily Values are based on a 2000 calorie diet.