Shrimp Taco bowls are one of my favorite lunch recipes of late, they are very quick to throw together and super healthy too!
I recently made blackened shrimp and this would be a great alternative to the seasoning I have on the shrimp recipe below, but it will taste great either way.
I've also made a super simple mango salsa for my shrimp taco bowls, but that's entirely optional and you could change it out for something else if you prefer.
Some other alternatives to the mango salsa that would fit with this could be my Black Bean Corn Avocado Salad, that would work really well in this recipe.
Or, if you prefer to keep the whole thing low carb you could sub the salsa for some grilled asparagus, or grilled zucchini. While not typical taco bowl ingredients, they will keep it low carb.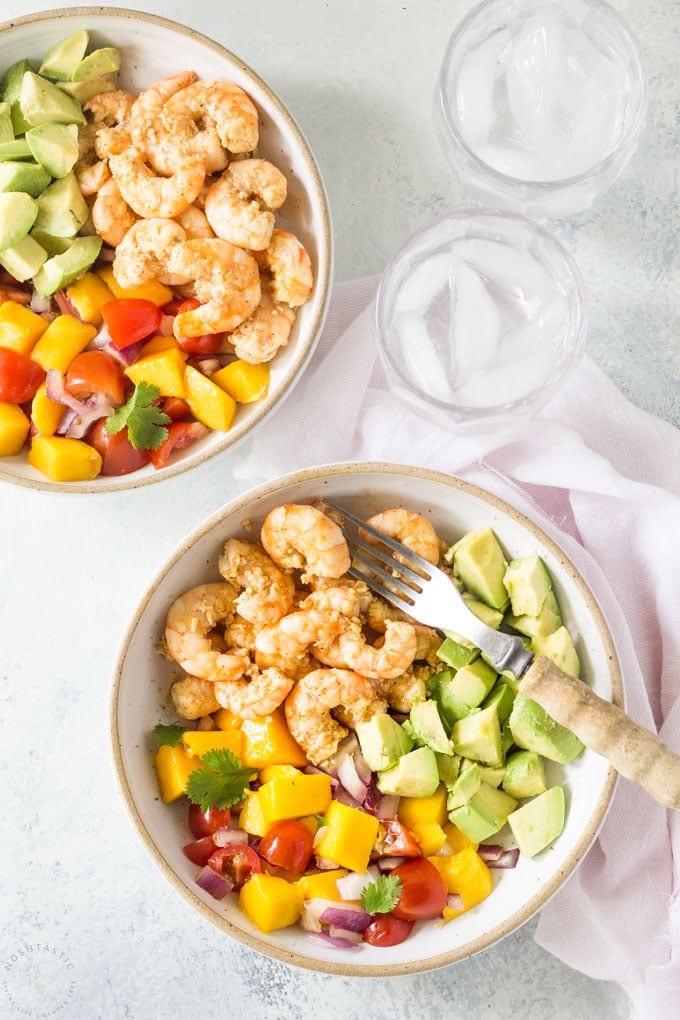 How to Make Shrimp Taco Bowls
STEP 1 – Peel your shrimp and devein it. You don't need to keep the shrimp shells for this recipe but if you'd like to make a simple seafood stock for use in other recipes you could do that by simmering the shells for about 20 minutes in just enough water to cover the shells. The stock will freeze well.
STEP 2 – next we're going to make the shrimp taco bowl marinade by simply mixing together the taco spices – chili powder and cumin, salt, and mixing the olive oil, lemon juice, and garlic.
STEP 3 – Mix the shrimp with the marinade and let it marinate for 20 minutes.
STEP 4 – While the shrimp is marinating you can prepare the mango salsa. Peel and chop the mango, and the same with the cherry tomatoes. finely chop the red onion and mix all three ingredients together.
STEP 5 – Add a little oil to a skillet and add the shrimp and marinade. Cook for just a couple minutes each side until the shrimp turns pink.
STEP 6 – While the shrimp is cooking, peel and chop your avocado if you are adding it to your shrimp taco bowls.
STEP 7 – Assemble your shrimp taco bowls with the mango salsa, avocado, and shrimp. You're ready to eat!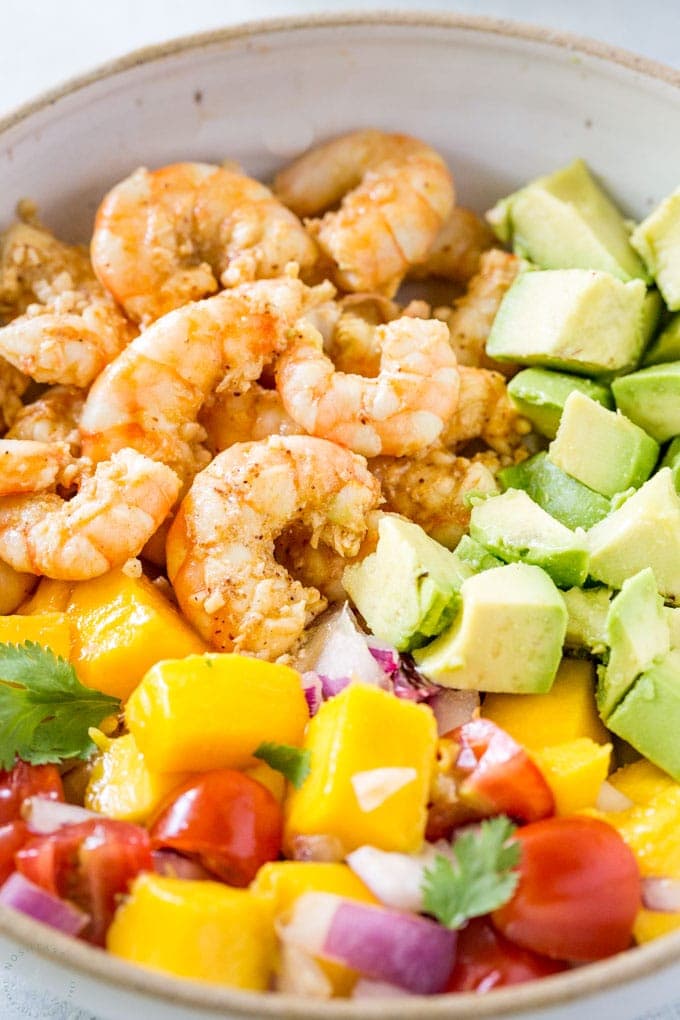 Tips for Picking the best Shrimp
Start by choosing the best quality shrimp you can find in your grocery store.
Where possible I try to avoid farmed shrimp as there are many health issues mostly due to way they are farmed. One reason is that they may contain harmful chemicals, pesticides, and antibiotics.
If you can choose Gulf Shrimp or Atlantic shrimp they are probably the best option, I live in Mississippi and thankfully Gulf Coast Shrimp is relatively easy to find here.
If at all possible I try to avoid shrimp that's frozen with sodium tripolyphosphate, not only is it potentially harmful, but the seafood just tastes nasty and has a distinct chemical aftertaste.
More Shrimp Recipes
Is it Healthy to Eat Shrimp?
Shrimp is a great low calorie source of protein and has virtually no carbohydrates, and it's also a good source of calcium and magnesium.
If you follow my tips above for choosing the best shrimp then it's a great healthy option.
This post contains affiliate links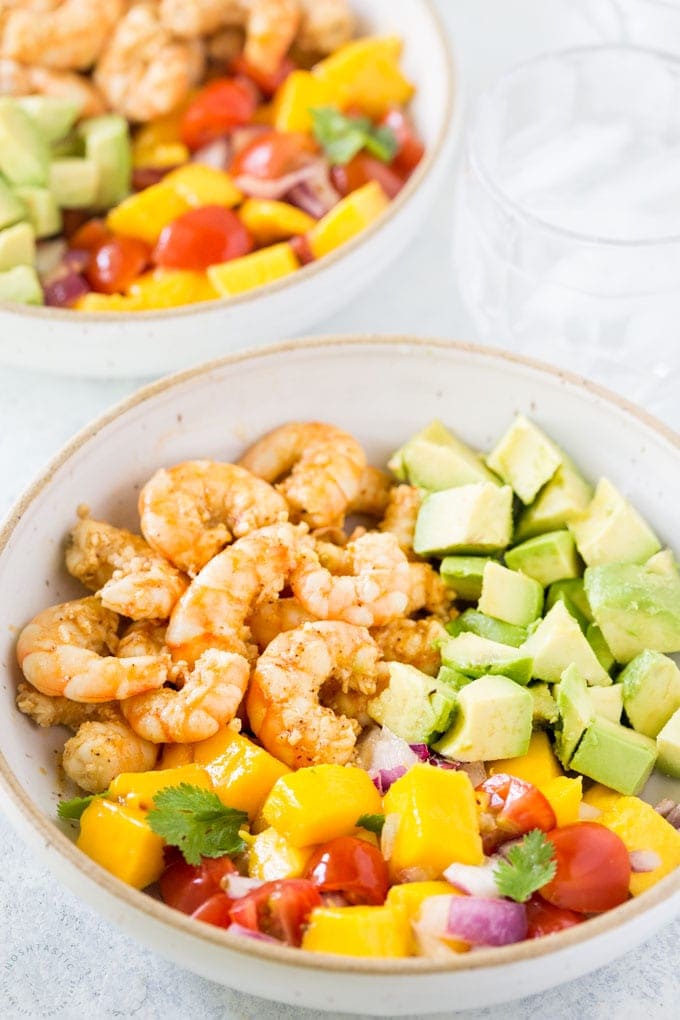 Kitchen Items Used to Make Shrimp Taco Bowls
Cast Iron Skillet – I love my skillet so much that it lives on my stovetop as I use it daily!
Sharp Kitchen Knife – I have one very similar to this.
Chopping board Set – I love this set as it can go in the dishwasher.
Juicer – I have this one and it's great because it catches the seeds and pulp.
Shrimp Taco Bowls
Full of fresh flavors, these Shrimp Taco bowls pack a flavor punch and are bursting full of nutrition! With Low Carb option
Prep Time: 15 minutes
Cook Time: 5 minutes
Total Time: 20 minutes
Total Carbs: 12 g
Net Carbs: 8 g
Protein: 25 g
Servings: 4
Ingredients
SHRIMP TACO BOWL MARINADE
TO SERVE
cilantro leaves
1 avocado , chopped
MANGO SALSA
1/2 mango , chopped
1 cup cherry tomatoes
1/2 cup red onion , chopped
2 tsp lime juice, or to taste
salt, to taste
Instructions
Peel and devein the shrimp.

Add the peeled deveined shrimp to the shrimp taco bowl marinade for 15 minutes.

In the same pan add the shrimp and cook for about two minutes per side or until they turn pink.

serve with chopped avocado, and make a simple mango salsa with the mango, tomatoes, and onion.
Recipe Notes
8G Net Carbs with the recipe as written.
5G Net Carbs If you omit the mango
Nutrition Facts
Shrimp Taco Bowls
Amount Per Serving
Calories 258 Calories from Fat 108
% Daily Value*
Fat 12g18%
Saturated Fat 1g6%
Cholesterol 285mg95%
Sodium 1182mg51%
Potassium 488mg14%
Carbohydrates 12g4%
Fiber 4g17%
Sugar 5g6%
Protein 25g50%
Vitamin A 495IU10%
Vitamin C 31.3mg38%
Calcium 187mg19%
Iron 3.3mg18%
* Percent Daily Values are based on a 2000 calorie diet.
Nutritional information on Noshtastic is provided as a courtesy and is approximate only. We cannot guarantee the accuracy of the nutritional information given for any recipe on this site.
Course: main
Cuisine: American