Pressure Cooker Short Ribs Korean Style! They are fall apart tender, taste delicious and are easily made in your Instant Pot or other electric pressure cooker. This recipe is gluten free.
You can make my Instant pot short Ribs (Korean Style) with beef, or if you prefer you can use country style pork ribs but you'll need to cook them a little longer.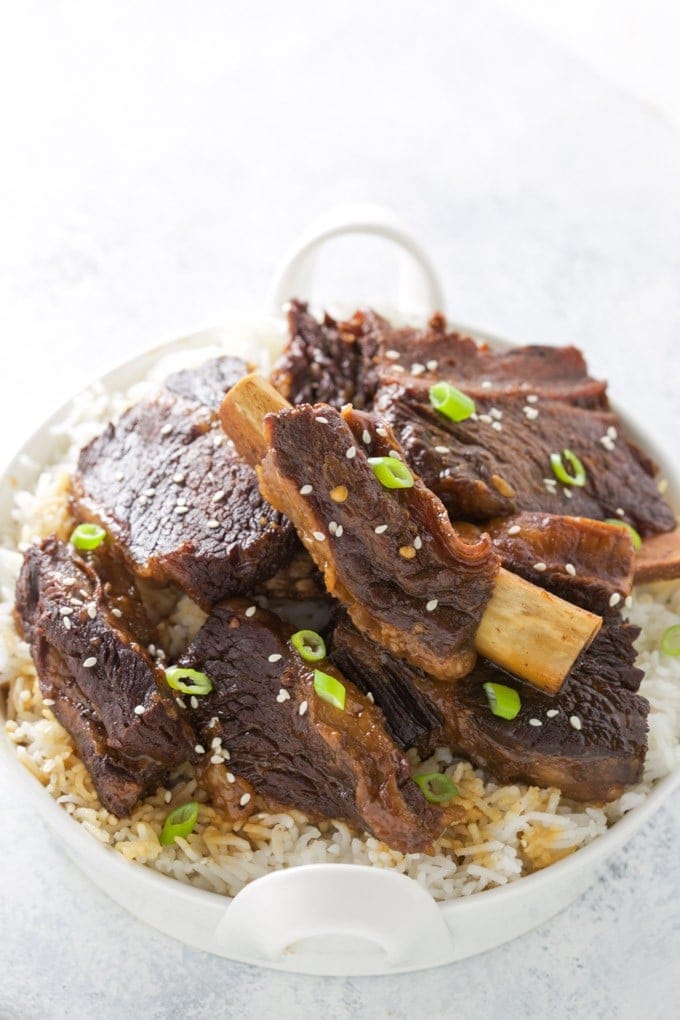 How to make Pressure Cooker Short Ribs Korean Style
I've been making this recipe for many years and I really love it! It's an adaptation of one I found in a nice gluten free slow cooker book called 'Make it Fast, Cook it Slow' and it's become a firm family favorite so I thought I would adapt it to cook in my Instant Pot
This really is an 'all in one' recipe as you simply add all the ingredients to the pot (no need to brown the meat) close the lid and set it to cook! Make sure you follow the time listed for natural pressure release so that you make sure the meat will stay tender.
I like to serve it over rice as it soaks up the juice, and with a side of green beans.
This post contains affiliate links
Kitchen Items you'll need
You'll need an electric pressure cooker for this recipe. The timings here are for an electric pressure cooker, but if you have a stove top pressure cooker you will probably need to adjust the cook time down a little as the pressure is more with a stovetop.
I highly recommend choosing one of the Instant Pot brand of pressure cookers, I have two of them! I have two six quart Instant Pot Duo Pressure cookers.
I also have a helpful post that lists my top ten Instant Pot accessories so make sure you take a look at that too!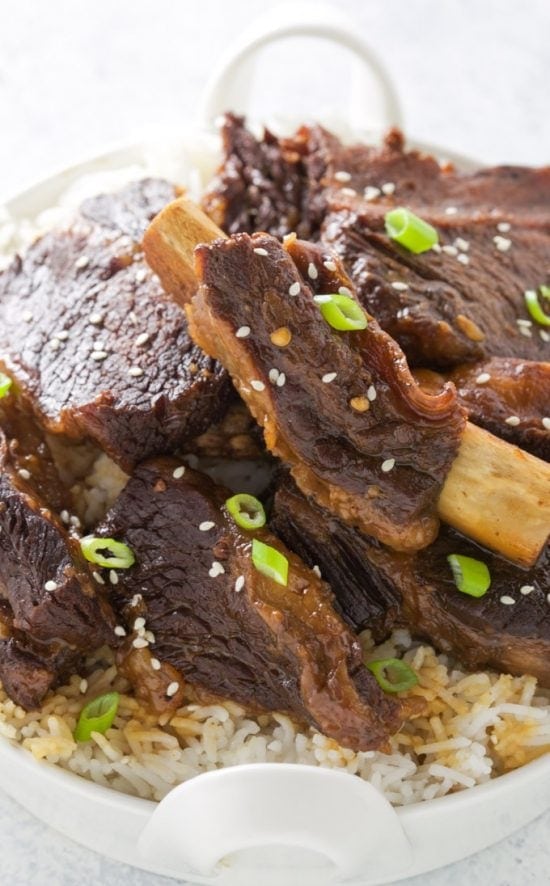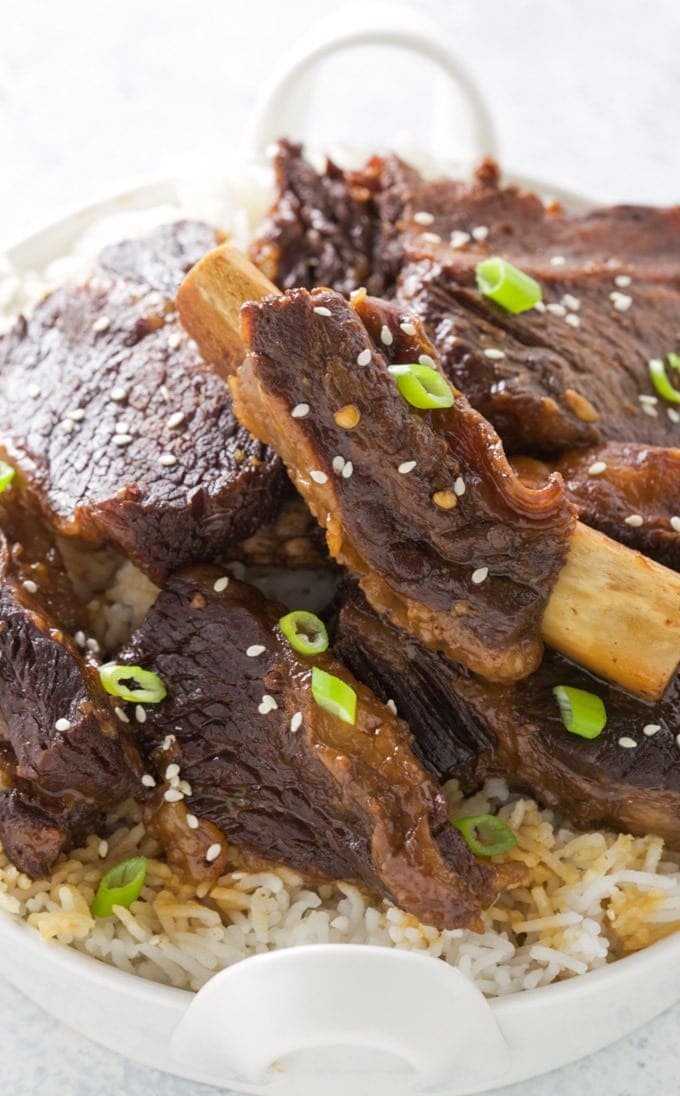 Related Pressure Cooker Dinner Recipes
Pressure Cooker Korean Beef Short Ribs
Tasty, tender Pressure Cooker Short Ribs Korean Style! They are fall apart tender, taste delicious and are easily made in your Instant Pot or other electric pressure cooker. This recipe is gluten free.
Prep Time: 5 minutes
Cook Time: 20 minutes
Total Time: 25 minutes
Total Carbs: 57 g
Protein: 53 g
Servings: 4
Ingredients
3 lbs beef short ribs , or, country style pork ribs
1/2 cup water
1 cup gluten free soy sauce
1 tsp garlic , chopped
1 cup brown sugar
5 whole jalapeno peppers
Instructions
Watch my recipe video before you start! It's right after the directions.

You can use beef short ribs, or country style pork ribs, please read the notes section first for details!

Add the ribs to the soy sauce and marinate, covered, in the fridge for 1hrs. If you marinate them too long they may become overly salty.

In the inner pot of your Electric Pressure cooker, add the water and the ribs with the soy sauce marinade and garlic.

Push in the whole jalapenos (do not cut them up) down the side of the pot into the marinade and alongside the meat.

The whole jalapenos impart just a little heat and give a lovely smoky flavor to the finished dish, if you cut them up it will make the sauce much hotter

Lock the lid, turn the steam release vent to 'sealing' and using the manual setting, adjust it to cook for 20 minutes at High Pressure for small beef short ribs, please read the recipe note regarding cook times for large square beef short ribs, or country style pork ribs.

NOTE: the cook time will vary based on the thickness of the pieces of meat, the ribs I had were about 1-1.5 inches thick so 20 minutes was perfect.

When the cook time time is up, allow the unit to reduce pressure on its own without opening the steam release vent (Natural Release) for at least 12 minutes.

After 12 minutes you can carefully and slowly release the rest of the pressure.

Serve hot over rice.

NOTE: If you are not eating this right away and the meat will be sitting in the sauce, PLEASE remove the cooked jalapenos! They will continue to make the liquid hotter if they are left in there and then your family members may protest 😉
Recipe Notes
BEEF SHORT RIBS - There seem to be a couple of different cuts of short ribs out there. The kind I have in the photos are  smaller and on the bone, but there are also a more chunky square cut of short ribs (about 2 inches thick usually) that will take  little longer to cook, try 40 minutes on manual, with 10 minute natural pressure release and see how that works with that size, you can always cook them longer if they need it. 
COUNTRY STYLE PORK RIBS - These are not ribs at all, they are cut from the blade end of the loin close to the pork shoulder and contain no rib bones. They do work very well with this recipe but may take a little longer to cook than the smaller beef ribs, 25 minutes should be enough, it depends on how they are cut, and a ten minute natural pressure release.
Adapted from a year of slow cooking
Nutrition Facts
Pressure Cooker Korean Beef Short Ribs
Amount Per Serving
Calories 674 Calories from Fat 225
% Daily Value*
Fat 25g38%
Saturated Fat 10g63%
Cholesterol 146mg49%
Sodium 3418mg149%
Potassium 1082mg31%
Carbohydrates 57g19%
Sugar 54g60%
Protein 53g106%
Vitamin C 0.2mg0%
Calcium 77mg8%
Iron 7.1mg39%
* Percent Daily Values are based on a 2000 calorie diet.
Nutritional information on Noshtastic is provided as a courtesy and is approximate only. We cannot guarantee the accuracy of the nutritional information given for any recipe on this site.