A nutrient dense Strawberry Pineapple Smoothie Bowl that's a perfect way to start your day! It's Vegan, Gluten Free, Paleo .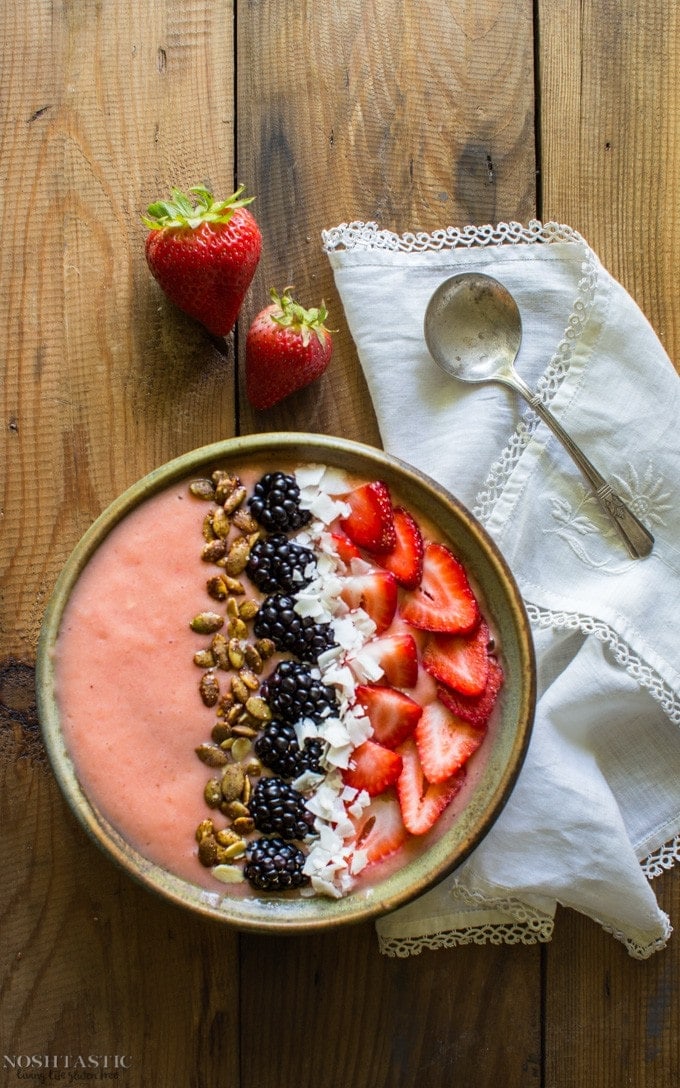 When I was first diagnosed with Celiac I swapped out my regular breakfast (cereal and toast) for the gluten free version of the same, but I quickly got fed up with that. I realised shortly after going gluten free that dairy was also a problem for me so I had to swap regular milk for something else, and to be honest I just don't love any of the non dairy milks very much so cereal was out the window.
There's always' toast though, right?
The truth is it's hard for me to find some of the ready made gluten free breads that I like locally plus eating all those carbs first thing in the morning didn't make me feel great for the rest of the day, my son does love his gluten free toast though!
These days I tend to have a protein heavy breakfast with a combination of eggs, sausage, or bacon, and sometimes mushrooms, onions or tomatoes.
I've been eating that way for several years and love it, but just like everyone else I need a change sometimes and wanted to try something a little less heavy for breakfast this week so I've incorporated smoothies into my morning routine.
Of course you can drink them, but for this recipe I made a Strawberry Pineapple Smoothie bowl so that I could add a bunch of toppings and eat/drink it more easily.  My eleven year old drank it from a glass complete with toppings so it can be done without a bowl!
If you're looking for more breakfast ideas then you'll love my Gluten Free Peach Crumble, it's really tasty, or if you prefer to drink your breakfast then this Chocolate Peanut Butter Protein Shake from Dishing Delish is a great way to start the day, check out Allergylicious who has a lovely collection of Summer Smoothies and My Gluten Free Miami has a great recipe for a Banana Split Smoothie.
Strawberry Pineapple Smoothie Bowl Ingredients
1 cup unsweetened soy milk, or other milk
1/2 cup pineapple chunks
1/2 cup mango pieces
1/2 cup strawberries
1 tbsp honey or other sweetener (optional)
OPTIONAL TOPPINGS
additional whole fruit
Toasted Gluten Free granola
Full Recipe Details posted below.
This post may contain Amazon affiliate links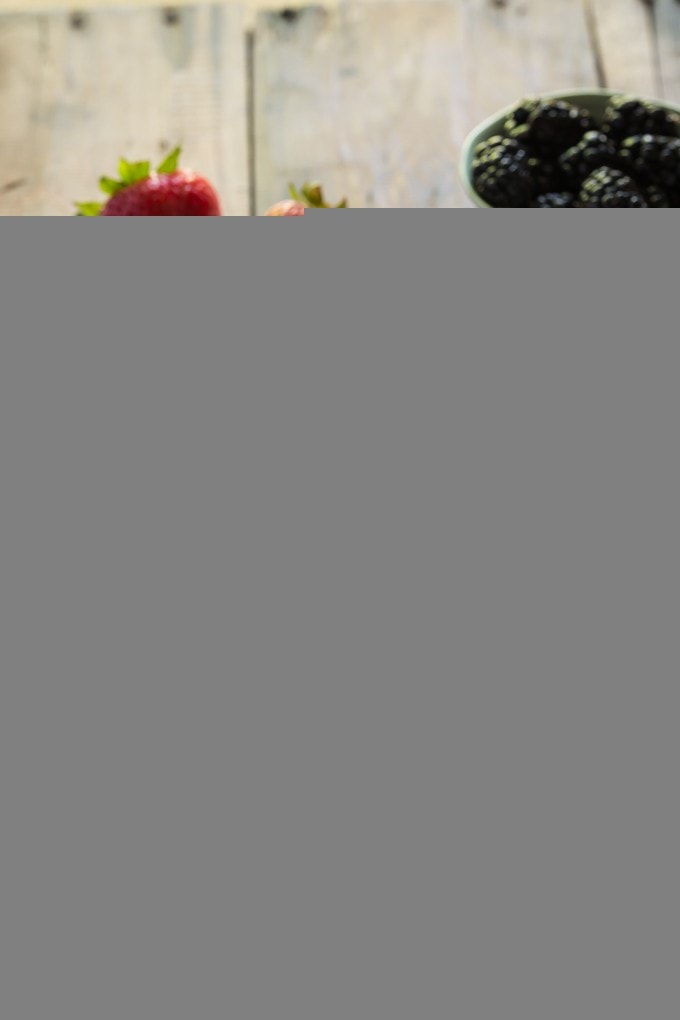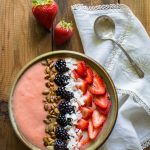 Strawberry Pineapple Smoothie Bowl
A nutrient dense Strawberry Pineapple Smoothie Bowl that's a perfect way to start your day!
Ingredients
1

cup

unsweetened soy milk, or other milk

240 mls

1/2

cup

pineapple chunks

120mls

1/2

cup

mango pieces

8

strawberries

1

tbsp

honey or other sweetener, optional

15 mls

OPTIONAL TOPPINGS

Unsweetened Coconut Flakes

additional whole fruit

Toasted granola
Instructions
This amount will make one large bowl, or two smaller bowls.

add all the fruit and milk to your blender and blend until smooth. If your blender is a cheap one like mine then it will probably not work very well with frozen fruit so you will need to let it defrost a bit before you add it in.

Taste and see if you need to add a little honey or other sweetener, I find that fresh fruit is sweet enough but sometime frozen fruit is a little bland.

Add toppings such as dried coconut and granola.
Recipe Notes
NUTRITION - is approximate and does not include optional toppings.
Nutrition Facts
Strawberry Pineapple Smoothie Bowl
Amount Per Serving
Calories 206
Calories from Fat 18
% Daily Value*
Total Fat 2g 3%
Sodium 62mg 3%
Potassium 468mg 13%
Total Carbohydrates 44g 15%
Protein 4g 8%
* Percent Daily Values are based on a 2000 calorie diet.