I love my Instant Pot pressure cooker, it's currently my most used kitchen accessory and has made meal planning and prep a breeze! read on to find out what my favorite Instant Pot accessories are.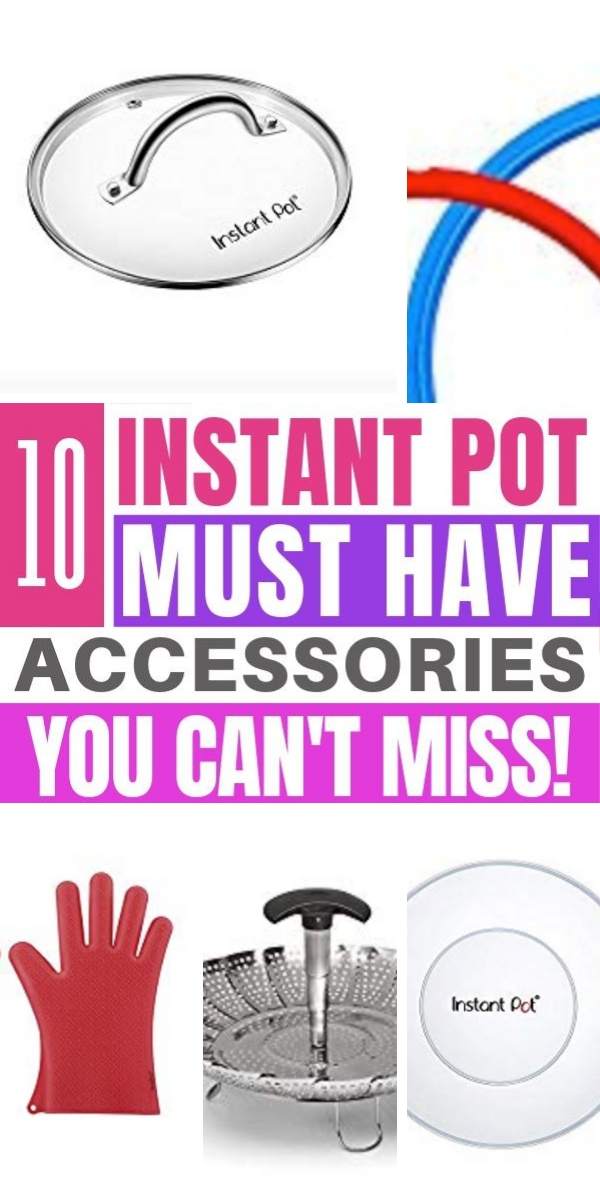 Best Instant Pot Accessories
This post contains affiliate links
While it comes with a few useful accessories such as a small trivet and a simple serving spoon, you'll quickly find that there are several other 'must have' Instant Pot accessories that will make your pressure cooking life much easier.
The Instant pot glass lid should be on your 'must buy' list if you plan to use it as a slow cooker. I don't often use the slow cooker setting but this is also great to use in the keep warm mode. I also use it to cover the stainless steel pot when it's in the fridge, or if I'm sauteeing something and need to cover the pot. BUY IT NOW

I think having a second inner pot is a huge benefit. I often cook a couple of meals back to back and this means I can do it quickly and store the first meal easily in the fridge without having to transfer it to another storage container. It's a much cheaper alternative to buying a second Instant Pot! BUY IT NOW

You guys, this is such a nifty gadget if you love to batch cook a bunch of eggs in your Instant Pot, it has two stackable racks! Both racks fit neatly in the 8QT Instant Pot, you can only use one rack in the 6qt. BUY IT NOW
This is another great option for covering the inner pot in order to keep leftovers in your fridge, I love mine! BUY IT NOW
I love these gloves! I actually use them all the time, not just for my Instant Pot. They make lifting the inner pot and any trivets you have in there a breeze, and they are very reasonably priced. BUY IT NOW
If you've had your Instant Pot for any length of time then you'll know that sometimes the sealing rings can take on the smell of the food and it can be challenging to remove it. I have at least three sealing rings, one is for strong smelling food, another savory, and the other for desserts. I have a post that tells you how to clean an Instant Pot sealing ring and get rid of the smell. BUY IT NOW
I love this steaming basket, particularly for cooking vegetables. It's super easy to use and of course you can use it on the stovetop too with your regular pans. BUY IT NOW
If you want to try the 'pot in pot' method of cooking with your Instant Pot then you'll need a suitable container to do that with. The smallest of these bowls will fit in the 6qt Instant Pot. BUY IT NOW
Did you know you can make Cheesecake in your Instant Pot? It's true! You'll need a cheesecake pan that fits properly inside your pot, I have this one and it fits neatly inside my 6Qt Instant Pot. BUY IT NOW
These are very handy to have if you want to make baked custard in your Instant Pot, this is a nice little set. BUY IT NOW
I think a tall trivet is a must have! If you use the 'pot in pot' then a tall trivet makes it really easy. I have a set of three trivets but if they are not available you could take a look at this one. BUY IT NOW