My Paleo Roasted Cauliflower is so much better than cauliflower that's simply steamed or boiled. I think that probably stems from my school days when they served cauliflower that was always overcooked, this is not like that!
Fortunately we can totally avoid any whiff of school dinner cauliflower by roasting it and adding a few ingredients that ramp up the flavor and make it a great side dish option for cauliflower skeptics everywhere!

How to make Paleo Roasted Cauliflower with Lemon,Thyme, and Garlic
The first time I made this recipe I used half the lemon and garlic seasoning I now have in the recipe. While it was still really lovely I found myself wishing there was a bit more flavor to it as some pieces of the cauliflower seemed to have missed out on the flavoring altogether.
I think it's better to put the cauliflower in the hot oven as soon as you have tossed it in the oil and seasonings so that it doesn't soak up too much of the oil.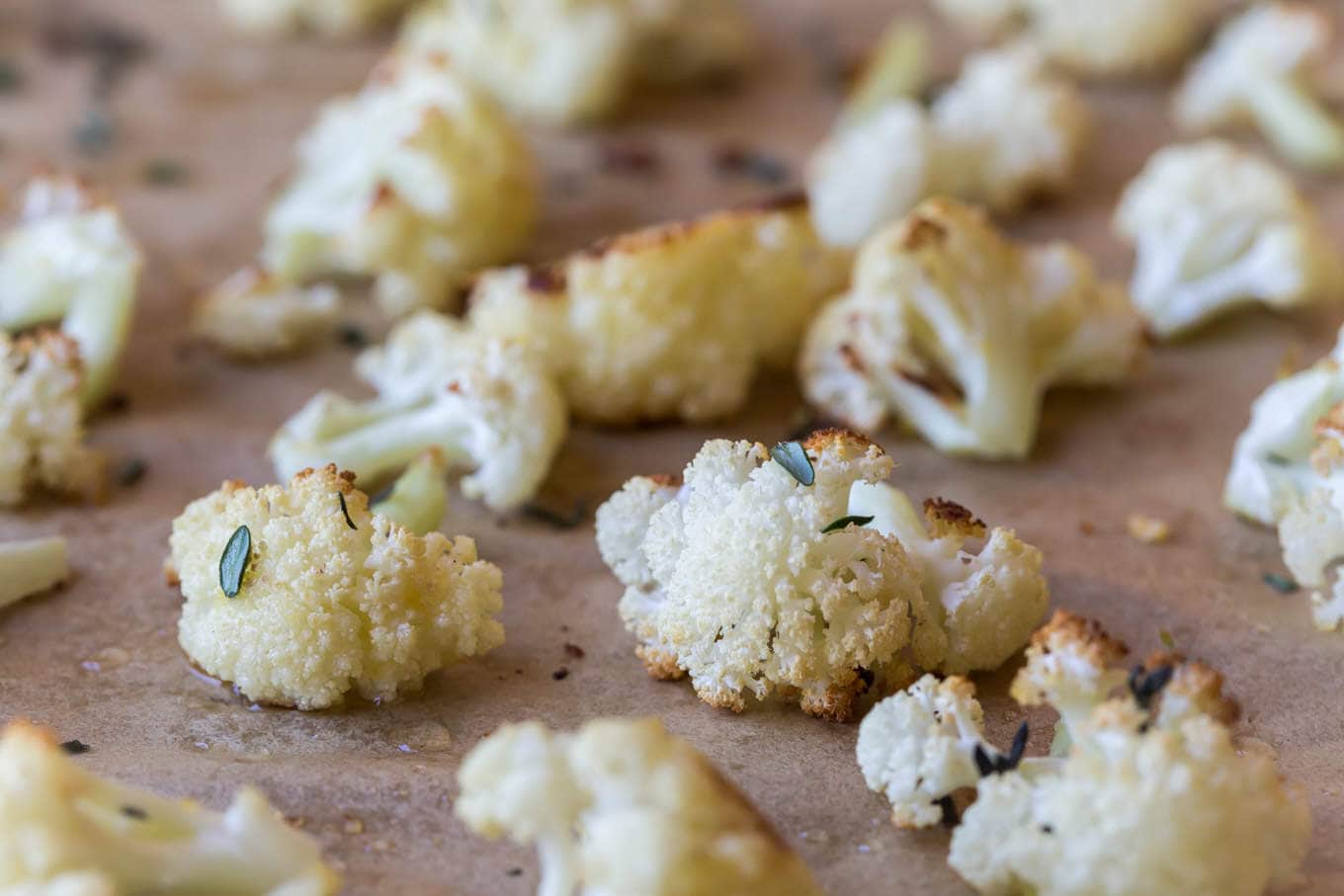 I also like to line my sheet pans with unbleached parchment paper instead of foil as I've found that food sometimes sticks to foil, unless you use a ton of oil.
It's best served hot from the oven as it's much more crispy that way. I have reheated it in the microwave but the texture changes a little and you lose some of the crunch.
This post contains affiliate links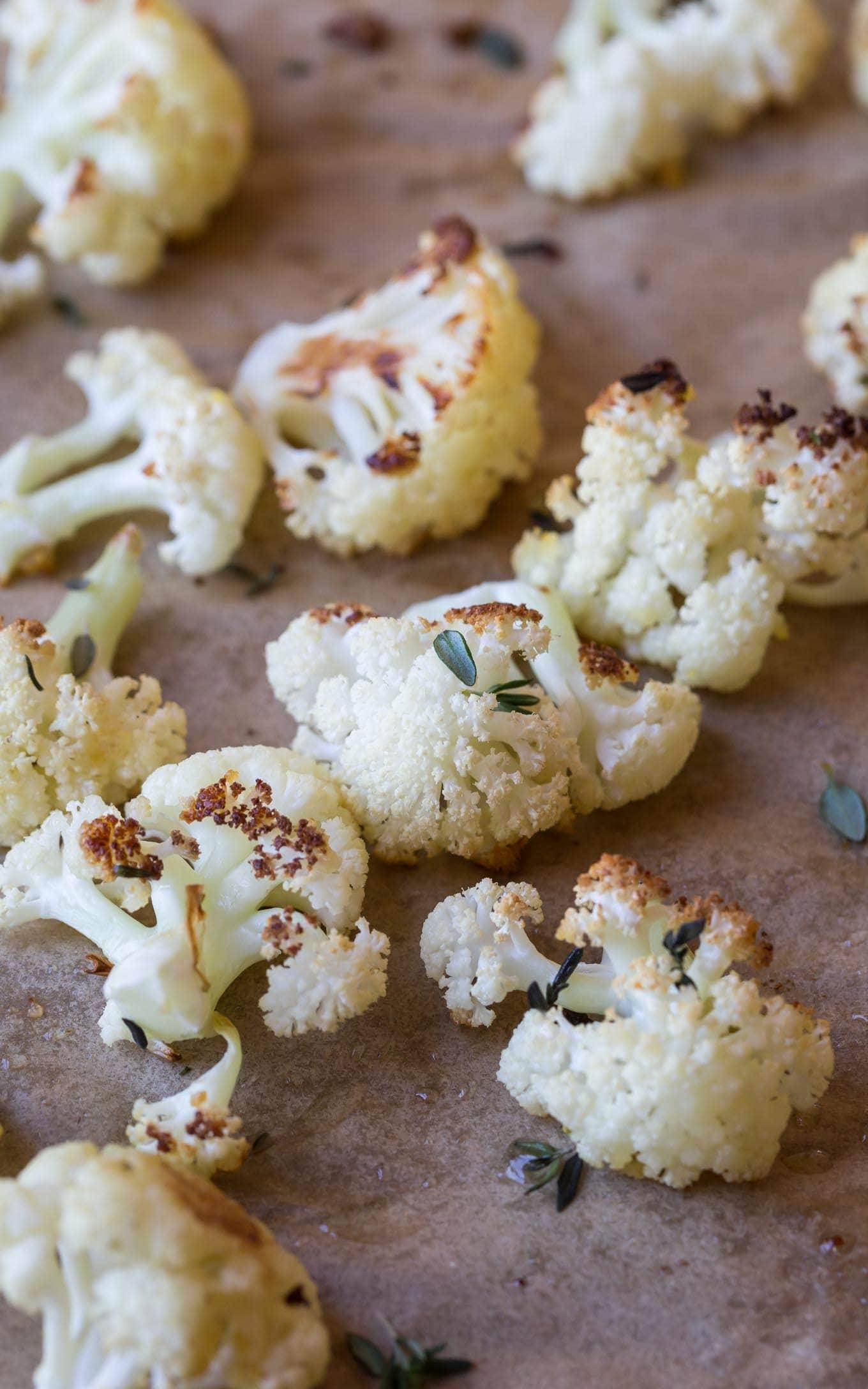 Kitchen Items you'll need for Paleo Roasted Cauliflower
You'll need a large half sheet pan for this recipe, plus a cutting board, sharp knife and a large bowl to toss the vegetables in with the oil.
More Gluten Free Recipes You'll love!
I have many Gluten Free, Paleo and Whole30 recipes you'll love, I'll list a few of the most popular here and you can see the rest in my recipe index!
Paleo Roasted Cauliflower with Lemon, Thyme, and Garlic
Paleo Roasted Cauliflower with Lemon,Thyme and Garlic, make it easily in the oven! This recipe is also Whole30, vegan and low carb.
Prep Time: 10 minutes
Cook Time: 30 minutes
Total Time: 40 minutes
Total Carbs: 1 g
Servings: 4
Ingredients
1 whole cauliflower , cut into florets
2 lemons, zest only
2 tbsp oil
1/2 tsp salt
2 small garlic cloves , crushed
1 tbsp fresh thyme leaves
Instructions
Please watch my short video for the recipe! it's right below the directions.

Cut the cauliflower into even sized florets and put them in a large bowl.

Mix together the lemon zest, salt, and crushed garlic in the oil and toss them with the cauliflower florets.

Spread out the cauliflower onto a the sheet pan and sprinkle with the thyme leaves then bake until browned round the edges which till take about 20-30 minutes.
Nutrition Facts
Paleo Roasted Cauliflower with Lemon, Thyme, and Garlic
Amount Per Serving
Calories 65 Calories from Fat 63
% Daily Value*
Fat 7g11%
Sodium 291mg13%
Potassium 10mg0%
Carbohydrates 1g0%
Vitamin A 85IU2%
Vitamin C 6.7mg8%
Calcium 11mg1%
Iron 0.3mg2%
* Percent Daily Values are based on a 2000 calorie diet.
Nutritional information on Noshtastic is provided as a courtesy and is approximate only. We cannot guarantee the accuracy of the nutritional information given for any recipe on this site.
Course: Side Dish
Cuisine: American