Pressure cooker Irish stew is an adaptation of a classic recipe with lamb, potatoes, carrots and herbs. It's gluten free, paleo and whole30.
My Instant Pot Irish Stew recipe is an authentic version that I grew up making and now I'm passing it on to you, I hope you'll enjoy it as much as we do!
What is Irish Stew?
Traditional Irish Stew is a meat and vegetable hot pot type of dish that typically contains lamb and potatoes. As with all regional cuisine there is no official recipe, but all the Irish Stew recipes I've ever tried back home in the UK were made with lamb or mutton, not beef.
There are other 'Irish Stew' recipes out there that are made with beef and beer, usually Guinness and they are very nice but quite different to this version. My pressure cooker recipe is older and predates the one with the beer, and of course it's gluten free and paleo, so no beer in sight!
This post contains affiliate links
How to make pressure cooker Irish Stew
This is easy to make and has so much flavor from the lamb and fresh ingredients. I like to saute the lamb pieces in my Instant pot first, I usually cut the chops into large chunks instead of leaving them whole.
Then I add the water to deglaze the pan, throw in the thyme, and layer the lamb, potatoes and carrots. I've kept the potatoes in large pieces (I just halved them and kept the peel on) so that they don't turn to mush in the pressure cooker, and the same for the carrots.
I don't use stock or broth, just water. When the lamb cooks it makes it's own stock which has a wonderful flavor so don't be tempted to add any store bought stock.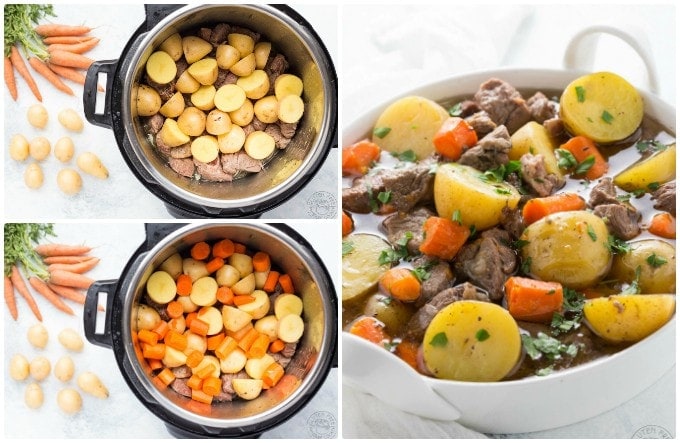 Join our Gluten Free Pressure Cooker Group!
Have you joined our Gluten Free Pressure Cooker Facebook group yet? If you're looking for a place to share and find more gluten free pressure cooker recipes, learn how to use your new pressure cooker, or simply ask for advice, tips and recipe ideas then don't miss out on all the fun!
If you've already joined, be sure to add your friends who love pressure cookers!
More Pressure Cooker Recipes you'll Love!
My Pressure Cooker Beef Bourguignon is an updated version of a classic that's perfect for your Instant Pot or electric pressure cooker.
Have you ever tried my Pressure Cooker Italian Wedding Soup? It's really very easy to make and tastes great too.
One of my personal favorites is my Pressure Cooker Corn Chowder with Potato and Bacon, it's a creamy soup that can be made dairy free too.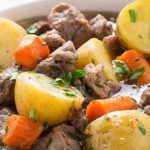 Pressure Cooker Irish Stew
Pressure cooker Irish stew is an adaptation of a classic recipe with lamb, potatoes, carrots and herbs. It's gluten free, paleo and whole30, perfect for your Instant Pot or other electric pressure cooker.
Ingredients
4

lamb shoulder chops

whole, halved or cut into cubes., 2.5 - 3.5lbs

1-2

tbsp

olive oil

4

large onions

peeled and sliced into thin rounds

8

large carrots

peeled and cut into large chunks

6 - 8

waxy baby potatoes

cut in half

Salt and pepper

2

cup

water

500ml

1

sprig thyme

2

tbsp

arrowroot or cornstarch

to thicken, if desired.

1

tbsp

freshly chopped parsley, or chives
Instructions
Cut the chops into cubes, or in half,whatever your preference is. If the bone is in the way skip this step and leave them whole.

If you cut out the bones, don't throw them away but add them into the water in the pot, it will enhance the stock.

Turn on the saute function on your Instant Pot or other electric pressure cooker and adjust to the medium heat option. don't wait for the display to say 'hot', add oil right away.


Now add the lamb chop pieces and saute a little to brown on each side. Do it in batches and when they are done remove them to a plate.

Cut the carrots into big chunks or you may find they are too soft if you make them very small, same with the potatoes.

Add the water to the pot and deglaze the bottom of the pot, and then turn off the saute function. Add the thyme.

layer the meat, then vegetables and add a little salt and pepper with each layer.

Lock the lid, turn the steam release vent to 'sealing' and using the manual setting, adjust it to cook for 11 minutes at High Pressure.

When the cook time time is up, allow the unit to reduce pressure on its own without opening the steam release vent (Natural Pressure Release) for at least 12 minutes, then you can gently release the rest of the pressure by opening the vent.


If you want to thicken the stock then mix 1tbsp cornstarch, or arrowroot or tapioca starch for paleo, with a little water and add to the hot stock in the pot. If you need to thicken it up more then use the saute function to heat the stock up again.

serve hot, sprinkle with chopped fresh parsley.
Nutrition Facts
Pressure Cooker Irish Stew
Amount Per Serving
Calories 579
Calories from Fat 189
% Daily Value*
Total Fat 21g 32%
Sodium 89mg 4%
Potassium 528mg 15%
Total Carbohydrates 21g 7%
Protein 71g 142%
* Percent Daily Values are based on a 2000 calorie diet.
More Gluten Free Pressure Cooker Recipes you'll Love!
Looking for more easy weeknight dinners you can make in your Instant Pot or Electric Pressure cooker?
Then be sure to check out my other gluten free recipes for Chicken Puttanesca, Pulled Pork and Chicken Paprikash.