Did you know that you can cook a whole sugar pumpkin in your Instant Pot and you don't even need to peel or chop it?! It's true!
With my easy method you'll have cooked pumpkin in only 15 minutes and it's perfect for making homemade pumpkin puree.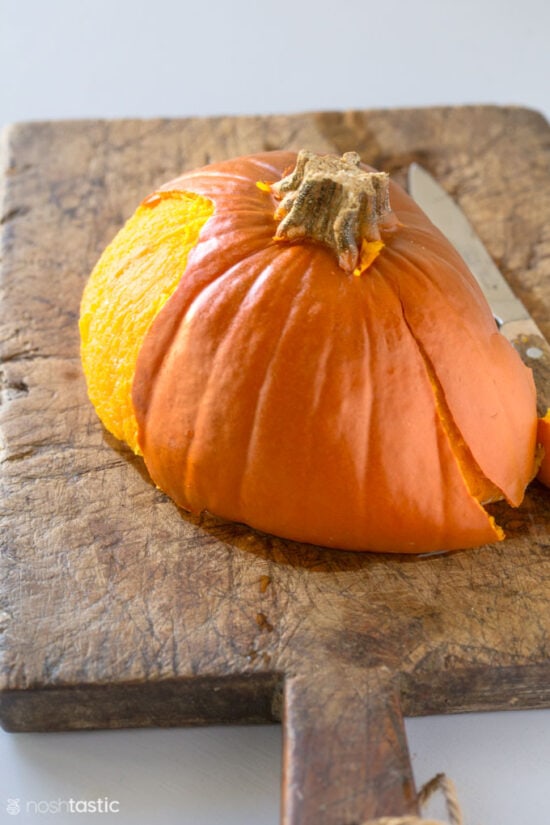 This post contains affiliate links
How to Cook a Whole Pumpkin in your Instant Pot
Place the trivet with the handles that comes with your Instant Pot ) Inside the inner pot of your pressure cooker. Any other trivet will work as long as it doesn't have a handle in the middle!
Add one cup of water and then add your sugar pumpkin, mine was about a 2.6lb and I cooked it at high pressure for 15 minutes, if it's much smaller you could shave a couple minutes off the cook time.
Once the cook time is done you can carefully open the steam valve and then the lid once all the pressure has dropped.
You can check if it's is cooked by inserting a knife through the skin and into the flesh of the pumpkin, it should slide in really easily and the flesh will be very soft if it's cooked all the way through, and the skin should be partly coming off the pumpkin already.
If it's not fully cooked simply pop the lid back on and cook for a about 3-5 more minutes. You'll just need to take your best guess as to how much more time it might need.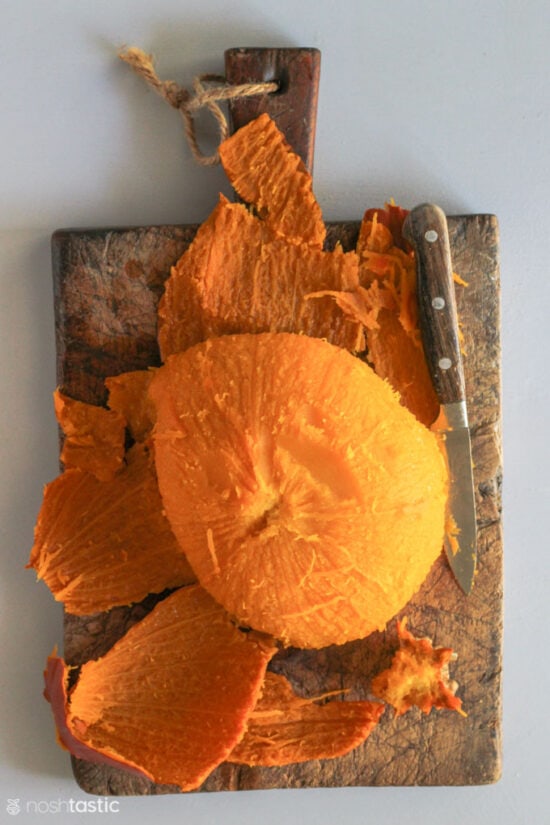 I find it easier to wait until the pumpkin has cooled enough to handle without burning my fingers before I set about peeling and chopping it, it's much easier to deal with when it's cool!
The pumpkin skin should be partly peeling and sliding off already so watch it doesn't slide off the trivet and onto the floor when you lift it out.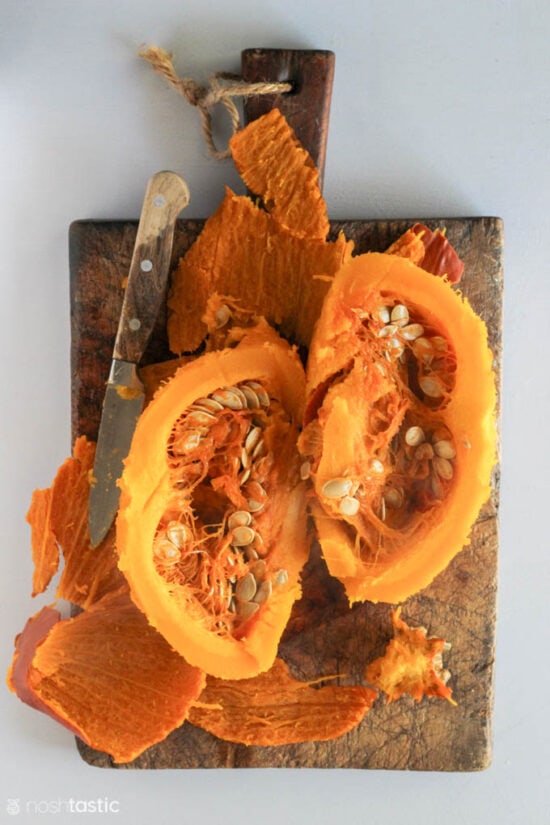 Next, put it onto a chopping board and pull off the skin and then cut it in half.
Scoop out the seeds and fibers and wash and save to bake them later in the oven, they make a great snack!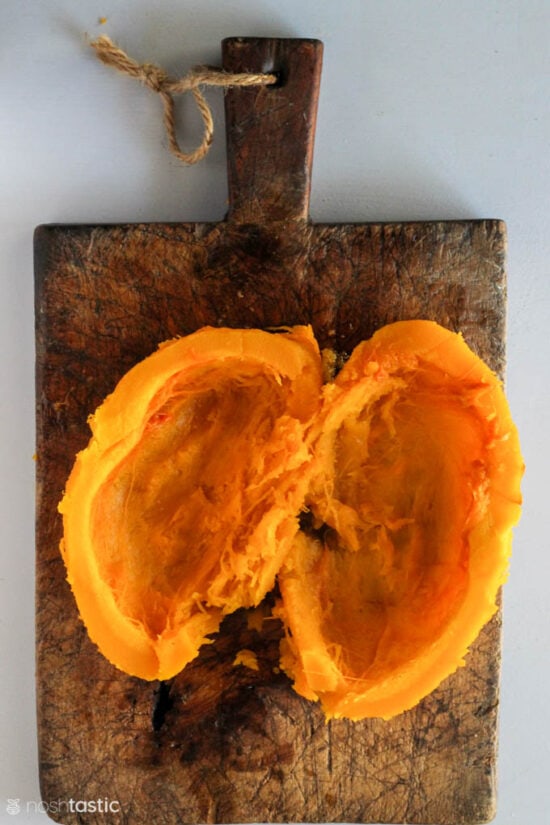 You can make soup with the puree, Paleo Pumpkin Pie, or simply mash it with butter, salt and pepper and serve it with your dinner.
How to cook a whole pumpkin in an Instant Pot
It's very easy to cook whole pumpkin in your Instant Pot, and the skin slips right off!
Prep Time: 5 minutes
Cook Time: 15 minutes
Total Time: 15 minutes
Total Carbs: 19 g
Protein: 2 g
Servings: 4
Ingredients
2.6 lb Sugar Pumpkin
1 cup water
Instructions
Put the trivet (the one that comes with your Instant Pot i)nside the inner pot and pour over 1 cup of water. 

Place the whole unpeeled sugar pumpkin on the trivet.

Lock the lid, turn the steam release vent to 'sealing' and using the manual setting, adjust it to cook for 15 minutes at High Pressure for a 2.5lb pumpkin about 12-13 minutes for smaller pumpkins, add a little more time more for bigger pumpkins.

You may need to remove the stem to make it fit in your pot, but you can leave the stem on if it fits.

When the cook time is up open the vent right away. (quick release)

To test if the pumpkin is cooked, you should be able to very easily slide a small sharp knife through the skin and into the pumpkin. If it's not cooked, simply cook it for another 5-6 minutes at high pressure.

When the pumpkin is fully cooked some of the skin should be slipping off. Once it's cooled enough to handle you can remove the rest of the skin, seeds, and fiber
Recipe Notes
Choosing Pumpkins – I used a sugar pumpkin which is the standard small pumpkin you'll find in US grocery stores in the Fall. Not all pumpkins are great for eating so be sure to check the variety first. The only other thing to be mindful of is to make sure that it will fit in your pressure cooker! I used a small 2.6lb pumpkin and there was plenty room in my 6qt Instant Pot.
Pumpkin Seeds – Once the pumpkin has cooked and you chop it up you can save the seeds if you want to dry them out and bake them in the oven later on, they make a great healthy snack!
Nutrition Facts
How to cook a whole pumpkin in an Instant Pot
Amount Per Serving
Calories 76
% Daily Value*
Sodium 2mg0%
Potassium 1002mg29%
Carbohydrates 19g6%
Fiber 1g4%
Sugar 8g9%
Protein 2g4%
Vitamin A 25100IU502%
Vitamin C 26.6mg32%
Calcium 62mg6%
Iron 2.4mg13%
* Percent Daily Values are based on a 2000 calorie diet.
Nutritional information on Noshtastic is provided as a courtesy and is approximate only. We cannot guarantee the accuracy of the nutritional information given for any recipe on this site.
Course: Side Dish
Cuisine: American