Pressure Cooker Pumpkin Pie Steel Cut Oats recipe for your Instant Pot or Electric Pressure Cooker.
It's perfect Fall food and an easy healthy gluten free oatmeal breakfast recipe cooked with brown sugar and pumpkin pie spice!
You can easily adjust the sugar to taste, my kids like it sweeter than I do.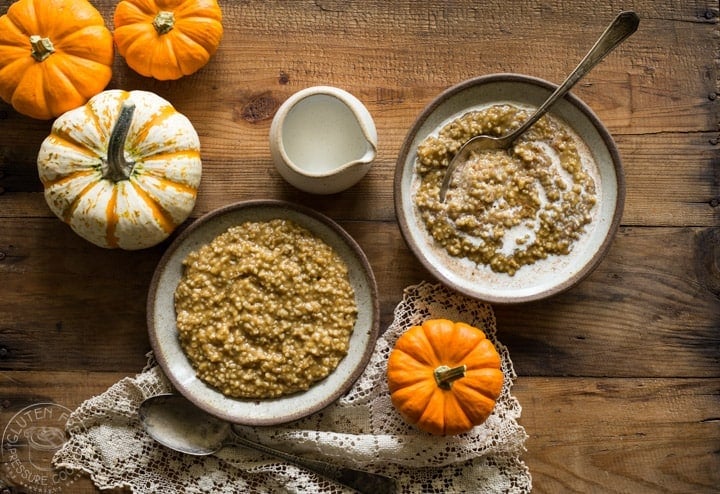 SOME OF YOU LOVE MY PRESSURE COOKER PUMPKIN PIE STEEL CUT OATS RECIPE!
If you make this Pressure Cooker Pumpkin Pie Steel Cut Oats Recipe, snap a quick photo with your phone, and hashtag it #noshtastic if you are on Facebook, Twitter, or Instagram or tag me @noshtastice, or you can email me your snap at sheena at noshtastic.com and I can share the best ones in this post! I LOVE to know if you cook our recipes!
This post contains affiliate links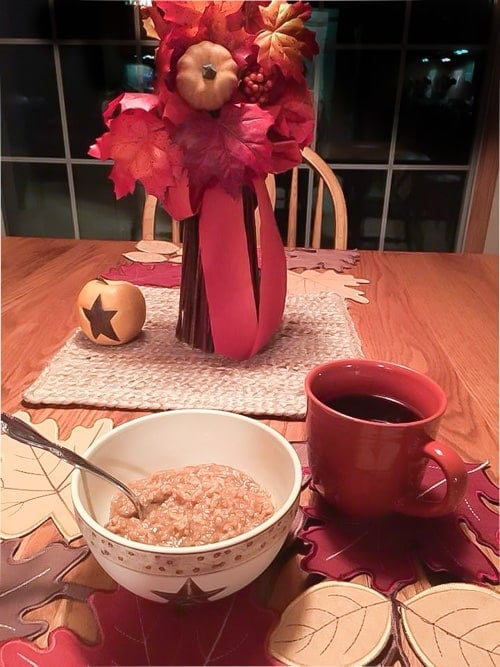 Becky made my recipe this morning and writes:
"This recipe is so easy and super delicious!!! This is the first time I've made steel cut in the Instant Pot "without" toasting them first and they turned out superb! (I went with 15min Manual, NPR for a soft and smooth texture). The perfect compliment to a fall morning but honestly, I love pumpkin and this new favorite will be a staple year round! Thanks so much for sharing!"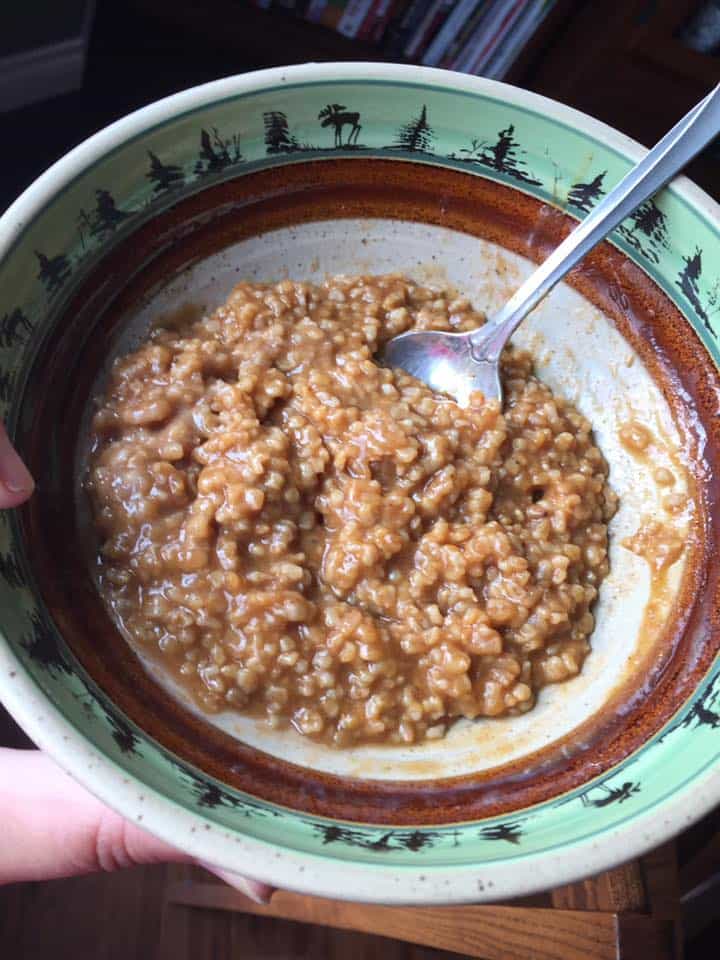 Candice also loves it! "We made this for breakfast this morning. The amount of sugar was just right, and it turned out perfectly. Even the kids enjoyed it. I added just a splash of unsweetened vanilla almond milk to it, but it was delicious all on its own. Will definitely make this one again!"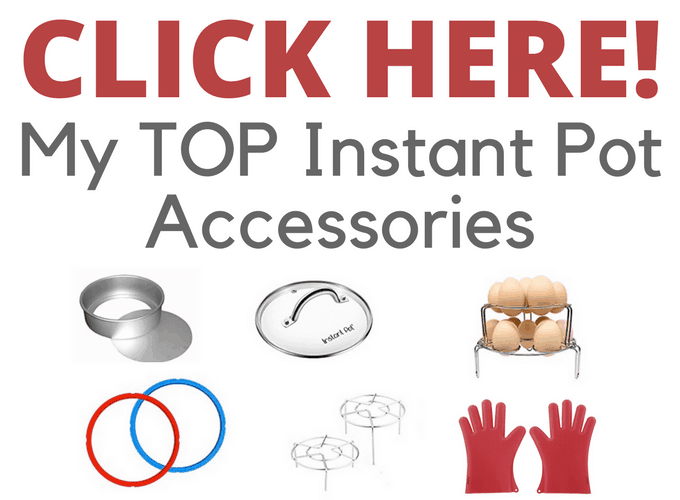 How to cook Pressure Cooker Pumpkin Pie Steel Cut Oats
It's really very easy to cook pumpkin pie steel cut oats in a pressure cooker, so much so that you won't go back to making it on the stove top again! This is a brief step by step guide with photos that shows you how to make steel cut oats in your instant pot or pressure cooker.
Step 1 – Add one cup of gluten free steel cut oats to your electric pressure cooker, do not use quick cook steel cut oats.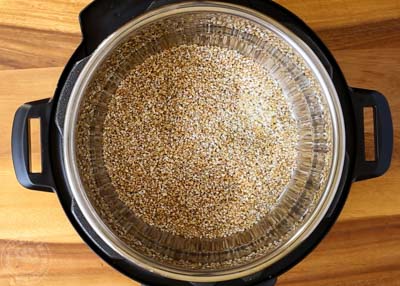 Step 2 – Now add the brown sugar, pumpkin puree, and pumpkin pie spice to the pressure cooker. Make sure your pumpkin pie spice is fresh, I like to buy it new every year as it loses some of it's lovely flavor if it's been sitting in your pantry for years.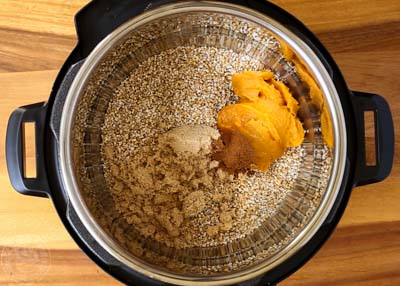 Step 3 – Now add the water and give the mixture a little stir, it will all cook down together once the lid is on so don't worry if it's not evenly mixed.
Step 4 –  Add the lid and set it to cook for 10 minutes on high pressure, then you need to let the pressure drop on it's own for 10 minutes after the cook time is up. At that point most of the pressure will be gone, but you still need to carefully release the pressure before you open the lid.
Step 5 – When you open it up you will see that just like in the picture below, the water and the oats will be somewhat separated with the water sitting on top of the oats. This is normal and all you need to do is mix it together with a wooden spoon.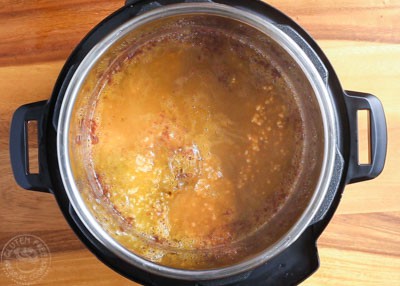 Step 6 – Now that you have mixed it together you can serve the oats. I deliberately added a small amount of sugar during cooking as I know that tastes vary and I like very little sugar in my oatmeal, whereas, unsurprisingly my kids like a lot more! 🙂 So please taste it and adjust it according to your families tastes.
Dark brown sugar, maple syrup and honey all work well as sweeteners with the pumpkin spice flavors. My children loved it with half and half poured over the top to give it some creaminess, if you are dairy free you can substitute with some dairy free milk of choice, or just do without as it's optional.
I find it's best served right away as the longer it sits the more liquid the oats absorb, you can thin them out a little with more water or milk if you prefer.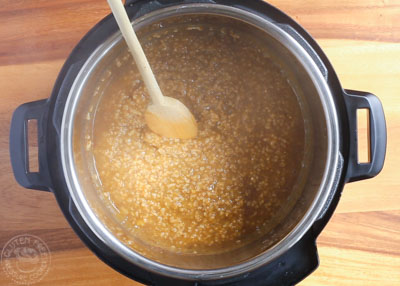 Can I double the recipe?
yes, you can double the recipe and the cook time is the same but it may take a little longer to come to pressure because you have more liquid in there. Just be sure that the amount you add does not fill more than half of your pressure cooker, more than that and you may run into safety issues with it being overfull for this type of food which can foam up more than others.
How long do cooked steel cut oats keep in the fridge?
I've kept mine for three to four days without issue, but I can't say if they would be good longer than that or not. I usually reheat in the microwave and add a very small amount of water to thin it out a little if I need to.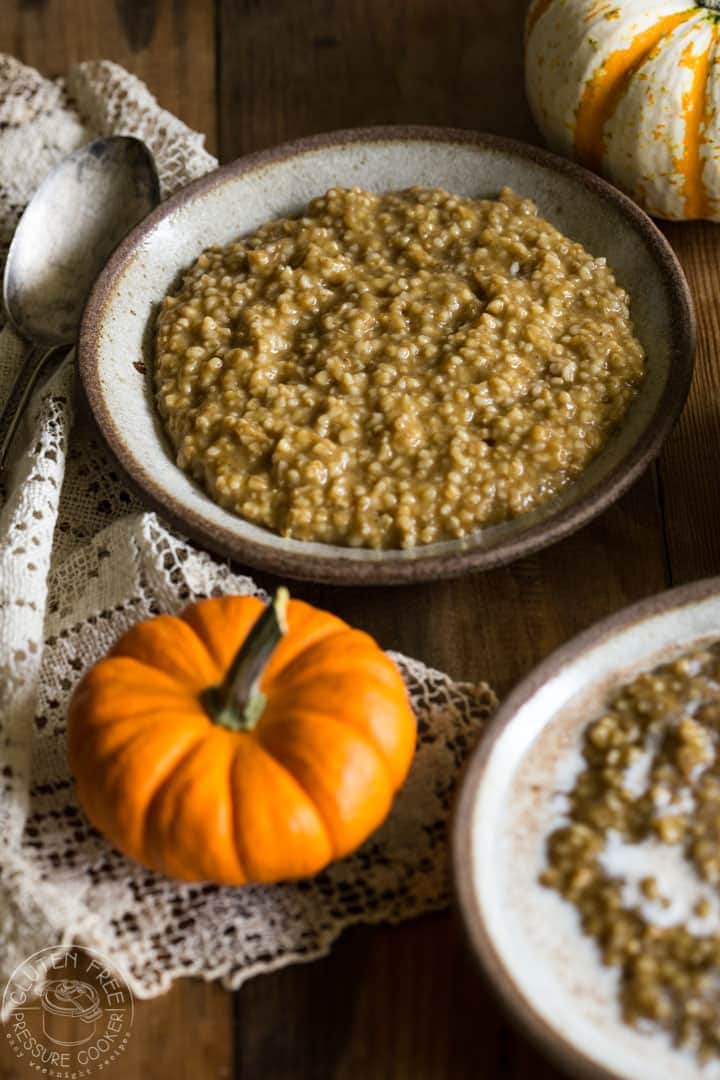 What's the difference between steel cut oats, rolled oats and Instant Oats
Steel cut oats and rolled oats are the same type of oats and they all start out as oat groats but they are processed in a different way so the end product looks different, and the cook times are different.
Steel cut oats are oat groats that are cut into a couple of pieces with a steel blade. They take the longest time to cook out of all the oat types, usually about 30 minutes on the stove top, and anywhere from 3 – 15 minutes cook time in an electric pressure cooker depending on how soft you like them.
Rolled oats are steamed first to make them soft and then as the name suggests, they are rolled flat. They cook much more quickly than steel cut oats, usually in less than 5 minutes on the stove top. Now I know you're wondering if you can cook rolled oats in your pressure cooker, well yes you can! You would need a much quicker cook time  as it's so fast to cook on the stove so you don't want to overcook it, and it might work best with a little less water than steel cut oats, probably 2-2.5 cups instead of 3.
I prefer to cook rolled oats on the stove as I think it's quicker and simpler when you add in the time to pressure and the time needed to let the unit release pressure, but you can absolutely pressure cook them if that's what you have in your pantry (see recipe notes for more details)
Quick Cook Oats are partially cooked and then rolled out. These oats cook very quickly in just a few minutes and many varieties really only require you to add boiling water and stir, and they are ready to eat. They really are not suitable for pressure cooking so make sure you don't use them in your Instant Pot.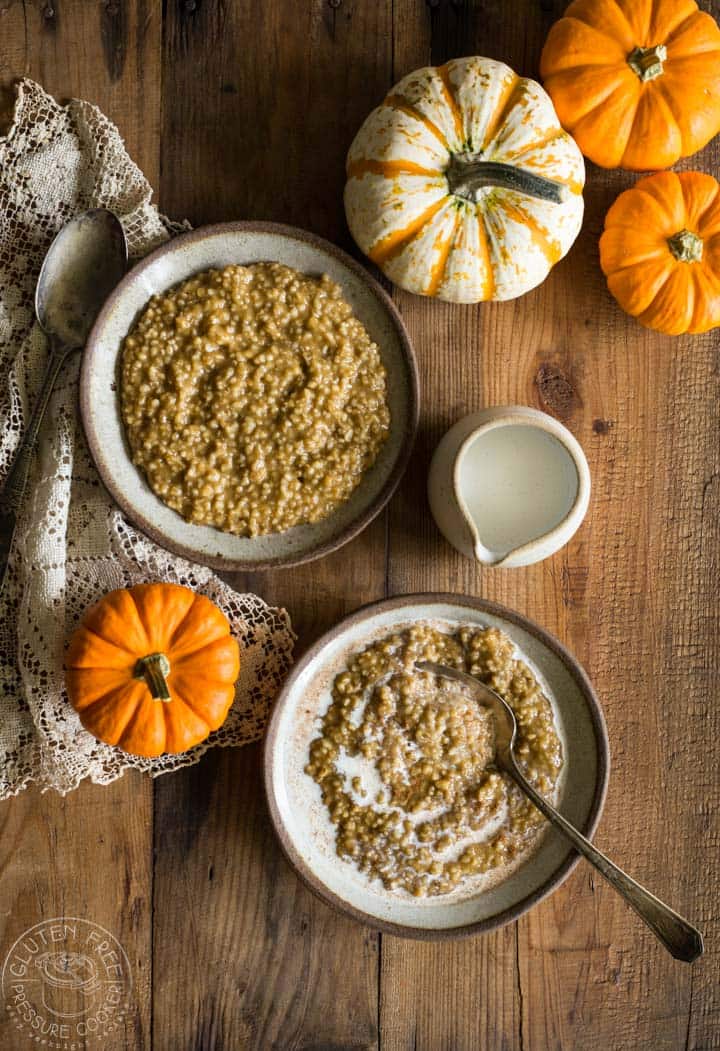 What are the health benefits of oats?
There are many health benefits to oats so I'll quickly list a few below.  One reason I love oats is that they are a naturally gluten free grain which is great, however, if you have Celiac Disease you must be careful to only buy oats that are labelled as gluten free because they can be contaminated with wheat or barley if they are not grown according to the purity protocol to prevent gluten cross contamination.
Oats have more dietary fibre than any other grain and contain a specific type of fiber known as beta-glucan which can help to lower cholesterol.
According to a Scandinavian study, oats may enhance the nutritional values of the gluten free diets for people with Celiac Disease, particularly for vitamins and minerals, as well as increasing antioxidant levels.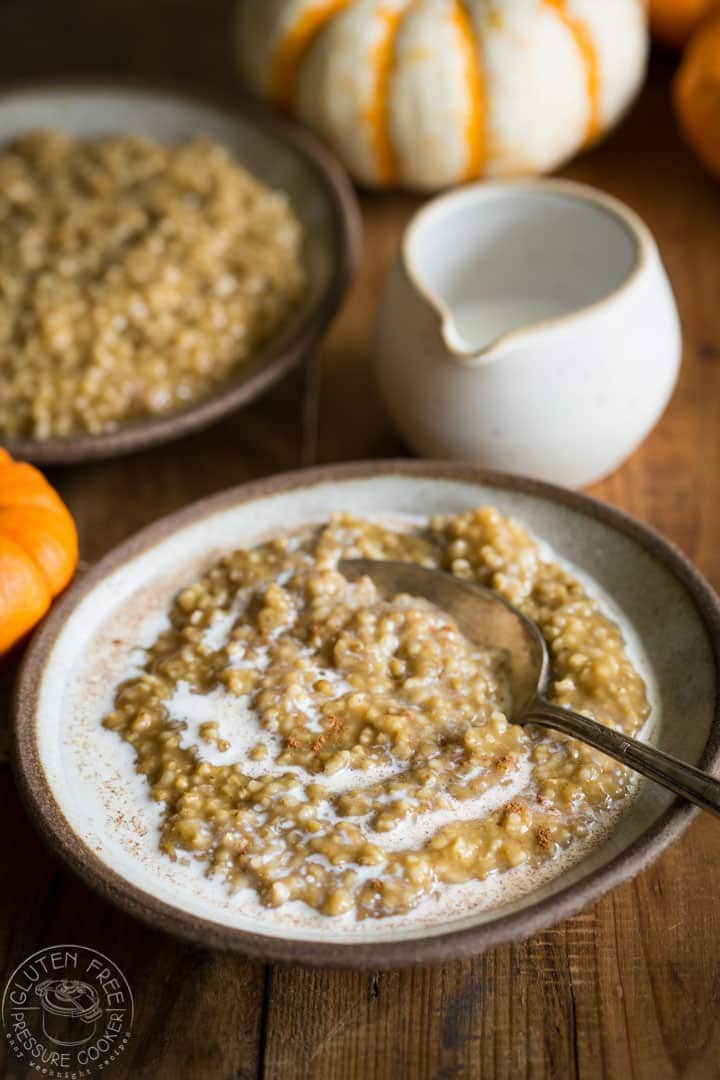 MORE PRESSURE COOKER RECIPES
Looking for an easy Pressure Cooker Pot Roast Recipe you can make in an hour? You'll love this one as it's naturally gluten free, made from scratch, with no canned soups or packet mixes!
Have you ever cooked an Instant Pot Whole Chicken? It's much, much easier than you think and I even have a cook time chart according to the size of your chicken.
My Pressure Cooker Beef Bourguignon is such an easy recipe to try, I think you'll love it, it's a rich, easy stew that works perfectly in your Instant Pot or Pressure Cooker.
And lastly, my Instant Pot Chili is a fabulous recipe that I've adapted for the pressure cooker, I think you'll love it!
Pressure Cooker Pumpkin Pie Steel Cut Oats
Pressure Cooker Pumpkin Pie Steel Cut Oats recipe for your Instant Pot or Electric Pressure Cooker, it's perfect Fall food and an easy healthy gluten free oatmeal breakfast recipe cooked with brown sugar and pumpkin pie spice!
Prep Time: 5 minutes
Cook Time: 20 minutes
Total Time: 15 minutes
Total Carbs: 47 g
Protein: 6 g
Servings: 4
Ingredients
1 cup gluten free steel cut oats , do not use the quick cooking variety
1/2 cup canned pumpkin
1 tsp pumpkin pie spice
1/4 tsp salt
1/3 cup brown sugar
3 cups water
1 cup half & half - optional, to serve
1/2 cup toasted nuts for optional topping
Instructions
Watch my recipe video first! it's right after the directions.

Add the gluten free steel cut oats, pumpkin puree, pumpkin pie spice, salt, brown sugar, and water to your electric pressure cooker and stir well.


Lock the lid, turn the steam vent to 'sealing' and using the manual setting, adjust it to cook for TEN minutes at High Pressure. (see recipe note on cook times)

When the cook time time is up, allow the unit to reduce pressure on its own without opening the steam release vent (Natural Release or 'NPR') for at least TEN minutes.

After 10 minutes you can carefully and slowly release the rest of the pressure.

When you open the lid you will see that the cooked oats are on the bottom of the pot and the water has separated and is on the top. This is normal, all you need to do is stir the oatmeal until the water is mixed in.

I added a minimal amount of sugar to the cooked oatmeal so you will need to taste it and add more to your tastes. I served it with half and half for added creaminess, but that's optional.

If you have toasted nuts, such as almonds or pecans, they would be a nice additional topping too.
Recipe Video
Recipe Notes
COOK TIME - if you like chewy slightly crunchy oats, you can cook them for FIVE minutes with a 10 minute natural pressure release. If you like them soft but with a little bit of texture (as shown in the video and photos) use the TEN minute cook time as listed in the recipe. And if you want them really, really, soft then try cooking for FIFTEEN minutes, with a 10 minute natural pressure release.  You may need to experiment a little bit to find the perfect cook time for the texture you prefer.
ROLLED OATS - I have not tested this recipe with rolled oats so I can't say for sure how long they will take, but I would use the same method listed in the recipe and cook  them for no more than 3-5 minutes, with a natural release as described. I think they will not need as much water as steel cut oats, so I would try 2-2.5 cups of water instead of 3.
Do not use quick cook oats. 
Nutrition Facts
Pressure Cooker Pumpkin Pie Steel Cut Oats
Amount Per Serving
Calories 235 Calories from Fat 18
% Daily Value*
Fat 2g3%
Sodium 161mg7%
Potassium 87mg2%
Carbohydrates 47g16%
Fiber 5g21%
Sugar 18g20%
Protein 6g12%
Vitamin A 4765IU95%
Vitamin C 1.3mg2%
Calcium 52mg5%
Iron 2.3mg13%
* Percent Daily Values are based on a 2000 calorie diet.
Nutritional information on Noshtastic is provided as a courtesy and is approximate only. We cannot guarantee the accuracy of the nutritional information given for any recipe on this site.
Course: Breakfast
Cuisine: American