Chicken Cacciatore is a fantastic weeknight family meal that tastes like you've been cooking in the kitchen all day but is so quick to throw together!
It's a braised chicken stew cooked in a tomato sauce with onions, garlic, white wine, mushrooms and bell peppers.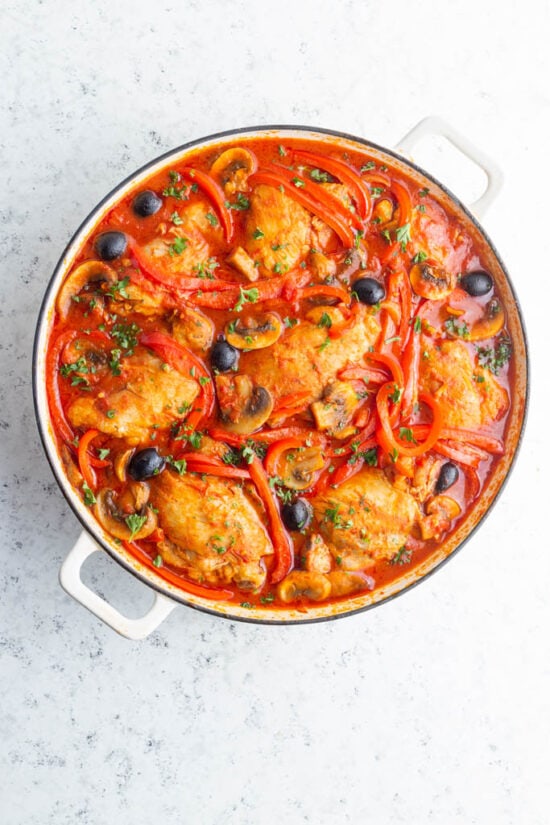 This post contains affiliate links
You can make it on the stove top, bake it in the oven or cook it in your slow cooker. I've got you covered with step by step instructions for all those options.
How to Make Chicken Cacciatore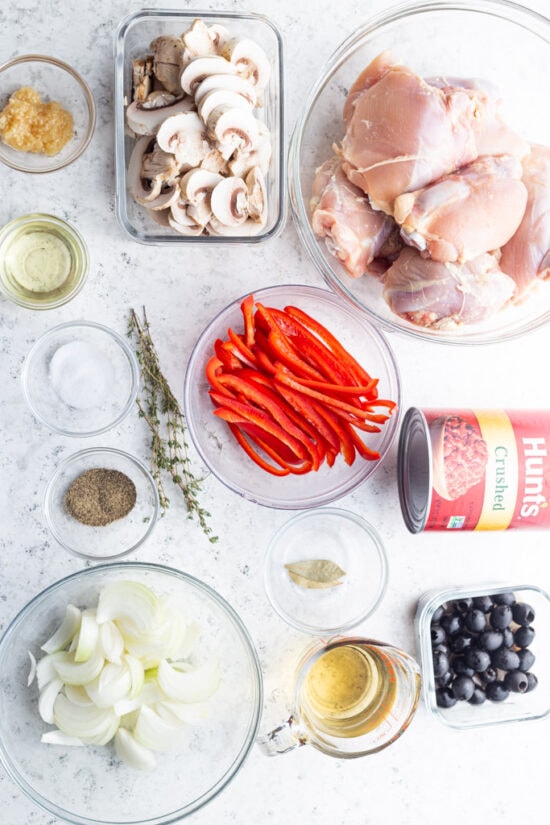 Start by seasoning the bone in skinless chicken thighs with salt and pepper on both sides. Then using a Dutch oven or similar pan heat a little olive oil over a medium heat to coat the base of the pan. (Details for slow cooker and oven baked versions are in the recipe card.)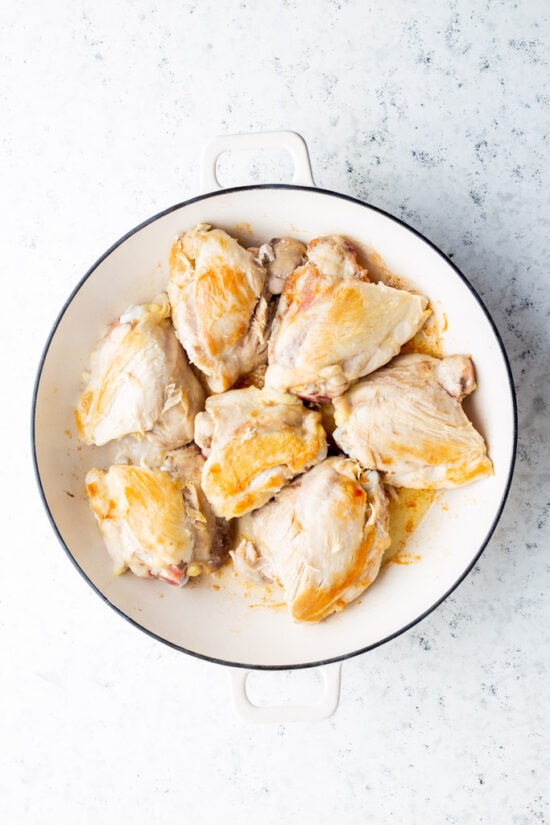 Brown the chicken for about 8 minutes per side then remove the chicken from the pan.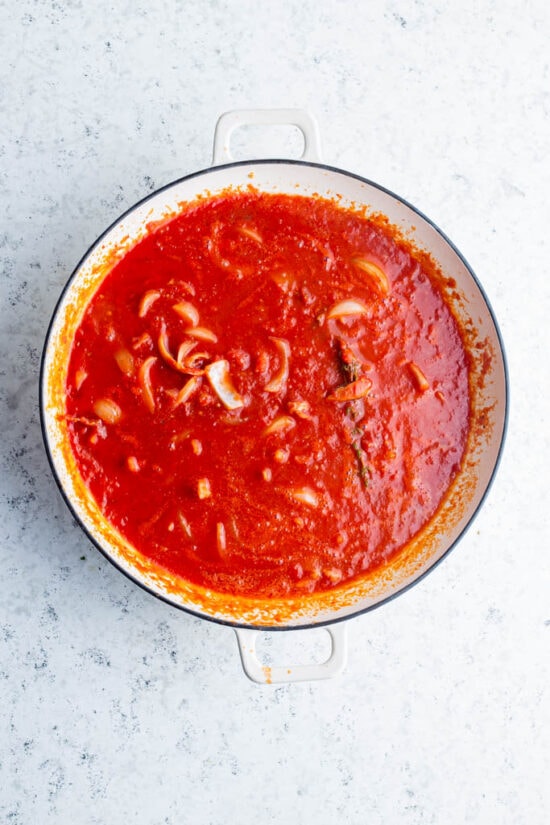 Add sliced onion, diced garlic, dry white wine, crushed tomatoes with the juice, bay leaves, thyme, to the sauce and heat until the sauce is just simmering, but not boiling.
Arrange the chicken thighs into the tomato sauce and simmer over a low – medium heat with the lid on for about twenty five minutes.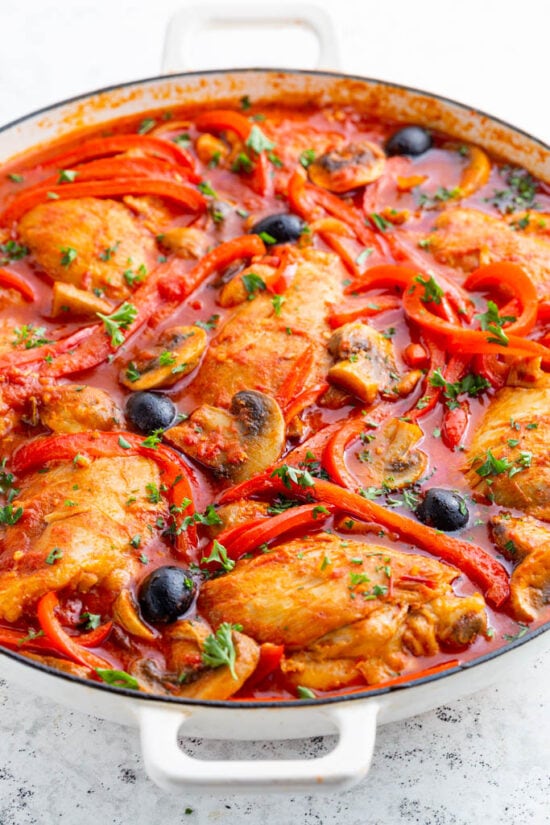 Lastly, add the sliced bell peppers, mushrooms, and olives to the pan and cook for ten more minutes or until the chicken is cooked all the way through.
More Recipe Tips
Please use fresh herbs for this recipe instead of dried, it makes a huge difference in the finished flavor of the sauce and is totally worth it in my opinion.
I like to bake it in a Dutch Oven with the lid off, this helps to keep the skin of the chicken nice and crispy!
Use bone in, skin on Chicken thighs for the very best flavor! The skin on chicken thighs will render quite a lot of fat however, but all you need to do is skim that off at the end of the cooking time, or if you are making it a day ahead you can refrigerate it overnight and you will be able to easily remove the solid fat from the top the next day
Let me plead with you to use real dry white wine and not cooking wine from the grocery store, if you can't drink the wine then don't use it to cook with!
What do you serve with Chicken Cacciatore?
We prefer to serve Chicken Cacciatore over rice to soak up the delicious sauce. You can also serve it over pasta noodles, polenta, or mashed potatoes, or simply serve it as it is with some steamed vegetables.
What Wine goes best with Chicken Cacciatore?
I prefer to use a dry white wine to cook in this recipe such as a Pinot Grigio, Sauvignon Blanc, or Chardonnay. As a general rule it's a good idea to serve the same wine with your chicken cacciatore as you used to cook in the tomato sauce.
It also means you don't need to open two different types of wine and is another good reason for avoiding cooking wines altogether and buying the real thing!
Chicken Cacciatore
This is a quick and easy version of Chicken Cacciatore. Make it on the stove, in the oven, or in your crockpot or slow cooker.
Prep Time: 15 minutes
Cook Time: 45 minutes
Total Time: 1 hour
Total Carbs: 23 g
Protein: 42 g
Servings: 4
Ingredients
8 skinless chicken thighs, bone in
1 tsp salt
1 tsp freshly ground black pepper
3 tbsp olive oil
1 onion , sliced
3 garlic cloves , finely chopped
3/4 cup dry white wine , 177mls
28 ounce crushed tomatoes with juice , 793g
3 stems of fresh thyme
8 oz mushrooms , sliced
1 large red bell pepper , chopped
3/4 cup black olives, pitted
Instructions
Stove Top Chicken Cacciatore
Season the chicken thighs both sides with salt and pepper.

Add the olive oil to a Dutch Oven or large skillet and brown the chicken over a medium heat on both sides, for 8 minutes per side then set aside.

Add the onion, garlic, dry white wine, crushed tomatoes with juice, bay leaves and thyme to the vegetables and heat until the sauce is simmering.

Add the chicken pieces in to the sauce and simmer, covered, for 25 minutes.

Add the sliced bell peppers, mushrooms, and olives to the pan and cook for a further 10 minutes or until the chicken is fully cooked.

Taste and adjust the seasoning as needed.
Slow Cooker Chicken Cacciatore
Season the chicken thighs both sides with salt and pepper.

Add a little olive oil to a skillet and gently cook the chicken pieces on a medium heat for about 4-5 minutes on each side to brown it, then remove and set aside.

Heat a little more olive oil in your skillet and saute the onions, red bell pepper, and garlic for about 4 minutes.

Add the onions, bell pepper, garlic, to the slow cooker along with the thyme and bay leaves.

Pour over the white wine and tomatoes and stir.

Now add the chicken pieces on top of the sauce, skin side up, and put the lid on and cook on high for 3-4 hours, or low for 6-8hrs or until cooked.

Thirty minutes before the cook time is up, add the mushrooms to the slow cooker, stir and put the lid back on.

Season to taste and serve hot.
Oven Baked Chicken Cacciatore
Preheat oven to 350°F (175°C)

follow directions to step 4?

Bring the pan to a simmer and then cover and cook over a low heat for about 30 minutes.

After 30 minutes add the mushrooms and olives and cook for a further 10 minutes or until the chicken is fully cooked.
Nutrition Facts
Chicken Cacciatore
Amount Per Serving
Calories 725 Calories from Fat 432
% Daily Value*
Fat 48g74%
Saturated Fat 11g69%
Cholesterol 221mg74%
Sodium 1025mg45%
Potassium 1368mg39%
Carbohydrates 23g8%
Fiber 5g21%
Sugar 12g13%
Protein 42g84%
Vitamin A 1535IU31%
Vitamin C 60.1mg73%
Calcium 100mg10%
Iron 4.8mg27%
* Percent Daily Values are based on a 2000 calorie diet.
Nutritional information on Noshtastic is provided as a courtesy and is approximate only. We cannot guarantee the accuracy of the nutritional information given for any recipe on this site.
Course: Main Course
Cuisine: Italian