You must try this easy Paleo Pumpkin Pie recipe with a made from scratch Paleo pie Crust too!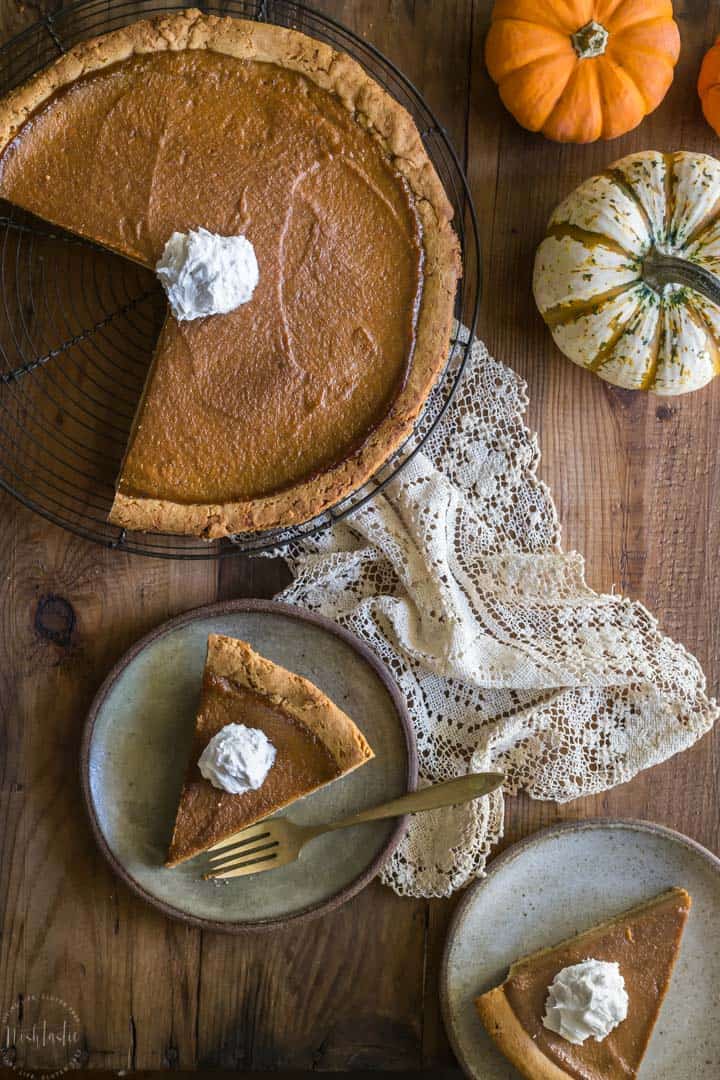 Ingredients you'll need to make Paleo Pumpkin Pie
The full recipe with detailed ingredients list, directions, and printable recipe card is at the end of the post.
Eggs
Salt
This post contains affiliate links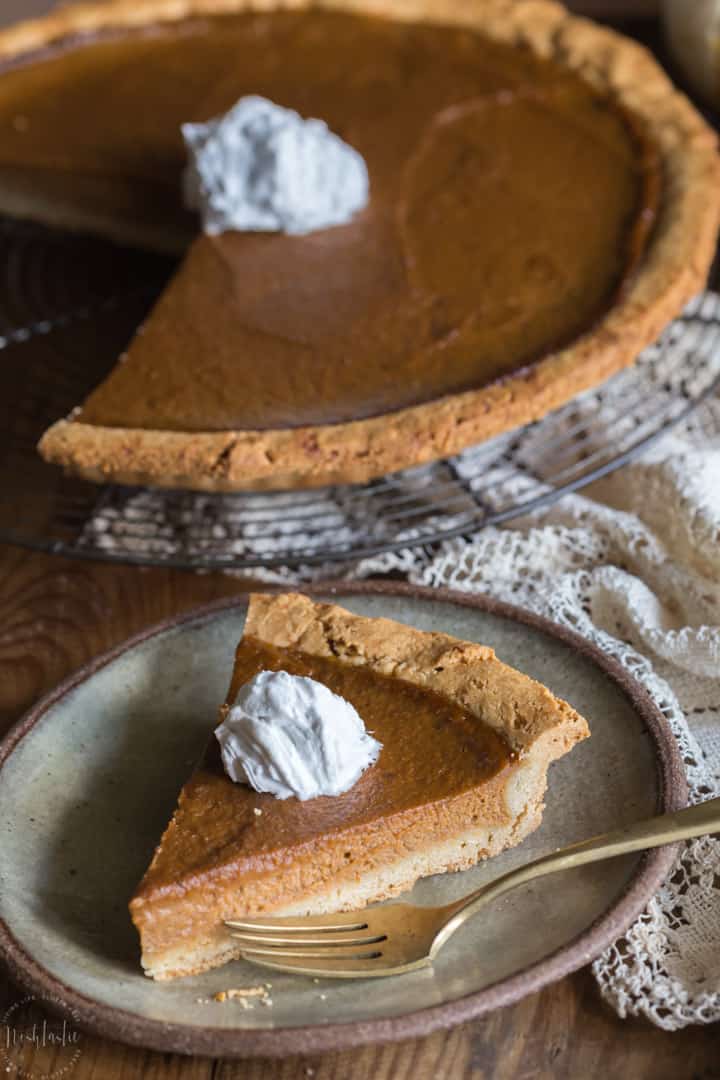 How to Make Homemade Paleo Pumpkin Pie
It's easier than you think to make a Paleo Pumpkin Pie recipe from scratch, I'd really wish I'd tried it sooner! (the printable recipe is at the end of the post)
It's a great pie to make any time of the year, but of course it's a perfect pie for your Thanksgiving table and your guests will love it!
The first thing you need to do is make one batch of my Paleo Pie Crust. While it does not need to rest like traditional gluten pastry, but it does need to chill so that it will harden up enough for you to roll it out easily. You can make the pie crust the day before and refrigerate it if you prefer. 
I used a 9 inch pie pan with removable bottom to make my Paleo Pumpkin Pie as it's much, much easier to pop out the whole cooked pie for cutting and serving.
To roll out the Paleo Pie Crust you need to make sure it's well chilled, it will take at least an hour. Then, you might find it easiest to roll it out on parchment and use cling wrap to stop the dough from sticking to the rolling pin.
You need to work quickly to roll it out as the dough will get pretty soft in about five minutes.
I flip the parchment paper with the Paleo pastry still on it into a greased 9 inch pie pan. If it overlaps the pan, or you find there are areas where the pastry hasn't covered, that is totally fine and you can simply patch up the gaps with small pieces of rolled out pastry, it will still bake up perfectly!
Preheat your oven to 350F and when it comes to temperature bake the empty pie crust for 12 minutes, then remove it and set aside for 5-10 minutes.
While the pie is cooking simply mix all the Paleo Pumpkin Pie filling ingredients together. Make sure you only use full fat canned coconut milk, canned pumpkin pie puree (not pumpkin pie filling).  As this pumpkin pie recipe is made without condensed milk and with coconut sugar, the color of the filling will be darker than a regular pumpkin pie, it tastes great though!
If you want to serve it with Coconut Milk Whipped Cream as I have, then you'll need to plan ahead for that as the canned coconut milk needs at least 24hrs in the fridge.
Planning ahead
While the pie itself takes less than an hour to cook, don't forget to include the time you'll need to chill the pastry beforehand, which is at least an hour or more. The chill time for the cooked pie is about two hours before you are able to slice it easily.
How long will my Paleo Pumpkin Pie keep in the Fridge?
I'm still eating this pie three days after I've made it and it tastes really great!  If you are serving this for guests,  then I would make it the night before and let it chill overnight. The photographs in this post were taken the day after I made the pie.
I did notice on the third day that the pie filling had cracked and separated a little from the pie crust which did not affect the taste in any way, but it you are serving it for Thanksgiving or a special occasion just be aware of that as it wasn't quite so pretty.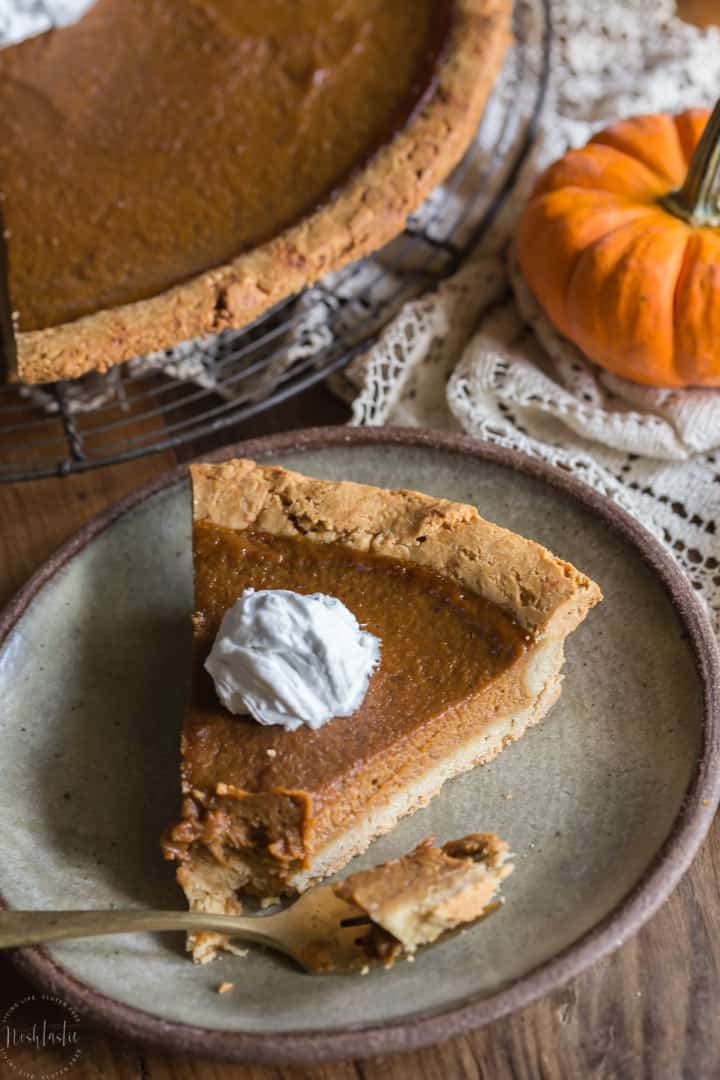 What spices go in Pumpkin Pie?
Pumpkin pie spice blends can vary from one brand to the next but there are some spices that are typically found in most blends, or at least all the ones that I've looked at! Most of it is cinnamon, then a lesser combination of some or all of the spices listed below.
Cinnamon
Ginger
Nutmeg
Ground Allspice
Ground Cloves
More Paleo Recipes You'll Love!
You need to try my delicious, easy, sheet pan Paleo Balsamic Chicken recipe with Roasted Potatoes, Red Onion, Tomatoes & fresh herbs! You can cook it on one pan in the oven in an hour or less!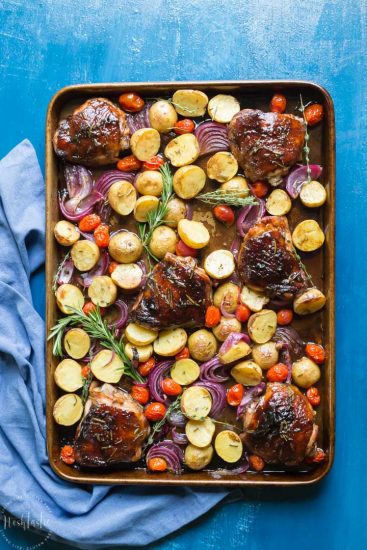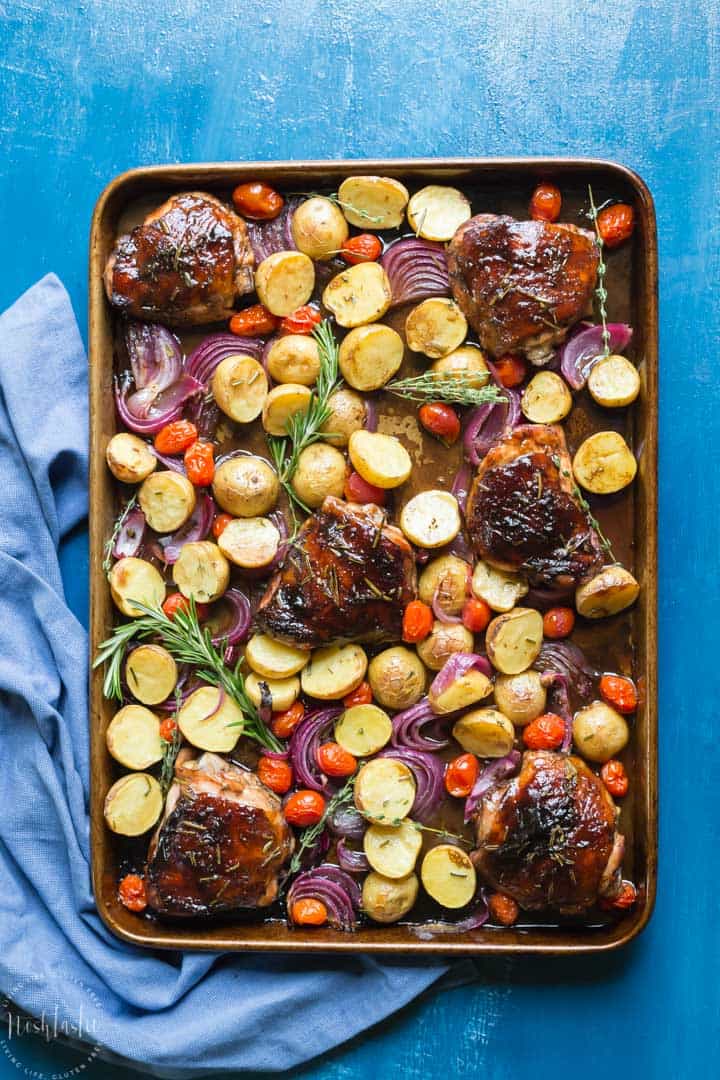 My Paleo Honey Mustard Chicken is so simple to prepare and cooks in the oven in about 45 minutes, It's a very easy weeknight dinner that your whole family will love!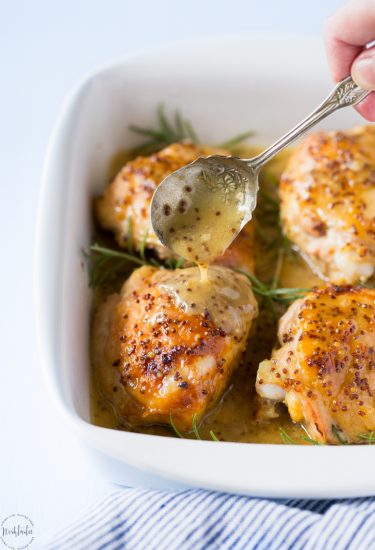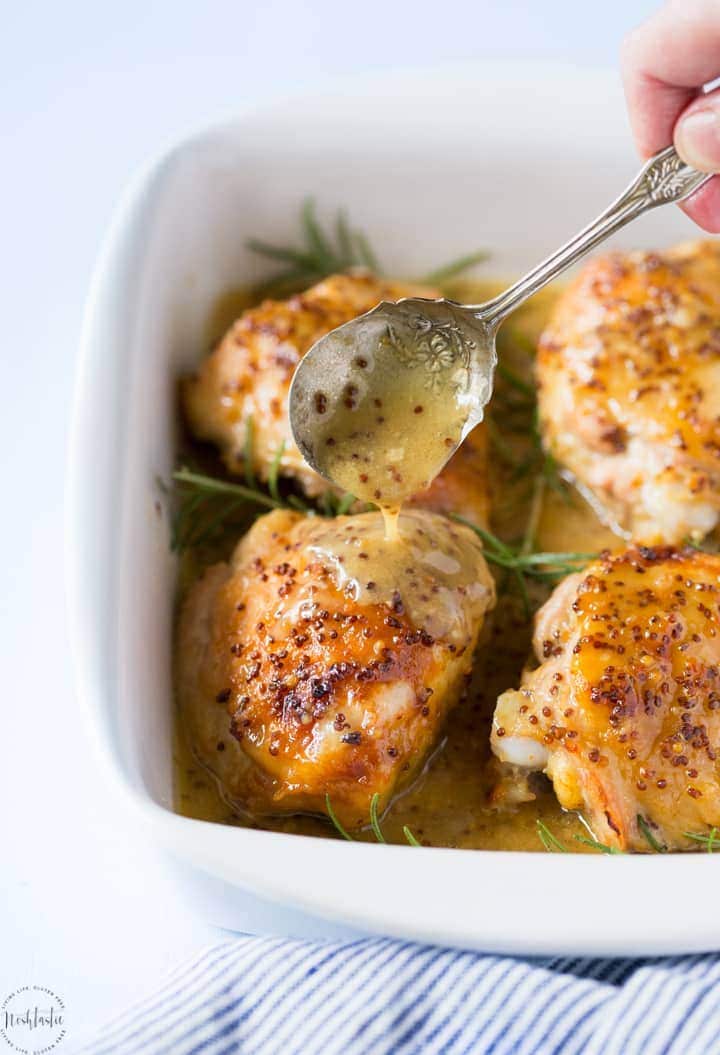 You'll love my Cilantro Lime Chicken Salad with Grilled Pineapple, it's so easy to make!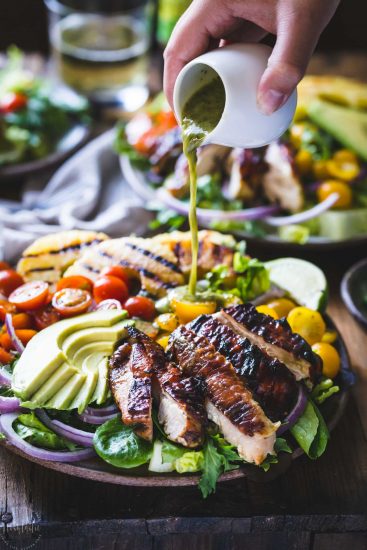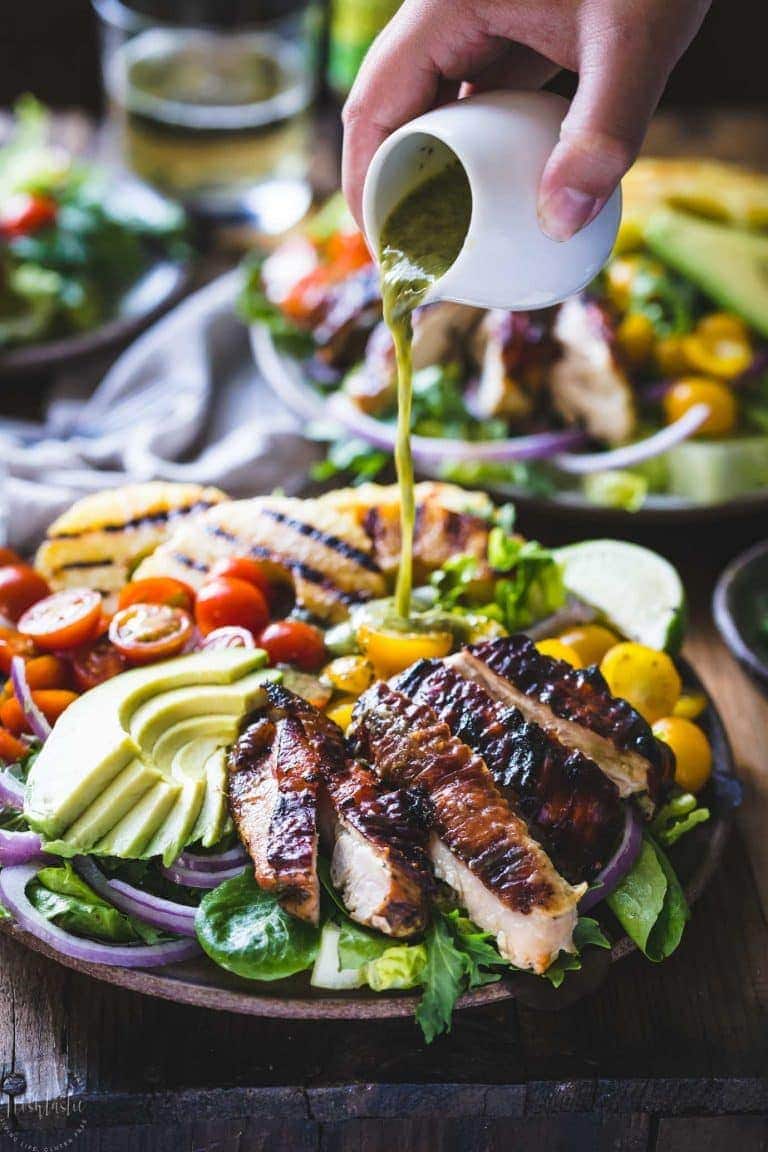 Paleo Pumpkin Pie
Look no further for an easy delicious Paleo Pumpkin Pie with a fantastic, flaky, made from scratch homemade Paleo Pie Crust! Perfect for any time of the year, but especially for your Thanksgiving dinner table!
Prep Time: 1 hour 30 minutes
Cook Time: 1 hour
Total Time: 2 hours 30 minutes
Total Carbs: 17 g
Protein: 9 g
Servings: 8
Instructions
Please read the recipe notes first!

You can make the Paleo Pie Crust the day before you need it if you need to.

It is typically to soft to roll out when it's mixed due to the coconut oil so it will take an hour or more to set up in the fridge.

Preheat your oven to 350F

Roll out the chilled Paleo Pie crust pastry on parchment paper, you may find it easier to put cling wrap on the top of the dough so it doesn't stick to your rolling pin.

Once you have it rolled thin enough to cover the pie pan you can flip the parchment paper with the dough on it, and place it into the 9inch pie pan.

Don't panic if the pastry tears or there are missing bits in your pie pan, you can patch it up with small pieces of rolled out pastry and it will work perfectly.

Bake the paleo pie crust for 12 minutes, and then let it sit out of the oven for 5 minutes.

While the pie crust is cooking mix together all the pie filling ingredients so that they are well combined, it will be darker in color than usual if you are using coconut sugar.

Pour the pumpkin pie filling into the part cooked pie crust and spread it out evenly.

Cook the Paleo Pumpkin Pie for 45 minutes at 350F, or until the middle is set up.

Once the pie has cooled enough to handle, put it in the fridge to set up for at least two hours, or overnight.

Serve with coconut milk whipped cream (optional)
Recipe Notes
PIE PAN - You'll need a 9inch Pie pan, I prefer the type with a removable bottom as it's much easier to get the whole pie out without breaking it and the crust doesn't stick to the sides. 
COOK TIME - If your pie pan is deeper than mine (about an inch) then you'll need to bake it a little longer to get the filling to set.
Nutrition Facts
Paleo Pumpkin Pie
Amount Per Serving
Calories 458 Calories from Fat 243
% Daily Value*
Fat 27g42%
Saturated Fat 11g69%
Cholesterol 101mg34%
Sodium 307mg13%
Potassium 95mg3%
Carbohydrates 17g6%
Fiber 2g8%
Sugar 12g13%
Protein 9g18%
Vitamin A 150IU3%
Vitamin C 0.4mg0%
Calcium 83mg8%
Iron 2.7mg15%
* Percent Daily Values are based on a 2000 calorie diet.
Nutritional information on Noshtastic is provided as a courtesy and is approximate only. We cannot guarantee the accuracy of the nutritional information given for any recipe on this site.
Course: Dessert
Cuisine: American