Here's a fabulous way to get all that cheesey jalapeno taste you love but without all the effort of stuffing each pepper, enter the Jalapeno popper dip! It's a fabulous cheese dip appetizer that you can serve with keto chips, or celery sticks as a low carb option, or any other cracker you like.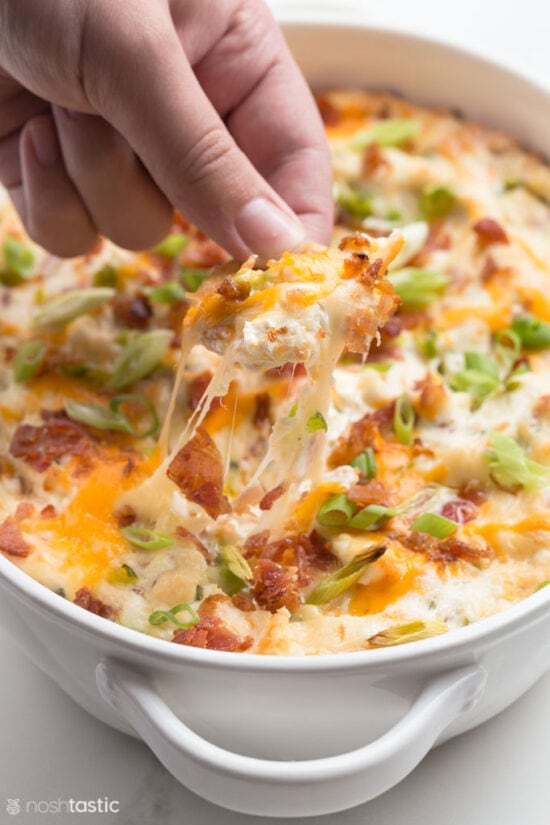 This post contains affiliate links
How to Make Jalapeno Popper Dip
First you'll need to cook the bacon for the dip. I've found the very best way to do this is on a wire rack over a sheet pan, that way the bacon is not sitting in the grease and it gets good and crispy.
Place the bacon on the wire rack like you see in the photo below and bake in a hot oven at 375°F for about 20 – 25 minutes.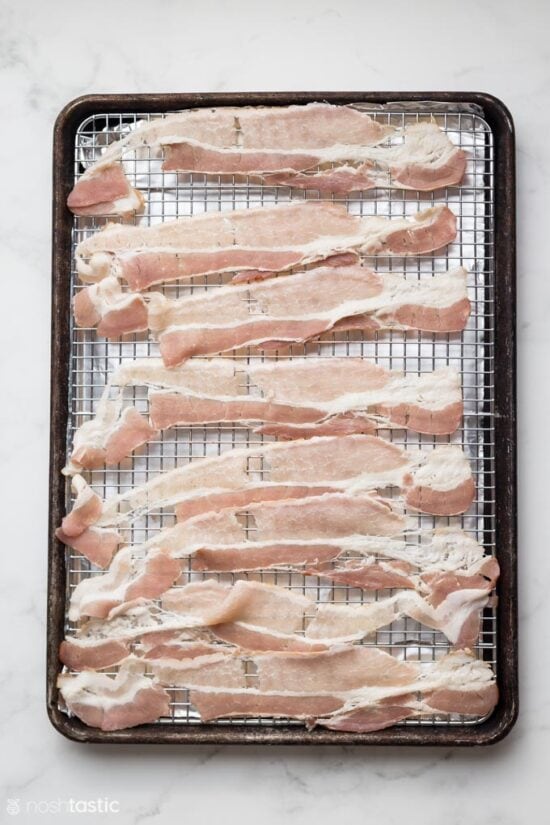 One it's cooled a enough to handle you can dice it into small pieces. You don't want huge chunks of bacon as it's going into the dip and people will be scooping out small amounts at a time.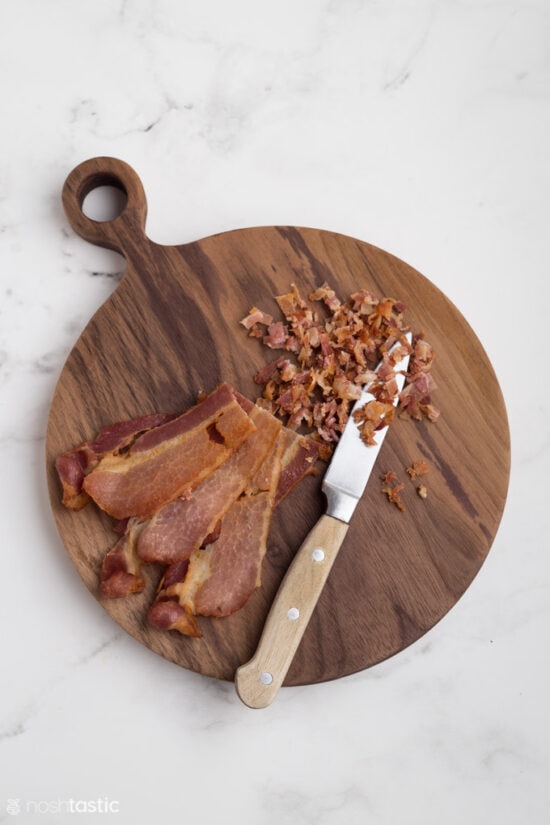 Then cut the jalapenos in half, deseed them and finely dice. I added three to my dip, it was not very spicy hot and my kids ate it without complaint. If you want more heat simply add one or two more jalapenos.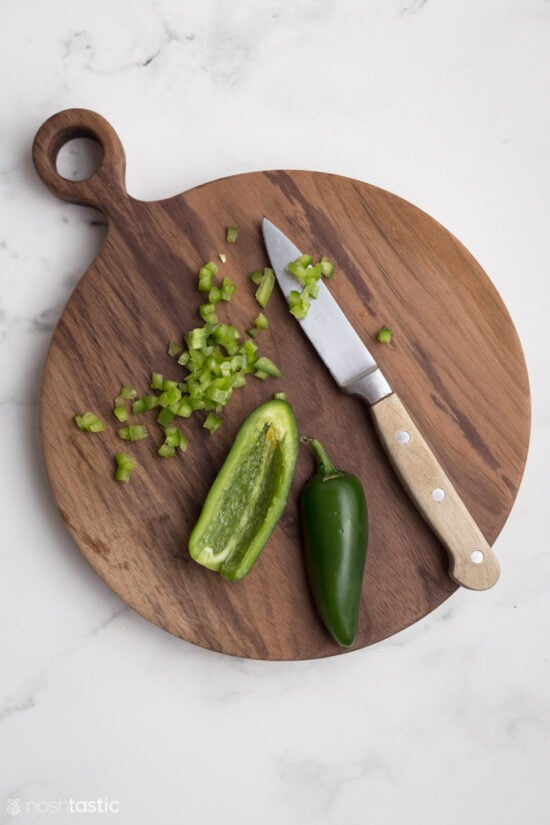 Next, measure out cream cheese, you need to make sure its at room temp or it will be pretty hard to mix it unless its soft.
A quick tip if your cheese is coming straight out of the fridge is to microwave it on the defrost setting for about 20 to 30 seconds, it will be soft enough to stir then.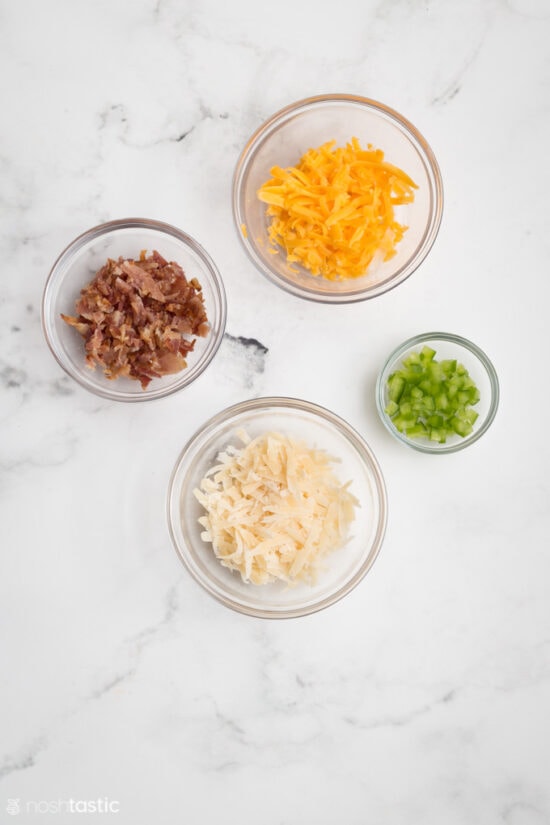 Set aside a small amount of the cooked bacon, diced jalapenos, onions, and about a quarter cup each of the cheeses to sprinkle over the top of the dip before its baked.
Go ahead and add the softened cream cheese, parmesan, sharp cheddar cheese, mayonnaise, sour cream, bacon bits, chopped onions, jalapenos, and garlic powder to the bowl (see photo below) and mix well to combine.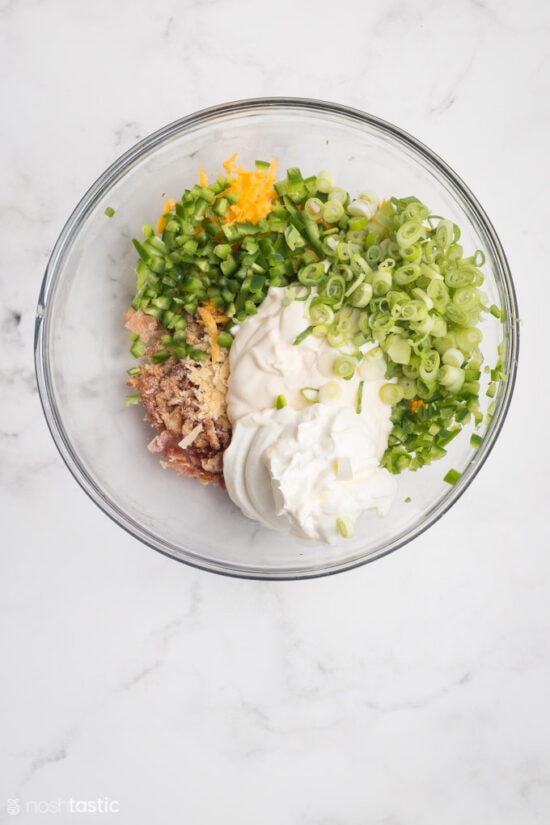 All that's left to do now is to add the cheese dip mixture to an oven proof baking dish that's about 1.5 quart in size.
Spread it out evenly and then sprinkle the remaining bacon, diced jalapenos, onions, and cheeses over the top and then put it on a sheet pan (incase any bubbles over the sides) and bake for about 20-25 min or until the top is a bit brown.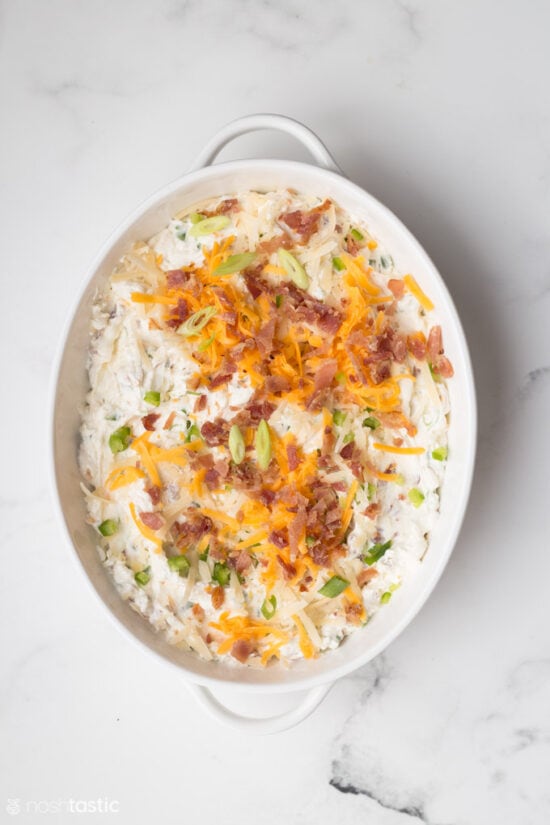 More Tips for Making Jalapeno Popper Dip
Save Time – by using ready cooked bacon, you can buy it in most grocery stores these days and it works perfectly in this dip!
More Heat! – if you want a little more kick to the recipe simply add one to two more seeded Jalapenos.
Grate your own Cheese – ready shredded cheese has starch added to stop it clumping in the bag. This adds carbs, and it also can make the cheese much less melty than if you grate it yourself.
Sharp Cheddar – has much more intense flavor than regular cheddar cheese and I think works much better in this recipe so it's worth looking for.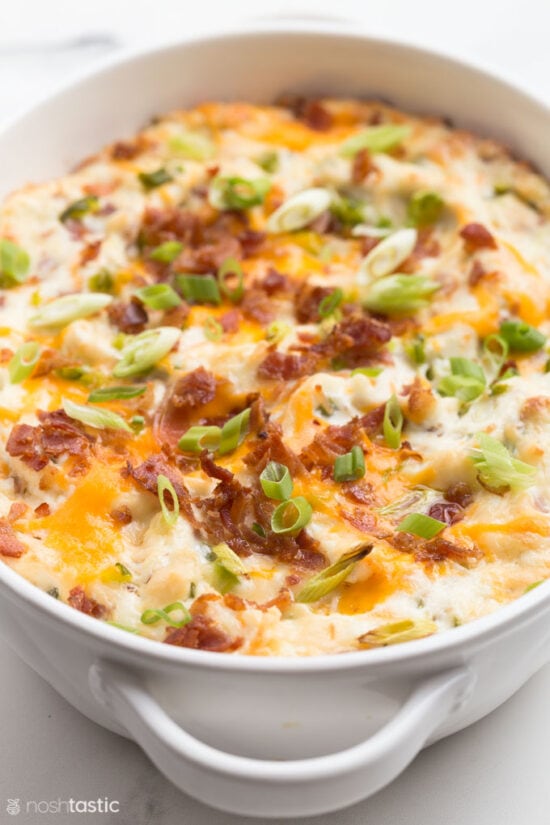 More Low Carb Dips
Jalapeno Popper Dip
Quick and Easy this Jalapeno Popper Dip packs a real flavor punch and it's very easy to adjust the heat level to suit everyone's tastes.
Prep Time: 15 minutes
Cook Time: 35 minutes
Total Time: 50 minutes
Total Carbs: 2 g
Net Carbs: 1 g
Protein: 6 g
Servings: 16
Ingredients
8 slices cooked bacon , chopped into pieces
1 lb cream cheese , 454g – soft, at room temperature
1/2 cup mayonnaise , 125mls
1/2 cup sour cream , 125mls
3/4 cup sharp cheddar cheese , 90g – grated
1/2 cup Parmesan cheese , 60g – grated
3 medium jalapeno peppers , seeded and finely diced
1 tsp garlic powder
3 sliced green onions
Instructions
How To Cook Bacon
Preheat your oven to 375°F

Place 8 slices of bacon on a wire rack over a sheet pan.

Bake for 20-25 minutes or until bacon is crispy, then set aside to cool for a few minutes and cut into small pieces.
How To Cook Jalapeno Popper Dip
Preheat your oven to 350°F

Set aside a little of the cooked bacon and diced Jalapenos, 1/4 cup parmesan, 1/4 cup sharp cheddar, and one sliced green onion for topping.

In a large bowl mix the bacon, softened cream cheese, mayonnaise, sour cream, 1/2 cup sharp cheddar, seeded and diced Jalapeno peppers, 1/4 cup Parmesan, garlic powder, 2 green onions, until fully combined and then add the mixture to a 1.5 qt (1.5 litre) baking dish.

Sprinkle the top with the remaining cooked bacon, jalapenos, 1/4 cup parmesan, 1/4 cup sharp cheddar, and diced green onions.

Bake for 20-25 min or until the top is bubbly and golden brown.
Recipe Notes
Nutrition – Serving size is 1/4 cup (60mls) and it makes about 16 servings. 
Cheeses – you can substitute regular cheddar for sharp, but the latter has the very best flavor. For both cheese I recommend you grate you own. Pre-shredded cheese has added starch which means it does not always melt quite as well as if you do it yourself. 
Add More Heat – I used four  Jalapenos for this recipe but if you like it hotter you could add one or two more. 
Storage – You can make this and keep it in the fridge and reheat if you need to, but I prefer it served fresh from the oven the first time around. 
Nutrition Facts
Jalapeno Popper Dip
Amount Per Serving (0.25 cup)
Calories 213 Calories from Fat 180
% Daily Value*
Fat 20g31%
Saturated Fat 9g56%
Cholesterol 49mg16%
Sodium 293mg13%
Potassium 88mg3%
Carbohydrates 2g1%
Fiber 1g4%
Sugar 1g1%
Protein 6g12%
Vitamin A 545IU11%
Vitamin C 4mg5%
Calcium 111mg11%
Iron 1mg6%
* Percent Daily Values are based on a 2000 calorie diet.
Nutritional information on Noshtastic is provided as a courtesy and is approximate only. We cannot guarantee the accuracy of the nutritional information given for any recipe on this site.
Course: Appetizer
Cuisine: American