My Easy Keto Chili recipe is a ridiculously tasty dinner that the whole family will enjoy! With all the best chili flavors you love simmered together to create a great low carb chili recipe, without the beans.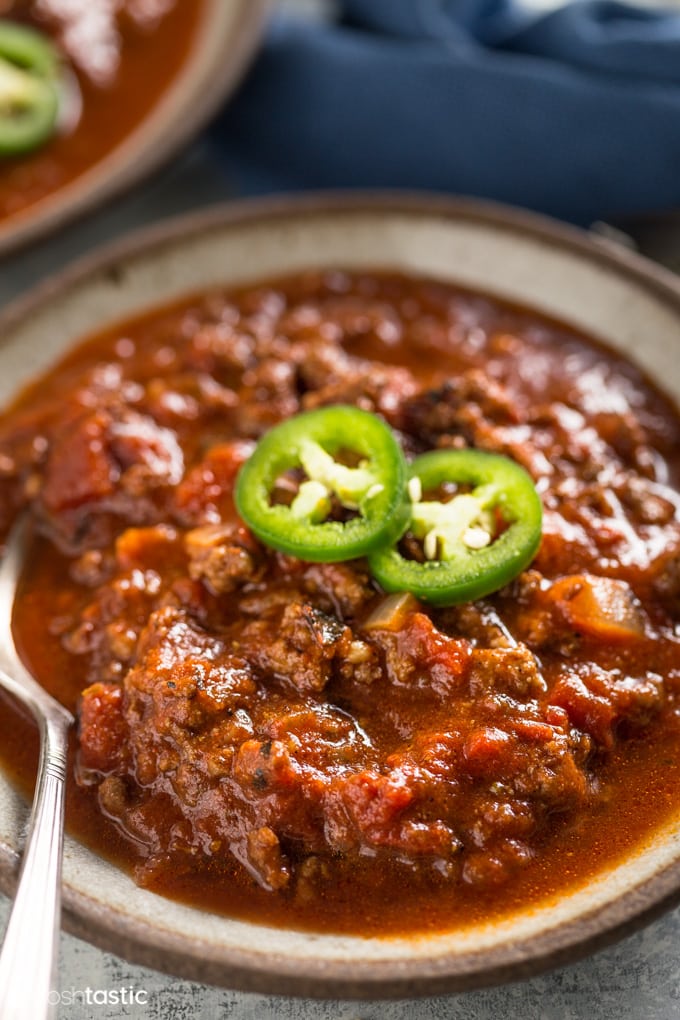 This post contains affiliate links
This recipe for Low Carb Chili has about 8g net carbs per serving, with around six servings. Most of the carbs are from the fire roasted tomatoes, but they really add flavor to this recipe so I think it's worth it.
Quick Tips for Making Keto Chili
This is a quick and easy Low Carb Chili recipe, but I have a few tips to ensure that you get the very best results!
Seasonings – I like to add the salt ahead of time and let the meat sit for about 15 – 20 minutes to allow it to penetrate the ground beef. And we love to add baking soda to the meat, it really helps to tenderize it while browning the beef (I've got more details on that in the recipe card.)
Make Ahead – If you have time and can plan it, then this is a great make ahead recipe as the flavors only get better over time. It will keep in the fridge for three to four days and it freezes very well too.
Slow Cooker or Stove – My Keto Chili recipe is very flexible and easy to cook either on the stovetop or you can make it in your crockpot, whatever is easiest for you!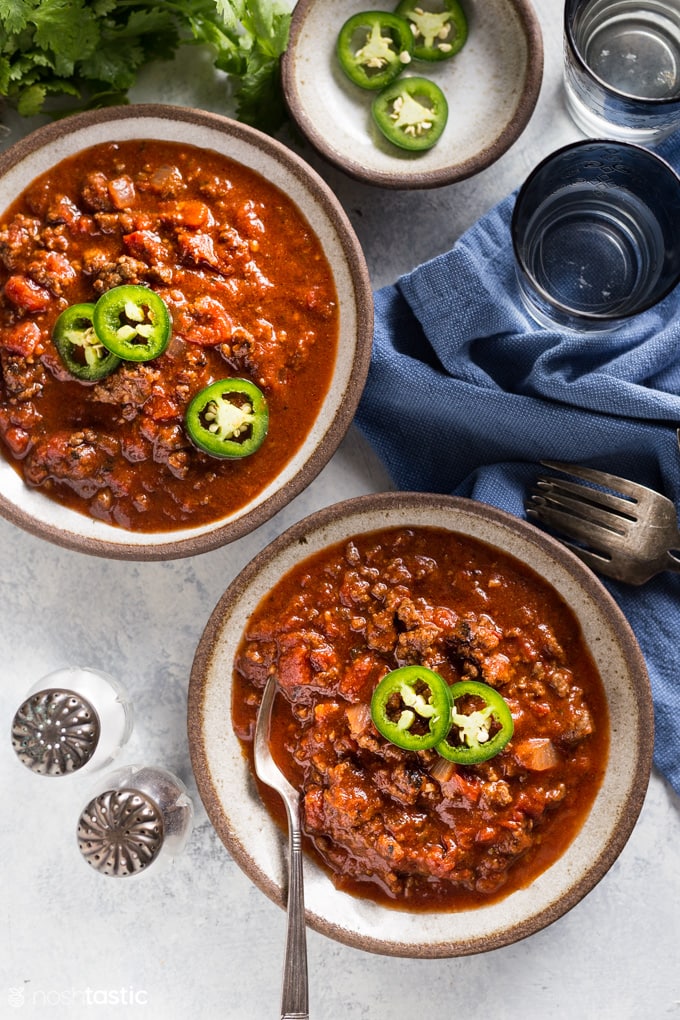 Keto Chili FAQ's
How Many Carbs are in Chili? My low carb chili recipe has 8 grams net carbs per serving, assuming approximately one cup per serving.
Is Chili Keto Friendly? If you make your chili without beans it is! I have also limited the amount of onions, and tweaked some of the other ingredients. The bulk of carbs in this recipe come from the tomatoes.
Can I make Keto Turkey Chili? Yes you can, just replace the ground beef with ground turkey and cook it in the same way.
Can I make it in a Slow Cooker? Yes, it's very easy to make chili in a Crockpot or slow cooker, I've got detailed directions in the recipe card.
The best way to brown ground beef for Chili!
One of the frustrations in cooking ground beef for Chili Con Carne is that it can generate quite a lot of liquid as it browns.
What sometimes happens is that you essentially 'steam' the meat instead of browning it. One way round that of course is to try to do it in little batches, but that doesn't always work.
And then of course if you pour off the liquid/fat afterwards you are pouring a lot of the accompanying flavor down the drain, we don't want that!
Well, I came across this excellent tip in Cooks Illustrated recently and knew that it might be the key to transforming my low carb chili recipe!
The idea is simple, but genius. You simply add a little mixture of baking soda (NOT baking powder) to the ground meat, mix it well and leave it to sit for at least 20 minutes, I have all the details in my recipe below.
The baking soda helps the meat to retain the moisture as it browns, and I promise it REALLY works!!
It's made a huge difference to the finished keto chili recipe so I would urge you to try it. Usually my 'browned' meat is sitting in a large puddle of water and fat, but not this time, it really was browned!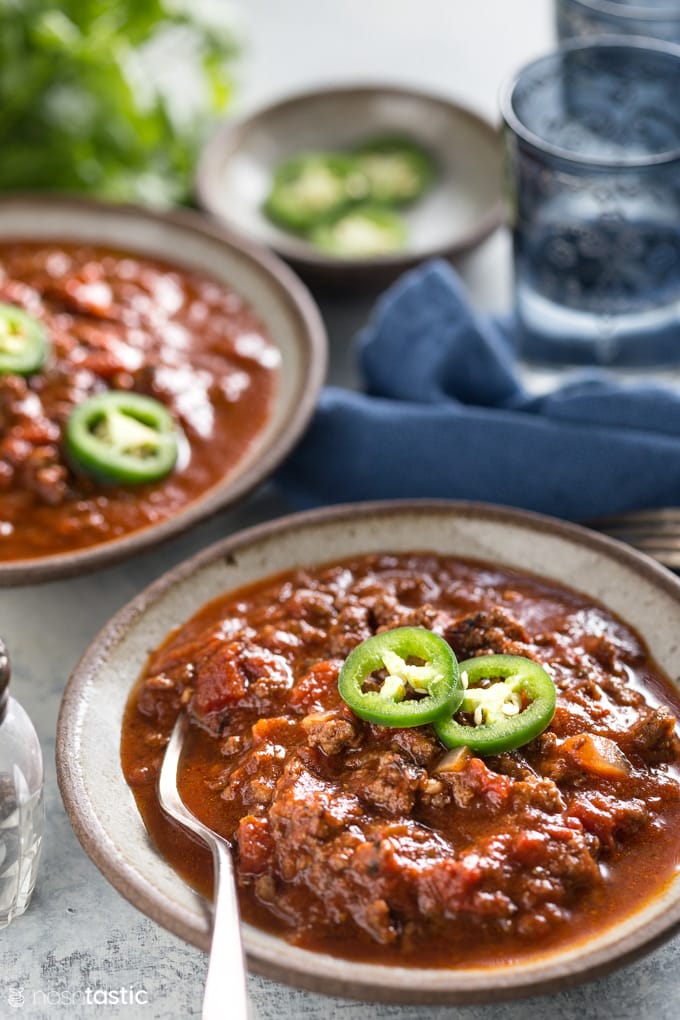 Related Keto Recipes
Keto Chili
Quick and Easy Keto Chili made with no beans is a great low carb dinner option!
Prep Time: 15 minutes
Cook Time: 30 minutes
Total Time: 45 minutes
Total Carbs: 10 g
Net Carbs: 8 g
Protein: 17 g
Servings: 6
Instructions
Scroll up to watch recipe video!

Start by seasoning the ground beef well with 1/2 tsp salt and 1/2 tsp black pepper. Then mix the baking soda with 1 tbsp water and mix into the crumbled ground beef and let it sit for 15 minutes (see note 1)

Add the chopped onions to a large pan or Dutch Oven and saute in a little oil for about 3-5 minutes until translucent, then remove the onions and set aside.

Add a little more oil if needed to the same pan and brown the beef, taking care to break up the meat into small pieces as you cook it.

Add the garlic, Ancho chili powder, cumin, oregano, cayenne pepper, and return the onions to the pan with the meat.

Simmer for 30-40 minutes.

Taste and add more salt if desired.
Slow Cooker Keto Chili
Follow the directions above for seasoning the ground beef, cooking the onions, and browning the beef.

Add the browned beef and onions to your Crockpot or Slow cooker.

Add the garlic, Ancho chili powder, cumin, oregano, cayenne pepper, to the slow cooker with the ground beef chili mixture.

Add the remaining ingredients including the fire roasted tomatoes, but add only 1/2 cup of beef broth.

Cook for about 5-6 hours on low or 3-4 hours on high.

Taste, and add more salt if desired.
Recipe Notes
Baking Soda – this is a nifty trick popularized by Cooks Illustrated, the baking soda solution helps to tenderize the beef and promotes better browning if left on the meat for about 15 minutes. It's optional so you can omit if you don't have it, and PLEASE do not substitute the baking soda with baking powder as they are not the same!
Ground Beef – We prefer to use 90/10 ground beef but you can use any ground beef you like. If you use beef with a higher fat content you may need to skim a little rendered fat from the top once the chili has cooked.
Serving Size and Nutrition – serving size is approximately 3/4 to 1 cup per person, it depends how much the liquid volume is reduced during cooking. Each serving has approximately 8 grams net carbs per serving, most of the carbs are from the tomatoes. See nutrition label for more details.
Beef Broth – we used gluten free beef broth, but you can use water in a pinch if you don't have any broth on hand.
Ancho Chili Powder – I love the smoky flavor that this chili powder lends to the recipe, but regular chili powder works too. 
Cayenne Pepper – I used a small amount of cayenne pepper so this recipe is not overly hot and spicy, but you should feel free to increase it to your own tastes.
Nutrition Facts
Keto Chili
Amount Per Serving
Calories 229 Calories from Fat 117
% Daily Value*
Fat 13g20%
Saturated Fat 4g25%
Cholesterol 49mg16%
Sodium 518mg23%
Potassium 367mg10%
Carbohydrates 10g3%
Fiber 2g8%
Sugar 4g4%
Protein 17g34%
Vitamin A 1376IU28%
Vitamin C 4mg5%
Calcium 88mg9%
Iron 4mg22%
* Percent Daily Values are based on a 2000 calorie diet.
Nutritional information on Noshtastic is provided as a courtesy and is approximate only. We cannot guarantee the accuracy of the nutritional information given for any recipe on this site.
Course: Main Course
Cuisine: American