Keto Pork Chops with a deliciously creamy tasty Dijon sauce that'll knock your socks off, it's that good!
My low carb pork chops recipe is super easy to make either all in a skillet, or as I've made it by browning the chops first and then baking them in the oven while cooking the sauce in the skillet at the same time.
It's the perfect low carb high fat dinner, plus it's only 4g net carbs per serving.
this post contains affiliate links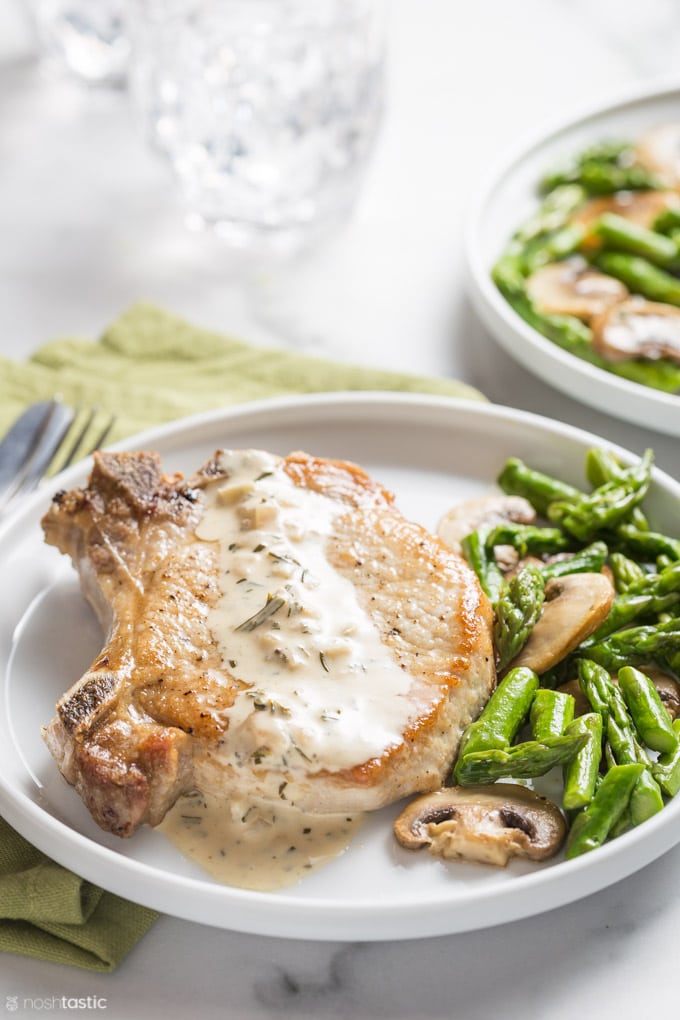 How to Make Keto Pork Chops
Start by seasoning the pork chops and then add a little oil to a cast iron skillet and brown them evenly on both sides for just a few minutes, you do not need to cook them all the way through
While they are browning preheat your oven and chop the shallots and fresh rosemary and get the other cream sauce ingredients ready.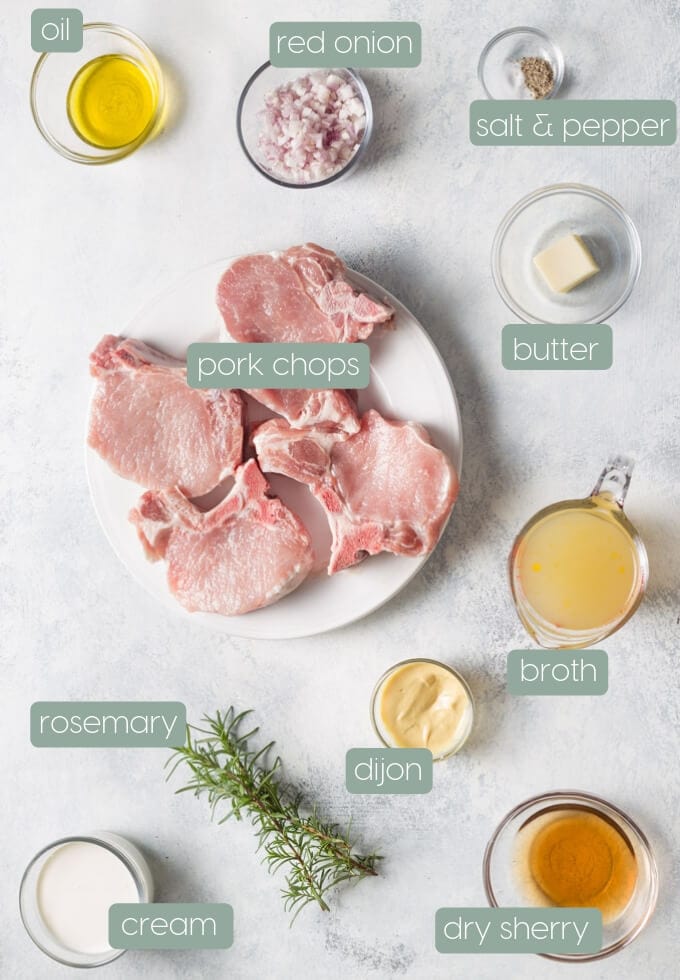 Put the browned pork chops onto a sheet pan and bake for about 10 – 15 minutes or until an instant read thermometer reads 145°F
While the chops are baking add the chopped shallots and fresh rosemary to the same skillet you cooked your chops in and cook for a few minutes with a little butter (2) and then add the dry sherry and chicken broth and deglaze the pan to get all those tasty bits off the bottom of the skillet.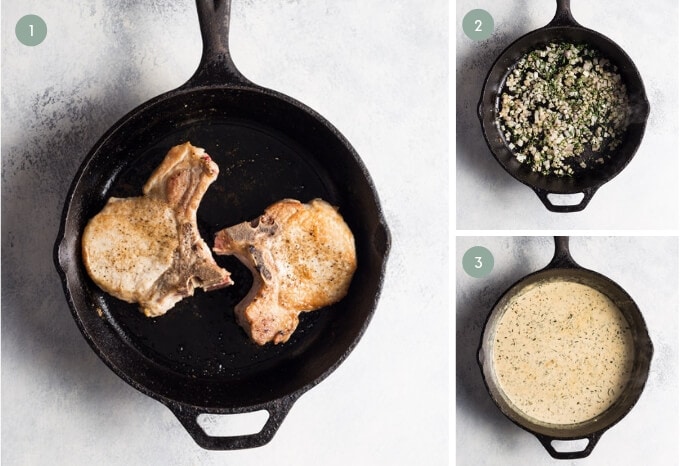 Continue cooking until the liquid amount in the skillet has reduced by about half, this will take about 8-10 minutes.
Now add the heavy cream along with the Dijon Mustard and continue simmering for a few more minutes (3) until the cream sauce thickens up, then simply serve over the top of your keto pork chops.
Quick Guide to Pork Chops
Shoulder Chops – also known as blade chops, they have lots of flavor but work best for braising or slow cooking as they have more fat and connective tissue than some of the other cuts.
Loin Chop – this lean cut is best cooked quickly on a grill, under a broiler or in a hot skillet.
Boneless Chop – Not quite as tasty as a bone in chop and can tend to dry out if overcooked at all. Like the loin chop, it's best cooked using a faster cooking method such as grilling, broiling, or in a skillet.
Sirloin Chop – has an excellent porky flavor but will need to be braised or slow cooked so that it's not tough. [1]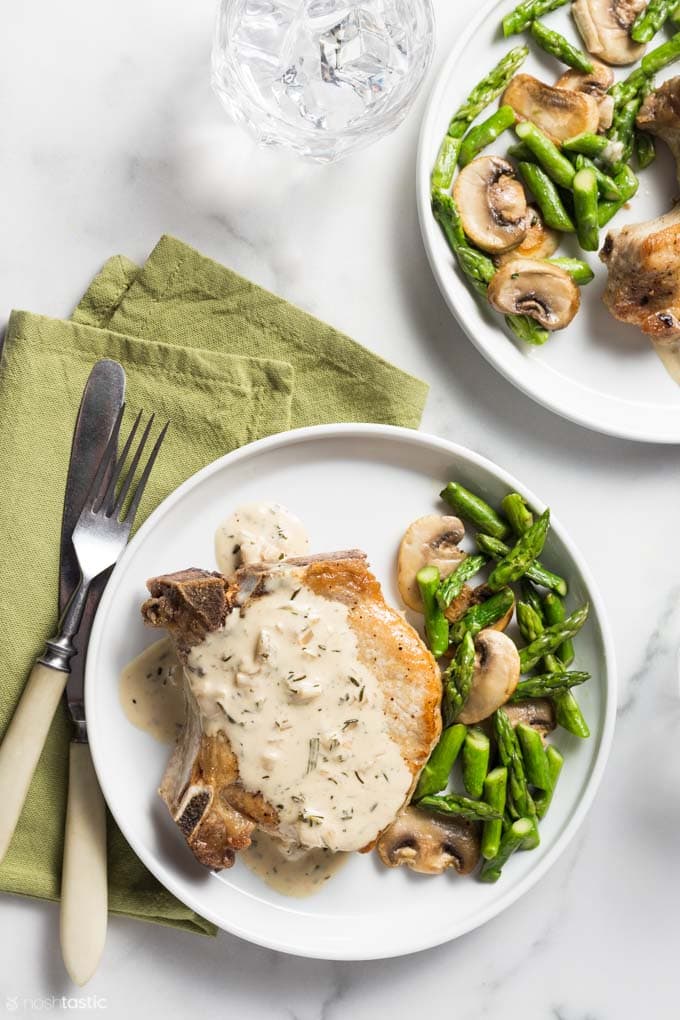 Related Keto Pork Recipes
Keto Pork Chops with Dijon Sauce
Delicious, creamy and easy to make, you'll love these Keto pork chops with mustard sauce.
Prep Time: 5 minutes
Cook Time: 30 minutes
Total Time: 35 minutes
Total Carbs: 4 g
Net Carbs: 4 g
Protein: 30 g
Servings: 4 servings
Instructions
Preheat your oven to 400°F

Season both sides of the pork chops with salt and pepper.


In a large cast-iron skillet heat olive oil over medium heat and brown pork chops evenly on all sides, you do not need to fully cook them.

Place the browned pork shops on a sheet pan or in an oven proof baking dish and bake for about 10 – 15 minutes or until a thermometer reads 145°F

In the same skillet you cooked the pork chops in add two tablespoons of butter, chopped shallots, and fresh rosemary, and cook for a few minutes over a medium heat.

Add the dry sherry and chicken broth and deglaze the skillet. Reduce the heat and simmer for about 8-10 minutes until the liquid is reduced by half.

Add the heavy cream and Dijon mustard and continue simmering for a few more minutes until the sauce thickens.

Spoon sauce over pork chops and serve.
Nutrition Facts
Keto Pork Chops with Dijon Sauce
Amount Per Serving
Calories 366 Calories from Fat 216
% Daily Value*
Fat 24g37%
Saturated Fat 10g63%
Cholesterol 130mg43%
Sodium 668mg29%
Potassium 621mg18%
Carbohydrates 4g1%
Sugar 1g1%
Protein 30g60%
Vitamin A 460IU9%
Vitamin C 5.1mg6%
Calcium 44mg4%
Iron 1.1mg6%
* Percent Daily Values are based on a 2000 calorie diet.
Nutritional information on Noshtastic is provided as a courtesy and is approximate only. We cannot guarantee the accuracy of the nutritional information given for any recipe on this site.
Course: Main Course
Cuisine: American