Gluten Free Chicken and Dumplings, its wonderful comfort food and makes an easy weeknight supper!
This is on of my kids favorite gluten free recipes that they ask me to make over and over again, it's a classic!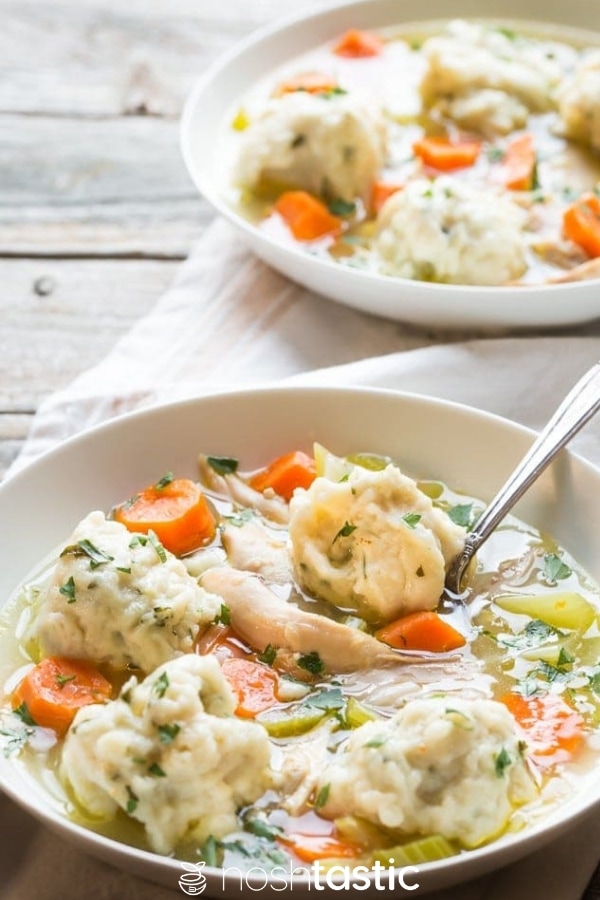 I decided to make the chicken broth as I cook it, it's simply better that was and the taste is far better than if you use canned chicken broth.
I prefer to make my own flour blend for this recipe as most of the store bought blends have gum added and they can be overly sticky.
However, if all you have is a premade blend that will work too, but making your own is best I think.
How to Make Gluten Free Chicken and Dumplings
My recipe for gluten free chicken and dumplings is made from entirely from scratch, no Bisquick or other ready made mixes here, and I think it's better than Cracker Barrel's version 🙂
I prefer to make my own chicken broth by cooking a whole chicken.
I use the resulting broth and the cooked chicken for this recipe, it just has a much nicer, fresher, flavor than using ready made chicken broth.
While the chicken is cooking I have plenty time to prepare the carrots, onions and celery and then I like to saute them a little in the pan to bring out the natural sweetness.
And then once you've made the dumplings and the soup is ready to serve, I alway add some fresh parsley to amp up the flavor a little, it's more than just a garnish!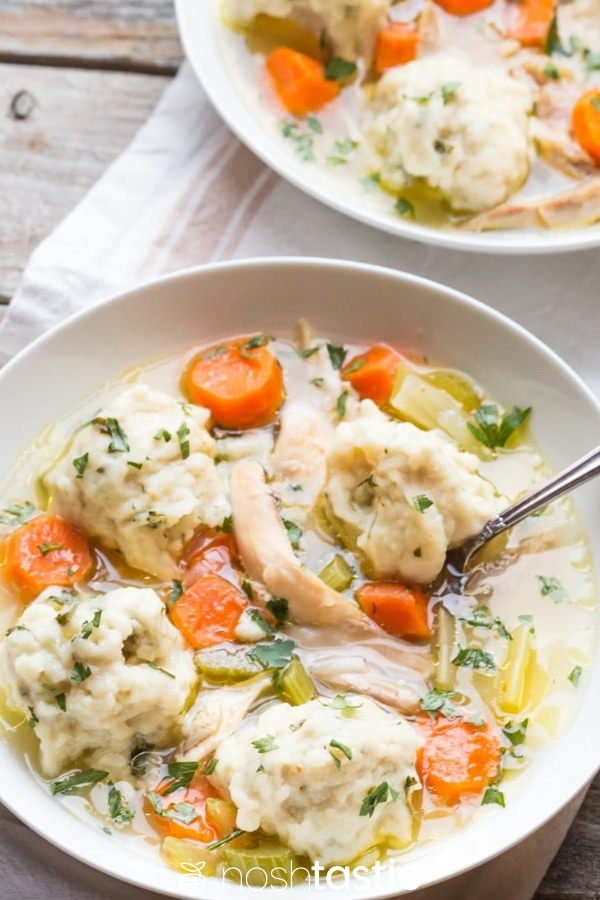 How to make gluten free dumplings from scratch
My gluten free dumplings are very simple to make, just add the dry ingredients to a bowl and stir well so that they are all combined.
Then you make a little 'well' in the middle of the bowl and add the eggs and chicken stock and you're good to go!
I've tinkered around with a couple of recipes trying to make dumplings that were soft and tasty and this one works well.
I did try to make them egg free (without an egg substitute) and that made a much heavier dumpling, my kids ate it anyway but it was not great.
I also wanted to make a dumpling that was dairy free and this one has no milk of any kind in it.
You could try it with a flax egg but I've never tried it that way so please let me know if that works for you.
*This post may contain Amazon affiliate links*
Related Gluten Free Dinner Recipes
Kitchen Tools and Ingredients You'll Need to Make Gluten Free Chicken and Dumplings
Here are a couple of the ingredients and tools that you'll need to make Gluten Free Chicken and Dumplings, you make have many of them already.
Large Bowl I have one very similar to this in my own kitchen.
Gluten Free Flour if you plan to use a premade flour, then this is one of the better ones. if you prefer homemade then check out my recipe for homemade gluten free flour
Bay Leaves – they add a little flavor to the recipe and they are easy to find in any grocery store.
Large Pan – As it's cheaper per pound I'll often buy a whole chicken (like I did in this recipe) and use that to make chicken broth, but you need to have a large enough stockpot pan to accommodate it.
Xanthan Gum – this is a staple ingredient in most gluten free baking and flour recipes, it helps to hold the flour together in the absence of gluten. Most premixed gluten free flour blends already have Xanthan gum (or a similar gum) added so be sure to read the label.
Sharp Kitchen Knife – Everyone needs at least one all round sharp kitchen knife, this is very similar to the one I use.
Cutting Board Set – I love a great cutting board set that comes in various sizes and you can throw in the dishwasher, win win!
PIN THIS TO YOUR GLUTEN FREE DINNERS BOARD!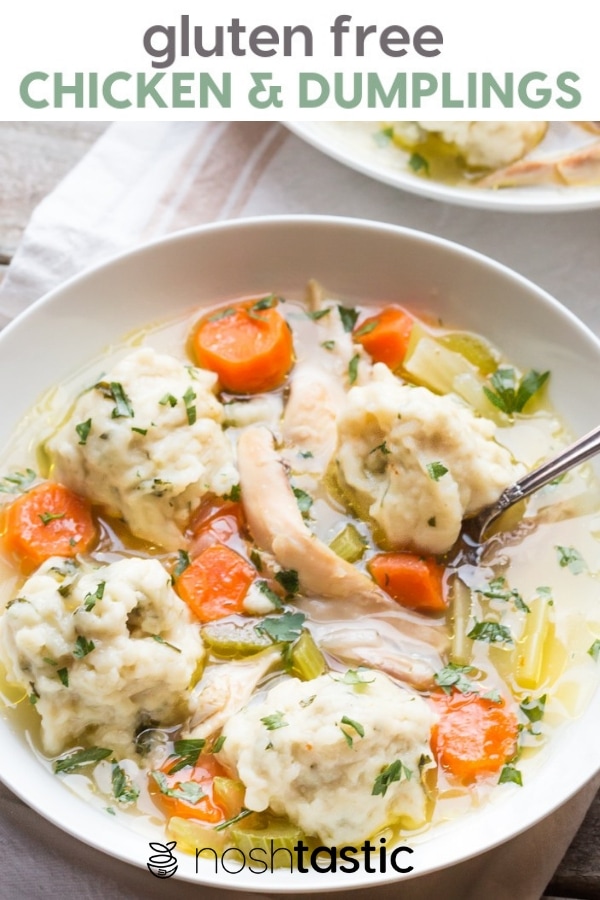 Best Ever Gluten Free Chicken and Dumplings!
Gluten Free Chicken and Dumplings, perfect weeknight comfort food!
Prep Time: 15 minutes
Cook Time: 1 hour 20 minutes
Total Time: 1 hour 35 minutes
Total Carbs: 41 g
Protein: 27 g
Servings: 6
Ingredients
1 whole chicken
1 onion , finely chopped
2 tbsp oil
5 carrots , peeled and sliced
3 ribs celery , sliced
fresh parsley
Instructions
Put the whole chicken in a large pan and cover with water and add the bay leaves. It will take about six to eight cups of water to cover the chicken.

Bring the pot to the boil and then simmer with the lid on for about an hour, you can skim off the foam and scum from the top of the water as you go.

While the soup is simmering prepare the onion, carrots and celery as directed.

After the chicken has been cooking for about 50 minutes heat the oil in a second pan (large enough to accommodate the soup) and gently saute the onion, carrots and celery for about five minutes.

Add the broth from the chicken to the pan with the vegetables and let it simmer on a medium heat for a few minutes.

When the chicken has cooled enough to handle, peel the skin off and tear the meat off the bones and add it to the soup, then season with salt and pepper.
Make the gluten free dumplings
To make the dumplings add the dry ingredients to a

bowl,

then add in the beaten eggs, parsley and chicken broth and mix well.

The dumpling mixture will be thick and sticky, drop even sized spoonfuls of it into the pan with the soup.

Cover the soup and simmer for 20 minutes.

Taste the soup and season, garnish with chopped parsley and serve.
Nutrition Facts
Best Ever Gluten Free Chicken and Dumplings!
Amount Per Serving
Calories 478 Calories from Fat 207
% Daily Value*
Fat 23g35%
Saturated Fat 5g31%
Cholesterol 134mg45%
Sodium 490mg21%
Potassium 663mg19%
Carbohydrates 41g14%
Fiber 6g25%
Sugar 5g6%
Protein 27g54%
Vitamin A 8885IU178%
Vitamin C 10.4mg13%
Calcium 156mg16%
Iron 3.5mg19%
* Percent Daily Values are based on a 2000 calorie diet.
Nutritional information on Noshtastic is provided as a courtesy and is approximate only. We cannot guarantee the accuracy of the nutritional information given for any recipe on this site.
Course: Dinner
Cuisine: American