Keto Herb Crackers just might be my favorite low carb cracker of all time, the flavor is simply fabulous and they only take a short time to prepare!
My Keto herb Crackers recipe use the now famous Fathead dough, I simply tweaked it to add the fresh herbs, I think you'll love it!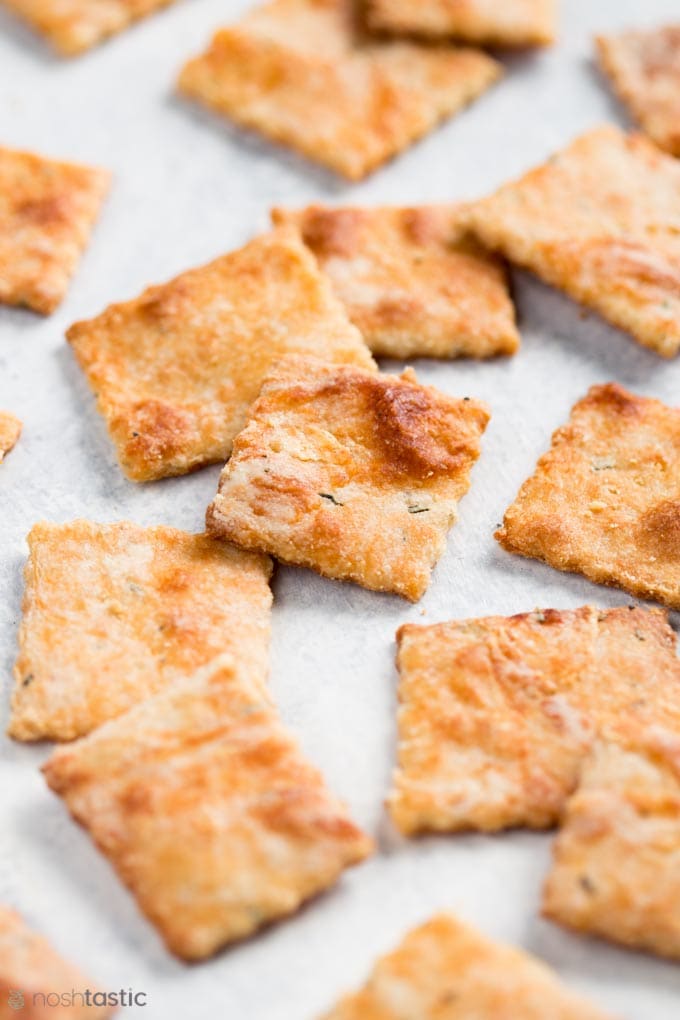 The Easy way To Make Keto Herb Crackers!
The first thing you'll need are some fresh herbs, I don't think that dried herbs will create the same flavor to be honest. I used a mixture of fresh rosemary and thyme
For one batch of keto herb crackers you only need about 1tsp herbs, take the thyme leaves and rosemary sprigs off the woody stems and finely chop them.
Measure out the almond flour, garlic powder, and salt, into a large bowl and mix them all together with the chopped herbs.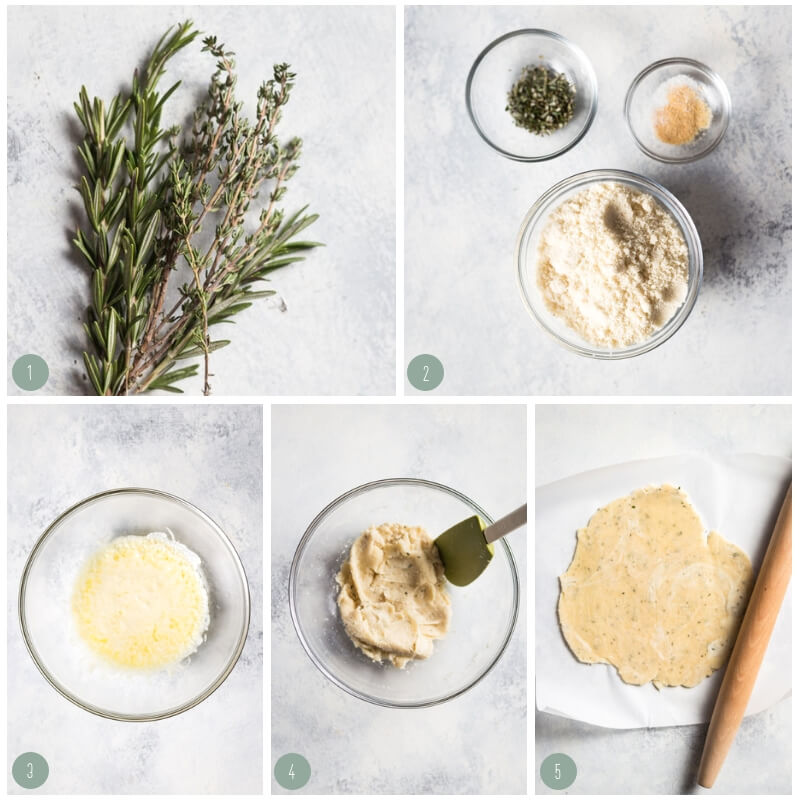 Then you can add the mozzarella cheese to a separate bowl and microwave as directed (see recipe card) so that it looks like step 3 in the photo above.
As soon as you remove the warm cheese from the microwave add the seasoned almond flour and mix well with a fork or spatula until you get a dough like consistency.
Now simply roll it out between two sheets of parchment paper, remove the top paper and place the rolled out cracker dough on a baking sheet and then cut into even sized squares, poke holes in the top of the cracker with a fork, and bake as directed.
this post contains affiliate links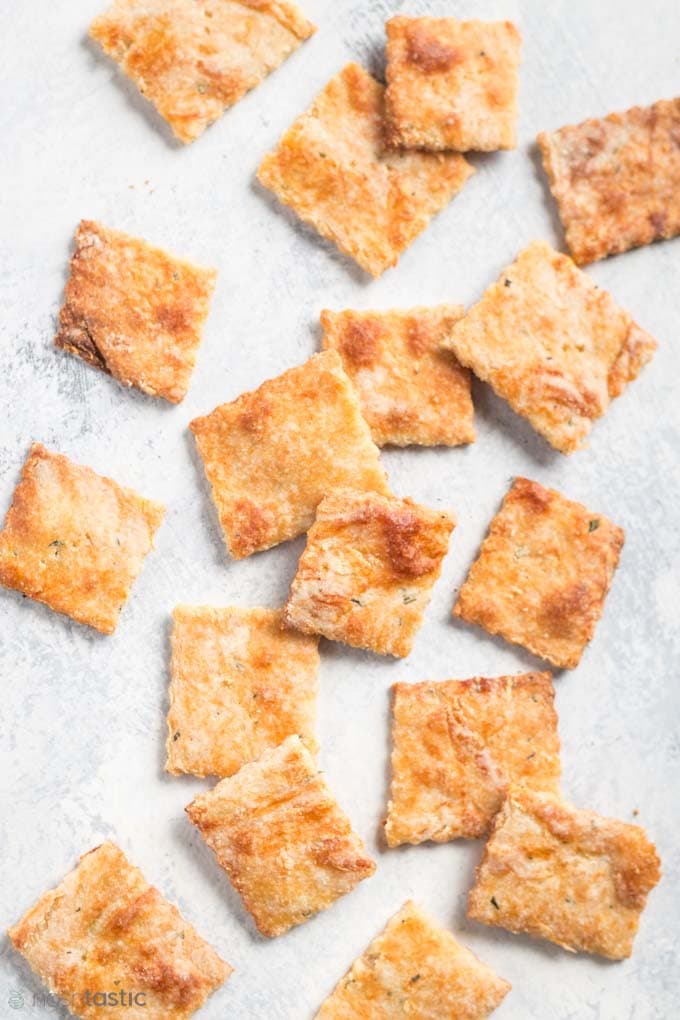 Want More Gluten Free Recipes like this? Subscribe to my newsletter!
Keto Low Carb Herb Crackers
With the delicate flavor these Keto Low Carb Herb Crackers will work perfectly with all sorts of dips and appetizers.
Prep Time: 5 minutes
Cook Time: 10 minutes
Total Time: 15 minutes
Total Carbs: 2 g
Net Carbs: 2 g
Protein: 4 g
Servings: 12 three crackers per serving
Ingredients
1 cup mozzarella cheese
1 cup almond flour
1/4 tsp garlic powder
1/4 tsp salt
1/2 tsp fresh Rosemary , finely chopped, stems removed
1/2 tsp fresh Thyme , finely chopped, stems removed
Instructions
Preheat your oven to 390F

Add almond flour, garlic powder, salt, Rosemary, and Thyme, to a bowl and mix well.

Melt mozzarella cheese in a separate microwave safe bowl until just melted which will take about 60- 90 seconds depending on your microwave.

Add the seasoned almond flour and mix thoroughly with a spatula while the cheese is still warm and until the flour is fully incorporated and you have a dough like consistency.

Roll out the dough to around 1/8 inch thick between two pieces of parchment paper. The thinner you make them the crisper they will be, but if they are too thin they will cook (and burn!) quicker so just be aware of that.

Remove the top parchment paper and transfer the bottom paper with rolled out dough onto a baking sheet.

Cut into even sized squares using a pizza cutter or knife, and poke holes in each cracker with a fork to prevent bubbles forming on top.

Bake for 9- 12 minutes until golden on top.

Once baked remove from oven and let them fully cool before eating.
Recipe Notes
Serving Size - Makes approximately 36 small crackers, three crackers per serving.
Storage - Store in an airtight container with kitchen paper towels on the bottom of the container.
Nutrition Facts
Keto Low Carb Herb Crackers
Amount Per Serving
Calories 81 Calories from Fat 54
% Daily Value*
Fat 6g9%
Saturated Fat 1g6%
Cholesterol 7mg2%
Sodium 107mg5%
Potassium 7mg0%
Carbohydrates 2g1%
Protein 4g8%
Vitamin A 65IU1%
Calcium 67mg7%
Iron 0.4mg2%
* Percent Daily Values are based on a 2000 calorie diet.
Nutritional information on Noshtastic is provided as a courtesy and is approximate only. We cannot guarantee the accuracy of the nutritional information given for any recipe on this site.
Course: Appetizer
Cuisine: American