Healthy Chicken Stew with Kale and Dijon Mustard, So simple to make and with ingredients you can find anywhere! it's also Whole30 and gluten free.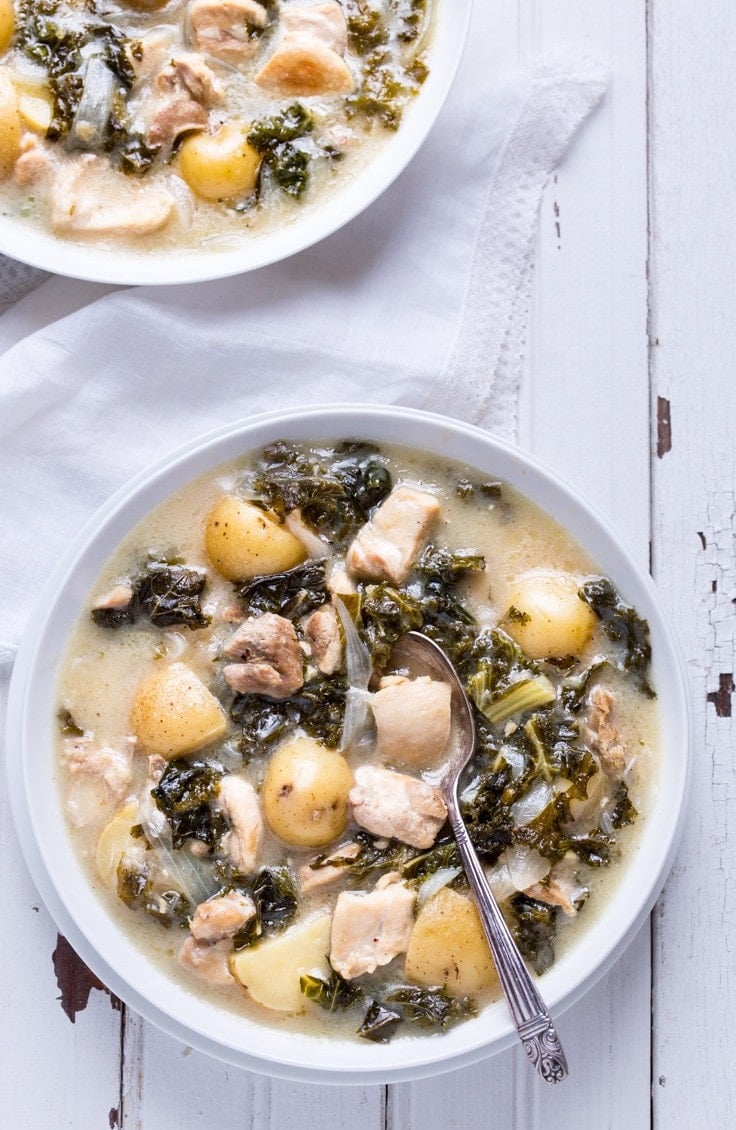 How to make Chicken Stew
It's hard to believe that just a handful of simple ingredients could make a Healthy whole30 Chicken Stew,  it's so simple to make and with ingredients you can find anywhere. it's also Whole30 and gluten free. and Potatoes, but it's true!
I came across this recipe in an old Cooking Light annual recipes book and have adapted it to turn it into a simple weeknight dinner.
I was a tad skeptical about trying to convince my kids to eat kale in a stew (well, kale in anything really)  and in the interests of full disclosure I need to tell you that only one of my boys ate everything but the kale, and the other one ate
most of it, I guess I can't win them all!
Despite my son's lack of enthusiasm for kale, I still think that this is a fabulous paleo chicken stew and makes a perfect supper for this lovely cool fall weather we're finally enjoying. I'm all about cooking dinners that are simple to prepare, quick to cook, and taste really great so this meal fits the bill nicely.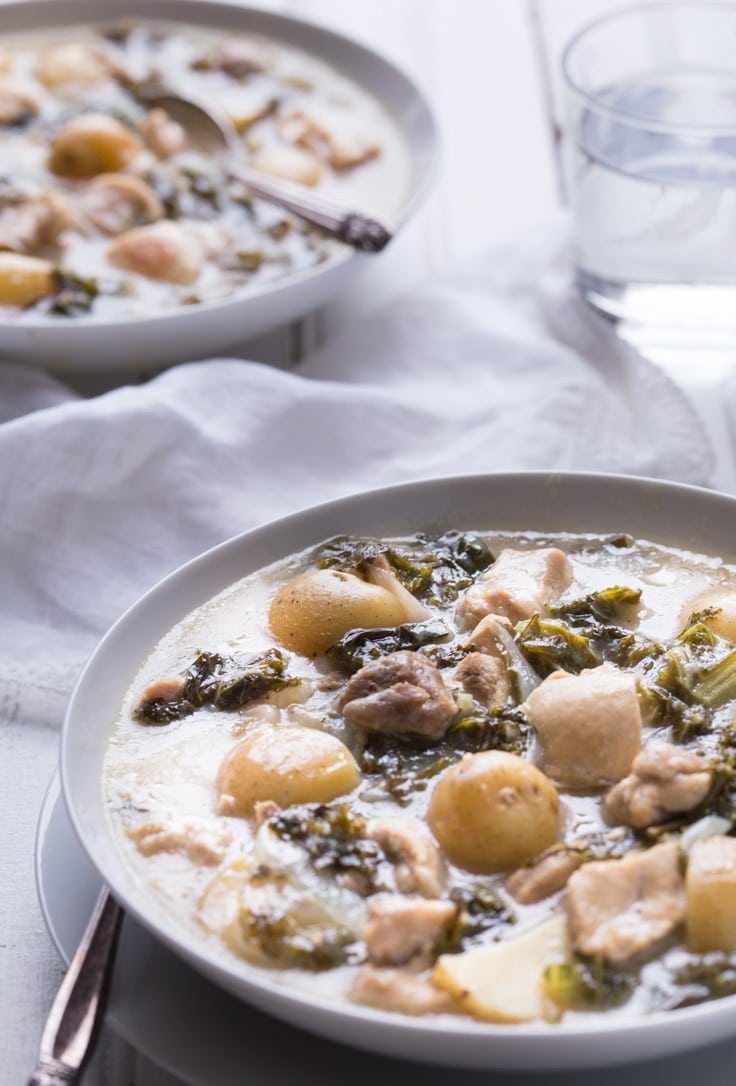 I like to use the small new potatoes as it's just  easier to cut them in half  without peeling them, I like convenience and making things easy!
However they can be pricey sometimes so if that's the case then I would use a regular yellow or red potato  and then peel it and cut it into large chunks, you don't want the pieces so small that they turn to mush in the stew. I have included directions for you to cook it in your slow cooker if you prefer to cook it that way.
The original recipe used leeks and not onions, but they're not always available in my grocery store so I opted for regular white onions and they worked really well.
If you prefer to use leeks be sure to wash them well one you cut them up so you get all the dirt out from in between the leaves.
Healthy Chicken Stew with Kale and Potatoes
A really simple rustic style Chicken Stew with Kale and Potatoes. Easy to prepare and quick to cook, perfect comfort food! Recipe adapted from an old Cooking Light Annual Recipes book.
Prep Time: 15 minutes
Cook Time: 1 hour
Total Time: 1 hour 15 minutes
Total Carbs: 31 g
Protein: 39 g
Servings: 4
Ingredients
2 tbsp olive oil , divided
1 large onion , chopped
4 cloves garlic , minced
1/3 cup corn starch, or arrowroot for paleo
salt and pepper
1.5 lb boneless skinless chicken thighs , cut into small pieces
4 cups gluten free chicken broth
1.5 cups water
2 tbsp Dijon mustard
1 lb small white potatoes , halved
5 oz kale, chopped , about 8 cups
Instructions
Choose a large heavy bottomed pan for your stew and heat 1 tbsp oil in it. Add the onions to the pan and saute on a medium heat until they soften, it takes about 5 minutes, in the last minute add the crushed garlic cloves. Remove the onions to a plate once they are done.

Place the cornstarch into a bowl and season with 1/4 tsp each of salt and pepper, add the chopped chicken pieces, mix the chicken in with the cornstarch so that it is well coated. Add the remaining oil to the pan and heat to medium high, then cook the chicken until browned, about five minutes or so. You may need to do this in batches so as not to crowd out the pan or you will end up steaming the chicken.

Return the onions to the pan along with the chicken broth, dijon mustard and water. Using a wooden spoon make sure you scrape up all the browned bits of chicken from the base of the pan and into the broth.

Now add the potatoes and cover and simmer for about 30 minutes. Add in the kale and mix it in to the stew, it might seem like a lot but it will cook down pretty quickly. Cover the pan and cook for a further 10 minutes.

Taste and adjust seasoning if needed, serve hot.

SLOW COOKER INSTRUCTIONS

Follow the directions for browning the chicken as above, now add the chicken to your slow cooker and all remaining ingredients except the kale.

Cook it on low for 5 - 6 hours, or high for about 3 - 4. how long it takes will depend on the heat of your slow cooker. Add the kale in the last hour of cooking and cook until it's soft and wilted.

I have two slow cookers and the newer one is hotter on the high and low settings than the older one.
Nutrition Facts
Healthy Chicken Stew with Kale and Potatoes
Amount Per Serving
Calories 420 Calories from Fat 135
% Daily Value*
Fat 15g23%
Saturated Fat 2g13%
Cholesterol 161mg54%
Sodium 1128mg49%
Potassium 1309mg37%
Carbohydrates 31g10%
Fiber 3g13%
Sugar 1g1%
Protein 39g78%
Vitamin A 3580IU72%
Vitamin C 74.9mg91%
Calcium 136mg14%
Iron 6.3mg35%
* Percent Daily Values are based on a 2000 calorie diet.
Nutritional information on Noshtastic is provided as a courtesy and is approximate only. We cannot guarantee the accuracy of the nutritional information given for any recipe on this site.