You can make this authentic homemade Creole Jambalaya Recipe really easily!
It's flavor packed with bell peppers, celery, onions, spices, Andouille sausage and shrimp, you'll love it!
It's also gluten free and dairy free.
This post contains affiliate links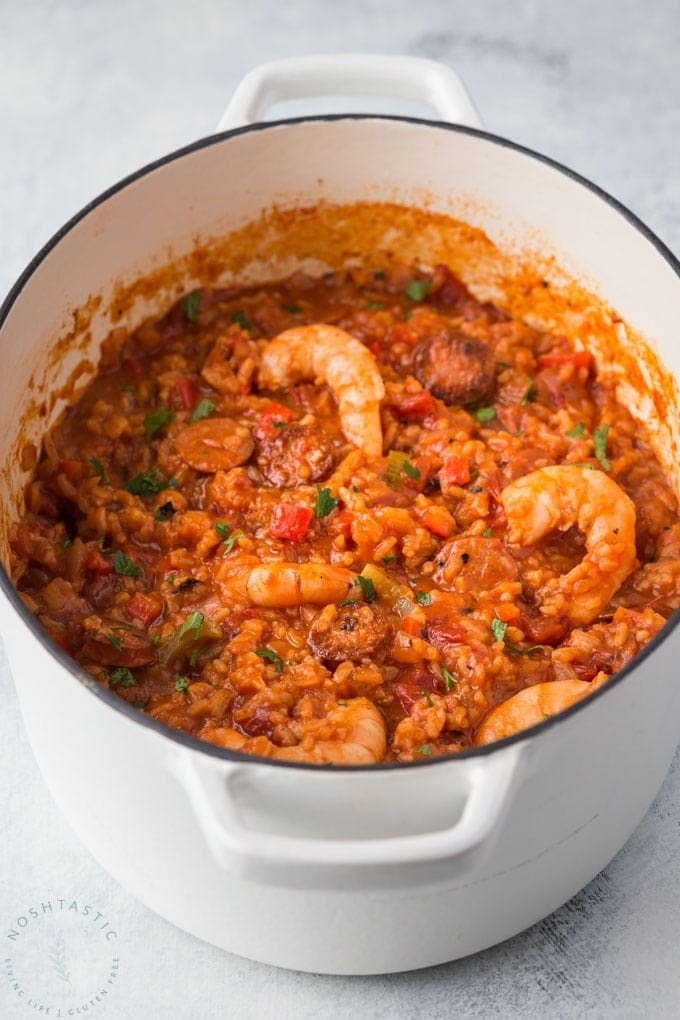 What is an authentic Jambalaya Recipe?
Jambalaya is one of Louisiana's most famous dishes that has both French and Spanish influence, it's quite similar in style to Spanish Paella in that is has rice and often seafood.
Cajun style Jambalaya tends to be more brown in color as the meat is cooked first in the pot, then the vegetables are sauteed after that and cooked in the rice with stock.
Creole style, also know as 'red Jambalaya' includes tomatoes which are cooked along with the trinity of vegetables, onions, bell peppers, and celery, and then cooked with the rice and stock as before.
Both versions are delicious and tasty, but for my recipe I'm tending towards a more Creole version as I've included some fire roasted tomatoes.
Whats the difference between Cajun and Creole cooking?
Well, as mentioned above, the main difference seems to be that Creole cooking uses tomatoes and authentic Cajun recipes do not.
There's more to it than that I'm sure, but you get the idea!
How do you make Jambalaya?
Jambalaya is a very forgiving recipe, so even if you overcook it a bit as I have on occasion, it will still be delicious.
The first thing you want to do is cook the andouille sausage pieces in a large heavy bottomed pot until it browns a little and then remove them with a slotted spoon.
Then you add the classic creole vegetable 'trinity' which always includes bell pepper, onions and celery and soften them a little along with a creole or cajun seasoning blend.
The next step is to add the rice, I like to rinse it first, then return the sausage to the pot, add the chicken stock, fire roasted tomatoes and then bake it in the oven for about 40-45 minutes.
I add the shrimp in right at the end, it will cook in 1-2 minutes in the heat from the rice.
A wonderful Creole side dish to serve alongside this would be my Corn Maque Choux, it's another Louisiana classic and only takes minutes to prepare!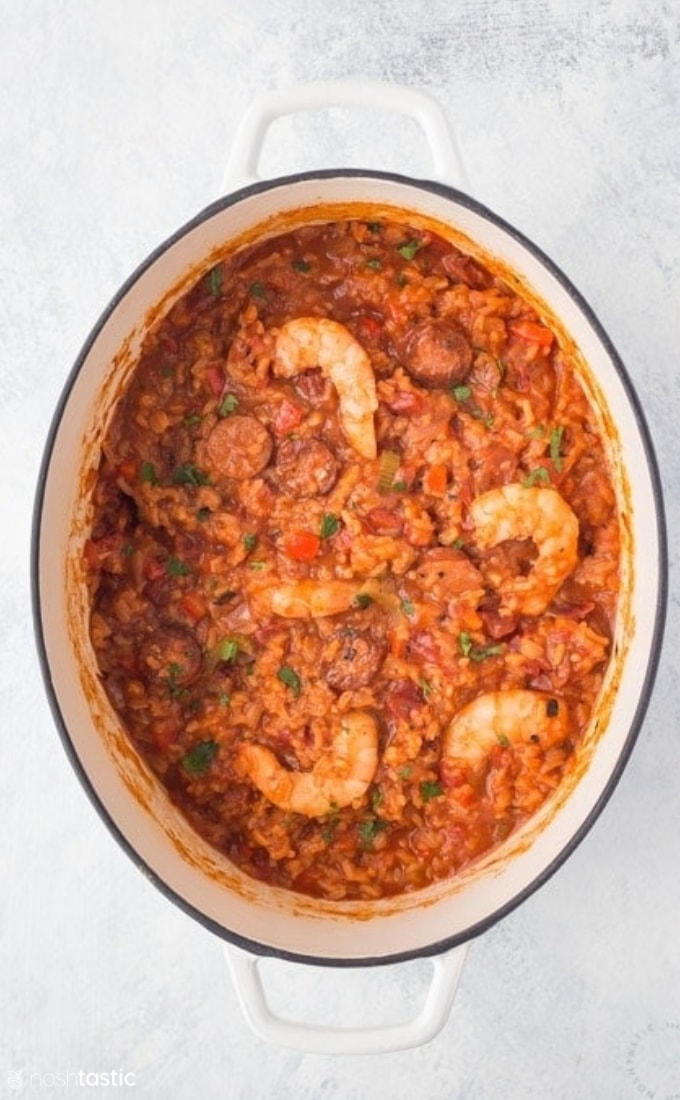 What Spices are used in Jambalaya?
You can buy ready made cajun or creole spice blends, but I prefer to make my own if I can.
My version has garlic powder, onion powder and oregano, along with paprika, thyme and salt and pepper.
If you want a little heat then you can add cayenne pepper, but the people in my house won't tolerate much spicy heat so I left that out.
Related Recipes
Creole Jambalaya Recipe
Easy Jambalaya Recipe you can bake in the oven or cook on the stove.
Prep Time: 15 minutes
Cook Time: 20 minutes
Total Time: 35 minutes
Total Carbs: 3 g
Protein: 30 g
Servings: 6
Ingredients
1 lb andouille sausage, sliced , 454g
1 tbsp olive oil
4 cloves garlic, crushed
1/2 red bell pepper , chopped
1 stick celery , sliced
1/2 onion , chopped
1/4 tsp garlic powder
1/4 tsp onion powder
1/4 tsp oregano
1/8 tsp thyme
1/8 tsp black pepper
3/4 tsp paprika
1/2 tsp salt
1/8 tsp cayenne pepper , optional, adjust for heat
2 14.5oz cans fire roasted tomato , 822g
2 cups gluten free chicken broth , 500mls
1 cup white jasmine rice, rinsed , 185g, approx
1 lb medium raw shrimp, peeled , 454g
sliced green onions
Louisiana hot sauce , optional
Instructions
Using a little olive oil, cook the Andouille Sausage slices in a Dutch Oven until they are a little caramelized on both sides, then remove with a slotted spoon.


Add crushed garlic, onion, bell pepper, and celery to the pan and saute until soft, about 3-4 minutes on a medium heat.

Add the seasonings to the pan and stir well, then add the rinsed Jasmine rice and add that to the pan along with the chicken broth, fire roasted tomatoes and return the andouille sausages to the pan, mix well to combine.
STOVE TOP JAMBALAYA
Bring it to a boil then reduce the heat to low, add the lid, and simmer for 20 -35 minutes or until rice is fully cooked.

Once the rice is cooked stir in the raw shrimp, then put the lid back on for 3-5 minutes. The heat from the rice should be enough to cook the shrimp all the way through.
OVEN BAKED JAMBALAYA
Preheat oven to 350 degrees F.

Cover and bake at 350F for 45-55 minutes or until rice is fully cooked.

Once the rice is cooked stir in the raw shrimp, then put the lid back on for 3-5 minutes. The heat from the rice should be enough to cook the shrimp all the way through.

Serve with sliced green onions and hot sauce on the side. If you're looking for a side dish to make with it my Corn Maque Choux recipe would pair really well.
Nutrition Facts
Creole Jambalaya Recipe
Amount Per Serving
Calories 369 Calories from Fat 225
% Daily Value*
Fat 25g38%
Saturated Fat 7g44%
Cholesterol 254mg85%
Sodium 1751mg76%
Potassium 411mg12%
Carbohydrates 3g1%
Sugar 1g1%
Protein 30g60%
Vitamin A 530IU11%
Vitamin C 23.3mg28%
Calcium 133mg13%
Iron 2.9mg16%
* Percent Daily Values are based on a 2000 calorie diet.
Nutritional information on Noshtastic is provided as a courtesy and is approximate only. We cannot guarantee the accuracy of the nutritional information given for any recipe on this site.
Course: Main Course
Cuisine: Cajun, Creole