Keto Bread is kind of like the holy grail of low carb baking and I really think we we've nailed it with this recipe!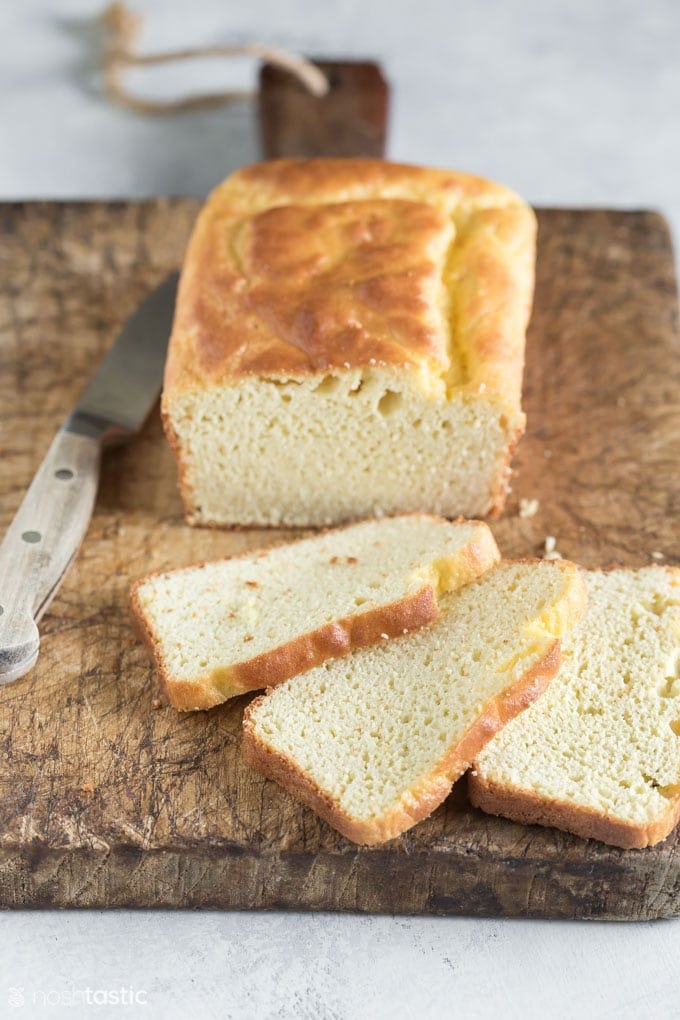 This low carb Keto bread does not require you to whip egg whites, add quirky ingredients, or use yeast, and no eggy taste, it's about as simple as it gets to make.
For my easy Keto bread recipe I tested, retested, and tested again with various different low carb ingredients, cook times, and methods before settling on this recipe as the best low carb bread recipe we've made so far, I think you'll love it!
This post contains affiliate links
How to make Keto bread
Start by making sure that all your ingredients for low carb bread are at room temperature. If you need to raise the temperature of the eggs a little bit you can put them in a bowl of warm water (with the shell still on!)
Then go ahead and line a 8.5 x 4.5 inch loaf pan with parchment paper and set aside.
Measure out your almond flour, baking powder, xanthan gum, and salt and mix them together in a bowl
Mix all your wet ingredients including the yoghurt, olive oil, and eggs, and they also need to be at room temperature too.
Now all you need to do is add the dry bread ingredients to the wet and mix well together, then pour into the lined loaf pan.
Bake at 350F for around 45- 50 minutes until the loaf is crusty on top.
There is a certain texture that many low carb bread recipes have, it can be almost sponge like and is sometimes a little on the wet side depending on the ingredients so I like to slice the bread and let the slices 'dry out' for about an hour and I think the texture it much improved this way.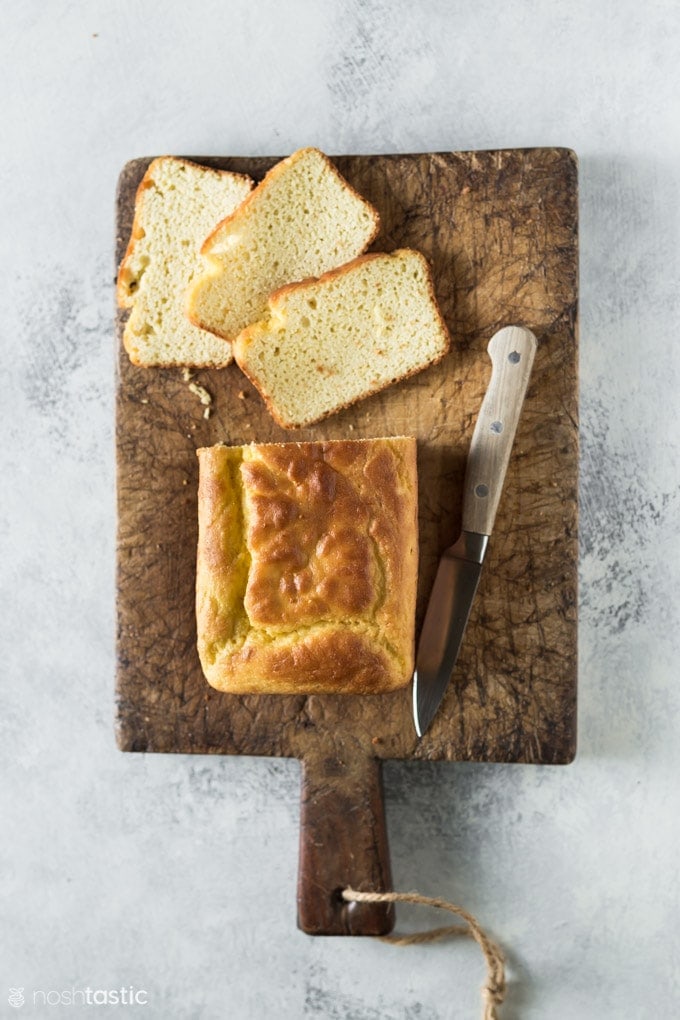 Tips for using your low carb Keto Bread
So let's be honest here, this recipe and all Keto bread recipes are not anywhere close to wheat bread, at least not in my book. Now that doesn't mean they are bad, not at all, but you do need to adjust your expectations.
Remember for Keto baking and making Keto bread in particular we are somewhat limited to using only a couple of non grain gluten free flours, usually almond flour or coconut flour, or a mixture of both.
Now some recipes also like to use things like yeast, ground chia, ground flax, and a couple other things to help with texture.
Well, I have made many of the most popular Keto recipes recipes on the internet and while many of them were good, I wanted to create one that was simpler and didn't require looking on the internet for specialty ingredients just to make a loaf of bread.
Plus, can I just say that the taste of flax in keto bread was something I really did not care for, it has an almost bitter taste I thought, so that had to go.
Also common between many of the Keto bread recipes is a kind of spongy texture and the bread can appear almost wet, with some recipes producing more 'wet' bread than others.
I have tried to minimize this in my recipe, but my best tip for getting your keto bread to dry out a little is to slice it ahead of time and literaly let the individual slices dry out for at least an hour.
Now it's perfectly nice to eat without this, but if you have time I'd try this tip and see how you like it.
And my last tip is to wait until your low carb bread is fully cooled before you slice into it, this will help a lot. I was able to get very thin slices from it when it was cooled, it's a dense bread so you probably don't want to eat massive slices as it's very filling.
Can I make this Keto bread in a bread maker?
A bread maker is not necessary for this recipe, but if you have one you could try it to bake it in if that's more convenient.
However, the dimensions of the pan inside your bread maker may be totally different to the loaf pan size I recommend and that will affect the outcome and bake time.
Remember, this is a gluten free grain free bread recipe and as a result we don't need to go through the usual cycle of kneading the bread dough to activate the gluten (there's no gluten in this recipe).
Low Carb Keto Bread Recipe Substitutions
Almond flour – you may be able to substitute with another ground nut flour or sunflower seed flour, I've not tested it with either. You cannot substitute with coconut flour, it will not work as they are too different and the proportions would be way off, you'd be better to look for a bread recipe that's been created specifically to work with coconut flour if that's what you're looking for.
Eggs – there's no substitute for this recipe, I'm sorry! While flax or chia eggs work in many baking recipes unfortunately they won't work in this one.
Natural yoghurt – you could also try Daisy brand sour cream (or any other brand without added starch) or you might want to try full fat coconut milk, but I've not tried either.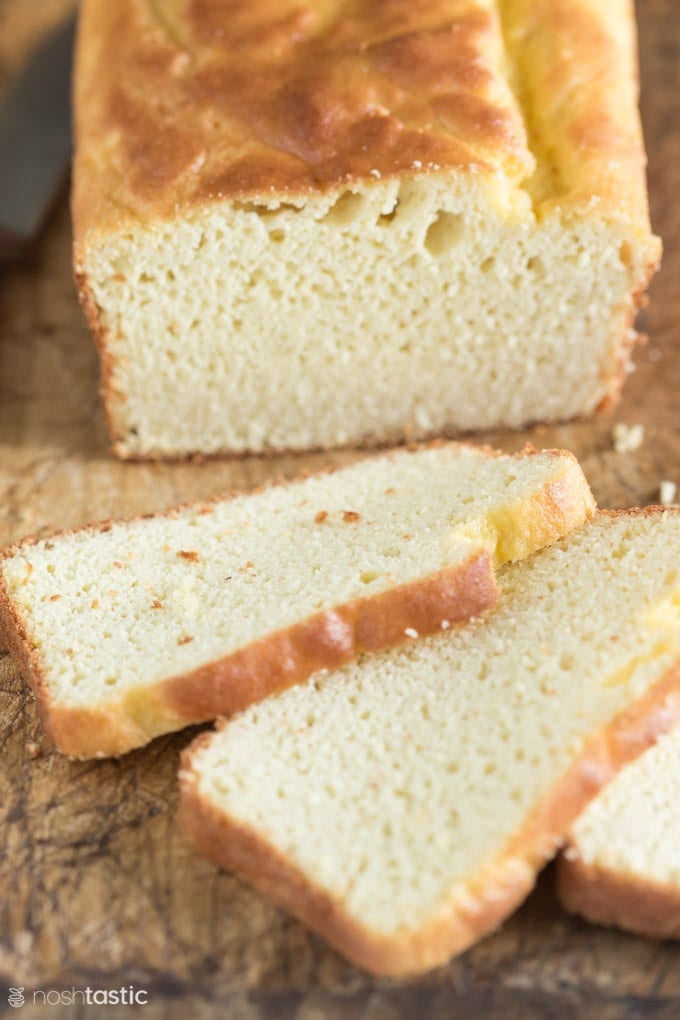 Related Keto Bread Recipes
Low Carb Keto Bread
This is a delicious easy low carb Keto Bread, it contains no yeast, does not taste eggy, and is very simple to make.
Prep Time: 10 minutes
Cook Time: 50 minutes
Total Time: 1 hour
Total Carbs: 3 g
Net Carbs: 2 g
Protein: 5 g
Servings: 18 slices
Ingredients
Dry Keto Bread Ingredients
Wet Keto Bread Ingredients
5 large eggs , at room temperature
2 large egg whites , at room temperature
2 tbsp olive oil
1/2 cup natural yoghurt , at room temperature
Instructions
Don't miss the recipe video above!

All ingredients must be room temperature before you start, so remove them from the fridge first and let sit for at least 30 minutes. You can put the eggs (still in the shell) in a bowl of warm water to warm up if you need to speed up the process.

Preheat your oven to 350F

Mix all the dry ingredients together including almond flour, baking powder, xanthan gum, fine salt.

All wet ingredients must be room temperature. Mix together the eggs, egg whites, olive oil, and natural yoghurt, beat with a whisk until well combined.

Mix the dry keto bread ingredients into the wet ingredients, then put in parchment lined loaf pan and use a spatula to spread out the bread dough.

Bake for 45- 50 minutes until its crusty on top at 350F

Let it cool in the pan for 5 minutes, then turn it out onto a cooling rack

Let the bread fully cool before you cut into it. makes about 18-20 thin slices
Recipe Notes
Everything must be at room temperature, this includes the eggs, yoghurt, and oil.
I like to cut the bread and let the thin slices 'dry' out for an hour or so, the texture improves in my opinion if you have time to do this. 
2g net carbs per serving
Nutrition Facts
Low Carb Keto Bread
Amount Per Serving
Calories 110 Calories from Fat 81
% Daily Value*
Fat 9g14%
Saturated Fat 1g6%
Cholesterol 52mg17%
Sodium 96mg4%
Potassium 91mg3%
Carbohydrates 3g1%
Fiber 1g4%
Protein 5g10%
Vitamin A 80IU2%
Calcium 66mg7%
Iron 0.8mg4%
* Percent Daily Values are based on a 2000 calorie diet.
Nutritional information on Noshtastic is provided as a courtesy and is approximate only. We cannot guarantee the accuracy of the nutritional information given for any recipe on this site.
Course: Side Dish
Cuisine: American