Garlic butter Shrimp served with a side of sautéed asparagus, makes a fabulous appetizer, light lunch, or low carb dinner, you choose!
It's quick to prepare and if you used already peeled shrimp you'll have your keto garlic butter shrimp on the table in 15 minutes or less.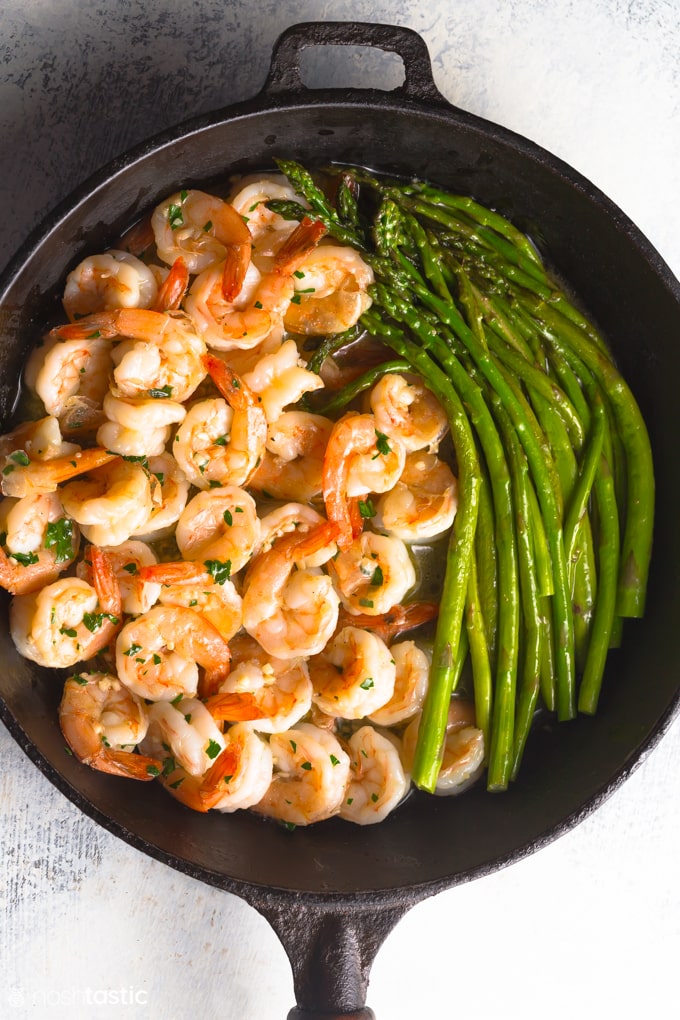 Quick Tips for Making Garlic Butter Shrimp
For speed and ease of eating (especially if you have kids) use fully peeled shrimp, but if you want a prettier presentation you can leave the tails on.
This shrimp recipe does not require a long marinate time, you can let it sit for a few minutes while you prepare and cook the asparagus that should be long enough as much of the flavor is added while they are cooking.
I've added four cloves of garlic, which is a pretty generous amount (this is garlic butter shrimp after all!) but if you want to decrease it a little that's fine too.
I think this is best served hot from the skillet. While you can reheat it, it's easy to overcook it so just be aware of that.
this post contains affiliate links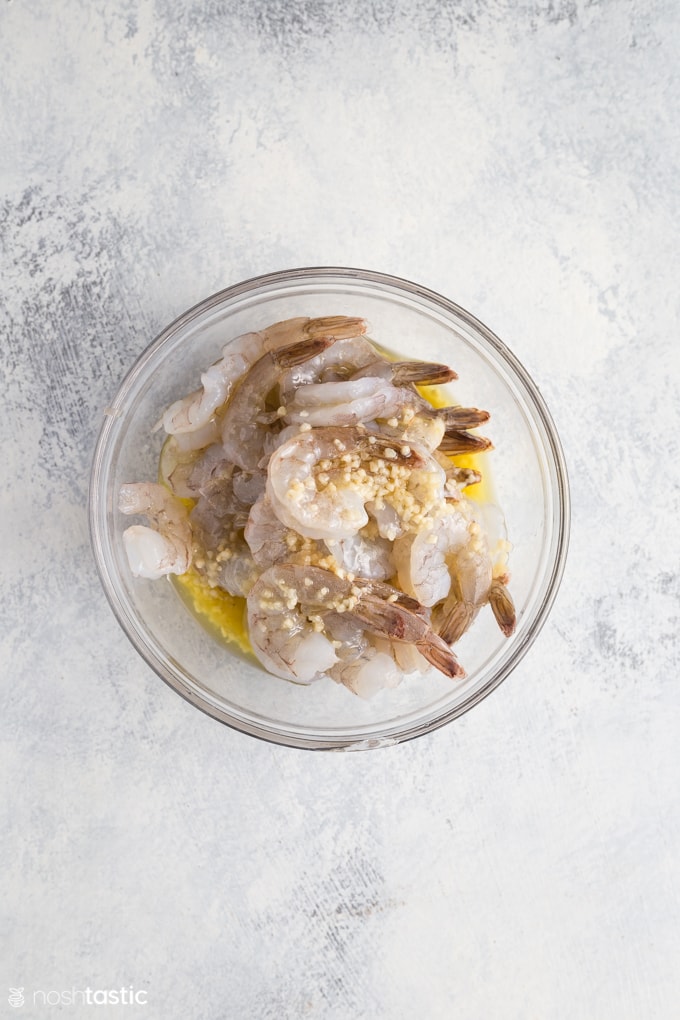 Can I make it Dairy Free?
Yes! I've made this garlic butter shrimp recipe using a vegan margarine, Earth Balance. I have cooked with it regularly and I think it works great and imparts a nice buttery flavor to the shrimp, but without the dairy.
If you don't have access to it you can simply use olive oil instead.
Related Shrimp Recipes
Want More Gluten Free Recipes like this? Subscribe to my newsletter!
Garlic Butter Shrimp
Easy and quick garlic butter shrimp recipe
Prep Time: 10 minutes
Cook Time: 6 minutes
Total Time: 16 minutes
Total Carbs: 5 g
Net Carbs: 3 g
Protein: 26 g
Servings: 4
Ingredients
1 lb raw shrimp , peeled and deveined
1 tablespoon olive oil
4 cloves garlic , finely chopped
1 tbsp lemon juice
1/2 tsp salt
3 tablespoons butter , melted
2 tbsp fresh parsley , to garnish
Sauteed Asparagus
1 bunch asparagus
1 tbsp butter
1 tbsp olive oil
Instructions
Toss the peeled deveined shrimp with the olive oil, salt, chopped garlic, and lemon juice and set aside while you cook the asparagus.

Saute the asparagus spears in the oil and butter for a few minutes until tender, season with salt and pepper, then cover with foil to keep warm and set aside.

Melt the butter for the shrimp in a skillet over a medium heat, then add the shrimp and marinade and cook for about 1-2 two minutes per side until shrimp is pink.

Serve hot, sprinkled with a little chopped fresh parsley and with the asparagus on the side.
Recipe Notes
Frozen Shrimp – best to use it fully defrosted otherwise too much liquid will be added to the sauce. If you can, choose shrimp that's frozen in water only, avoid those with sodium tripolyphosphate and other preservatives. 
Asparagus – this is seasonal, so if you can't find it you could serve it with green beans cooked in a similar way. 
Dairy Free option – we have made this with Earth Balance Vegan 'butter' and it worked great, but just be aware that it has salt added. If you can't find it simply use olive oil.
Storage – your garlic butter shrimp will be good to eat for about 3-4 days in the fridge. 
Nutrition – assumes 4 servings, most all of the carbs are from asparagus, without asparagus it's 1g carbs/net carbs per serving. 
Nutrition Facts
Garlic Butter Shrimp
Amount Per Serving
Calories 304 Calories from Fat 180
% Daily Value*
Fat 20g31%
Saturated Fat 8g50%
Cholesterol 315mg105%
Sodium 1276mg55%
Potassium 340mg10%
Carbohydrates 5g2%
Fiber 2g8%
Sugar 2g2%
Protein 26g52%
Vitamin A 1360IU27%
Vitamin C 15.8mg19%
Calcium 202mg20%
Iron 5mg28%
* Percent Daily Values are based on a 2000 calorie diet.
Nutritional information on Noshtastic is provided as a courtesy and is approximate only. We cannot guarantee the accuracy of the nutritional information given for any recipe on this site.
Course: Main Course
Cuisine: American