My easy Gluten Free Shepherd's Pie is a classic British recipe that's a firm favorite in our house and perfect comfort food any time of the year!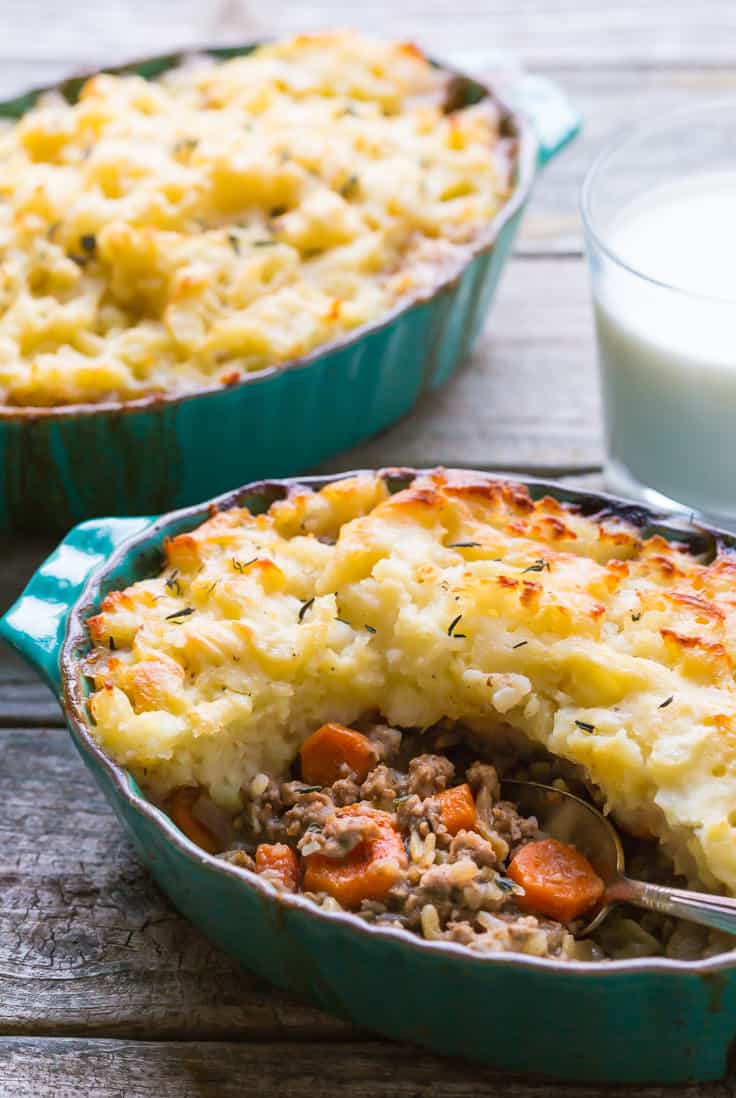 This post contains affiliate links
It's traditionally made with ground lamb back home in the UK.
But, here in the USA ground beef seems to be the more popular way to make an easy Shepherd's Pie.
Whatever you choose to use will work really well for this recipe, it's tasty either way!
It can easily be made dairy free if you omit the cheese topping, or opt to use vegan cheese instead.
Quick Tips for Making Gluten Free Shepherd's Pie
My first tip is to make sure that you saute the onions and carrots first, it brings out the natural sweetness of the vegetables and just adds to the overall flavor of the dish.
Don't skip browning the lamb or beef either, it also helps dramatically with the flavor and to get that lovely Maillard reaction going on!
Ground lamb does tend to have quite a lot of fat so I skim some (but not all, it adds to the flavor) of it off after I brown it.
If you use ground beef then you may or may not need to skim some fat off after browning depending on the fat content of the meat.
I would urge you to use caution and NOT pour all the lovely juices down the sink as you're pouring away the flavor!
I like to thicken the meat sauce so I usually add a little cornstarch slurry mixture to the meat and sauce to thicken it up.
You can omit this step if you are Paleo or W30, or use Arrowroot or Tapioca Starch instead.
If you want to freeze this my tip is to make up the meat portion of the easy shepherds pie and freeze that part only, potatoes don't freeze very well and tend to go soft and spongy when defrosted.
If you want to reheat your easy Shepherd's pie you can easily do that by reheating it in a warm oven, or simply use the microwave.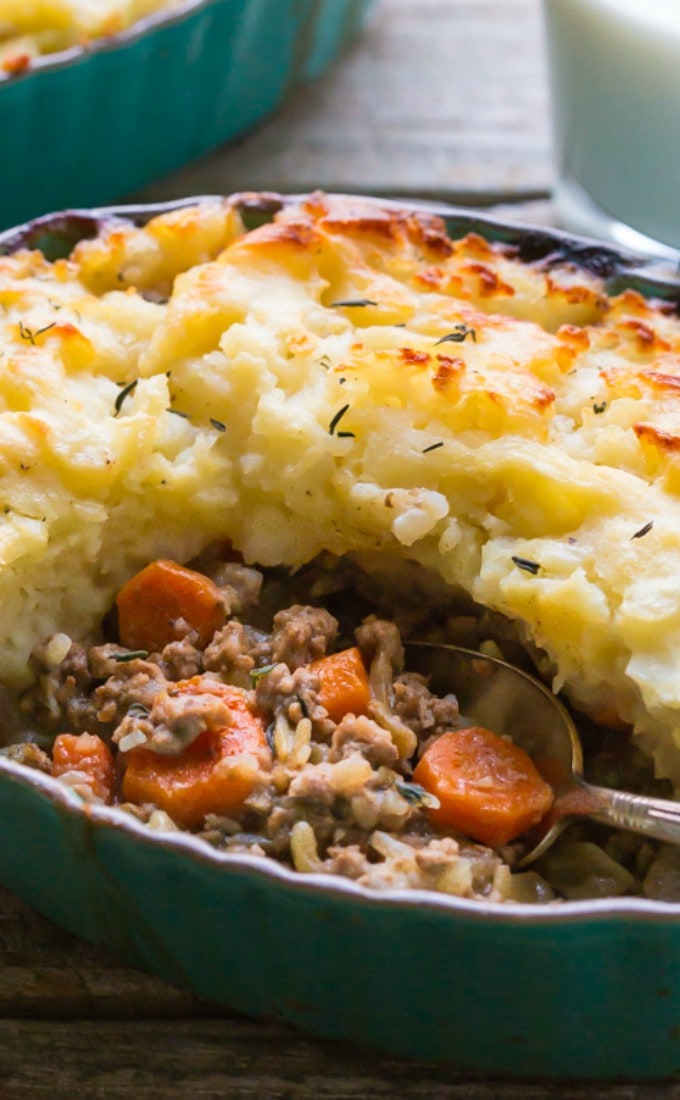 Where does Shepherd's Pie come from?
Shepherd's Pie is a quintessentially British recipe that's commonplace back home.
I grew up eating it on a regular basis and it remains a firm favorite on many Gastro Pub menus for good reason!
It's really easy to prepare shepherds pie, the ingredients are relatively inexpensive and it requires no great culinary expertise in order to make it, it's perfect comfort food!
What is the difference between Cottage pie and Shepherd's pie?
Any self respecting Brit knows that Cottage pie is made with ground beef, and Shepherd's Pie is made with ground lamb or mutton.
After all, Shepherd's look after sheep so it makes sense that Shepherd's Pie is made with lamb!
There can be some regional variations in terms of the vegetables added, though they are usually very simple and include carrots, onions, and/or garden peas, and then the pie is topped with potatoes.
Back in the day Cottage Pie would sometimes be made with slices of potatoes on top, and Shepherd's Pie would traditionally have mashed potatoes.
But they are pretty much interchangeable these days and I think most people just add mashed potatoes to both.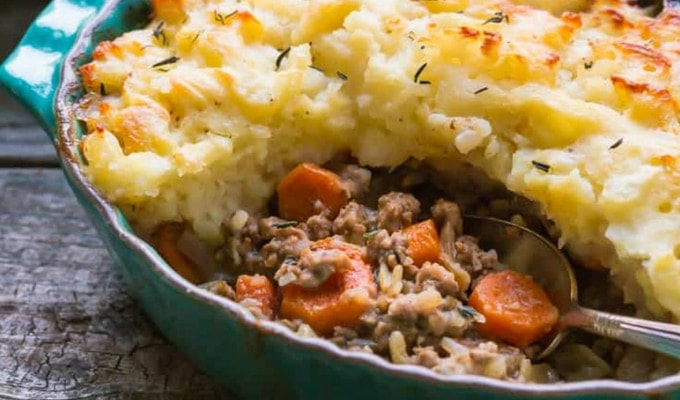 Kitchen Tools and Ingredients you'll need for Shepherd's Pie
Oval Ceramic Bakeware – this set of pretty porcelain bakeware is very similar to the bakeware I used for my easy Shepherds' Pie
8×8 pan – If you don't want pans like the ones I've used then an 8×8 ceramic pan will work just as well instead.
Paleo Beef Broth – I've found it really hard to find Paleo Beef Broth locally, so when I need it I buy online or make it myself.
Arrowroot Powder – If you're following the Paleo Diet then Arrowroot Powder is a great alternative to using cornstarch to thicken gravies and sauces.
Worcestershire Sauce – I love this for adding to sauces, if you live in the USA then most brands of Worcestershire Sauce are gluten free but this is not always the case so do check the label!
Potato Masher – you can't beat a decent potato masher! This one holds up well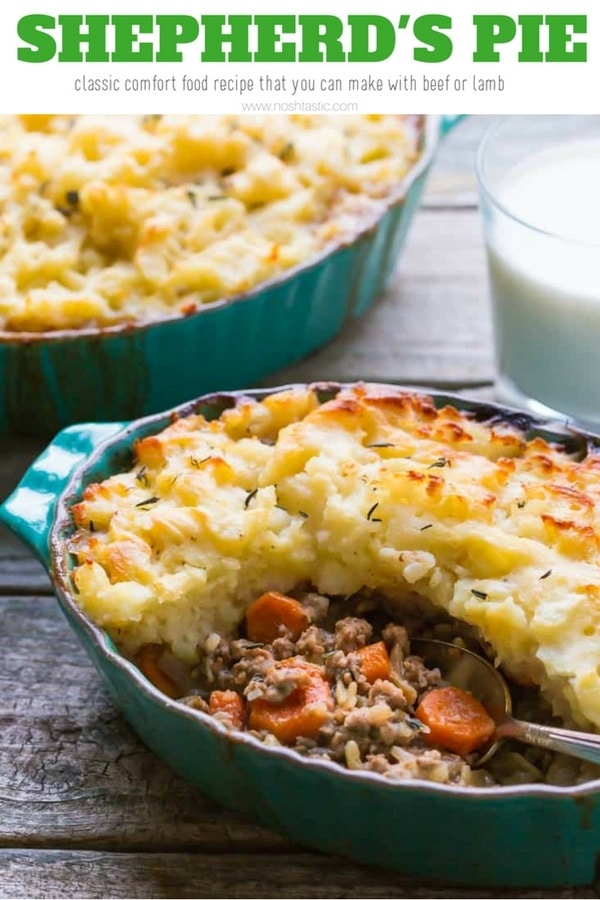 More Gluten Free Dinner Recipes
Gluten Free Shepherds Pie
An easy to cook recipe for delicious winter comfort food, Easy gluten free Shepherds Pie, can easily be paleo or Whole 30 too.
Prep Time: 15 minutes
Cook Time: 1 hour
Total Time: 1 hour 15 minutes
Total Carbs: 32 g
Protein: 20 g
Servings: 6
Ingredients
1 lb lean ground lamb, or beef , 450g
1 tbsp oil
3 large carrots , medium dice
1 large onion , chopped
2 tbsp tomato paste
1 tbsp Gluten Free Worcestershire sauce , omit for paleo/W30
2 cups gluten free beef stock , 500ml
4 medium potatoes , peeled and cut into large chunks
2 tbsp butter , or vegan margarine for dairy-free, it's not paleo)
2 tbsp arrowroot powder , or cornstarch if not paleo
1/2 cup shredded cheddar cheese – , optional
salt to taste
pepper to taste
Instructions
Scroll up to watch the recipe video!

For Whole30 – omit the butter in the potatoes and do not add cheese, no Worcestershire sauce either. For Paleo omit the Worcestershire sauce and add butter and cheese if that works for you.

Heat the oil in a pan and add the onion and carrots and saute for a 3 – 4 minutes.

Add the ground lamb or ground beef and brown over a medium heat, stirring all the time, spoon off excess fat if necessary.

Add the tomato paste and Worcestershire sauce then cook for a few more minutes. Add the beef stock, bring to a simmer, then cover pan and cook for about 20 minutes.

After 20 minutes uncover the pan and continue to cook for 20 more minutes.

Add two tablespoons of cornstarch or arrowroot (for paleo/w30) to a cup with a three tablespoons of cold water and mix well. Remove the pan from the heat and add half of the starch mixture to the meat, stirring to avoid lumps and give it a few minutes to thicken up, add the remainder if required.

While the meat is cooking boil the peeled potatoes in slightly salted water for 10-15 minutes until soft, do not overcook. Drain, then mash together with the butter.

Put the cooked meat mixture into an ovenproof dish then top it with the mashed potatoes – you may not need all the potatoes – and spread out with a fork, add shredded cheese on top if you like.

Place dish on a baking sheet and bake for 20-25 mins until the top is starting to colour and the meat gravy is starting to leak out around the edges.
Nutrition Facts
Gluten Free Shepherds Pie
Amount Per Serving
Calories 409 Calories from Fat 198
% Daily Value*
Fat 22g34%
Saturated Fat 10g63%
Cholesterol 67mg22%
Sodium 425mg18%
Potassium 1001mg29%
Carbohydrates 32g11%
Fiber 3g13%
Sugar 5g6%
Protein 20g40%
Vitamin A 5325IU107%
Vitamin C 16.9mg20%
Calcium 86mg9%
Iron 2.8mg16%
* Percent Daily Values are based on a 2000 calorie diet.
Nutritional information on Noshtastic is provided as a courtesy and is approximate only. We cannot guarantee the accuracy of the nutritional information given for any recipe on this site.
Course: Main Course
Cuisine: British